Photography by Rafael Tongol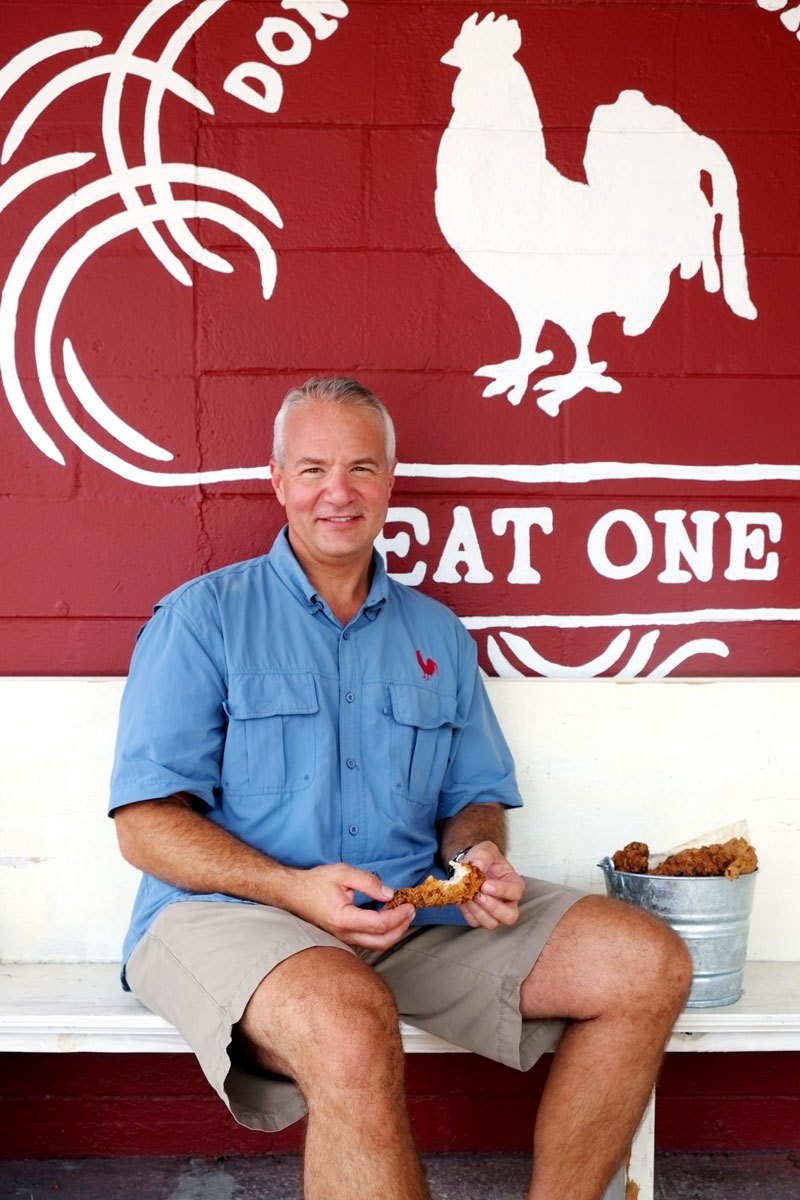 When it comes to The Coop, John Rivers doesn't just wing it. He tests, he launches, he fixes, he tweaks, he tests and then he tweaks again. That goes for all menu items and service features but is particularly true of the restaurant's signature protein — that's chicken, ya'll.
Rivers launched The Coop, featuring Southern fare and counter service, with a fried chicken recipe he adored back in 2014. But the times, they are a-changing. He introduced a third version of this tried-and-true entrée last fall because, he says, that's what customers wanted.
"I put my pride aside a long time ago," notes the mastermind behind the down-home establishment on Morse Boulevard, which celebrated its fifth anniversary last April. "I'm here to serve the community. If people aren't going to enjoy what I prepare, what good does it do?"
Which is why, success notwithstanding, Rivers — who's also behind the 15-units-and-growing 4 Rivers Smokehouse chain — found himself back in the kitchen trying to get that fried chicken just right. Again.
When The Coop was brand new, the fryers didn't work out, so Rivers quickly replaced the dang things. Then he reworked the batter because customers said it was too thick.
Over time, the kitchen team started steaming the chicken before frying it. That allowed them to deliver golden, tender and sizzling meals to tables in four minutes instead of the previous 14 to 17 minutes. And now, this ever-evolving eatery has changed its chicken once again — by going back to basics.
The revamped recipe, as a result, is more like Granny's than ever before. Gone are the rosemary and thyme in the brine. There's less black pepper, while the 4 Rivers all-purpose rub has been added. And the breading? Some of the heft, which was originally removed, has returned.
Recalls Rivers: "A very dear friend who loves The Coop told me, 'You know, John, I love the food but you overcheffed the chicken. It's not what I would get from my mom.'"
That gentle critique was all the prompting Rivers needed to start testing. As luck would have it, Derek Perez was available to assist in the quest for poultry perfection.
Perez was a chef at both Luke's and Luma on Park for a combined 13 years. Just a few months prior, while still at Luke's in Maitland, he told Winter Park Magazine that, despite Luma's gourmet-forward fare, "I like to make honest food that's not cheffed up."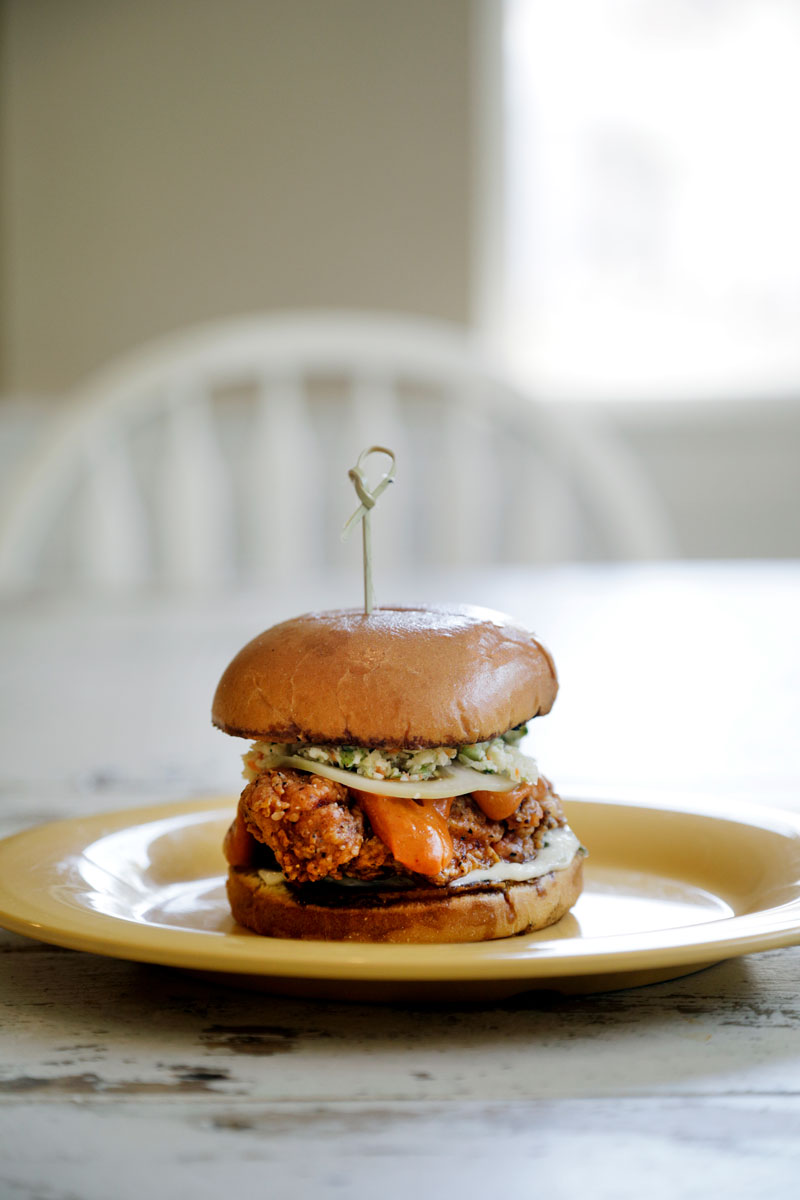 Now that's a kindred spirit. What's more, Perez, like Rivers, is a fanatical recipe tester who dives deep into details. "If you change the salt by an eighth of a teaspoon, it makes a difference," says Rivers.
So, the duo launched a study of fried chicken — not just their own, but fowl from Publix, Popeye's, KFC and Golden Corral because that's what surveys revealed folks crave. Notes Rivers: "None of those, other than Popeye's, is fancy or has a lot of seasoning."
Once Rivers and Perez nailed what they believed to be the perfect fried chicken recipe, they tested it by selling both the old and new versions for several weeks and asking for feedback. An overwhelming number of diners said they preferred the simpler offering. Consequently, the new recipe is now offered exclusively.
Plus, Rivers and Perez used the same batter for a fried chicken sandwich, which comes with a housemade lemon aioli (flavored mayonnaise) and house-jarred pickles. Then they kept experimenting to create a specialty sandwich to serve at Cows 'n' Cabs, an annual autumn fundraiser that Rivers created.
Admittedly, they got playful — and came up with a winner in the process. The Cheerwine Chicken Sandwich, now on the regular menu, is marinated in the carbonated soft drink Cheerwine, then topped with hot sauce, cooled with a dollop of cole slaw and placed on a brioche bun.
If our reaction is an indicator, we'd say it's a keeper. Cows 'n' Cabs serves so much food that we usually take one bite of each offering. But with that darned sandwich, we kept having another bite, and another, until the plate was empty. Spicy and sweet, hot and chilled — it works.
We share all this chicken chat to make a point: This unfussy restaurant with an old-timey menu is a vibrant enterprise that's continuously evolving.
In fact, we're not quite done talking turkey — er, chicken. The Coop also recently rolled out a chicken club sandwich consisting of fried chicken tenders tossed in buffalo sauce. Also new is a breakfast item called The Early Bird, an eye opener featuring a chicken tender and a scrambled egg with cheese and bacon bits, hollandaise sauce and scallions on a toasted hoagie roll.
The food isn't all that's been tweaked. Over time, The Coop revamped its service model. Instead of plating up at the counter, staffers began taking orders up front, composing each plate in the kitchen and delivering it to guests after they've seated themselves.
That change delighted breakfast and dinner crowds. Lunch, not so much. People received their meals in the same amount of time when served at tables — but the wait apparently felt longer, and traffic dipped.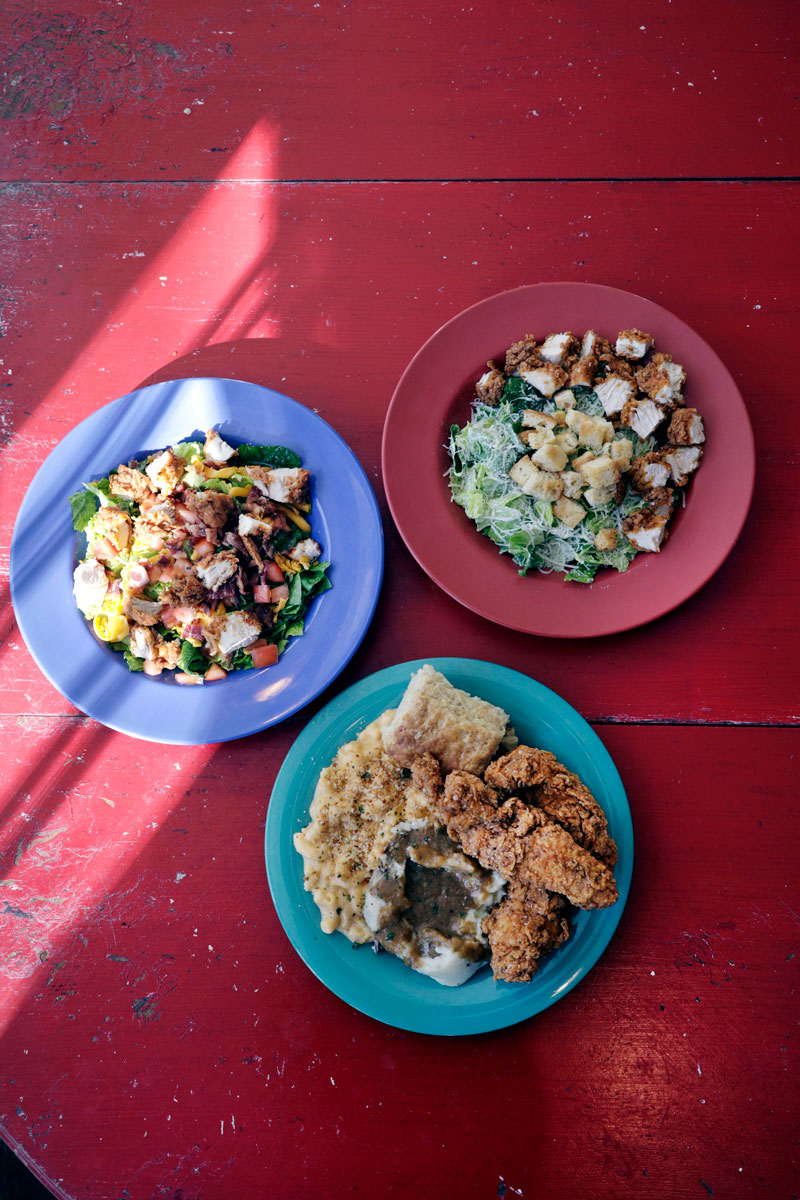 In response, The Coop now offers an Express Menu during lunch hours with three menu items: a three-piece chicken tender meal and a choice of two salads. The Express Menu, which is offered Mondays through Fridays, allows guests to place their orders, sit down, receive their food, eat and bolt back to the office lickety-split.
The restaurant also added online ordering, so those wishing to take their meals back to their desks — hey, we've all had to do it — can swoop by the takeout window and find their orders hot and ready.
All the restaurant's greatest hits are available for the grab-and-go crowd — including meatloaf, fried chicken, chicken tenders, chicken-fried steak, chicken pot pie, chicken and dumplings, chicken and waffles, shrimp and grits, and catfish and grits along with three fixins' (sides).
In case that's not enough change to deal with, The Coop has also introduced a daily special of Giant Buttermilk Chicken Tenders. And since the beginning of the year, the restaurant has begun offering monthly specials for breakfast and lunch.
In January, for example, the specials are blueberry lemon pancakes for breakfast and a grilled chicken gyro with a side of cucumber tomato salad for lunch. February is Southern poutine (french fries and cheese curd topped with gravy) for breakfast and Nashville hot chicken tenders with a side of hoppin' john (rice, ham, onion, celery and black-eyed peas) for lunch.
March brings with it Southern eggs benedict (ham, fried green tomatoes, pimento cheese and hollandaise sauce on a biscuit) for breakfast and a Buffalo shrimp sandwich with a side of broccoli salad for lunch.
A meatless Portobello burger is in the works (no plant-based chicken product is up to snuff yet, says Rivers, so no poultry substitute is likely for a while). And the restaurant's logo sports a fresher, more youthful look.
You've got to give Rivers a feather in his cap for not resting on his laurels or his recipes. The Coop — perhaps unlike your granny — aims to please and is amenable to change.
The Coop: A Southern Affair
610 West Morse Blvd., Winter Park, FL 32789
407-843-2667, southernaffair.com