Photographs by Rafael Tongol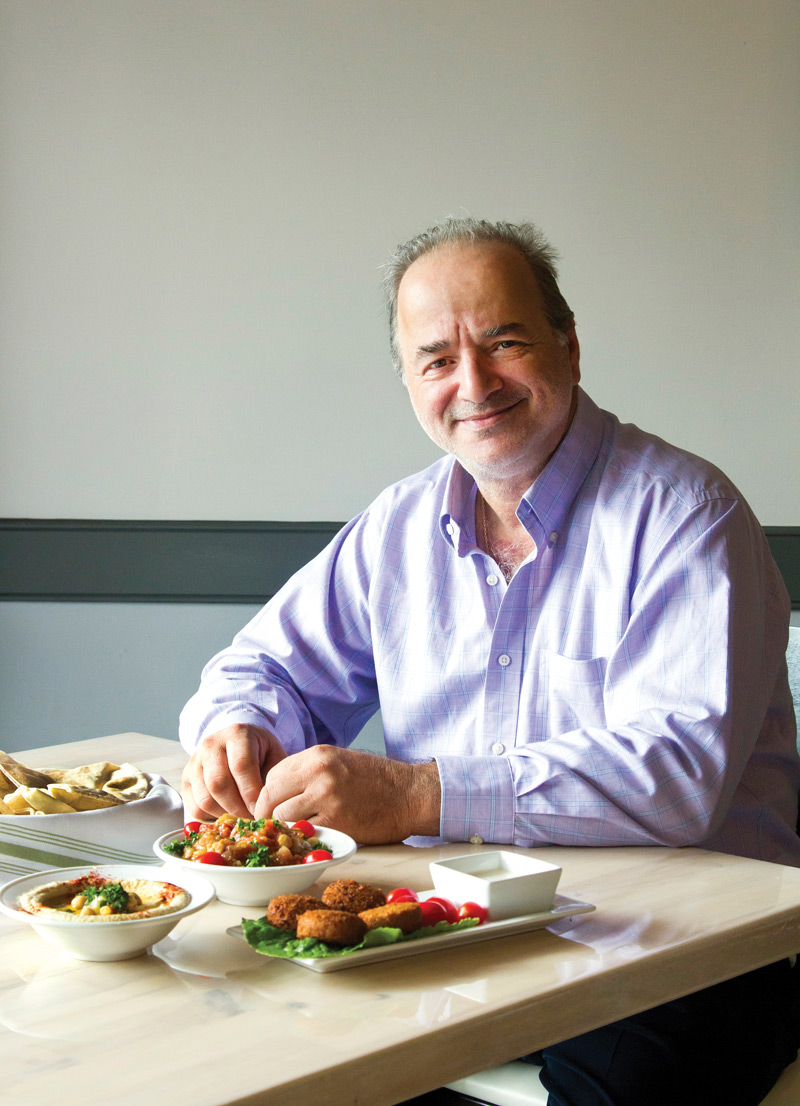 If conversation lags during your meal at Meza, break the silence by playing "what's that flavor?" The restaurant, which opened last summer, specializes in Lebanese foods. The dishes will look familiar: hummus, kebabs and stews, which here are called "tagines."
Take a taste, though, and you'll realize these aren't the Americanized staples you know. They're not even the more familiar Greek varieties. Is that cinnamon in the chicken? Cardamom? Turmeric? Expect to be stumped.
The Lebanese lace aromatic spices into their recipes, and they do it in a way that's tantalizingly unfamiliar to most of us. The result is a host of appetizers and entrées with an intriguing tinge of — well, we kept having to ask our server.
"Onions, garlic, cinnamon, allspice and olive oil are the basics of Lebanese cuisine," explains Nazih Sebaali, chef-owner of this table-service establishment, hidden away on Baldwin Park's Jake Street, just off New Broad Street. "Those are the basics, and they're in most everything we serve."
But as seven of us dipped, spread and sliced our way through much of the menu, we discovered dashes of yet more unusual-for-us extras. Take the kebobs, for example. We chose the mixed grill to try three meat options at once — and kept tasting to conquer the what's-that-flavor challenge.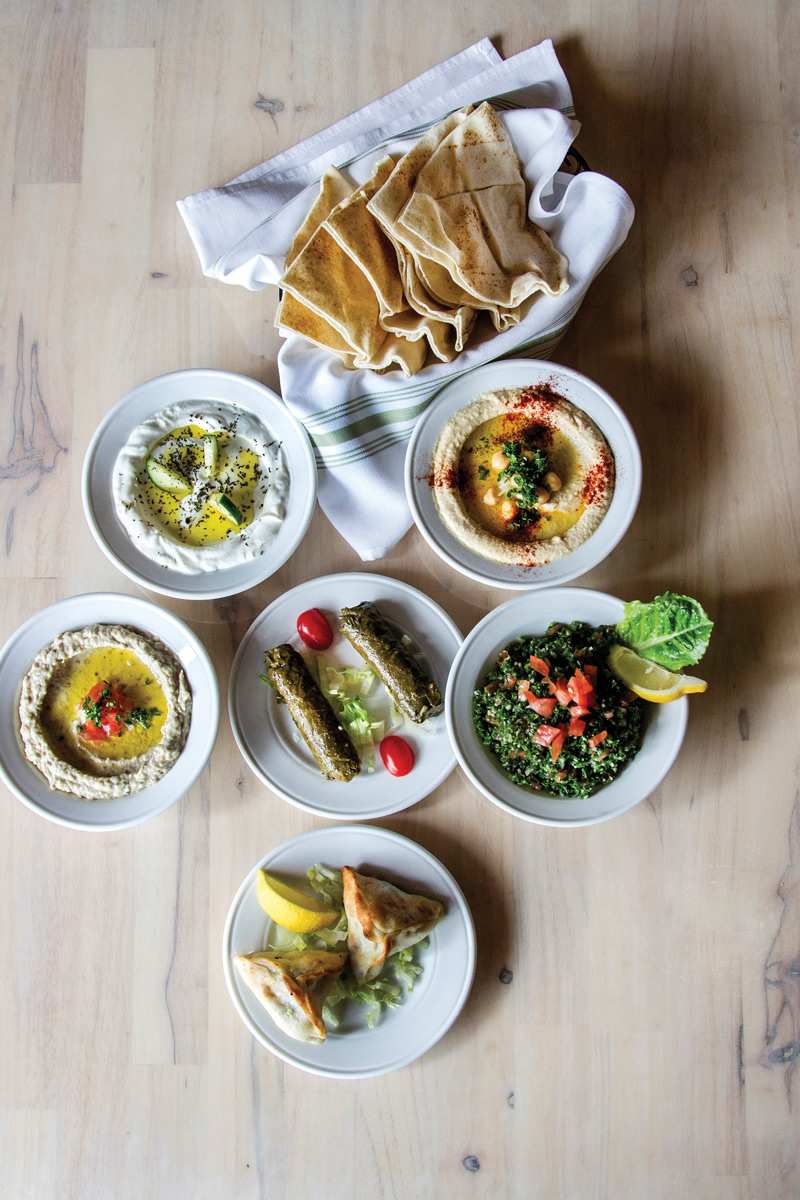 As it turns out, the chicken is marinated in a garlic sauce, while the beef and lamb soak up the flavors of cardamom, cinnamon, allspice and yogurt before heading to the gas open-flame grill. The yogurt also tenderizes the meat.
The vegetarian tagine is simmered with ginger, saffron, turmeric, cinnamon and cumin. Add chicken or lamb to your order and you'll have a heartier version with the same flavor foundation — all with a visually regal golden glow thanks to the spices. And so it goes.
As in all Middle Eastern restaurants, I'm happiest with a tableful of starters. Meza's first courses, like the rest of the menu, are made in-house every day. That makes them fresher.
"Fresh hummus can't last more than a day," Sebaali says. "The hummus in the supermarket is loaded with preservatives. I don't know what they add to make it last a month." At Meza, the chickpea mash is blended with tahini, garlic and lemon juice.
(Side note: I got the hummus for free because I made a reservation through opentable.com. Our server, who was a weak link throughout dinner, knew nothing about the website's free hummus option and frankly seemed disinterested. So speak up. If you reserve online and see that you get a gift for doing so, be sure to ask for it.)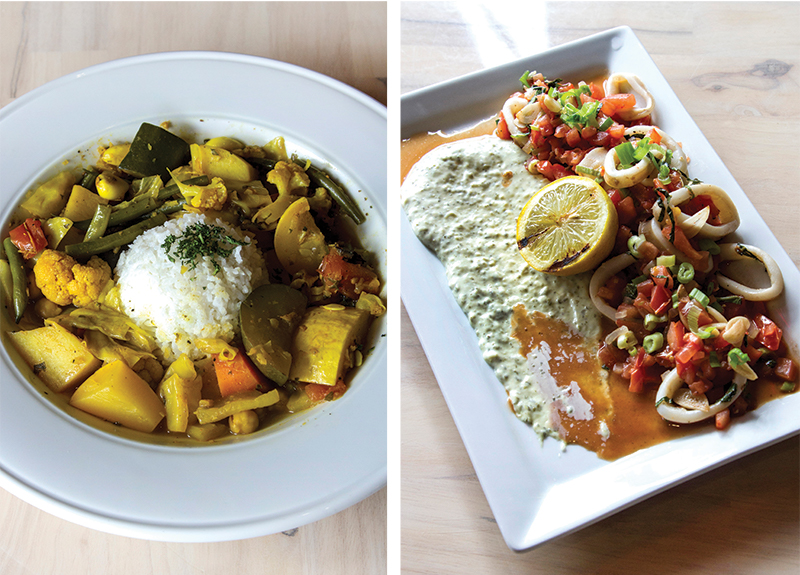 Baba ghanoush is another classic Middle Eastern starter meant to be swiped up with flatbread. Sebaali makes it the same way he makes the hummus. It's even better, if you like strong flavors.
The eggplant is grilled in the kitchen each morning, giving the silky insides a seductive smoky element that pairs wondrously with the tahini, garlic and lemon juice. If you want leafy greens instead, dig into the lemony parsley-based tabouleh. It's a standout.
Just in case some in your party are less adventurous than others, Meza always has a few American favorites available, such as steak. But Sebaali is eager to educate locals about the foods of his homeland, as he has done for more than 20 years.
You may recall Sebaali's Café Annie, a cafeteria-style restaurant in downtown Orlando. He offered Lebanese fare, but in a self-serve format. "Office workers, judges, attorneys, bankers, everyone who worked downtown ate at Café Annie," recalls Sebaali, who has an engineering degree from LSU. "It was a landmark."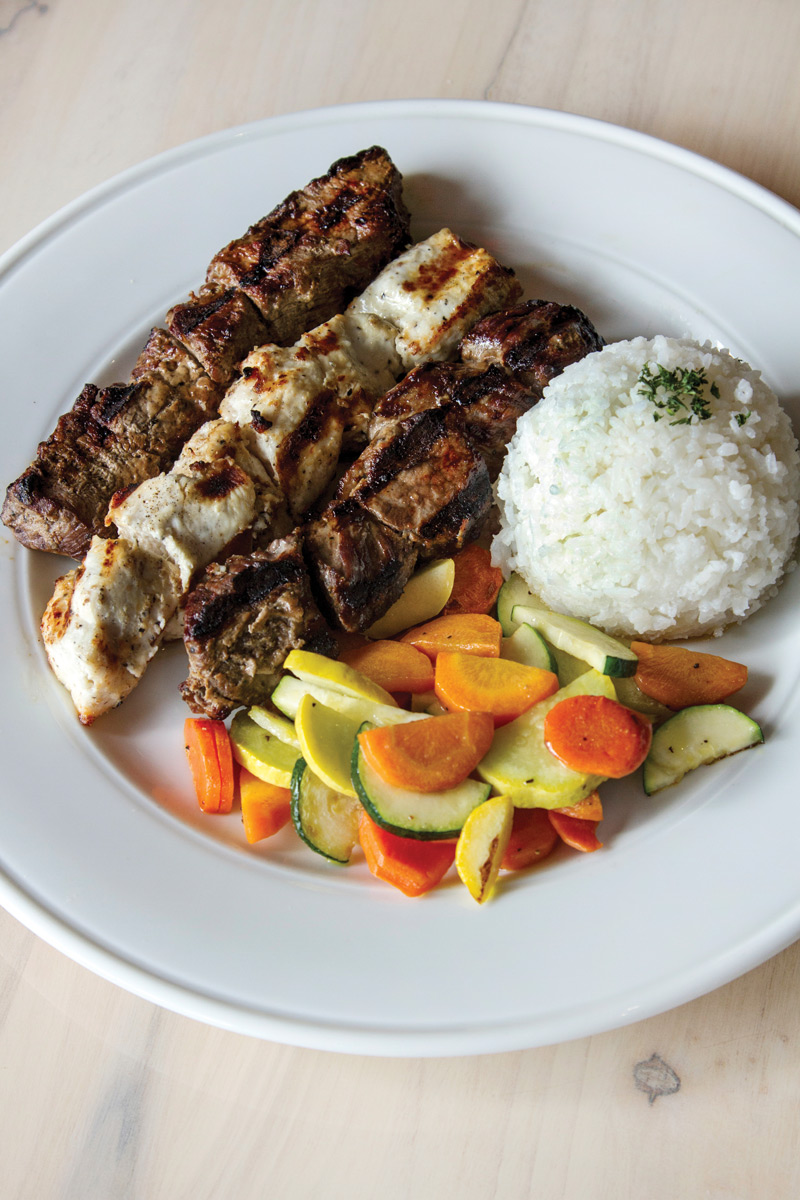 It was also unusual for Central Florida. "When we opened, nobody knew what hummus was," Sebaali says, noting the food's ubiquity today. Because lunches at Café Annie were quick, affordable and healthful, the restaurant enjoyed a two-decade run and closed only when rent became prohibitive.
Café Annie was so much a part of regular customers' lives that a large percentage of Meza's guests are former Café Annie denizens who can't do without Sebaali's cinnamon-laced beef-filled kibbeh or his gooey, cheese-filled triangles in puff pastry, for example.
Those faithful followers, along with Sebaali's Lebanese friends from the Dr. Phillips area, have gotten Meza off to a strong start. The challenge now is to lure more Winter Parkers. Sebaali says he's certain that once guests sample his fresh and naturally low-fat offerings, they'll make Meza part of their dining-out rotation. (Lebanese cuisine is indeed known to be particularly heart-healthy.)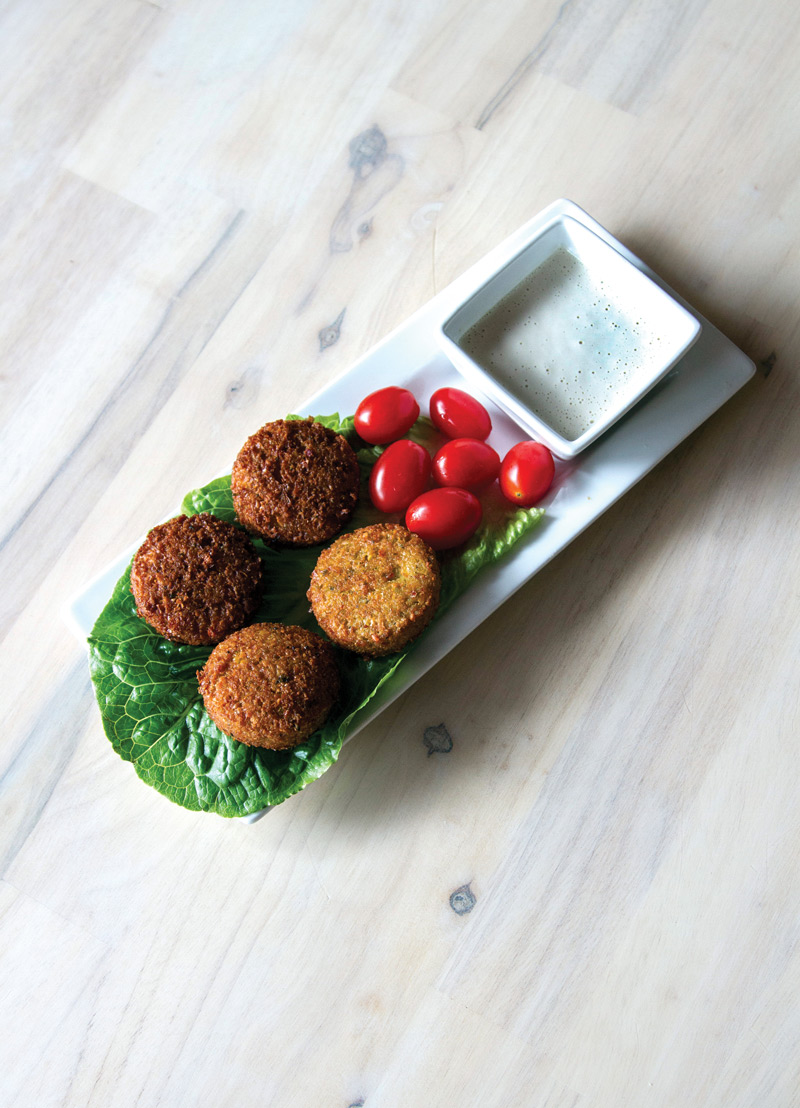 "This is cooking like my mom made," he adds. "It's all from scratch. If the lettuce is brown, I throw it away. If the cucumber has spots on it, if it doesn't look appealing, I throw it away. I'm here 24/7 to make sure that the staff does things this way." Sebaali says he's starting to see some new faces at Meza, which he finds encouraging. "I developed a menu where I can please everybody," he emphasizes. "You can have a garden salad. You can have lentil soup. I even have mussels with traditional garlic butter on the menu."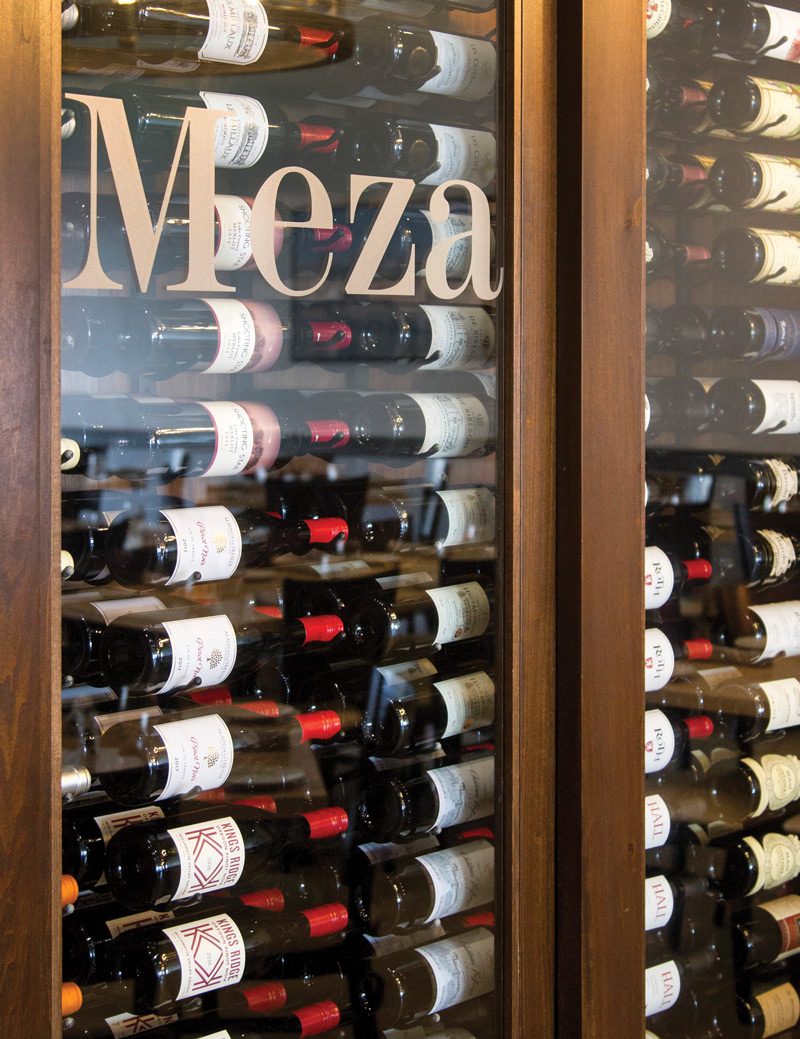 Let your dining companions go for those items. You, though, should pick up a piece of traditional Lebanese flatbread and enjoy it with a soujok lamb and beef sausage sautéed with lemon juice, or a savory eggplant caponata, or one of those enticing kebabs. What's not to like?
Meza
1780 Jake Street
Baldwin Park, Orlando, FL 32814
407-440-3603
mezaorlando.com