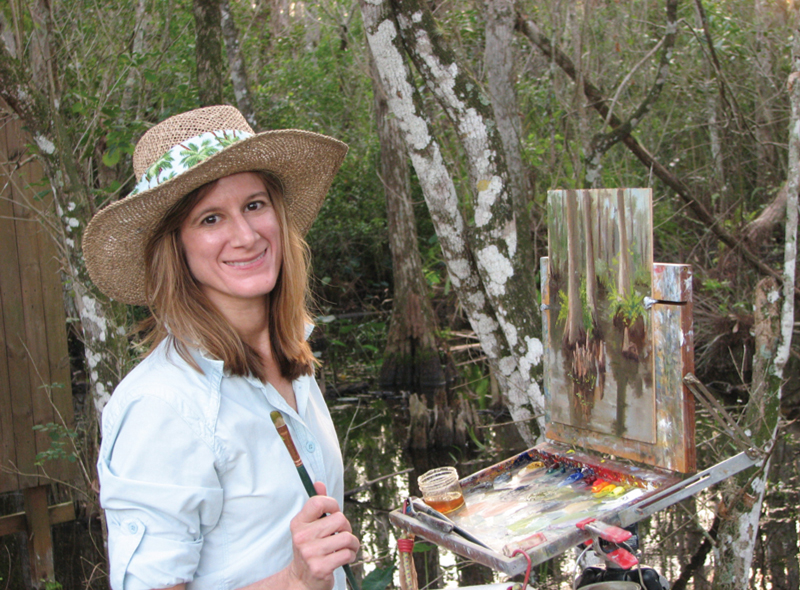 Plein air artist Linda Apriletti's primary goal through her work "is to communicate the uncommon beauty found in nature." The Miami Springs-based artist prefers Florida settings, and says she enjoys hearing from viewers that her images evoke a sense of peace.
Apriletti was recently in Central Florida for the 2019 Winter Park Paint Out, held by the Albin Polasek Museum & Sculpture Gardens. This issue's cover image was created during the event.
"A Passion for Purple" shows the queen's wreath (petrea volubilis) in full bloom on the exterior staircase leading to the upper floor of the home-turned-museum, where the administrative offices are located.
"I decided right then that I wanted to try painting the flowers," Apriletti says. "They were covered with bees and the air seemed to hum. I chose my spot based on the morning light and shadows. Also, I really liked the complementary colors of the purples against the greens and golds."
"A Passion for Purple" is Apriletti's second Winter Park Magazine cover. The first, "April Showers Bring May Flowers," was in Summer 2018, and was also set at the Polasek. It showed foliage overlooking Lake Osceola. A return visit seemed ideal for this issue, because our fashion feature was also staged on the museum's lush grounds.
Although her college degrees are in accounting and taxation, Apriletti pursued her lifelong love of painting while employed as an accountant. She also honed her skills — first in pastels and later in oils — by attending workshops during her vacations.
It was at a workshop in Rocky Mountain National Park that Apriletti discovered her passion for plein air painting. She launched a full-time career as an artist in 2011 — and never looked back. "Painting outside is critical to helping me observe and understand patterns in nature," she says.
Much of Apriletti's work focuses on Everglades National Park and Big Cypress Nature Preserve, where she has staged solo exhibitions. She was artist in residence at Big Cypress Nature Preserve in 2012. But she also paints in Maine and on Martha's Vineyard.
Apriletti particularly likes palm trees as subjects. Luckily for her, inspiration is always close at hand — she has more than 25 species growing in her yard.
Says Apriletti: "In both my plein air and studio paintings, I'm trying to bring a fresh and accurate portrayal of the many moods, quality of light and clarity of color of the changing seasons in Florida. I want to draw the viewer into my paintings and perhaps rekindle a personal memory."