Photography by Rafael Tongol
Welcome to the fifth anniversary of Winter Park's Most Influential People, a program launched by Winter Park Magazine in 2015 to recognize those who — sometimes quietly — make a difference through their professions, their volunteerism, their philanthropy, their talents or their community engagement.
As usual, this year's honorees were nominated by previous honorees. Other names were suggested through Winter Park Magazine's social media. To be clear, our definition of "influential" is a broad one: We want to recognize people who are influential in the traditional sense, of course, as well as people who operate under the radar and make a difference without making headlines.
There were more than 100 names submitted this year — which is remarkable considering the program is in its fifth year and there are still plenty of people deserving recognition. This year we catch up with some people you likely know and obvious choices. But we also introduce you to some people you likely don't know — but should.
As usual, this year's Influentials are eclectic. What they have in common, however, is a love for Winter Park — and a desire to make it an even more special place in which to live, work and play. So, let's meet Winter Park's Most Influential People, Class of 2019.
PREVIOUS INFLUENTIALS
Here, in alphabetical order, are the Most Influential People from 2015, 2016, 2017 and 2018:
Jim Barnes, Dan Bellows, Rita Bornstein, Jill Hamilton Buss, Jeffrey Blydenburgh, Daniel Butts, Grant and Peg Cornwell, Linda Costa, Julian Chambliss, Patrick Chapin, Carolyn Cooper, Mary Daniels, Betsy Gardner Eckbert, Jeff Eisenbarth, Andrea Massey-Farrell, Sue Foreman, Scot French and Christine Madrid French, Shawn Garvey, Hal George, John Gill, Steve Goldman, Sarah Grafton, Jane Hames, Ena Heller, Debra Hendrickson, Catherine Hinman, Herb Holm (deceased), Jon and Betsy Hughes, Phil Kean, Allan Keen, Linda Keen, Randy Knight, Debbie Komanski, Linda Kulmann, Cindy Bowman LaFronz, Steve Leary, Lambrine Macejewski, Brandon McGlammery, Micki Meyer, Johnny Miller, Anne Mooney, Ronnie Moore, Patty Maddox, David Odahowski, Betsy Rogers Owens, Jana Ricci, John Rife, Randall B. Robertson, Peter Schreyer, Polly Seymour, Thaddeus Seymour, Shawn Shaffer, Sarah Sprinkel, Susan Skolfield, Sam Stark, Chuck Steinmetz and Margery Pabst Steinmetz, Dori Stone, John and Gail Sinclair, Fr. Richard Walsh, Jennifer Wandersleben, Harold Ward, Bill Weir, Chip Weston, Pete Weldon and Becky Wilson.
---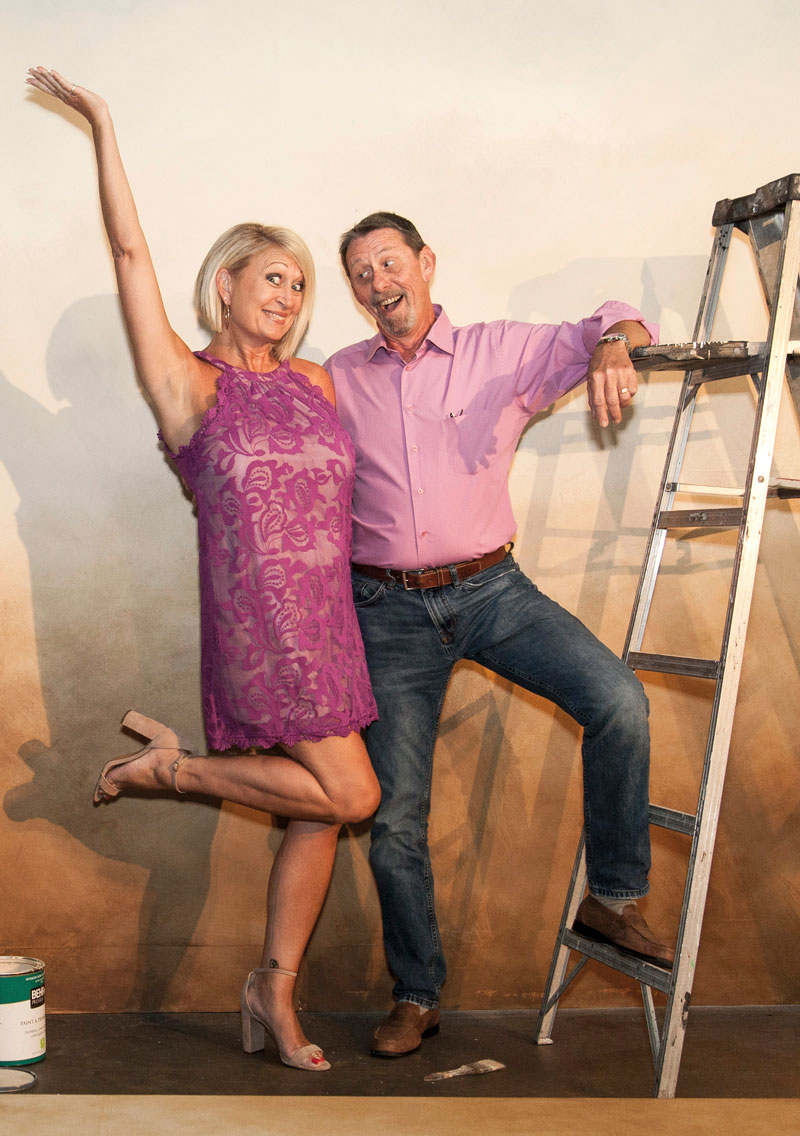 Roy Alan and Heather Alexander
Artistic Director, Winter Park Playhouse (Roy Alan)
Executive Director, Winter Park Playhouse (Heather Alexander)
THE ESSENTIAL EMPRESARIOS
It's been 17 years since the song-and-dance team of Roy Alan and Heather Alexander brought some show-biz sizzle to Winter Park. And patrons of their Winter Park Playhouse are grateful for the unapologetic escapism provided by the musical productions staged in the unassuming Orange Avenue venue, which is the only professional theater in Florida that specializes in musicals and cabarets. "You can see how they're transformed from when they come in and when they go out," says Alan, 63, the artistic director. A native of Texas, Alan has been tap-dancing for 60 years. After high school, he lived in Manhattan for 13 years, finding work in such Broadway hits as Pirates of Penzance and Nine. Alan and Alexander, now 52, met in Jacksonville in 1991 when both were performing in a dinner-theater production of Singin' in the Rain. Alexander adored theater but her father insisted that she study something more practical. She earned a business degree from the University of North Florida — which proved to be a smart move. Alexander manages the theater while Alan coordinates the productions. After marrying, they relocated to New York City for a year — but it was a difficult place to raise children (they have four). They were lured to Winter Park by its beauty, culture, schools and proximity to theme-park jobs. In 2000, they founded the Master Class Academy to provide instruction in dancing, acting and singing. Two years later, Alan and Alexander sold the school and leased a small space from the new owners to establish the nonprofit Winter Park Playhouse. By 2003, when their production of the off-Broadway musical I Love You, You're Perfect, Now Change, packed the house, they knew they'd found a winning formula with musicals. In 2009 the theater moved next door, increasing the number of seats from 73 to 123, and expanded again in 2014, doubling in size to 10,000 square feet with a new lobby, bathrooms and dressing rooms. Now the couple is putting the theater on the national map with an annual Festival of New Musicals. More than 18,500 people annually attend performances at the venue, while another 11,500 — primarily underserved populations such as disadvantaged children and mobility-impaired seniors — are reached through classes or community performances. The Winter Park Playhouse budget in 2018 surpassed $1 million for the first time — with 55 percent raised through donations (mostly small) and grants. To paraphrase George Gershwin, thanks to Alan and Alexander, "Winter Park has music, Winter Park has rhythm. Who could ask for anything more?"
WHAT THEY SAY:
"We have proudly raised a family here and, out of love for this community, founded the Winter Park Playhouse to enhance the quality of life for residents and visitors."
WHAT OTHERS SAY:
"Roy and Heather provide a priceless cultural asset … they deliver top-tier entertainment … very impressed with the theater's community-service component … they make our lives better … a welcoming family atmosphere."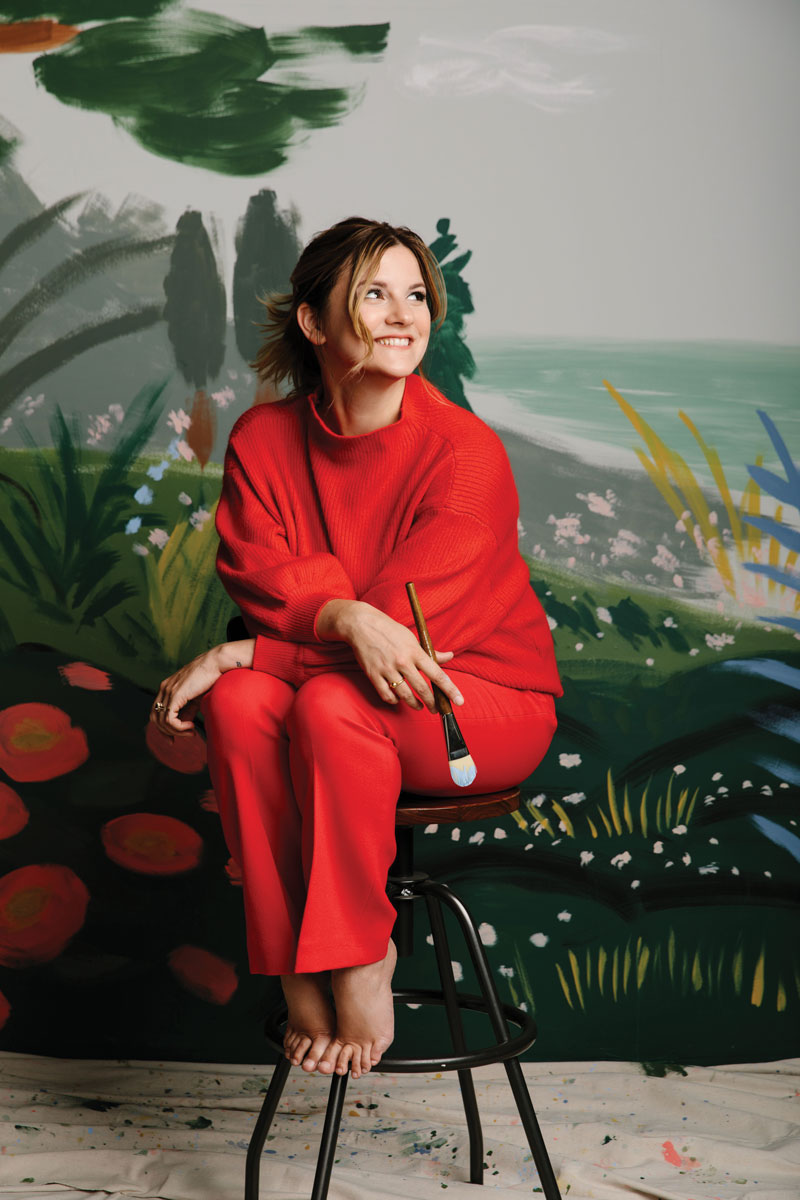 Anna Bond
Co-founder, Chief Creative Officer, Rifle Paper Co.
THE PAPER PRINCESS
It seems quaint, in this era of tweets, texts and emails, to send a handwritten note on a sheet of fine stationary, or to offer salutations, congratulations and invitations via a whimsically illustrated card. But Anna Bond, 34, co-founder and chief creative officer of Rifle Paper Co., has found a big market for quaintness through her line of artisanal planners, calendars, stationery, greeting cards and other paper and lifestyle products that bear her cheerful cursive lettering and stylized floral paintings in gouache (a combination of watercolors and acrylics). Bond's first card design was for her own wedding to husband Nathan Bond, who was in an indie rock band for which she created show posters. She then began designing wedding cards for friends, and response was so positive that in 2009 the couple decided to make old-school paper products their business. Rifle Paper Co., originally operated out of the couple's garage apartment, is today headquartered in Hannibal Square. The company has established an instantly recognizable international brand that sells not only cards and stationary but also accessories, home goods and art prints both online and through more than 6,000 retail stores that encompass independent boutiques as well as national chains such as Anthropologie, Barnes & Noble and Pottery Barn. Gross revenues topped $22 million last year, and the operation hums along with a staff of more than 180 — and growing. Bond's designs now adorn wallpaper, fabrics, cosmetics packaging, temporary tattoos and even canvas shoes (with Keds). One of her designs appeared on a U.S. postage stamp in 2018: It featured the scripted word "Love" accompanied by roses in deep pink; peonies and dahlias in pink, coral and yellow; berries in pale blue; and fronds and leaves in gold and green. Creating a stamp was a dream come true for Bond, who inherited her great-grandfather's stamp collection and was fascinated by the artwork. Bond, who earned a graphic design degree from Liberty University, started her career as a magazine art director with Orlando-based Relevant Media Group. She's a social-media celebrity with a fervent Instagram following of about 500,000.
WHAT SHE SAYS:
"We've found Winter Park to be an incredibly supportive business community that has never held us back from growing into a successful international brand. In some ways. we attribute our unique location as being one of the keys to our success. We've been able to attract great local talent and grow the space we need as the business has grown."
WHAT THEY SAY:
"Such a perfect kind of business for Winter Park … it gives the city international exposure … a great success story of talent meeting hard work."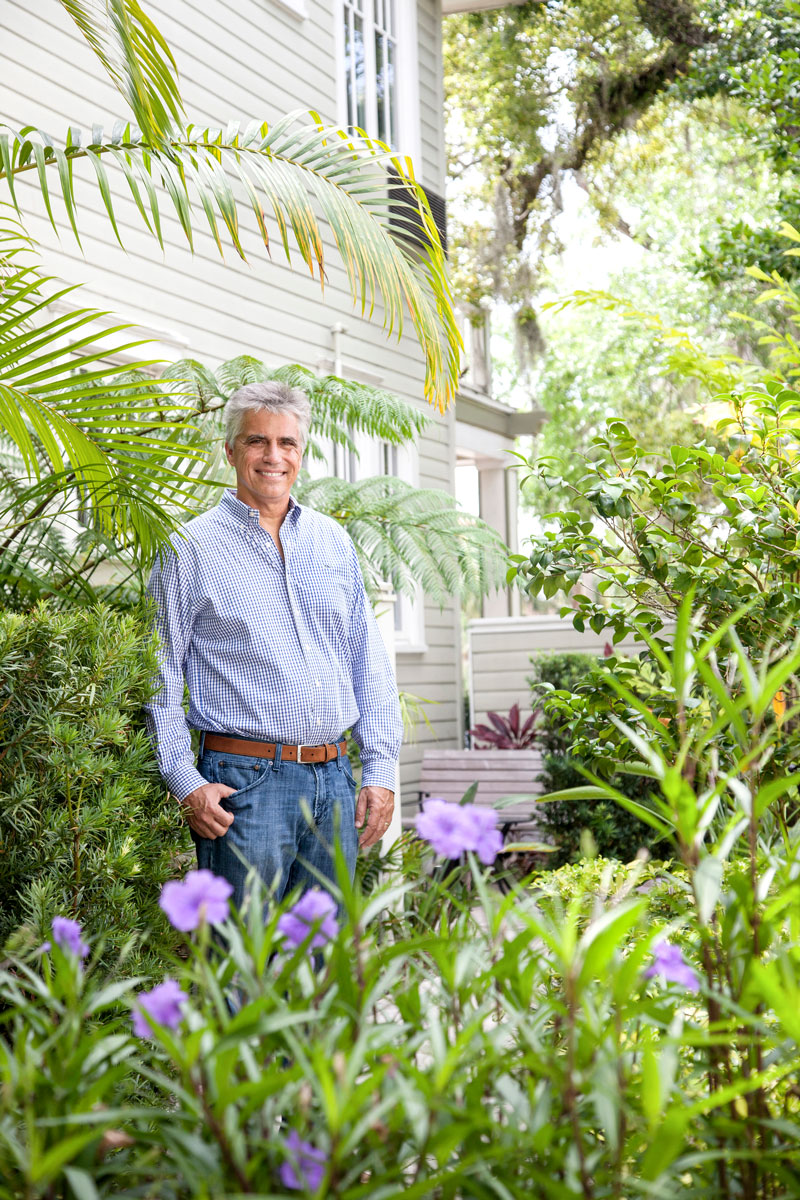 Charles Clayton III
President, Charles Clayton Construction
THE FAITH BUILDER
Charles (Charlie) Clayton III, whose father developed much of Maitland in the 1960s and Winter Park's Sevilla subdivision in the 1970s, has continued the family tradition as a homebuilder. Only his job is bigger. Literally. The lavish custom homes that Clayton, 59, builds or remodels in Winter Park are the stuff of dreams — the sort people admire in slick magazine spreads. In 2018, one of his Winter Park projects won a Best in American Living Award from the National Association of Home Builders and three Aurora awards from the Southeast Building Conference. Clayton graduated from Mercer University in Macon, Georgia, in 1983 with a business administration degree, and has built homes since 1984. He has served in an array of leadership positions within his industry, including locally as president of the Greater Orlando Builders Association and is a founding member of the by-invitation-only Master Custom Builders Council. Both organizations have previously named him "Builder of the Year." His big projects begin with the right team: an architect, an interior designer and a landscape architect chosen with the help of the homeowner. Clayton describes his homes as a "three-dimensional gift to the owner." Like his dad, Clayton is a generous supporter of Valencia College and funds scholarships for skills training programs in construction-related fields. "There's a big need in our industry for trades," Clayton says. "And Valencia is really stepping up to fill that need." Today, Clayton — a veteran of several major charitable building projects including House of Hope, a residential program for troubled teens — is part of a new team of all-stars assembled for a project of lesser scale but perhaps wider community impact. He's working in tandem with architect Jack Rogers on a project for their home church, All Saints Episcopal Church, in Winter Park. They're restoring and refurbishing the circa-1925 Glennon House, previously the Fortnightly Inn, which houses the church's Healing Ministry where Clayton and his wife, Lisa, are prayer ministers. In fact, Clayton's life verse is Psalms 127:1: "Unless the Lord builds the house, the builders labor in vain."
WHAT HE SAYS:
"Winter Park is where I have been blessed to live, blessed to work and blessed to have friends and family."
WHAT THEY SAY:
"Charlie is just a class act personally and in business… always willing to lend his talents to a good cause… his new homes are beautiful, but he has a feel for historic preservation."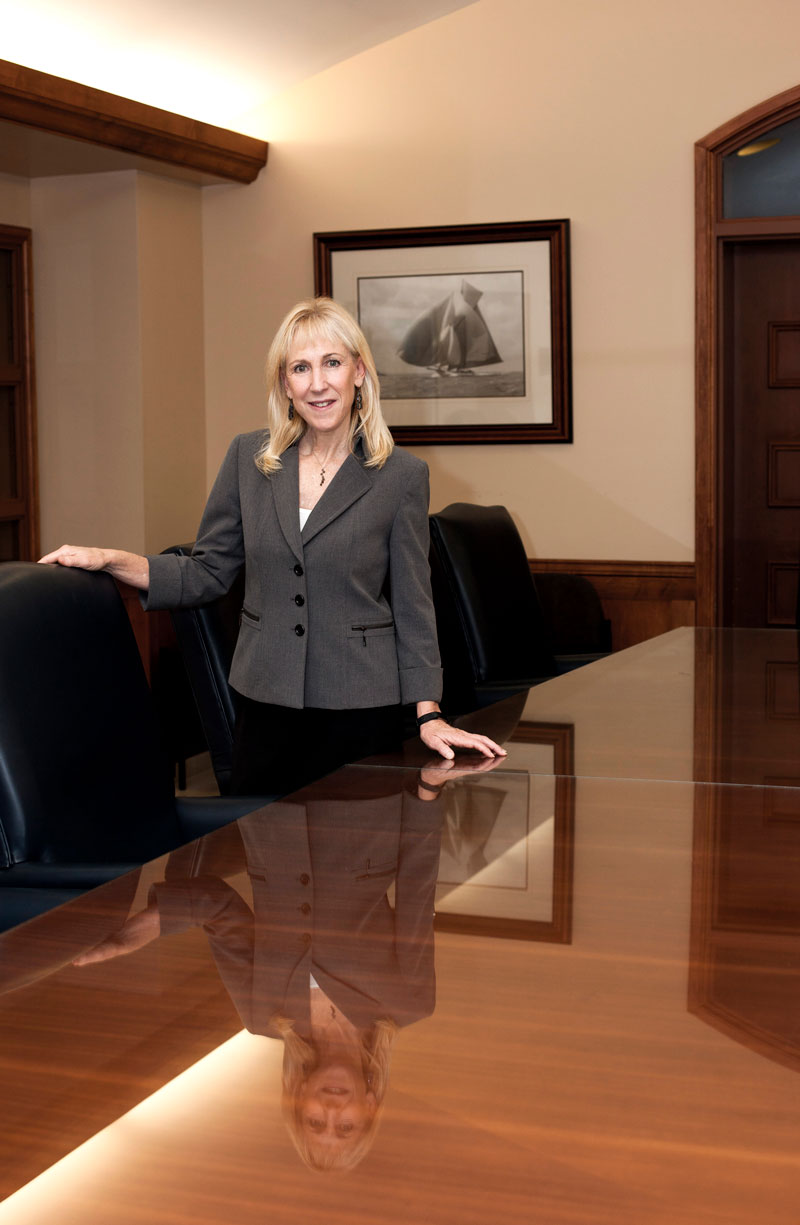 Deborah Crown
Dean, Roy E. Crummer Graduate School of Business
THE DYNAMO DEAN
You don't have to believe Deborah Crown, dean of the Roy E. Crummer Graduate School of Business at Rollins College, when she tells you that the program she has led since 2016 is the best in the state and one of the best in the country. Rankings in such publications as Forbes and Bloomberg Businessweek back her up. "I'm so proud of continuing our mission to develop global, responsible and innovative leaders who directly impact their organizations and communities," says Crown, who had previously been dean of the business school at Hawaii Pacific University. Prior to that were stints at San Jose State, Ohio University and the University of Alabama. So, what brought her to Rollins? One factor was the Crummer School's variety of powerhouse programs — including a Professional MBA, an Executive MBA and the state's first Executive Doctorate in Business Administration. An innovative Early Advantage MBA program is designed for recent graduates who don't yet have lengthy resumés. Another factor was the Crummer School's dynamic growth plans. On the drawing board are new facilities for both the Crummer School and the Cornell Fine Arts Museum at the redeveloped Samuel B. Lawrence Center, a city block bounded by Lyman, Knowles, Interlachen and New England avenues. Together with the expanding Alfond Inn, the trio of projects has been dubbed the Innovation Triangle. Crown, a Dallas native who has a 15-year-old daughter ("my pride and joy," she says), is a dynamo in the classroom, too, and boasts a shelf-full of honors for outstanding teaching. She has also been consulted for her expertise by such national media outlets as Fortune, Entrepreneur, The Wall St. Journal, The New York Times and USA Today as well as CNN and ABC News. Like any good business professor, though, Crown advocates collaboration and is quick to spread kudos among the Crummer School's faculty, staff and alumni. "To be an effective leader, you need a passion for your organization's mission," she says. "You need the ability to work as part of a team to move that mission forward in a way that honors, engages and respects other people's opinions and goals."
WHAT SHE SAYS:
"I'm so privileged to be a Winter Park resident who also works in our beautiful city."
WHAT THEY SAY:
"Deborah is really a world-class professional … as good a teacher as she is an administrator, which isn't always the case … a great fit for Rollins."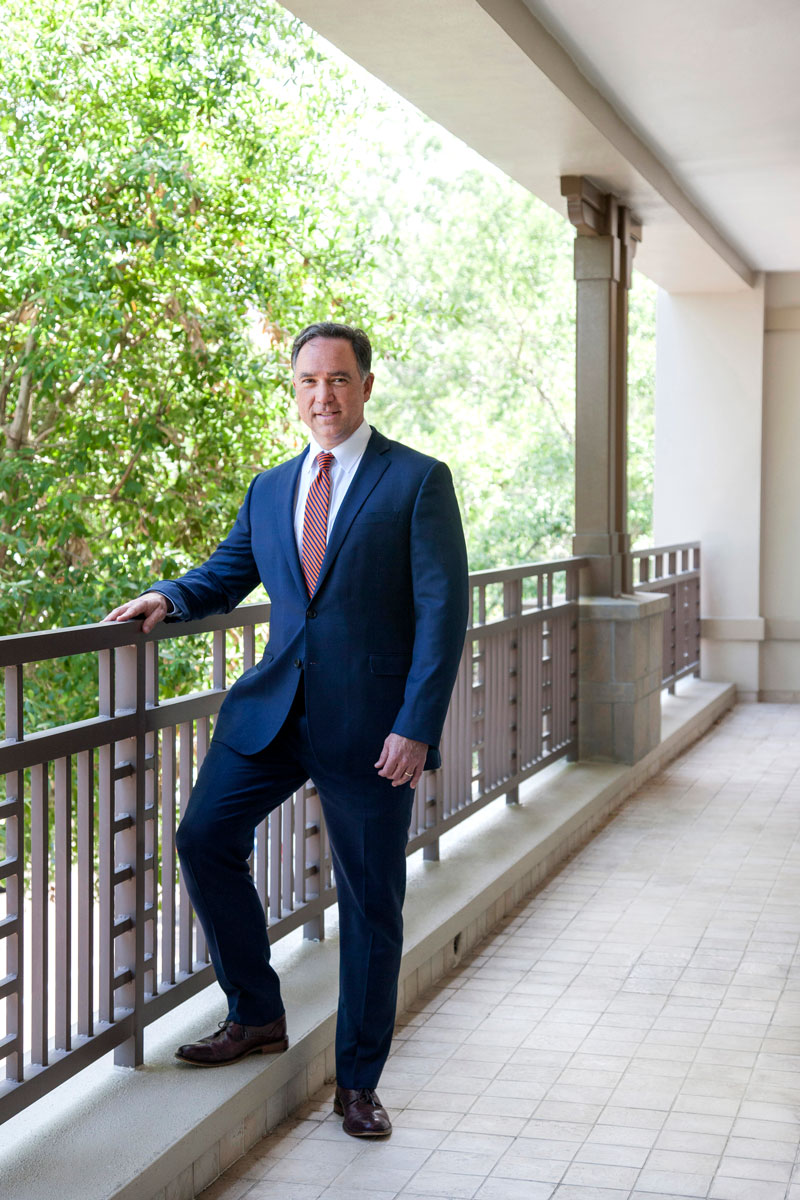 Jere F. Daniels Jr.
Shareholder, Winderweedle, Haines, Ward & Woodman
THE LEGACY KEEPER
Jere Daniels Jr. doesn't sit on the sidelines. More than 20 years after returning to his hometown to join the venerable law firm Winderweedle, Haines, Ward and Woodman, he's a respected community leader in the mold of his late father, who practiced law in Winter Park for 55 years and modeled effective stewardship. Daniels, 52, is a trustee emeritus and past president of the Albin Polasek Museum and Sculpture Gardens; past chairman of the Winter Park YMCA; and one of three trustees — the others are banker Robert C. Klettner and CPA Russell D. Baldwin — of the Joe and Sarah Galloway Foundation. The YMCA and the Galloway Foundation were also causes championed by Daniels' father, who with lawyer Nathaniel Turnbull was the foundation's first trustee. Joe and Sarah Galloway established the Winter Park Telephone Company, which served Maitland and Winter Park and was sold in 1979. Fully funded since the death of Sarah Galloway in 2004, the foundation each year distributes more than $1 million to dozens of charitable organizations that enrich the lives of local children and families. "The opportunity to experience what they do and the passion that their volunteers and staff have, that's all the compensation I need," Daniels says. The Capen House at the Polasek Museum, the swimming pool at Winter Park High School and Showalter Field are among the most visible signs of the foundation's generosity in recent years. A 1993 graduate of the University of Florida College of Law, Daniels worked in Atlanta for five years as the in-house counsel for an environmental contractor. Upon the birth of his first child — two more were to come — he decided it was time to be closer to family. Employed by Winderweedle in 1998, he has practiced in the real estate department with ever-increasing administrative responsibilities for the firm, which was founded in 1931. Daniels next year will become Winderweedle's first new president in 12 years. Daniels is grateful for mentors at the firm who encouraged the service values he learned at home. "I'm honored that I can pass on the legacy that they passed on to me," he says.
WHAT HE SAYS:
"We're all just blessed to be in Winter Park. And it's our responsibility to carry on the hard work of those who came before us, and made the great gifts of this community possible."
WHAT THEY SAY:
"Jere is part of the future generation of leadership for Winter Park.… strong and focused … exudes leadership in a quiet way."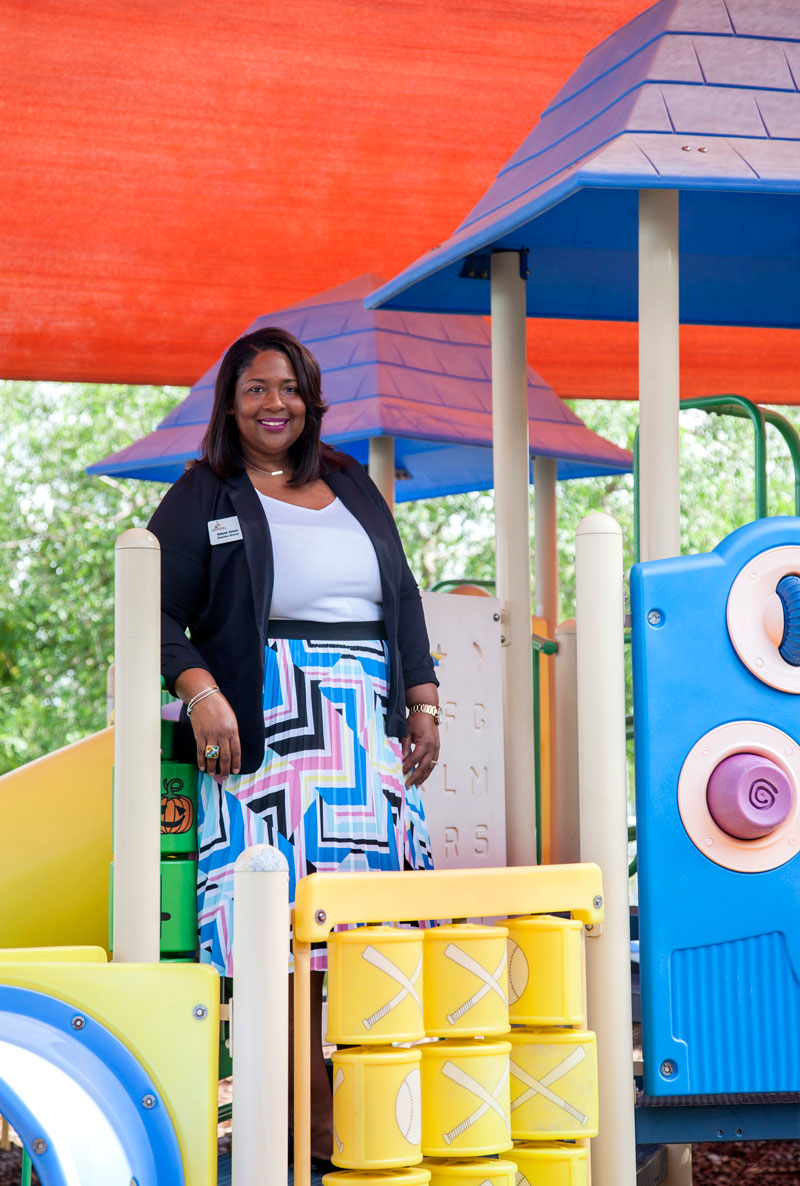 Robynn Demar
Executive Director, Welbourne Avenue Nursery and Kindergarten
THE CHILDREN'S CHAMPION
In 2017, the Welbourne Avenue Nursery and Kindergarten celebrated its 90th anniversary. If Executive Director Robynn Demar has her way, this historically significant community institution will celebrate at least 90 more years of providing top-quality childcare for a racially and culturally diverse population of working families. Demar, 45, sent her own children — now ages 10 and 20 — to Welbourne back when she was working as an accountant. She was heartened by the loving care her kids received and later became a volunteer. "We're now serving the third generation of some families," says Demar, who came on board as executive director in 2012. "When kids leave here they have a foundation to be successful." Since its establishment, Welbourne has quietly served more than 10,000 families. Its graduates have gone on to high school and college and, in many cases, enjoyed successful careers in the military, business and government. It's a story begging to be told — and Demar is eager to tell it. That's why she believes enrolling in Leadership Winter Park, a program sponsored by the Winter Park Chamber of Commerce, was "the best decision I ever made" as executive director. In 2013, she persuaded the group to adopt the facility as its project, which led to a Kentucky Derby-themed fundraiser that netted more than $16,000. The money was great, of course, but the event also served to elevate awareness among the city's up-and-coming influencers. More recently Welbourne — which serves about 65 kids aged 6 weeks to 5 years — has been awarded a perfect-readiness score for its Voluntary Pre-Kindergarten program, which prepares 4-year-olds for early education. It has also implemented a vegetable gardening program and launched nutrition partnerships with Nemours and the Winter Park Health Foundation. "Educating Children for a Better Tomorrow" clearly isn't just a slogan at Welbourne; it's a mission and a passion. Demar, a Tallahassee native, says her main goal is to keep spreading the word. A higher profile, she says, will result in more philanthropic support. Notes Demar: "When people realize what we do, they get behind us."
WHAT SHE SAYS:
"I'm a very committed and compassionate person, and meet people where they are. I believe in the work I'm doing, and have confidence in my potential to inspire others."
WHAT OTHERS SAY:
"Welbourne is an institution the city should cherish … Robynn's passion for it is obvious … a terrific spokesperson who knows how to communicate the organization's mission."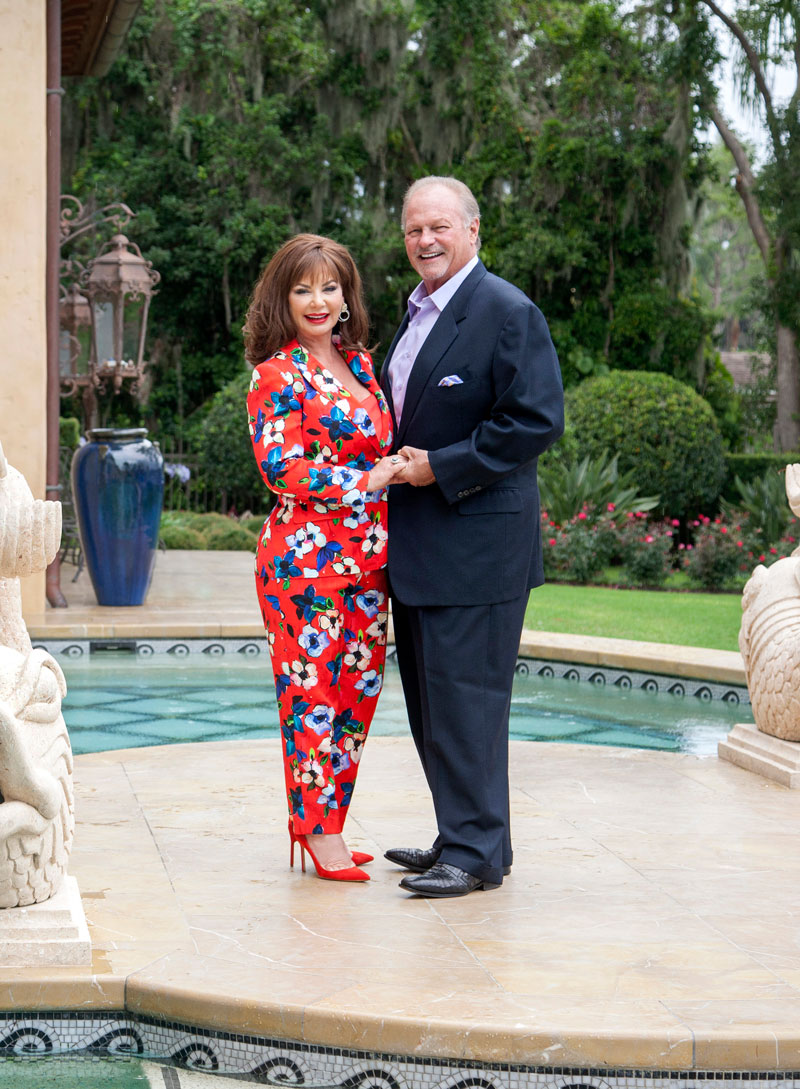 Eric and Diane Holm
Philanthropists
CEO of Metro Corral, Holm Donuts, Holm Hotels, Holm Subs, Colt's Pig Stand (Eric Holm)
THE THANKS GIVERS
These days, Eric and Diane Holm seem to have everything. But because they remember what it's like to have very little, the couple cherishes opportunities to help those in need. "I can remember when we didn't have two nickels to rub together," says Diane, 63. "Our family has been blessed." That's especially true of Eric, also 63, who as a teenager bussed tables and washed dishes at the original Sonny's BBQ location in Gainesville, where his mother was a server. It was difficult for a single mom raising five children to make ends meet, and the Holms received several Thanksgiving Day meals through the Salvation Army. That's why for the past 26 years Eric and his wife, Diane, have been paying it forward with "Helpings from the Heart," a local tradition during which turkey dinners and all the fixings are served to more than 20,000 people at the Salvation Army's gymnasium on Colonial Drive. "Nobody should be hungry on Thanksgiving Day," says Eric, a member of the Salvation Army's national advisory board. He was humbled in 2014 when he received the faith-based organization's Evangeline Booth Award, joining such previous honorees as the Rev. Billy Graham. Then in March of this year the Salvation Army Orlando Area Command inaugurated the Eric and Diane Holm Award, which will be presented annually to others who help the needy. Few, though, do more than the Holms, whose companies include 33 Golden Corral restaurants in Florida and Georgia as well as four Krispy Kreme stores in Jacksonville and a Fairfield Inn & Suites in Celebration. They're branching out with Jersey Mike's, a sub shop franchise, and Eric has developed his own concept, Colt's Pig Stand (formerly Daytona Pig Stand), a fast-casual barbecue eatery in Daytona Beach. Eric is on the board of directors of the Catholic Foundation of Central Florida, while both Holms are members of the AdventHealth Winter Park Family Board. The hospital's Neonatal Intensive Care Unit — where their grandson, Eric, was born — is named the "Holm Dreamery" in recognition of their support. Earlier this year the Holms sponsored the Wishmaker's Ball, which benefited the Make-a-Wish Foundation. For the past five years Diane has chaired the Annual Heart of Fashion Show — sponsored by Nemours Children's Hospital — which benefits Camp Boggy Creek in Lake County. Diane is on the Camp Boggy Creek board of directors and was recently presented the Catholic Foundation of Central Florida's Outstanding Philanthropist Award.
WHAT THEY SAY:
"Supporting organizations that are so deeply committed to helping those in need in our community has truly been our privilege."
WHAT OTHERS SAY:
"Eric and Diane have a deep passion for helping others … thoroughly friendly and down-to-earth people … that Thanksgiving project is maybe the region's most heart-warming event."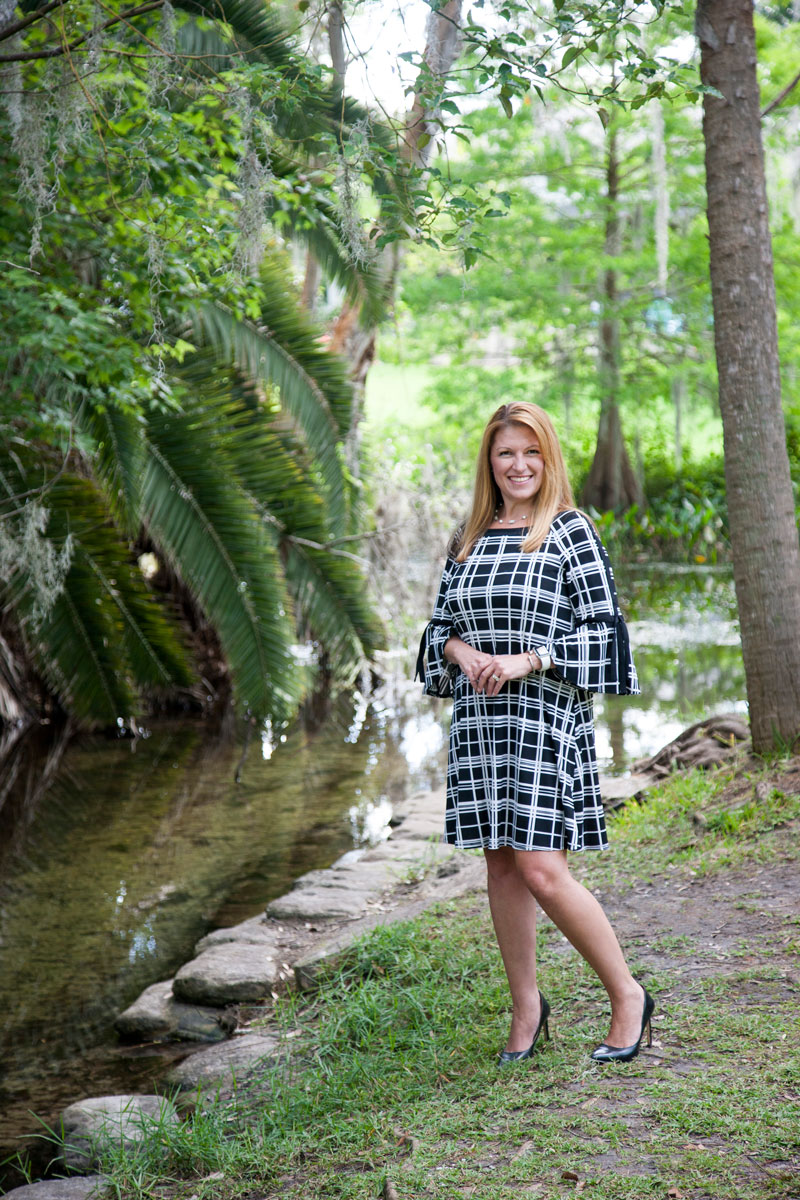 Charlene Hotaling
Vice President and Business Manager, Seacoast Bank
THE NATURAL LEADER
If you're looking for a civic sparkplug, get the indefatigable Charlene Hotaling to serve on your board or committee. Hotaling, 43, vice president and business manager at Seacoast Bank, doesn't get involved just to see her name in magazines or to enhance her resumé. Friends say she genuinely cares about the community and believes that everyone who lives or does business in Winter Park has an obligation to give back. Of course, Winter Park is fortunate to have many like-minded boosters. But Hotaling is front and center because she's currently the volunteer leader of two consequential but quite different community institutions: She chairs the board of trustees for both the Winter Park Chamber of Commerce and Mead Botanical Garden Inc. The chamber has enjoyed a renaissance over the past couple of years under the leadership of president and CEO Betsy Gardner Eckbert, who has broadened the organization's focus beyond events to include such areas as entrepreneurship and international tourism. Hotaling, like many past Influentials, is a product of the chamber's top-notch Leadership Winter Park program (Class of 2013) and was named the organization's Chairman of the Year in 2016 for her effective committee work. "Charlene has the vision and capacity to make every board she serves better than she found it," says Eckbert. Mead Botanical Garden Inc. is the volunteer organization that manages "Winter Park's Natural Place," the 47.6-acre expanse of gardens, trails, wetland and wildlife habitats — along with two amphitheaters — that has been rescued from neglect largely through the advocacy of nature-loving locals, who have donated funds and labor to revive a true urban oasis. "Mead Garden is vital to the lifestyle we enjoy in Winter Park," adds Hotaling, who with her husband John has two offspring, ages 18 and 21. Her formula for leadership success is simple: "I ask a lot of questions and I do my best to seek out advice from others. We have a city full of very smart, insightful people. It's important to me that I consider the opinions and thoughts of others while considering my own feelings before making decisions that could impact others."
WHAT SHE SAYS:
"Our community focus has helped John and I raise well-rounded adults that care about people, the community and our environment. I'm so very proud of the people they have become and would definitely say they are my proudest accomplishment."
WHAT THEY SAY:
"Charlene is friendly and collaborative and absolutely no one is going to outwork her … her sincerity shows … a leader by example."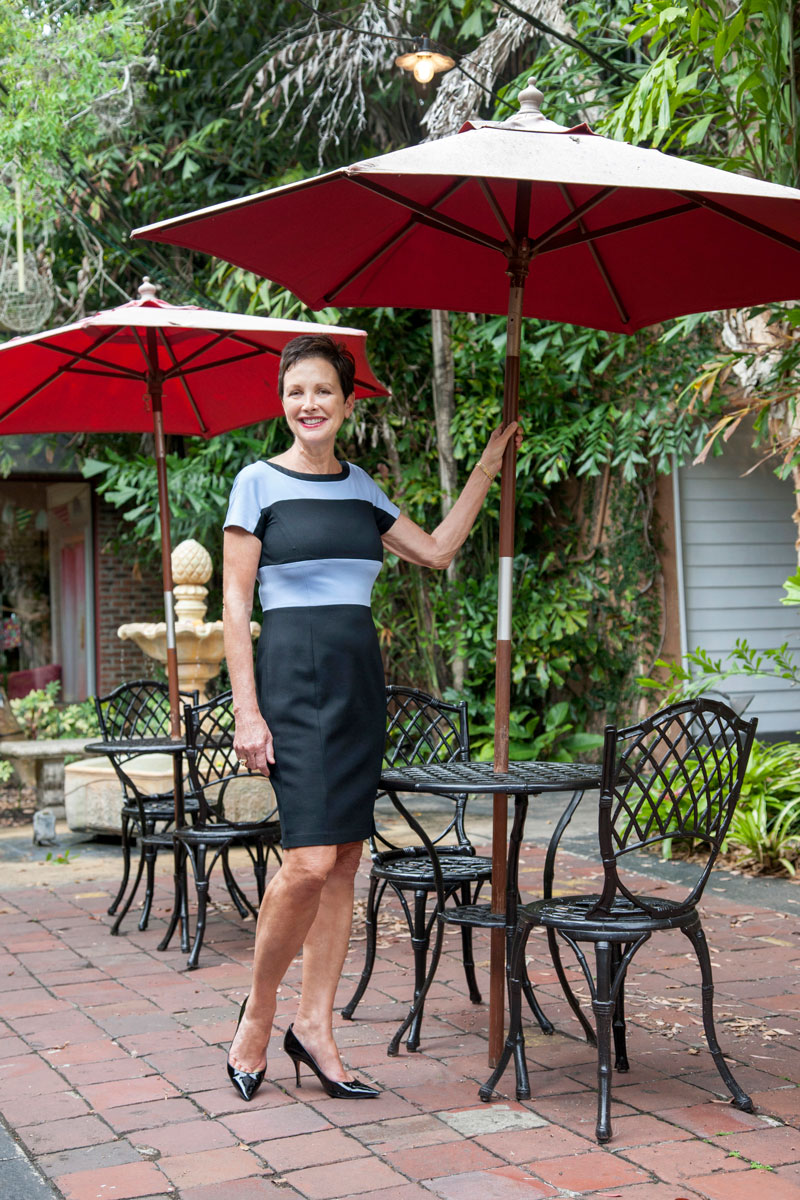 Susan Johnson
Founder and President, Support Our Scholars
THE LIFE-CHANGER
Susan Johnson's son, Jake Allen, was born hearing and visually impaired. But Johnson, then 27, was determined that Jake would have the best life — and the best education — possible. She founded the Jake Allen Center, a one-of-a-kind school that provided an alternative education for Jake and others like him for whom traditional public schools were ill equipped. The school eventually grew to 50 employees and a $1 million annual operating budget. Sadly, Jake died in 2011 at age 34. Although still an advocate for special-needs children, Johnson then shifted her focus to helping young women who are academic superstars but are hindered by financial reasons from attending college. In 2006 she founded Support Our Scholars (SOS), through which underprivileged high-schoolers are mentored as they select and apply to colleges and then supported — financially and emotionally — throughout their higher-education journeys. "We provide our scholars with everything they need to begin their freshman year," says Johnson. "We know that underprivileged first-generation students need the support of mentors and stipends to accomplish their goals." In addition to receiving $10,000 per semester and dorm-room provisions, each scholar is assigned an individual mentor and has access to a support team of accomplished businesswomen who offer advice and encouragement. SOS now boasts 46 young women in such colleges as Harvard University, Rice University and Carnegie Mellon University plus seven attending graduate school. The SOS motto: "Changing Women's Lives One Degree at a Time." Johnson, an Ohio native, has received an array of recognitions including the Winter Park Chamber of Commerce Woman of Influence Award, the Walt Disney Community Service Award (twice) and the Sertoman of the Year Award, which recognizes exceptional contributions "in the spirit of service to mankind." She also holds an honorary doctorate of humanities (L.H.D.) from Western Maryland College and has served on the boards of the Helen Keller National Center, the AdventHealth Community Health Impact Council and Lighthouse of Central Florida — which provides vision-specific rehabilitation and other services for the sight-impaired. Sports fans will know Johnson's husband, Major League Baseball player and manager Davey Johnson. Together, the couple has six children.
WHAT SHE SAYS:
"I know that happiness comes from lifting up others. I would hope my life would reflect how many joys and blessings have been given to me."
WHAT THEY SAY:
"Nobody who has a heart wouldn't want to support Susan's work … you'll tear up listening to SOS kids tell success stories … she makes the world a better place."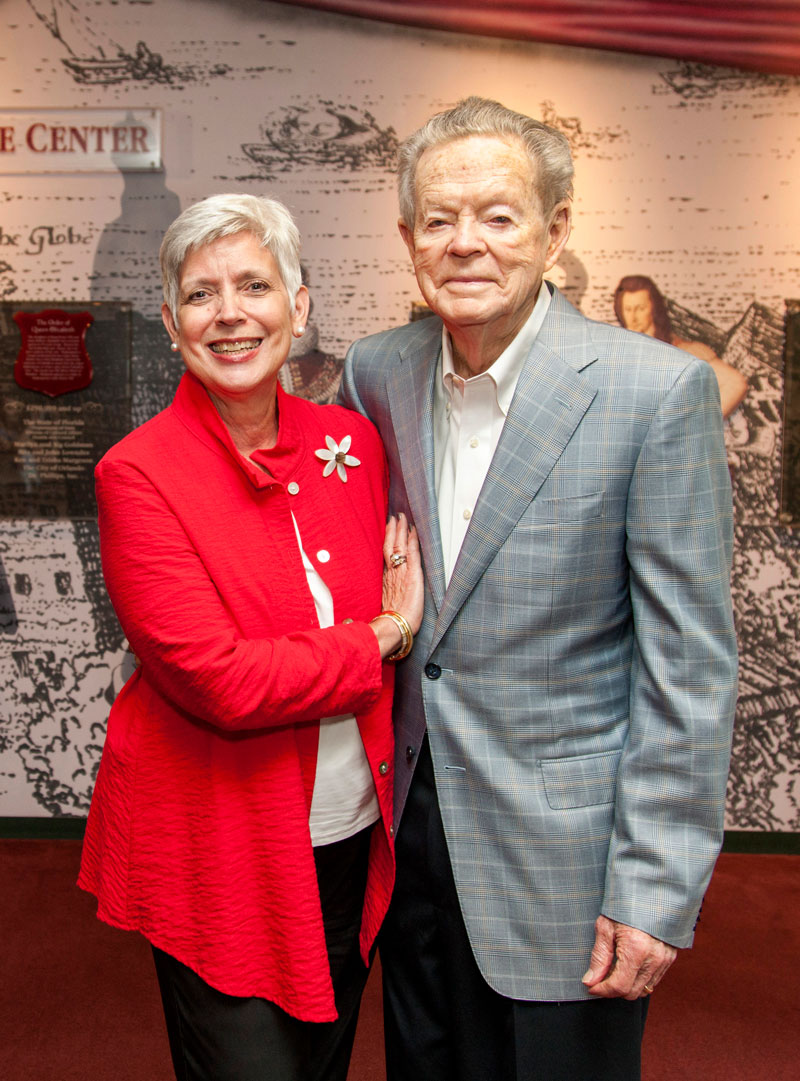 John and Rita Lowndes
Philanthropists
Founding Shareholder, Lowndes, Drosdick, Doster, Kantor & Reed (John Lowndes)
THE SHAKES PAIR
"How far that little candle throws his beams!" wrote William Shakespeare in Merchant of Venice. "So shines a good deed in a weary world!" The Bard's observation is certainly applicable to John and Rita Lowndes. The big-hearted beam-throwers for whom the John and Rita Lowndes Shakespeare Center is named have undoubtedly made our world less weary — and more shiny — through their countless good deeds. Powerhouse land-use attorney John, 88, is the founding shareholder of Lowndes, Drosdick, Doster, Kantor & Reed — which marks its 50th anniversary this year — and was an early partner with builders Lester Zimmerman, Lester Mandell and Jack Lazar in a development company that was sold in 2005 to nationally traded Meritage Homes. While building one of the most consequential law firms in the region, he found time to chair the boards of the Orlando Museum of Art, Winter Park Memorial Hospital (now AdventHealth Winter Park), the Winter Park Health Foundation, the Friends of the Mennello Museum, the UCF College of Business Administration and the UCF Foundation. Rita, 70, is a nonpracticing attorney who has chaired the boards of the Coalition for the Homeless of Central Florida, Planned Parenthood of Greater Orlando, Trinity Preparatory School and the UCF Town & Gown Council. She has also served on the boards of the Winter Park Public Library, United Arts of Central Florida, the Central Florida Foundation, the Orange County Arts & Cultural Affairs Advisory Council, the UCF College of Arts & Humanities Dean's Advisory Council and the UCF Foundation (on which she and John are now members emerita and emeritus). Ah, but what about Shakespeare? Longtime locals will remember that the Orlando Shakespeare Festival — rebranded in 2018 as Orlando Shakes — debuted in 1989 and staged productions at Lake Eola's Walt Disney Amphitheater. The outdoor setting could be charming — but only if the weather was right, the pigeons behaved themselves and the noise of downtown traffic wasn't too intrusive. In 2000, John and Rita donated $750,000 as seed money toward a $3.5 million transformation of the old Orlando Science Center into a state-of-the-art, four-theater complex. (Two like-minded couples, Ken and Trisha Margeson and Sig and Marilyn Goldman, added $500,000 and $300,000, respectively.) Orlando Shakes — celebrating its 30th anniversary this year – presents seven shows in Mainstage Series and three shows in its Children's Series while the busy venue, located in Loch Haven Cultural Park, also hosts the Fringe Festival and other events.
WHAT THEY SAY:
"We must say to one another multiple times every week, 'Isn't Winter Park a great place to live?' We would love to see Winter Park continue to deepen its commitment to arts and culture and to preserve the natural beauty around us."
WHAT OTHERS SAY:
"John and Rita give their hearts as well as their money … old-school examples of people who really believe in giving back … John is a legend in this town and Rita is the most dynamic person I know."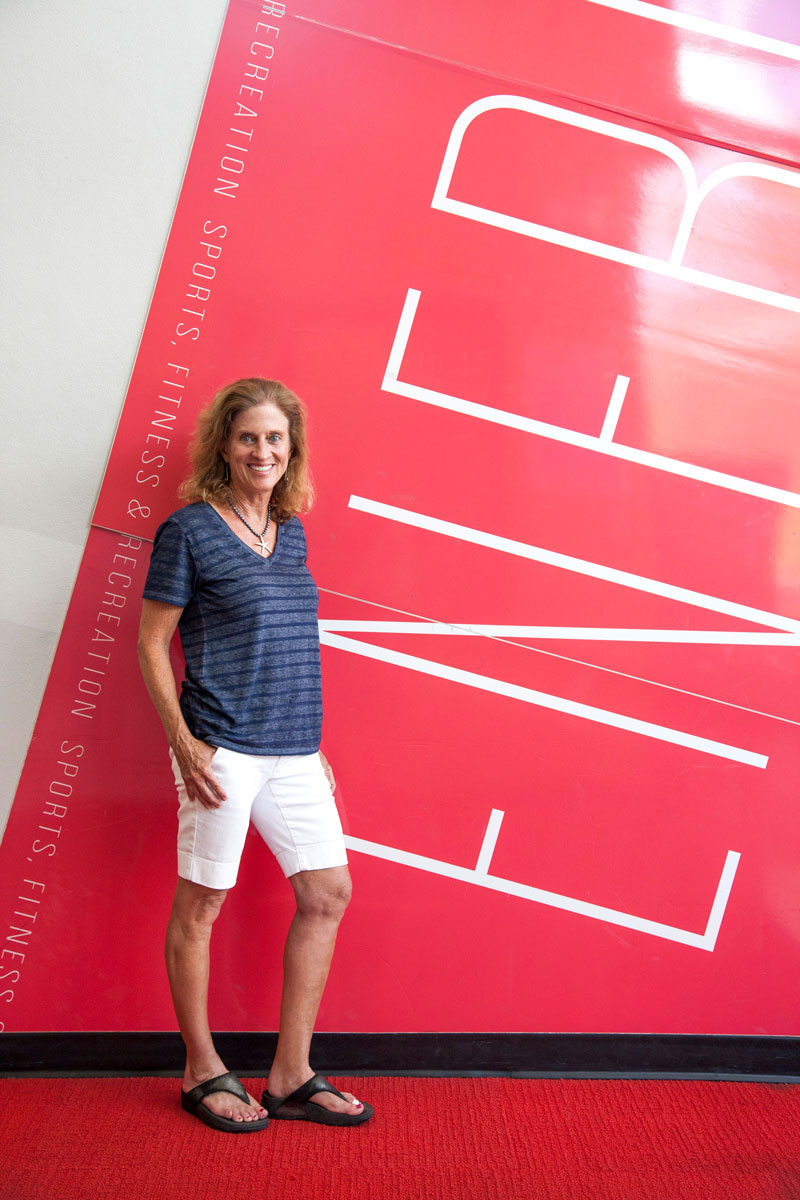 Paula Madsen
Volunteer/Activist
THE KIDS' CRUSADER
After Paula Madsen earned her MBA from Northwestern University's J.W. Kellogg School of Management, she went straight to work in the corporate world, with stints in the marketing and branding operations for such goliaths as Tonka Toys and General Mills. She had a chance to pursue her true calling after she and husband, Drew, the now-retired chief operating officer of Darden Restaurants, moved to Winter Park in 1999. She began to volunteer at the Boys & Girls Clubs of Central Florida (BGCCF) Eatonville Branch, which was then headquartered in a ramshackle double-wide bought through the federal "Weed and Seed" program. From 2000 to 2007 Madsen, 61, worked for BGCCF, which has 35 branches in seven counties. But she couldn't get her mind off Eatonville, where the need was so great and the facility so forlorn. So, in 2005 she made it a mission to recruit a high-powered board of directors — which she led for the first six years — that would focus its efforts exclusively on the BGCCF's efforts in Eatonville. She was thrilled when in 2011 Darden Restaurants decided to honor retiring chairman of the board Joe R. Lee by donating $1.5 million toward building a 9,000-square-foot facility to replace that aging double-wide. "The Lee Branch is located between two very affluent cities, Maitland and Winter Park," notes Madsen. "There's very strong community spirit in Eatonville. But a lot of kids there from single-family households where the parents works two or three jobs. There needed to be a safety net." One of the initiatives championed by Madsen on behalf of the Lee Branch was the annual "Faces of the Future" breakfast, through which nearly $400,000 was raised last year. The Lee Branch has become a major success story and is now undergoing an expansion that will double its size. "When I'm passionate about a cause, like the BGCCF, I go into high-powered sales mode," says Madsen. "I want everyone to understand, appreciate and then share my enthusiasm. Working tirelessly to help even the playing field for at-risk youth is something we should all be 100 percent behind."
WHAT SHE SAYS:
"I think Winter Park is the best thing about Central Florida."
WHAT THEY SAY:
"Paula has major-league corporate experience that she applies to nonprofits … someone you definitely want on your team … underprivileged children have a powerful advocate."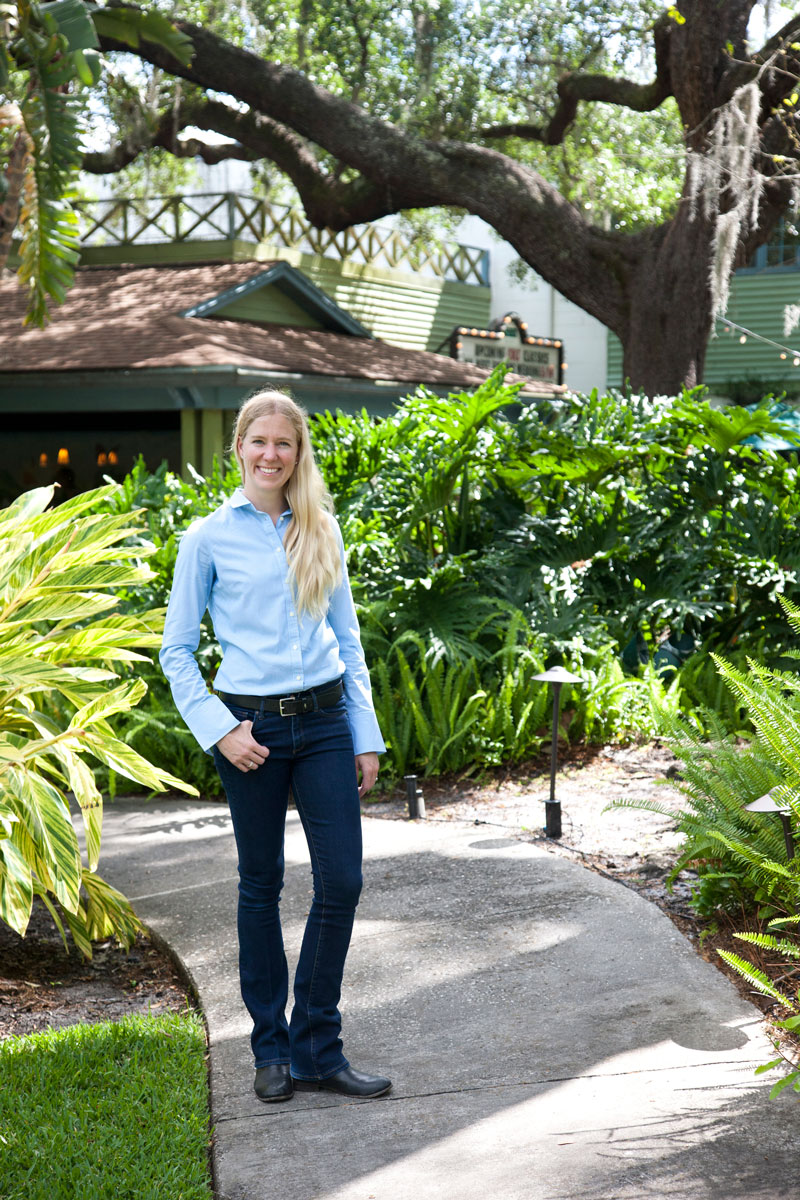 Elizabeth Tiedtke Mukherjee
Managing Director, Enzian
THE CINEMA STALWART
Like Dorothy on her journey to Oz, Elizabeth Mukherjee, scion of the Winter Park's legendary Tiedtke family, couldn't have imagined what lay beyond the rainbow. But here she is, years after flirting with theater and culinary careers in New York City, managing director of the Maitland art-movie house that was her childhood playground. Mukherjee, 33, is the daughter of Philip and Sigrid Tiedtke, under whose leadership Enzian became a beloved local institution and launched the Oscar-qualifying Florida Film Festival. The nonprofit theater was founded in 1985 by Tina Tiedkte, Philip's sister, with funding from her father, John Tiedtke. Mukherjee's paternal grandfather was an arts enthusiast who shaped the town's very character with his philanthropy. After high school, Mukherjee went to New York University to study theater. But she changed her mind. "I like numbers and problem-solving and analysis far too much to just major in art," she says. She transferred to Rollins College, where she graduated in three years with a major in economics. Then, thinking she might open a restaurant or even become a chef, it was back to the Big Apple for nine months at the French Culinary Institute. Upon finishing in 2009, her parents invited her into the kitchen of Enzian's restaurant, Eden Bar, to test her skills. Within a year, she was the operation's business manager. It was terrifying. "I had a piece of my family legacy and a local treasure at stake," she says. By 2015, she was spearheading a $6 million expansion, which was suddenly last summer called off due to parking issues. It was a disappointment, she says, adding that "we would rather Enzian be what it is than risk losing it." Mukherjee has reorganized with new staff to lead operations and development, and the board is contemplating strategic enhancements to the theater complex. Mukherjee, who works for free, says she would like to make herself "irrelevant." She and her husband, cyber security attorney Gourav Mukherjee, have two sons, ages 3 and 1. For the young woman who loves numbers, food and making people happy, it turns out there's no place like home.
WHAT SHE SAYS:
"We're fortunate to receive the support of a culturally diverse and open-minded community, and are able to give back by offering people a place to truly connect with one another and experience a deeply diverse, highly democratic and broadly accessible art form."
WHAT THEY SAY:
"Enzian is one-of-a-kind in Central Florida … comforting that it's in the hands of a family member … Liz is her parents' daughter: talented and brilliant."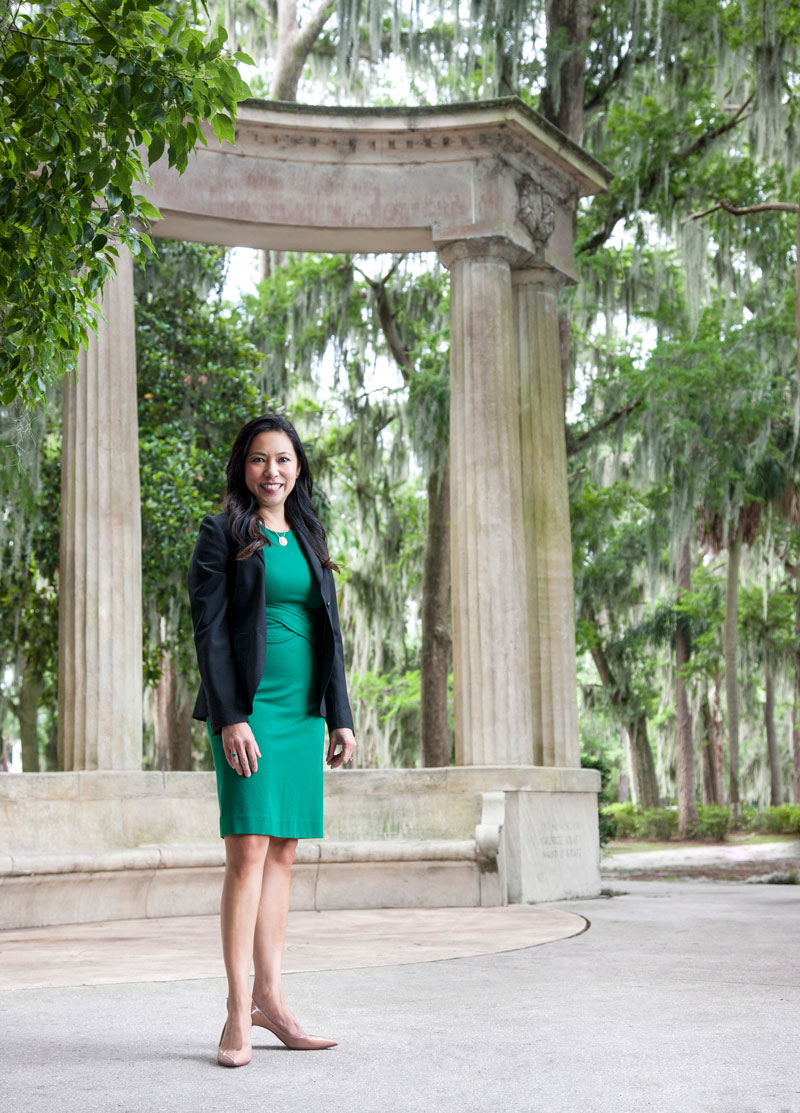 Stephanie Murphy
U.S. Representative, District 7
THE SENSIBLE CENTRIST
During an era in which the extreme right and the extreme left have come to dominate national politics, U.S. Representative Stephanie Murphy (D-Winter Park) has staked out a position in the sensible middle, co-chairing the House Blue Dog Coalition, a group of 27 pragmatic Democrats focused on fiscal responsibility and a strong national defense, and chairing Future Forum, a group of 50 younger House Democrats (Murphy is 41) that advocates for issues important to millennials such as college affordability and gun violence prevention. Murphy, now in her second term, is known for her independent streak, which allows her to support both a balanced budget amendment — long a goal of conservatives — and such traditionally liberal causes as abortion rights and LBGTQ protections. Now in her second term representing District 7 — which encompasses Winter Park — Murphy cruised to reelection in 2018 after barely edging longtime incumbent Republican John Mica in 2016. And she gets things done: Quorum Analytics, a software company that tracks and aggregates legislative data, named Murphy the most effective member of the 2016 freshman class in the House. In 2019 she was appointed to the House Ways and Means Committee, the chief economic policy committee in Congress. Murphy's personal story is certainly compelling. She was 6 months old in 1979 when her family fled Vietnam by boat. They were rescued at sea by the U.S. Navy and brought to the U.S., where Murphy — with the help of Pell Grants and student loans — eventually earned dual bachelor's degrees in economics and international relations from the College of William and Mary and a master's degree in foreign service from Georgetown University. She served as a national security specialist at the Pentagon and was a strategy consultant at Deloitte Consulting before jumping into politics and becoming the first Vietnamese-American woman elected to Congress. A Winter Park resident, Murphy is married to Sean Murphy, CEO of Maitland-based sporting goods maker 3N2. They have two children, Maya and Liem. The accomplishment of which she is most proud, however, was becoming an American citizen as a teenager.
WHAT SHE SAYS:
"On the whole, I think members of Congress spend too much time trying to score political points on TV and obstructing their opponents and not enough time putting people over their own politics. I'm working to stop that."
WHAT THEY SAY:
"Stephanie isn't a showboater … cares more about getting things done than scoring political points … we could certainly use more like her, whether there's an R or a D next to their names."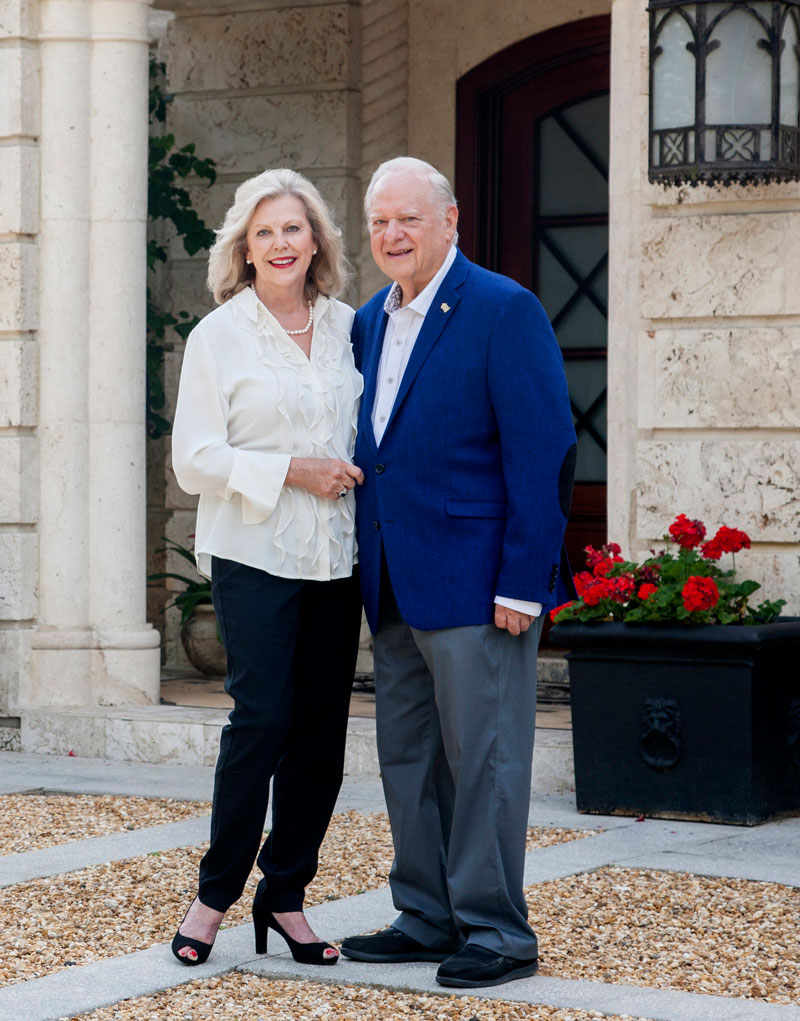 Tony and Sonja Nicholson
Philanthropists
Real Estate Developer (Tony Nicholson)
Real Estate Broker (Sonja Nicholson)
THE KNIGHT MOVERS
In 1979, the fledgling football team at UCF had no locker room, players were required to bring their own cleats and all the equipment was donated. Head coach Don Jonas, erstwhile quarterback of the Continental Football League's Orlando Panthers, worked gratis the first season. Home games were played in the rickety Tangerine Bowl (today Camping World Stadium) in downtown Orlando. But by 2017 the Knights — who since 2007 have played home games on campus in bouncy Spectrum Stadium — were declaring themselves national champions after going 11-0 and earning a Peach Bowl victory over Auburn, the only team to beat the squads who played for the official national championship: Alabama and Georgia. Tony and Sonja Nicholson have for years been among the burgeoning program's MVPs. Tony, 80, is a real estate developer who has also backed Broadway shows and published magazines. Sonja, 67, is a real estate broker who owns Rose Properties in Winter Park. In 2004, the Nicholsons donated $2 million for construction of the Nicholson Fieldhouse — the state's first indoor practice facility for a college football team — and more recently another $2 million for upgrades to the fieldhouse and the surrounding area. But the Nicholsons aren't interested exclusively in sports. In 1996, for example, the university named its School of Communication and Media in their honor following a $2 million pledge. "UCF is one of the community's most significant institutions," says Tony Nicholson. "We're delighted to be able to contribute in a meaningful way." The Nicholsons have also contributed in meaningful ways to Winter Park. Just drive by AdventHealth Winter Park, where the $85 million Nicholson Patient Pavilion is nearing completion. The addition will include 140 all-private rooms and an expanded same-day surgery center along with a surgical waiting room and a new main lobby for the hospital. Floors two through five will encompass an intensive care unit, surgical care beds and an inpatient rehab facility. Previously the couple had donated $5 million toward construction of AdventHealth Celebration's Nicholson Center, a $35 million facility where thousands of surgeons have trained in robotic surgery. Tony Nicholson serves as a member of the board of directors for the UCF Foundation and the UCF Athletics Association, while Tony and Sonja serve on the boards of the Nicholson School and the Bethune-Cookman University Foundation. The couple co-chair the AdventHealth Foundation Family Board and support an array of charitable organizations.
WHAT HE SAYS:
"My style is a caring manner. I've been able to do endowments for the charities close to my heart and to give of my time, bringing my business expertise and knowledge to share and help them all."
WHAT SHE SAYS:
"Coming from Alabama and growing up in a close-knit family, I feel I have a special ability to connect with others. I genuinely care about the issues that I get involved in, and I do like to champion winning outcomes."
WHAT THEY SAY:
"You could write a book about Tony's business career … Sonja is a savvy businesswoman who loves the community … the Nicholsons have probably touched your life whether you know it or not and deserve every accolade you can think of."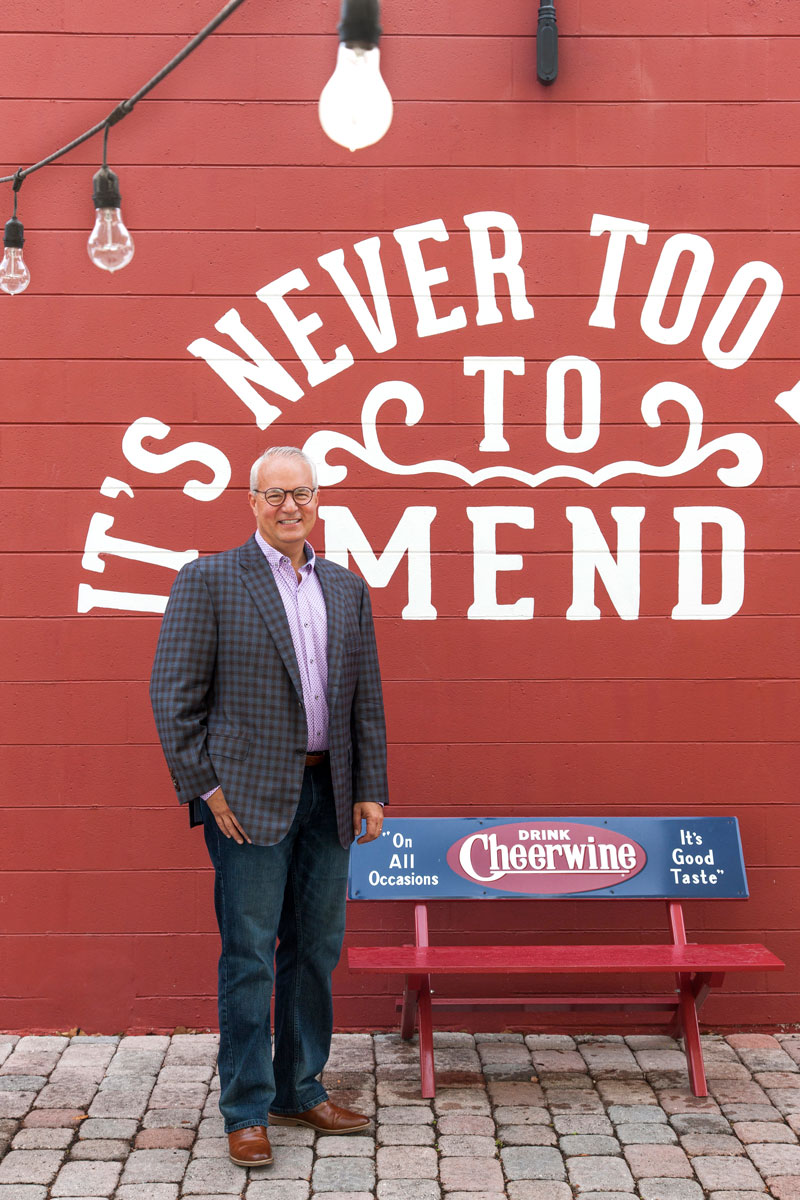 John Rivers
Founder and Chief Executive Officer, 4R Restaurant Group
THE BARBECUE BENEFACTOR
Most givers build successful businesses first and support good causes later. John Rivers, 55, has flipped that narrative. Founder and CEO of the 4R Restaurant Group — parent to the 4 Rivers Smokehouse chain plus The Coop, The Sweet Shop and 4R Specialty Cakes — started giving and built a food-service empire as a result. In 2004 Rivers was a retired pharmaceutical executive who, with his wife, Monica, had begun a "barbecue ministry" to help others. By the time the first 4 Rivers Smokehouse opened five years later — in a run-down building on Fairbanks Avenue — the couple had decided to use a percentage of the restaurant's revenue for philanthropy. In 2015, with business booming, they established the 4R Foundation, which now aids more than 650 local causes and organizations. Since 2012 the 4R Foundation has run the annual "Cabs 'n Cows" event to benefit local nonprofits. In addition, each Rivers-owned restaurant awards an annual scholarship to an employee and maintains a distress fund for other employees who may face personal hardships. Says Rivers: "My job as CEO is to make sure every single person working for us has the chance to impact a life in a positive way." The company also provides personalized birthday cakes to children in foster care. "That's their special day, and children need to feel valued and special in life," adds Rivers. Coming up is the 4Roots Farm & Agriculture Center, which will encompass a 40-acre farm and a 30,000-square-foot distribution facility in Orlando's burgeoning Packing District. The center will use traditional methods and state-of-the-art hydroponics to grow fruits and vegetables that will be bought by Rivers' restaurants as well as AdventHealth and Orange County Public Schools. Profits, he says, "will go right back into the community." The distribution facility will also handle the approximately 972 million pounds of produce that the State of Florida buys and then fails to sell. "That food now gets burned or goes into a landfill while one in five children in the state goes hungry," notes Rivers. 4Roots has already committed to build or expand farms at three Orange County high schools.
WHAT HE SAYS:
"Our culture is predicated on love and on truly caring and making a difference in other people's lives. That's how we do what we do. It's a corporate mandate. You feed people who need food."
WHAT THEY SAY:
"A man of faith who walks the walk … an example of how all businesses can give back … I want his brisket recipe."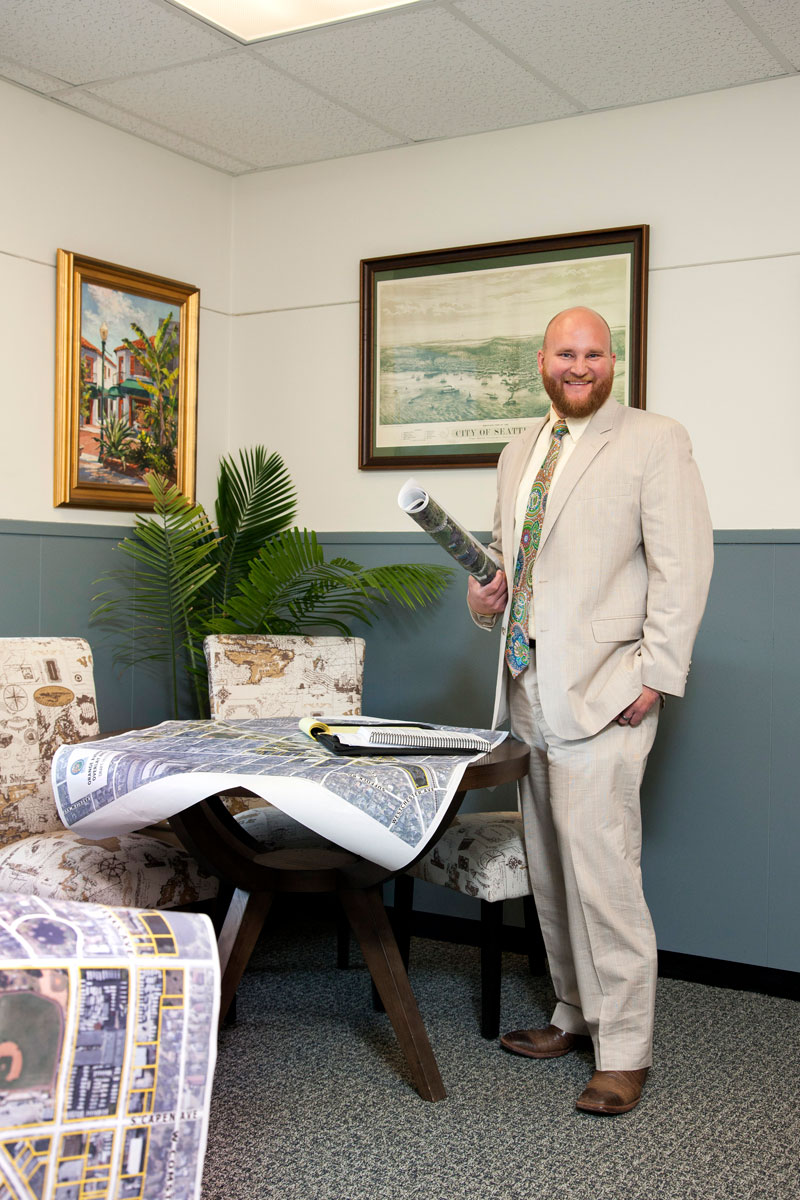 Bronce Stephenson
Director of Planning and Community Development, City of Winter Park
THE PLACE-MAKER
It takes vision, technical knowledge and considerable people skills to effectively oversee planning, economic development, code enforcement and historic preservation in Winter Park — where any aspect of the job is apt to create controversy. Bronce Stephenson, a relentlessly cheerful extravert, may well possess the right combination of smarts and savvy to steer the city through complex and potentially fraught issues such as, for example, creating an overlay district that would reshape the jumbled Orange Avenue corridor into a more suitable entryway for the city. Stephenson, 35, came to Winter Park from a similar position in Owasso, Oklahoma — about the same size as Winter Park — where he oversaw a rebirth of the city's nondescript downtown into the hip and happening Redbud District. Such a metamorphosis is what he hopes to see occur along Orange Avenue, but he wants Winter Parkers — not city hall — to guide the process. That's why he assembled an Orange Avenue steering committee — public hearings were underway at press time — and is personally meeting with community stakeholders to gather feedback. After earning a bachelor's degree from San Diego State University (geography and history) in 2007, Stephenson got a master's degree in public administration from the University of Oklahoma. He began his career in Del Mar, California, as an intern before eventually taking over as assistant planner. Two years later he was planner for Stillwater, Oklahoma, followed by a seven-year stint as community development director in Owasso. Back in the Sooner State, Stephenson was an active Boy Scout leader — he and wife Robby have four sons and two daughters ranging in age from 2 to 16 — and coached baseball and soccer. He also participated in a variety of civic organizations. "My goals are to provide solutions to the numerous complicated issues that Winter Park faces," he says. "I want to enhance community and create place with each decision I play a part in. Our desirability and geographic location puts great pressure on Winter Park — so our solutions will need to involve critical thinking and honest, transparent dialogue."
WHAT HE SAYS:
"I love helping people aim for higher standards and helping them realize that they can make a difference by just showing up and using their voices."
WHAT THEY SAY:
"I'm impressed by Bronce's commitment to outreach … if you want to know what's happening just call him … very committed to partnerships."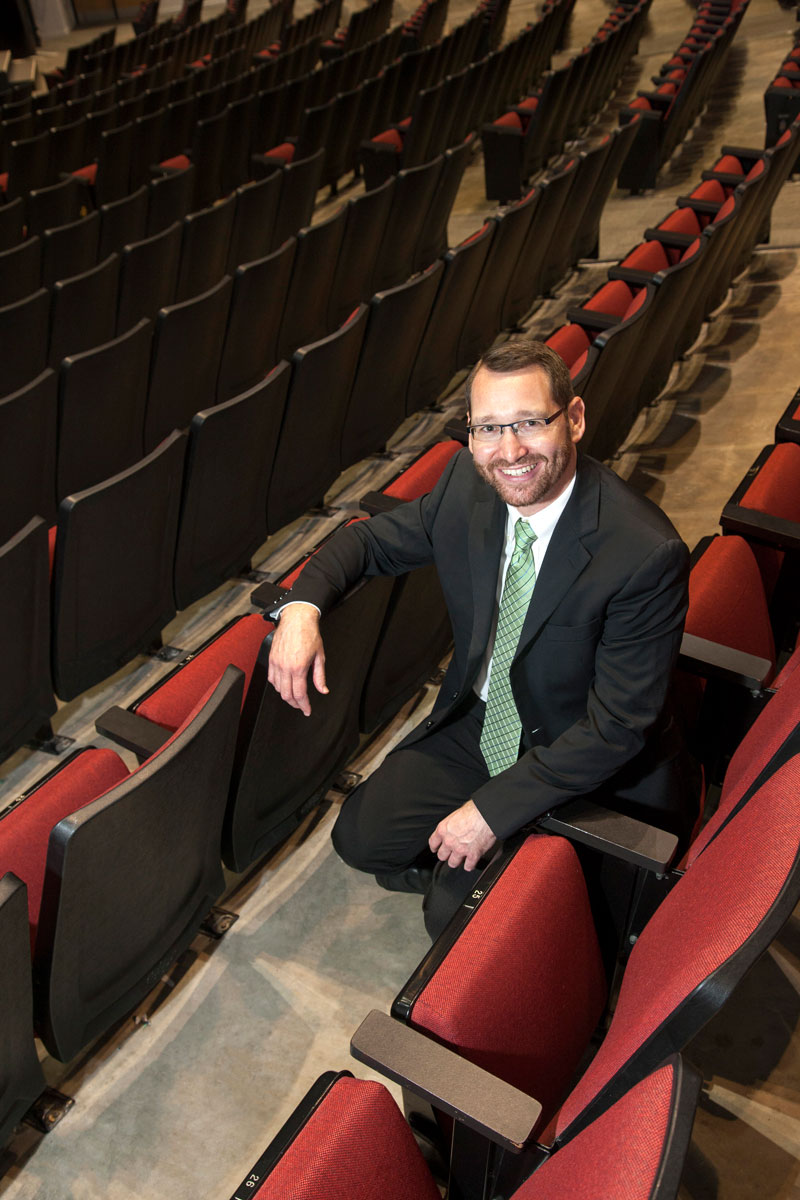 Matthew Swope
Director of Choral Activities, Chairman of the Department of Performing Arts, Winter Park High School
THE CHOIR CHIEF
Out of all the high school teachers you can recall, how many were so inspirational that they truly changed your life? If you're lucky, then you can name a handful. If you're really lucky, then you — or your kids — were taught by Matthew Swope, director of Winter Park High School's enormously popular choral program. Swope, 38, wrangles more than 200 teenage Wildcats in the school's choir and in several award-winning a cappella ensembles, such as Naughty Scotty (men) and Take 7 (women). He also directs the school's annual Night on Broadway — an over-the-top musical production that has staged crowd-pleasing extravaganzas such as Les Misérables, Ragtime, The Pirates of Penzance and last year's Celebration in Song, which marked the event's 20th anniversary. Of course, even the omnipresent Swope can't individually teach 200 sophomores, juniors and seniors how to be great singers. But what he can do — and does do — is teach them life lessons about the importance of teamwork and professionalism. Swope, who earned a master's degree in music from Penn State, also shepherds his young singers to civic and charitable functions and leads various ensembles in recording sessions and national competitions. Under Swope's direction, songs by Winter Park High's a cappella groups have twice been selected for the Best of High School A Cappella — a compilation album released by Chicago-based Varsity Vocals — and have notched several nominations from the Contemporary A Cappella Recording Society, which, in the a cappella world, is the equivalent of the Grammys. (By the way, if you want to shed a happy tear, check out the "Mr. Rogers Medley" by Naughty Scotty on YouTube.) Swope, winner of the Winter Park High School Excellence in Teaching award, says he's proudest not of the singers he has produced but of the people he has produced: "So many of my former students are out in the community and the world beyond positively contributing to society. Hearing their accomplishments as doctors, teachers, engineers, pastors and entrepreneurs makes me proud to have been a part of their journey."
WHAT HE SAYS:
"I hope Winter Park continues to treasure its historical landmarks and institutions and yet always finds a way to lead in artistic, educational, environmental and entrepreneurial endeavors. I hope that Winter Park continues to invest in the lives of young people, because they truly are the future of this beautiful city."
WHAT OTHERS SAY:
"A once-in-a-generation teacher for most kids … hard to imagine who else in this town impacts as many young lives … I hope he's there long enough for my grandkids to join the choral program."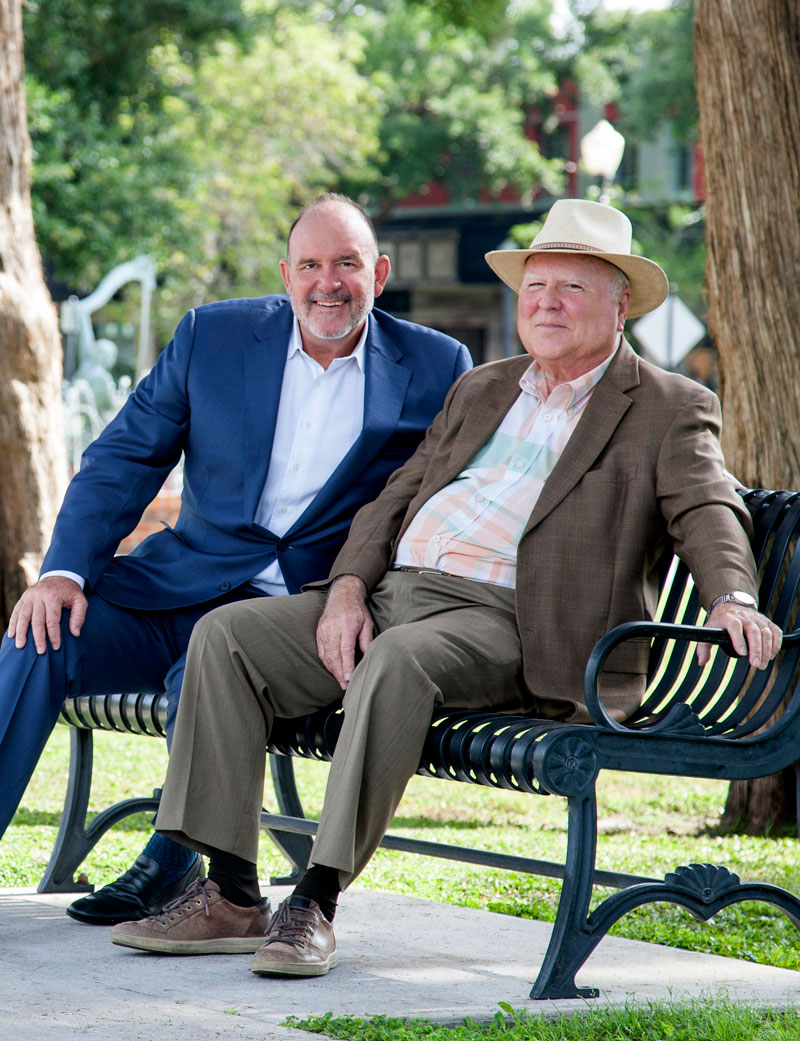 Dykes Everett and Bill Walker
Founder and President, Dykes Everett & Company
Retired attorney, Winderweedle, Haines, Ward & Woodman
THE CIVIL SERVANTS
Wherever you are on the political spectrum, you'll surely concede that people seem generally nastier, less empathetic and more combative than they used to be. That's certainly true in national politics, which has gotten so toxic that it has infected interactions between otherwise friendly neighbors in communities across the U.S. Last year retired attorney Bill Walker, 77, formerly of Winderweedle, Haines, Ward & Woodman, began convening small groups of people who hold opposing viewpoints and encouraging them to talk — and, more important, to listen — to one another while enjoying lunch. Walker's former law partner Dykes Everett, 59, now president of Dykes Everett & Company, a consultancy that advises developers on issues related to conservation and natural resources, soon joined the effort. The result is the No-Name Civility Posse, an informal group — it has about a dozen members and no elected officers — that meets regularly at the Barker House, home of Rollins College President and First Lady Grant and Peg Cornwell. (Peg Cornwell is a member of the group.) Earlier this year the posse expanded its scope by hosting a larger confab at the college's Rice Family Pavilion. What's next? Hopefully, say Walker and Everett, plenty. The group is loosely modeled on the Tallahassee-based Village Square, a nonprofit organization that formed in 2006 following a local political brouhaha and now hosts seminars, forums and town halls attended by hundreds. "Our concept is simple, really," says Everett. "We thought the best place to start is always with fellowship. Get people together, break bread together and you can restore relationships and then create a place to work on our differences." Walker and Everett are both self-professed "country boys" — Walker's from Palatka, Everett's from Sebring — who believe that people can agreeably disagree. They share the goal of making Winter Park a more thoughtful and respectful place where citizens can intelligently discuss issues and even in divergence find common ground. Walker, who once took a leave of absence from lawyering to head the Florida Conference of the United Methodist Church, and Everett, who comes from a ranching family and has a passion for environmentalism, may be on to something. But they insist that everyone can make a difference, whether they're posse members or not. To learn the philosophical underpinnings of the No-Name Civility Posse, they suggest reading Arthur Brooks' Love Your Enemies: How Decent People Can Save America from our Culture of Contempt (HarperCollins 2019).
WHAT THEY SAY:
"To be effective I try to use patience, judgment, effective public speaking, unemotional thinking through controversial issues, a sense of humor and the ability to be vulnerable." (Walker)
"I tend to use my life experiences to inform the debate and try to engage folks with authenticity and a sincere interest in solutions." (Everett)
WHAT OTHERS SAY:
"Hopefully this concept catches on; we could use it in Winter Park … great to see two seasoned community leaders come out and say, 'Let's change the way we interact as a community."'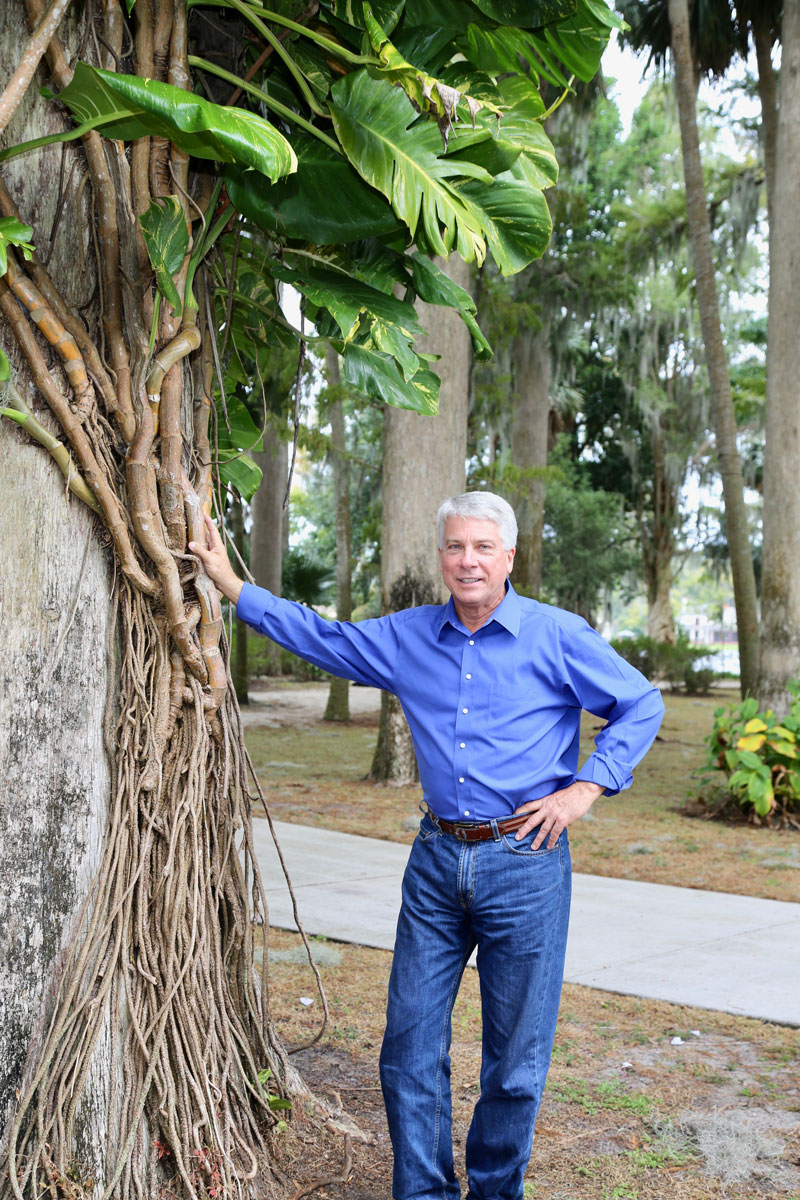 Todd Weaver
City Commissioner, Group 4
President, Weaver Engineer and TruGrit Traction
THE CONSCIENTIOUS OBJECTOR
Todd Weaver helped design the old "Twister: Ride it Out" attraction at Universal Studios, so he should be well prepared for a stormy stint on the Winter Park City Commission. Weaver, a 63-year-old aerospace and mechanical engineer, earlier this year ousted incumbent Pete Weldon from Seat 4 after one term. The city was divided along the usual factional lines, but this time the primary issue inspiring opposition to Weldon — and support for Weaver — was The Canopy, the city's yet-to-be-built $40.1 million library and events center complex. The project, located in Martin Luther King Jr. Park, will be paid for through a combination of $28.7 million in net proceeds from voter-approved bonds, $6 million in county tourist-development taxes and $5.4 million in philanthropic support. But Weaver thinks the city should "hit the pause button" on The Canopy, which he contends will cost too much and has strayed too far afield from its original concept. Nonetheless, city commissioners in May voted 3-1 to authorize designers to proceed with construction drawings and submit them — with a guaranteed maximum price — by October. Regardless, Weaver proved that he's willing to speak up about issues that concern him — particularly growth management and the preservation of green space. Born in Dayton, Ohio, Weaver spent his childhood in South Carolina before moving to Central Florida with his family in 1972. He earned an engineering degree at UCF in 1983, then began his career at Universal Studios before moving into the aerospace and commercial aviation industries. In 2015 Weaver founded two Winter Park-based companies: Weaver Engineering, which offers consulting services, and TruGrit Traction, which manufactures a type of wheel — invented by Weaver — for underground piping inspection robots. Weaver has been active in numerous charitable and civic organizations, including a stint as chairman of the Winter Park Lakes and Waterways Advisory Board. He's proudest, though, of leading the effort to save algae-clogged Lake Bell. He enlisted about a dozen neighbors and formed the Friends of Lake Bell, members of which installed about 30,000 shoreline plants to help restore the 35-acre body of water to health.
WHAT HE SAYS:
"I think what makes me effective is the ability to listen. I learned collaboration being the fifth of 10 children."
WHAT THEY SAY:
"Todd has a passionate following for sure … a brilliant guy … obviously sincere whether you agree with him or not."