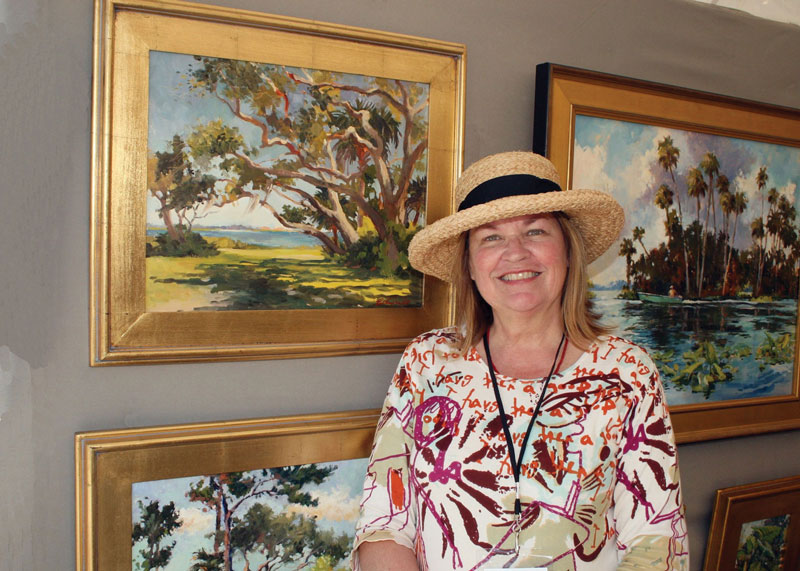 Award-winning plein-air painter Cynthia Edmonds discovered her passion for art as a youngster taking classes at the Rollins College Summer Day Camp. Now she doesn't have to go any further than her backyard to find inspirational settings.
Edmonds, who lives in the circa-1950s house where she grew up on North Phelps Avenue near Lakemont Elementary School, has cultivated what she describes as a "secret garden" just outside her doorway.
It showcases an array of native plants including sand live oaks, cabbage palms, saw palmettos, coral honeysuckles and such pollinators as coontie plants to attract butterflies and hummingbirds.
There are screech owls, barred owls, cardinals, woodpeckers and catbirds among other feathered residents and passers-through. Edmonds' garden, a certified wildlife habitat, is shown on the cover of this issue of Winter Park Magazine.
But Edmonds, who has a bachelor's degree in fashion illustration from Florida State University, hasn't always painted nature for a living. She worked for many years as an advertising illustrator for local retailers, including Ivey's, Jordan Marsh and Hattie Frederick.
She later earned a master's degree in fine arts from the University of Florida and moved to Washington, D.C., and later Seattle. There she worked as a photo art director and catalogue designer for Nordstrom while simultaneously discovering the wonder of oil painting.
"Each day, painting en plein air was an exciting challenge to capture the ever-changing light and shadow," she says. "Working on location inspires me in a profound way, and observing nature helps me to understand the shape, form and infinite colors of my subjects."
Edmonds, who returned to Florida in 2001 to devote her time to painting its colorful landscapes, is a signature member of the American Impressionist Society and Plein Air Florida and participates in plein-air exhibitions throughout the U.S. — including the annual Paint Out Winter Park, sponsored by the Albin Polasek Museum & Sculpture Gardens.
The cover image, "The Artist's Garden," was painted during the Polasek's most recent invitation-only event, when artists fanned out across the city looking for intriguing subjects. The 2019 Paint Out was held April 21 to 27.
Edmonds' paintings can be found in collections at the University of Central Florida and the Maitland Art Center. Her paintings are also included in the St. Joe Company's Forgotten Coast Collection and the Shands Arts in Medicine Collection at the Venice (Florida) Regional Medical Center.
Aficionados of Winter Park Sidewalk Art Festival memorabilia will recall that Edmonds' image of Greeneda Court on Park Avenue adorned the official festival poster back in 2007.
Edmonds loves to paint in her certified wildlife habitat garden, but also finds inspiration in France, Italy and Maine. More of Edmonds' work can be seen at cynthiaedmonds.com.