Photography by Rafael Tongol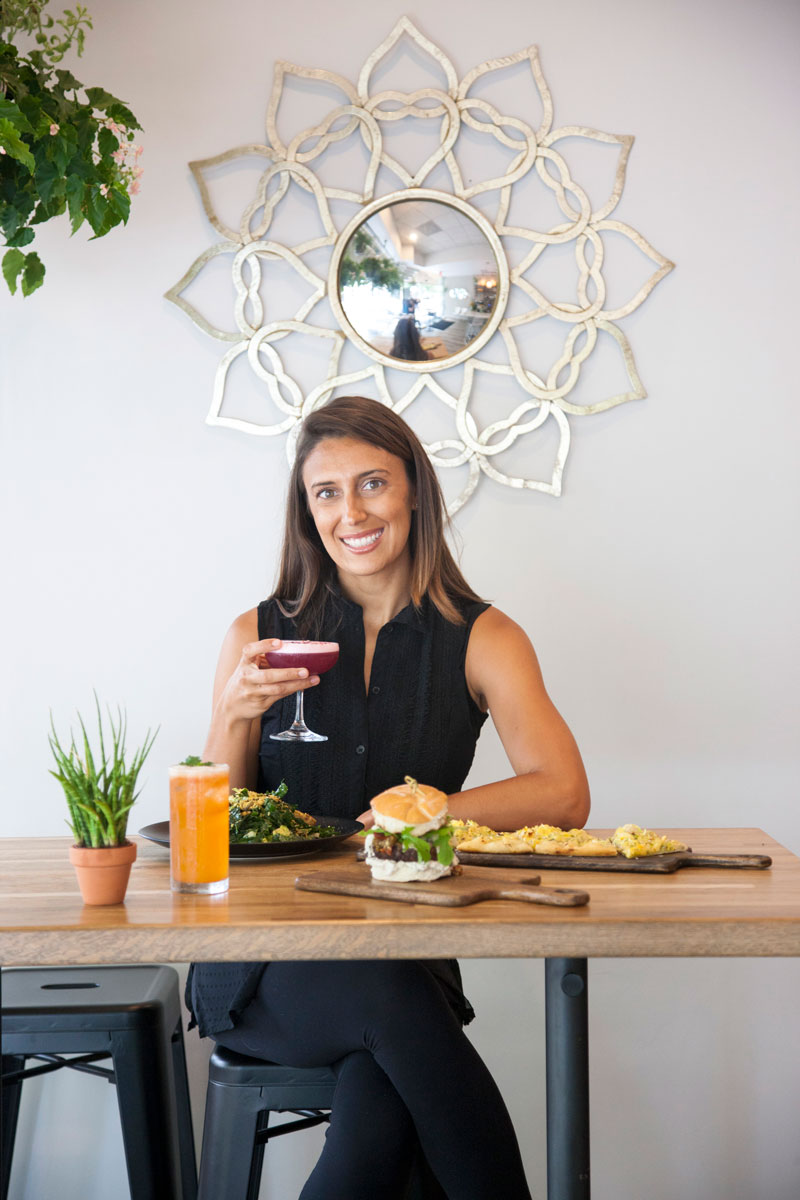 If you're all about plant-based meals, stop reading now and briskly walk to Proper & Wild on East Morse Boulevard. This full-service restaurant offers meals with nary a sliver of animal flesh. You'll be thrilled to find guilt-free foods that are ambitious, creative and tasty.
If you're an uncompromising carnivore, stay home and fire up the grill. Nothing you can order at Proper & Wild will sate you like a sizzling hunk of beef or chicken. Not a fennel tempè flatbread and not a "Proper Burger" — even one with robust toppings.
Read on if, like the rest of us, you have one foot in each culinary camp.
Proper & Wild is a vegetarian restaurant with a mostly vegan menu — eggs and cheese show up here and there. It's mostly organic too, down to the spices and herbs. Yet it isn't a woodsy, crunchy cliché where everything is made of wheat germ and other brown-hued ingredients.
Proper & Wild is a light, bright, almost feminine plant-filled space that will appeal to anyone open to trying new flavors. The menu is devilishly daring with some conservative options — well, relatively conservative if you substitute vegan for dairy.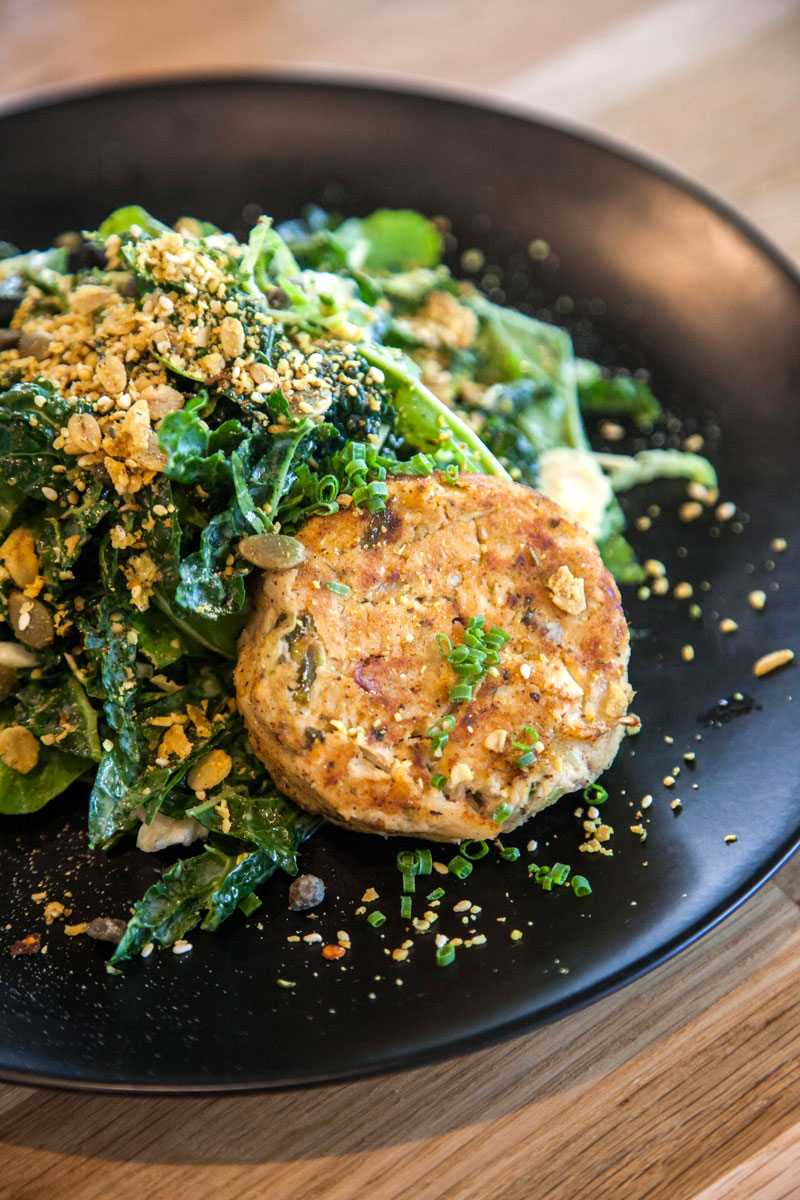 If your lifestyle involves choosing veggies for one meal, animal proteins for another, give it a shot.
Oh, and Proper & Wild has wine — several dozen choices — and low ABV (alcohol by volume) cocktails. The libations are the stuff of cold-pressed juices and infused sakés with port or vermouth to take the edge off, yet they taste like any other handcrafted spirited pre-dinner creation.
Proper & Wild is as much a place to drop in for a date with your honey as it is for a smoothie after your Pilates class. But here's how my review dinner played out: My forever taste-tester stayed home. "Vegan? No thanks," he said dismissively.
Silly man. So, I hopped into the car with one vegetarian friend — really a pescatarian, as she eats fish — along with another pal who, like me, gets excited about food in general, whether its ingredients are grown in soil or once had eyes, mouths and mommies.
We settled around a high-top table after requesting that festive wiry white seats — the kind that have backs — be dragged from the bar to the table, where the standard backless stools scared our sensitive spines.
We settled in, giddy to begin this experiment. We all kind of liked the slogan: "Real Damn Good Food." But it took some effort to read the names of the dishes because the menu is designed for younger eyes. It employs a playful (but hard-to-read) cursive for the dish names and a tiny sans-serif font for the dish descriptions. We wished we had brought our reading glasses.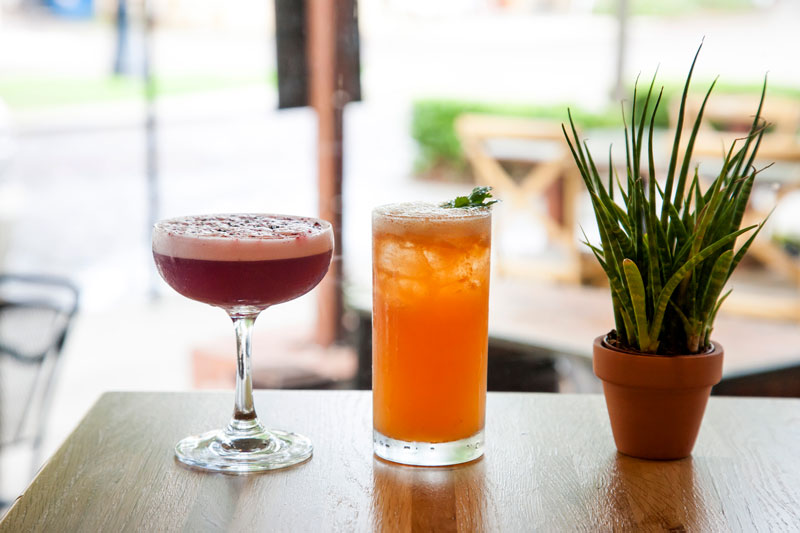 A smartphone flashlight saved the day, and we were both intrigued and intimidated by what we read. We smiled at terms like "caramelized onion" (yum) then worried at "turmeric
cashew crema" (what the … ?), cheered for "candied hazelnut" (now you're talking) and winced at "curry aioli" (well, maybe …).
Before deciding, we ordered cocktails. The spicy bite of the Sunstorm and the cheerful berryness of the Heartbeat (containing beets, rosè, lemon, aquafaba — the leftover liquid from cooked chickpeas — yuki otoko saké, cocci rossa and high-antioxidant berries) diffused our tension.
We planned our eating strategy while contentedly sipping our saké-based starters, oblivious to the healthful components such as carrot-mango shrub and micro-cilantro.
Salads? We decided to ignore them, although they're undoubtedly good. Proper & Wild is owned by Chelsie Savage and her husband, Jamie. Chelsie has already proven her green-goddess status at The Sanctum Café in Orlando's Colonialtown North.
At Proper & Wild, we went for the hot foods — which are new for the entrepreneurial Savages. "We have nowhere to cook at Sanctum," says Chelsie, enthusiastically rattling off the components of the newer eatery's kitchen. There's a sauté station and a custom-built gas-and-wood-fired pizza oven — but, she proudly points out, no fryer.
That's because Proper & Wild is about ambiance, diversity and flavor — with a subtle emphasis on healthy eating. "We serve good food that's made from real ingredients that are curated with care," Chelsie says. "Our intention is to make food that's so damn good that it doesn't matter what lifestyle you follow. The bonus is that it's also good for you."
Well, now you see where that damn slogan came from.
But how about that food? We began with Brussels sprouts and artichoke dip. It sounds like a fatty, creamy fern-bar shareable — and it was designed to resemble one. Here, though, the dip is made of navy beans and raw cashews instead of sour cream and cream cheese.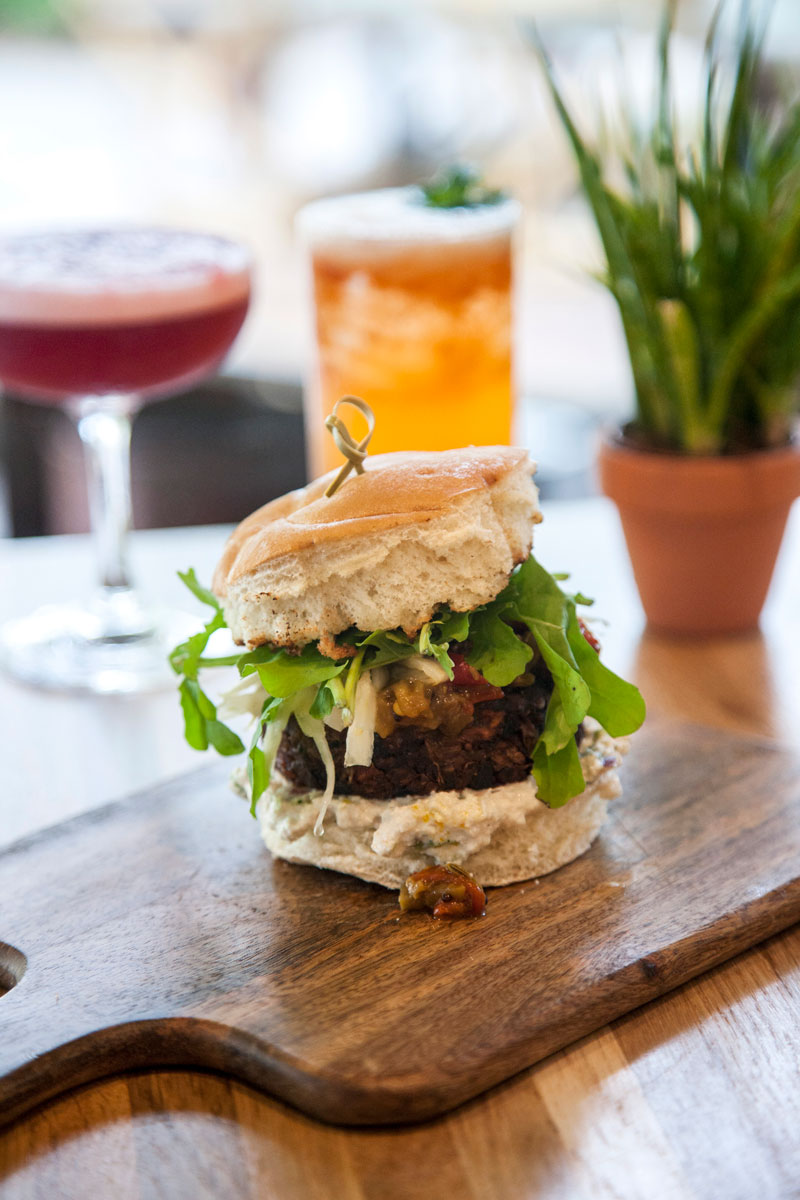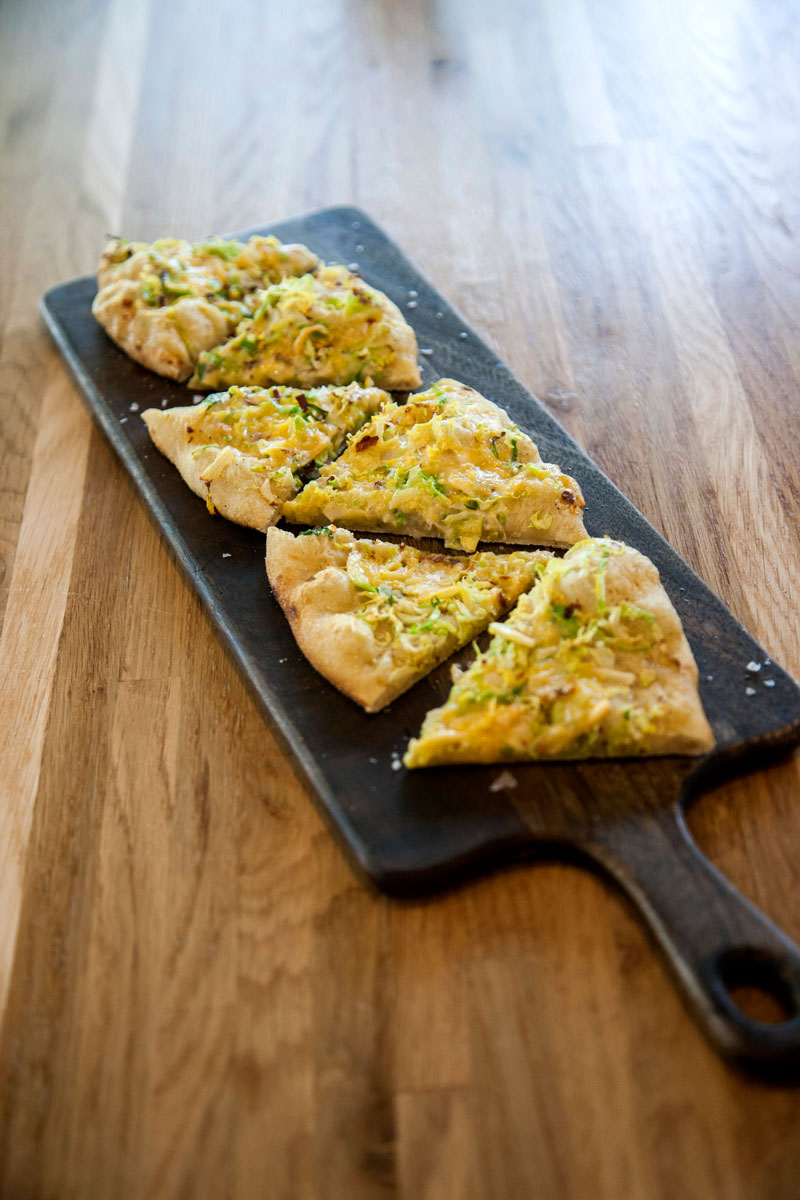 We didn't know that at the time. We just found ourselves admiring a cast-iron pan of a hearty dip, laced with greens and topped with a dollop of chopped pepitas and a green olive-red pepper tapenade. We didn't admire it for long, though. We grabbed the fingers of toasted bread and swiped the pan clean.
As much as we enjoyed the dip, the flatbread was our favorite starter. We ordered the Stella, which, like all the flatbreads, is made the old-fashioned way with a sourdough starter.
"We culture and ferment our flatbread in-house," says Chelsie. "We've learned that people with gluten aversions can often eat it without getting a stomachache afterward. It's easier for our bodies to digest."
None of us were gluten-averse, so we chose the flatbread for the shaved Brussels sprouts, Gouda cheese, truffle, garlic, lemon and red chili flakes on top. The bread was fluffy yet smoky, and the toppings complemented it — and one another —well. Success.
We kept on eating. The chickpea fries aren't really fries, which notably upset one of my dining companions. "They just shouldn't be called fries," she insisted. I disagree.
Yes, the slender finger foods were baked, not fried, and therefore lacked the anticipated crispy exterior. But hey, they tasted great. The "fries" themselves were firm fingers made with garbanzos. They sat atop two sauces: a green cilantro pistou and a beige vindaloo curry almond aioli. Tons of flavor. I'd get it again.
Proper & Wild's dinner entrées change regularly, so we sampled two that are likely to stay around. One is heartcakes, Chelsie's name for pseudo crab cakes. "These are an homage to crab cakes," she says. "I don't jive with imitation foods."
The round patties are shaped like crab cakes and seared to golden on the outside. The texture, though, is softer than crab cakes. Still, certain flavors are spot-on. That's because Proper & Wild laces its heartcakes batter with Old Bay and two types of seaweed for a briny taste. The batter is made from hearts of palm.
Chelsie had won awards for her meat-free burgers before she ever had a restaurant kitchen in which to cook them. But unlike her wildly popular "Impossible Burger," which was designed to taste like beef, the burgers at Proper & Wild aren't meant to taste like something you'd order from Wendy's.
"It's important for me not to create a meat imitation," Chelsie explains. "I just tried to create something that's good — and served between two pieces of bread — that provides the experience of eating a burger."
For now, Proper & Wild has three burgers on the menu — all made with a patty of beets, black rice and lentils. And, yeah, they don't taste like beef. We thought of trying the Proper Burger, served with "tomato jam," lettuce, onion, a Dijon-mayo blend and a pickle.
We opted instead for the Wild Burger because I wanted to be distracted from the not-a-burger. The Wild Burger did the job aptly with intriguing toppings that included pickled fennel, eggplant-pepper chutney and an "aji schmear."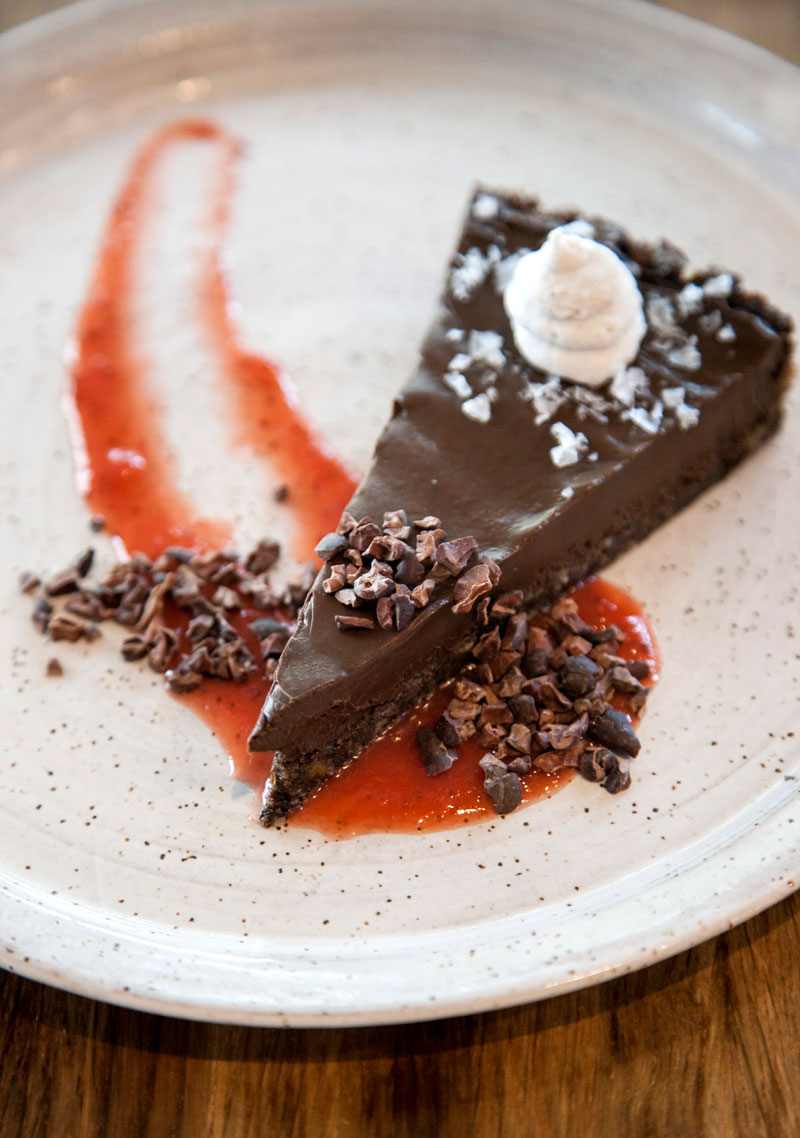 Good choice. The patty is good for a non-beef patty — but it's the combination of flavors that made the Wild Burger stand out. "This was born out of the idea of, 'Who doesn't love jalapeño poppers?'" Chelsie says. (Poppers are jalapeño peppers stuffed with cream cheese.)
"We started playing around with the chutney to get the sweet-and-spicy element," she adds. "Then we were inspired by the cream cheese to create the jalapeño aji. We wanted to pull in the acids, the sweet and the spicy, and get all that interplay into a burger."
Whatever the intent, it worked. The combination is a lively, multidimensional sandwich.
For those who want to get wilder, at press time the third burger was a curry-kimchi concoction, also available as a cheeseburger with Gouda or chèvre or as an almost-cheeseburger with a cashew-based, cheese-like product.
Since Proper & Wild is, in a sense, an upscale restaurant, it serves pretty little desserts. They tend to be made with coconut oil, so they all have a mild coconut undertone, yet each has its own flavor profile.
Our favorite was the pot de crème, with passionfruit and orange flavors laced in. The sampler platter also had an aptly named "Chocolate Monster" — creamy because of its avocado base plus almond butter, and a dark chocolate truffle.
During the day, you can get "wellness shots," pressed juices and other health-bar staples along with hummus, burgers, flatbreads and salads. Or a chilled glass of white to sip post-yoga. To some degree, Proper & Wild is what you make it — whether you're feeling proper or wild.
Proper & Wild
155 East Morse Boulevard, Winter Park
407-543-8425
properandwildwp.com