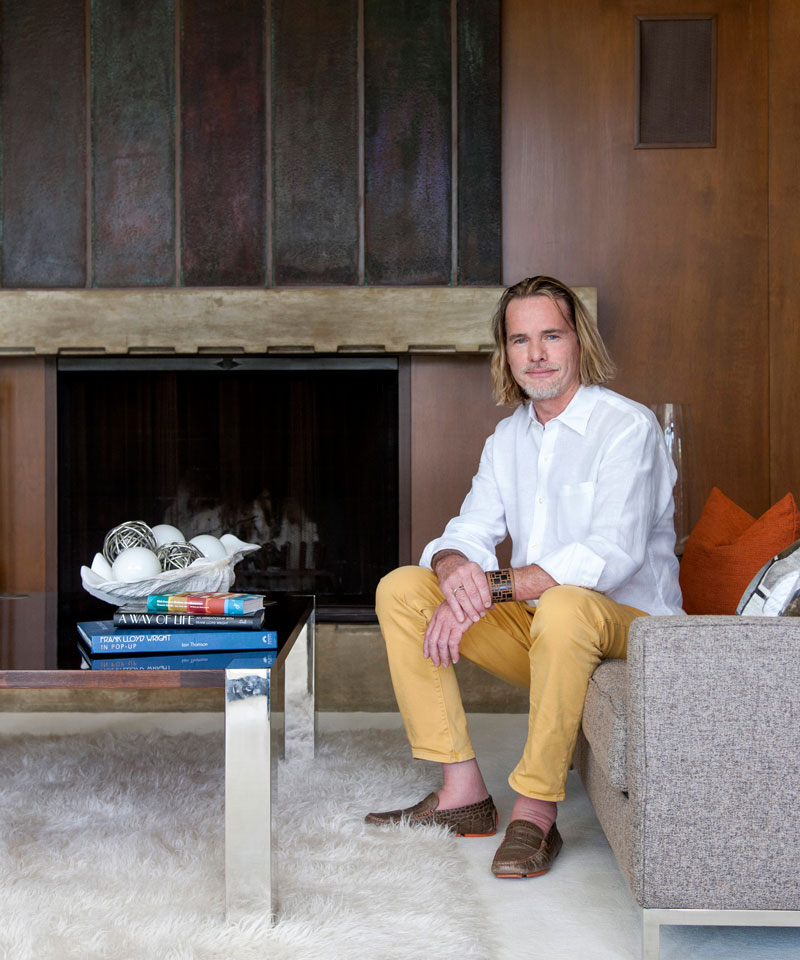 John Kaiser was a child of the 1960s. Today he's an adult of the 1960s. That's why he couldn't be prouder of his home — a modernist masterpiece designed in 1965 by Frank Lloyd Wright protégé Nils M. Schweizer.
The home, located at 1670 Huron Trail in Maitland's Dommerich Woods subdivision, was originally built for Siegmund I. "Sig" Goldman and his wife, Marilyn. The Goldmans are remembered today as patrons of the arts for whom the Orlando Shakespeare Theater named a venue.
As of February, the Goldman name also appears on a plaque affixed to a pillar that flanks their erstwhile home's driveway. The text announces that the property has been placed on the National Register of Historic Places.
The Goldman House, perhaps the most pristine of the 60 to 80 Schweizer-designed homes still standing, is indeed an extraordinary example of no-holds-barred mid-century modern architecture.
"I'm thrilled about it," says Kaiser, who bought the 3,385-square-foot suburban sanctuary from the Goldmans in 2002 for $305,000. (He figures it's worth roughly twice that amount today.) "I want people to know it's a special home. And I want it to be an architectural teaching tool."
Steve Goldman, son of Sig and Marilyn, lived in the home from age 13 to age 19, when he left for college. A philanthropist and retired tech entrepreneur, Goldman says he knew nothing about Kaiser's plans until he was invited to a ceremony during which the plaque was unveiled.
"When I showed up I was amazed," says Goldman. "Walking through the house, it was like I had just stepped out of a time capsule. In fact, it looked better than I had ever seen it — right down to the smallest details."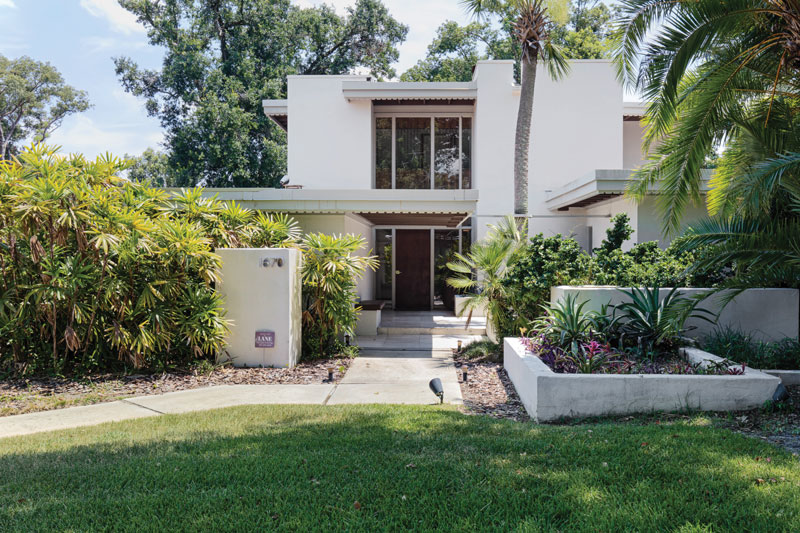 Kaiser, who owns Designage — a graphic design, signage and themed interior company based in Maitland — says he and his ex-wife had previously planned to build a new custom home that reflected their modernist sensibilities.
"The numbers just weren't working," he says. "So one morning I said, 'Honey, we're going out to find a house.'" The couple began scouting Central Florida neighborhoods and sending personal letters to the owners of homes that struck their fancy.
Eventually, they found two homes that they particularly liked. One was in Palomar and owned by Abe and Tess Wise. Abe Wise was a contractor and the first president of the Home Builders Association of Mid-Florida (now the Greater Orlando Builders Association). The Wises weren't interested in selling.
But the timing was perfect for the Goldmans, who were planning to build a more lavish new home nearby and were preparing to list their current home with a real estate agent. "Within 30 minutes, I had agreed to buy the home for the appraised value," says Kaiser. "Sig and Marilyn were happy that the home was going to someone who would appreciate it."
Kaiser, too, was happy that the artfully angular concrete-block structure turned out to be in near-perfect condition. "There are places in this house where I can't even get a cell signal," Kaiser says. "When there's the possibility of a hurricane, everybody in the family comes over."
Some small items needed to be taken care of. Kaiser bolstered some doors, reinstalled terrazzo floors and updated the kitchen appliances. But no structural repairs were needed.
Two years ago, Kaiser hired architectural historian Christine Madrid French — an advocate for mid-century modern buildings — to prepare an application for the National Register of Historic Places, a program established by the National Historical Preservation Act of 1966 and overseen by the National Park Service.
Kaiser and French had met as members of the Central Florida Modernists — also known as the Nils M. Schweizer Fellows — an appreciation society for fans of the revered architect, who died in 1988 at age 63.
"Anybody can fill out a national register nomination, but it can be daunting for someone who's not a historian to complete the process," says French, who now lives in Los Angeles. "You need special expertise to understand the historical context and the language that the National Park Service is looking for."
The Goldmans kept meticulous records, adds French, including blueprints, receipts and construction drawings: "The house is well documented so if it's ever damaged, its original details will survive for future researchers."
French is practiced at dealing with government agencies on preservation issues. While living in Maitland, she facilitated the 2015 designation of the Maitland Art Center — originally known as the Research Studio — as a National Historic Landmark.
National Historic Landmarks are the most significant sites in the country with just 2,600 buildings or districts listed, including such iconic places as the Empire State Building in New York and the Hoover Dam in Nevada. The campus of Florida Southern College in Lakeland — where Schweizer worked for Wright — is also a National Historic Landmark.
The National Register of Historic Places encompasses 92,000 properties across the U.S. Yet, despite Schweizer's prominence, the Goldman House is the first of his residences to be listed. That may be in part because mid-century homes haven't traditionally been considered old enough to be historic.
The Goldmans, who owned one of the largest heating and cooling contracting companies in the region, commissioned Schweizer to design their family home and carefully supervised its construction. Sig Goldman acted as his own contractor.
"The Goldman House is one of the few designs in which Schweizer explored using stucco over the concrete blocks, which created a bright, high-contrast finish," says French. "He also used organic materials such as copper and redwood."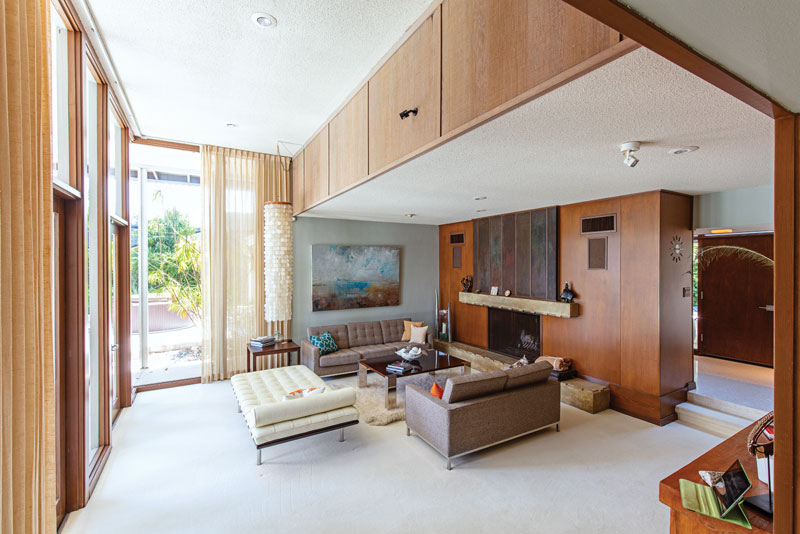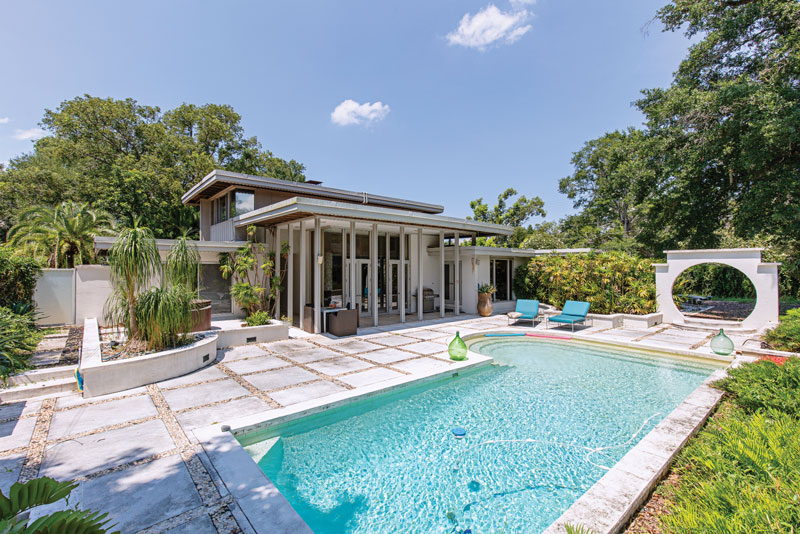 Other features of modernism reflected in the Goldman House are geometric spaces and a flat, layered roof with cantilevered overhangs. Modernist designs are also noted for the seamless melding of indoor and outdoor spaces, which is a highlight of the Goldman House.
Kaiser describes the design as "a warmer iteration" of the mid-century modern style, which is known for stark minimalism and can appear institutional without some degree of tasteful ornamentation.
Modernist architecture tends to eschew ornamentation. But Schweizer's structures are characterized by dentils — small tooth-like blocks used as repeating elements in cornices. "As the sun rakes across the dentil, it creates little squares and that makes a pattern on the surface," says French.
"This home has very positive energy and I find a lot of inspiration and tranquility here," Kaiser adds. "The design lets in so much light, and I love the simplicity of it."
The entry hall connects family spaces on the west side of the house with the kitchen, living room and dining room on the east side. The sunken den features a fireplace with a floating mantel shelf of cast concrete and a hand-hammered copper wall covering above.
"I remember me, my mom and my younger sister Julie banging on that piece of copper with a ball-peen hammer," says Goldman, who as a youngster harbored ambitions of being an architect.
A large corner window creates a connection to the backyard. The dining room connects the kitchen and living room and features multiple wall treatments, including mirrors, paneled lauan (faux mahogany) and floor-to-ceiling windows.
The master bedroom and living room connect via a wide breezeway with a door to the backyard. An enclosed stairway near the living room leads to the upstairs hallway, which floats above the foyer overlooking the front doors below.
Also upstairs are two bedrooms and a bathroom within a projected, flat-roofed pavilion that rises above the central area of the ground floor. A highlight of the bathroom is a stained-glass window that replicates the logo of Schweizer's firm.
Although the Goldmans had changed little about the house beyond adding a laundry room and a swimming pool in the 1980s, they had, understandably, updated the interior décor. So Kaiser has also decked out the rooms with mid-century furnishings, much of which is authentic.
He'll buy reproductions if they're of exceptional quality, but keeps a close watch on eBay and routinely visits garage sales in search of genuine period pieces.
Sig Goldman died in 2013. But Marilyn, still lively as ever, attended the plaque-unveiling ceremony. "My only wish is that my husband could have been there," she says. "That home is where we spent 37 years and raised a family. It was a big thrill to see how beautifully it had been kept in the mid-century modern style."
---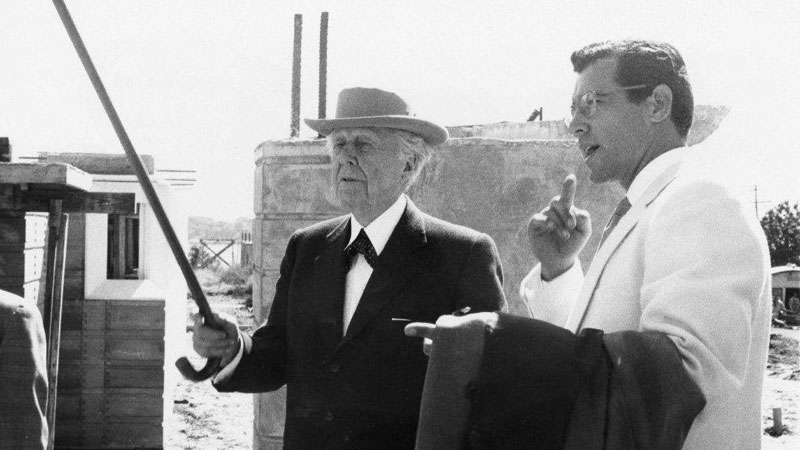 Nils M. Schweizer (1925-1988)
Following active duty in the U.S. Army Corps of Engineers during World War II, Nils M. Schweizer studied architecture under Frank Lloyd Wright through a prestigious Taliesin Fellowship. As Wright's Southeastern representative he helped design Florida Southern College in Lakeland. He later worked on Orlando International Airport, Epcot Center's Mexican Pavilion and St. Luke Episcopal Cathedral in downtown Orlando. In 1964 he helped build the Loch Haven Art Center and in 1985 his firm designed the addition to the Orlando Public Library. A defender of the environment and a deeply spiritual man, Schweizer — often called the Dean of Orlando Architecture — helped to organize Kairos Inc., a national prison ministry group still based in Winter Park. The Nils M. Schweizer Fellows, founded in the architect's honor, continues to promote preservation of Orlando's modernist homes and commercial buildings. For more information, visit centralfloridamodern.com.