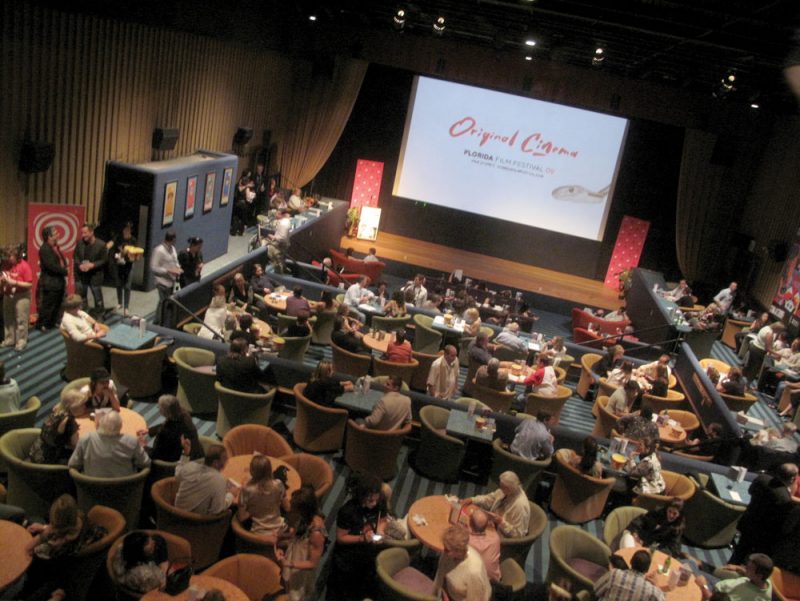 Don't get me wrong: Spring is great. I assume people who live in other latitudes are still writing poems about it. So it's not spring, it's me. Once I moved to Florida, things between us went south.
It was, after all, a love-hate relationship: The more I hated winter, the more I fantasized about spring. Now we have a healthier arrangement. I don't long for the season, I look forward to it, and not out of desperation but because of four sensible circles on my calendar.
Spring brings the Winter Park Sidewalk Art Festival, the Orlando International Fringe Theater Festival, the Orlando Museum of Art's Florida Prize in Contemporary Art exhibition and, my personal favorite, the Florida Film Festival.
The art festival, which finished up last month, turns Park Avenue into a curated, open-air celebration of what can happen when paint, clay, fiber, glass, wood, metal, digital wizardry and various other mediums meet up with the imagination of artists from all over the country.
The Fringe, a two week-long throwback to traveling-minstrel days, brings dozens of solitary performers and small theatrical troupes from Central Florida and around the world to Loch Haven Park and several nearby venues. This year's edition of the wildest and wooliest event on the cultural calendar is May 14-27.
The newcomer on my list, in its sixth year, is OMA's Florida Prize (May 31-August 18), which takes advantage of the impressive array of great contemporary artists in this state. It provides a cash prize and a much-needed showcase for their creations as well as an aesthetic booster-shot for a once-stodgy museum.
But I'm a sucker, most of all, for the Florida Film Festival, an Oscar-qualifying 10-day, 180-film extravaganza headquartered at the charming Enzian Theater, an iconic Central Florida institution at 1300 Orlando Avenue.
It has been a tough year for the cabaret-style art-cinema house and outdoor bar. Hidden away on a leafy enclave just beneath the southwest shore of Lake Maitland, it's the next best thing to a living room filled with intelligent friends and a wide-screen TV tuned to a station worth watching.
The nonprofit theater's owners had hoped for years to expand the venue from one screen to three to bring in more films and film-buff events. But the plan had to be scrapped, not for lack of enthusiasm and funding, but because of a strategic issue involving parking.
Discouraging? Of course. But something tells me that the 28th annual festival, slated April 12-21, will represent a memorable rebound for Enzian and its legions of fans. The film schedule and celebrity guests hadn't been announced at press time, but presumably by now you are suitably wowed.
I've always wondered why no one has ever made a film about how the place came to be. It would make a great entry in the festival's documentary category.
Enzian owes its existence to the Tiedtke family, whose scion, the late John Tiedtke, held numerous posts at Rollins College as a teacher, administrator and trustee.
He was also a patron of virtually every arts organization in Central Florida, and best friends with another powerhouse arts cultivator and colleague, Hugh McKean, president of the college and co-founder, with his wife Jeannette Genius McKean, of the Charles Hosmer Morse Museum of American Art.
Tiedtke's wife was straight out of a fairy tale. Her name was Sylvia Southard, and she was the stepdaughter of an Austrian Prince, Alfred Hohenlohe. She grew up shuttling back and forth between Vienna and the family's castle, Schloss Friedstein, high in the Austrian Alps.
In February 1945, as World War II was drawing to a close, her family sent her away to a German city that they hoped would be a safe haven:
Dresden. Sylvia's train arrived in the city just as the infamous Allied carpet bombing of the city began. Tens of thousands died.
Sylvia was buried beneath wreckage but miraculously survived. She met her future husband after the war, while visiting relatives in Winter Park. The couple married in 1948 and had two children, Philip and Tina, who enjoyed childhood visits to the castle that was part of their mother's inheritance.
In 1985, when Tina took up the cause of creating an alternative movie house for Orlando, her father gave her the seed money for it. But her mother's heritage is celebrated everywhere you look.
A fountain near the entrance is a reproduction of one that's in the courtyard at Schloss Friedstein. The Eden Bar, next to the lobby, is named after an exclusive nightspot in Vienna. And the theater itself is named after an Alpine flower.
It's a beautiful bloom, though not as widely known as its cousin, edelweiss. It's also something of a rarity — just like my favorite movie theater.
---
For more information about the Florida Film Festival, visit floridafilmfestival.com. Michael McLeod (mmcleod@floridamedia.com) is an adjunct instructor in the English department at Rollins College.