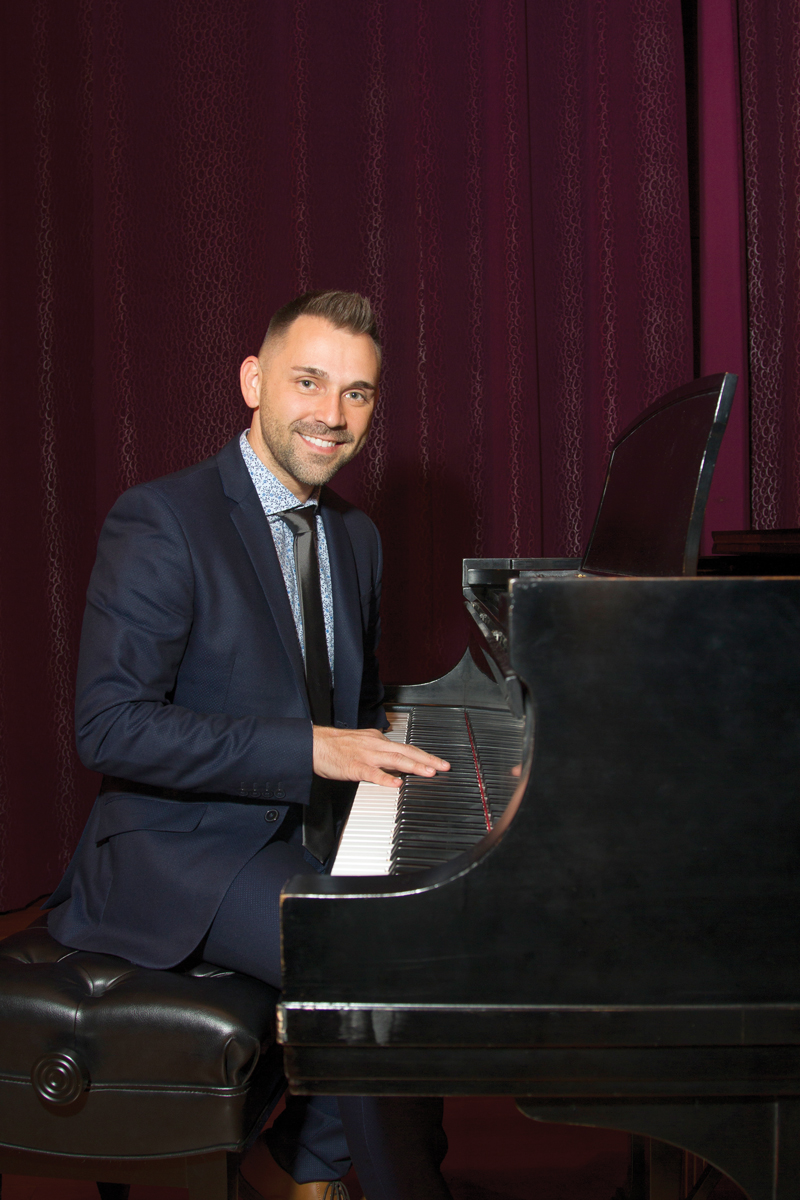 It was lucky for Jamey Ray that he brought along a borrowed video camera that fateful spring evening in 2014. He can thank that camera for what happened next. Well, he can thank that camera plus Dumbo, Peter Pan, Mary Poppins and a handful of moonlighting Walt Disney World singers.
Ray, an assistant professor of music, theory and technology at Rollins College, assembled the 12-member group to record The Magic of Voices, a CD that would include a flight-themed medley of songs from classic Disney films: "When I See an Elephant Fly," "You Can Fly" and "Let's Go Fly a Kite."
Luckily, Ray remembered the camera and recorded a slightly grainy video of what came to be known as "Disney Fly Medley." He posted the three-minute, 47-second video on YouTube just to see what would happen — and the rest is a cappella history.
"That video just went crazy," says Ray, who couldn't be seen because he was also the impromptu cinematographer. "Disney Fly Medley" has garnered more than 1.3 million views and counting.
Comments beneath the video provide a clue as to its appeal. Some are from sentimental Disney fans (it made them cry) while others are from harder-to-impress fellow professionals (it also made them cry).
More importantly, reaction to "Disney Fly Medley" encouraged Ray to form Voctave — a family-friendly a capella ensemble unrelated to the theme park but renowned for its soaring arrangements of Disney-related songs as well as pop music, show tunes, holiday favorites and even a goosebump-raising rendition of "The Star-Spangled Banner."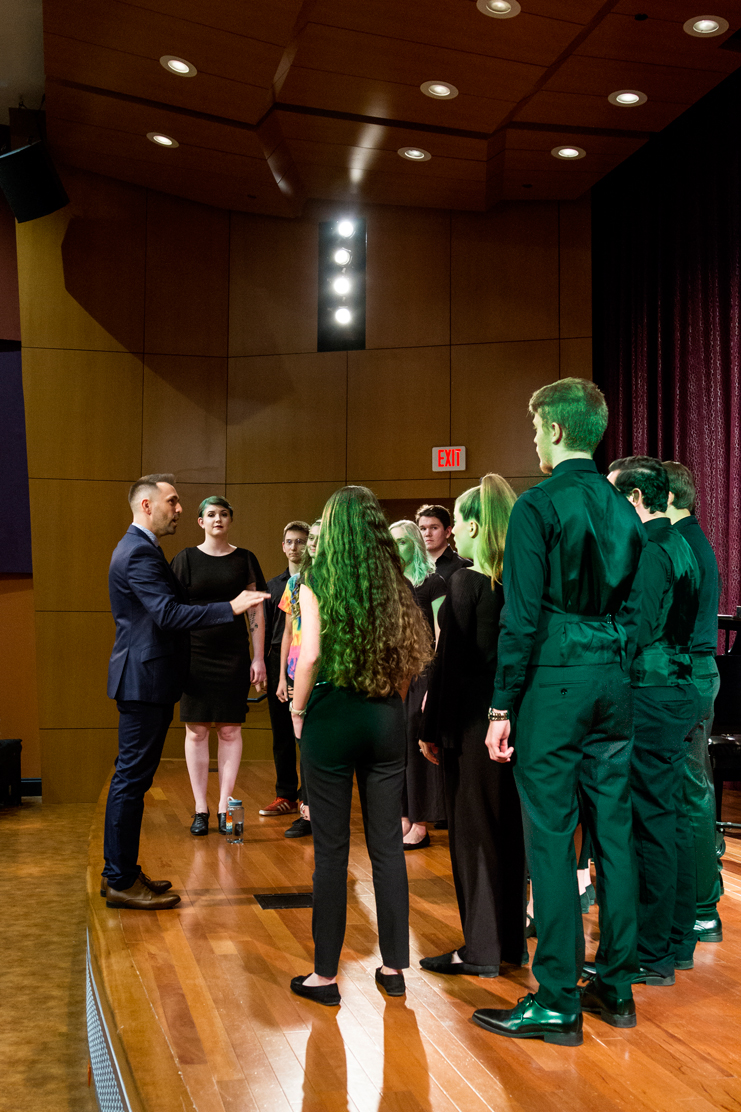 Across all platforms, Voctave's videos have been viewed hundreds of millions of times worldwide. In the a capella world — and increasingly beyond it — its members are rock stars.
You can hear what all the fuss is about for yourself on February 16 and 17 when Voctave will perform both a cappella and — for the first time — with orchestral accompaniment as part of the 84th annual Bach Festival at the college's Knowles Memorial Chapel.
On the program will be "Disney Fly Medley," "Something's Coming" from West Side Story and "The Impossible Dream" — a certain showstopper — from Man of La Mancha.
The group's Winter Park appearance comes as Voctave is hotter than ever after the 2016 release of "Disney Love Medley," which also uses Ray's arrangements of songs from Disney films: "I See the Light" from Tangled, "You'll Be in My Heart" from Tarzan and "Go the Distance" from Hercules.
A VIRAL SENSATION
Posted two weeks before Valentine's Day in 2016, "Disney Love Medley" is not technically a Voctave video. It's a duet featuring Kirstin Maldonado of the Grammy-winning a cappella group Pentatonix and her then-boyfriend Jeremy Michael Lewis.
Ray's newly reconfigured group — which had only recently begun billing itself as Voctave — provides background vocals.
"I reached out to Kirsten and she saw 'Disney Fly Medley,'" says Ray. "She was anxious to come to Orlando and record with us. 'Disney Love Medley' exploded instantly, literally the next day. That's what really got us noticed."
Adds music director Tony De Rosa: "We started to think, 'Well, maybe we've really got something here.'" (De Rosa, a veteran performer and producer, also serves as music director for Disney's Voices of Liberty and its Dapper Dans barbershop quartet.)
Although many viewers likely were drawn to the video because of Maldonado — who has sold more than 6 million albums with Pentatonix — it ended up earning Voctave legions of new fans. "Disney Love Medley" has notched more than 20 million views on YouTube alone.
"Voctave is what makes this recording truly special," raved WomansDay. "Without using any instruments, the group manages to achieve a sound so impeccable that we have to do a double take to make sure there's not a drum set or guitar hidden anywhere."
Today Voctave consists of 11 members: Ray and De Rosa as well as E.J. Cardona, Tiffany Coburn, Ashley Espinoza, J.C. Fullerton, Chrystal Johnson, Kate Lott, Kurt von Schmittou and Sarah Whittemore. All are, or have been, members of Voices of Liberty — which always consists of first-rate performers. (If you've ever been to Epcot, you've seen some iteration of the Voices of Liberty. Their patriotic repertoire has enthralled visitors to the American Adventure pavilion ever since the internationally themed attraction opened in 1982.)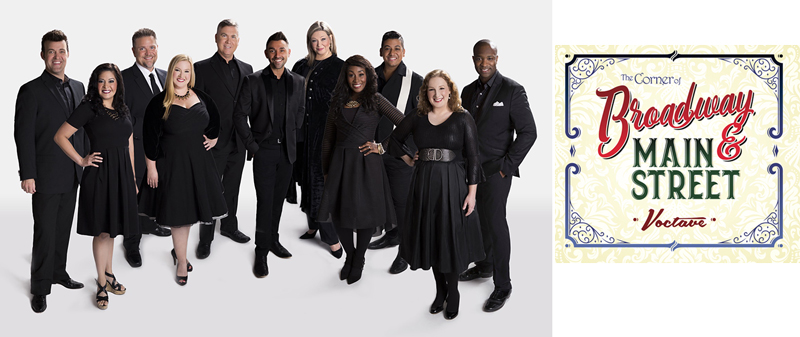 Voctave recently signed with prestigious Opus 3 Artists, a New York-based management company that also represents, among others, pianist Krystian Zimerman, cellist Yo-Yo Ma and the legendary Alvin Ailey American Dance Theater.
But no one is talking about quitting their day jobs, says Ray. "The agency will be great about arranging bookings for us when we're available," he adds. "Mostly now we're doing special events and weekend things. We all have jobs and families. We just view this as a logical next step."
In addition to select concerts, Voctave is also stepping up its recording activity. In 2017 the group released an album, The Corner of Broadway & Main Street, which features guest artist Sandi Patty on "Beauty and the Beast" as well as "Disney Love Medley" with Maldonado and Lewis.
They also released a Christmas album, Snow, which offers sacred and secular holiday favorites. (The group's albums are available for download on iTunes and other streaming services.)
The Bach Festival will likely conjure up good memories for Voctave members since their first concert was at Rollins in 2016. Although they were already stars in cyberspace, they hadn't yet performed together before a live audience.
"We walked out on stage in complete darkness. We hadn't said a thing or sung a note. And people began applauding," says Ray. "We stood there in pitch black for a good minute and a half until finally it stopped. It still blows my mind."
A VERSATILE VOCALIST
Ray was a student at St. Petersburg's Northside Christian School when he was recruited to come to Rollins by John V. Sinclair, chair of the college's department of music.
He enrolled in 2002, double majoring in music — with a specialization in voice and piano — and computer science. He developed a reputation for being a young man in a hurry. "I just remember every semester getting a call telling me that Jamey had taken too many classes," says Sinclair.
It wasn't remarkable that Ray — a tenor and a onetime member of the prestigious Florida Boychoir — would be an excellent singer. But it was remarkable that he would also be an excellent pianist. Because of a birth defect, his left arm ends at the elbow.
Gloria Cook, who was Ray's piano professor, remembers the adjustments both had to make. She bought sheet music that been written after World War I specifically for people who had lost a hand or an arm in combat.
Though Ray was a quick study and remarkably nimble at the keyboard — he can press a single note with the elbow of his left arm — it didn't take long for Cook to see where his true talent lay.
"I remember a time when Jamey played his version of 'Happy Birthday' for me in eight-part harmony," she says. "I could see he was becoming a very good arranger. I told him: 'Your disability has become your ability.'"
Adds Sinclair: "Jamey has an amazing ear. You can hear it reflected in the tight harmonies and the tuning of chords in Voctave, and in how he mixes recordings as a sound engineer."
After graduating from Rollins, Ray enrolled at New York University to get a master's degree in music technology. While living in Manhattan and attending school he wound up assisting the late Marvin Hamlisch (A Chorus Line, The Way We Were), who had won Emmy, Grammy, Oscar and Tony awards as well as a Pulitzer Prize.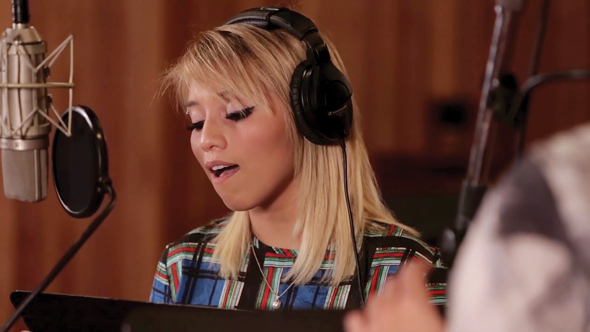 "It was just grunt work," says Ray, whose job included recording and revising the notes as Hamlisch composed on a piano in his studio. Still, being around someone of Hamlisch's caliber — and watching his creative process unfold — was a priceless experience.
"[Hamlisch] had an incredible energy," recalls Ray. "He was someone who, when he walked into a room, was the one everybody looked at. But he was also down-to-earth."
In 2010, Sinclair brought Ray back to join the faculty. He subsequently developed a reputation among students as a tough but fair taskmaster.
"He's brutally honest, a bit sassy at times, but so talented — and he pushes students to excellence," says vocal major Shanna Murphy. "He's a great teacher and I love learning all that I've learned, and can learn, from him."
Ray, 33, enjoys an easy rapport with students in part because he isn't that far removed from them in age. Even undergraduates tend to call him "Jamey," not "Professor Ray," and his exacting critiques are leavened by dry humor.
When he's teaching theory or directing the Rollins Singers — a vocal jazz ensemble — his pupils seem to want nothing more than to please him. And it doesn't hurt that Voctave's success has given him some celebrity panache.
Ray — whose arrangements have been adopted by 30 Rock's Cheyenne Jackson and American Idol's Diana DeGarmo and RJ Helton as well as Broadway performers Rachel Potter and Christiane Noll — is still thrilled most when he hears his work performed by the group he assembled.
Because of Voctave, he's in the enviable position of creating a cappella masterpieces for highly skilled singers whose voices are as familiar to him as the path he takes from his office to his classrooms.
"That's the joy of it," Ray says. "I write for these exact people. I write for that person to sing that note."