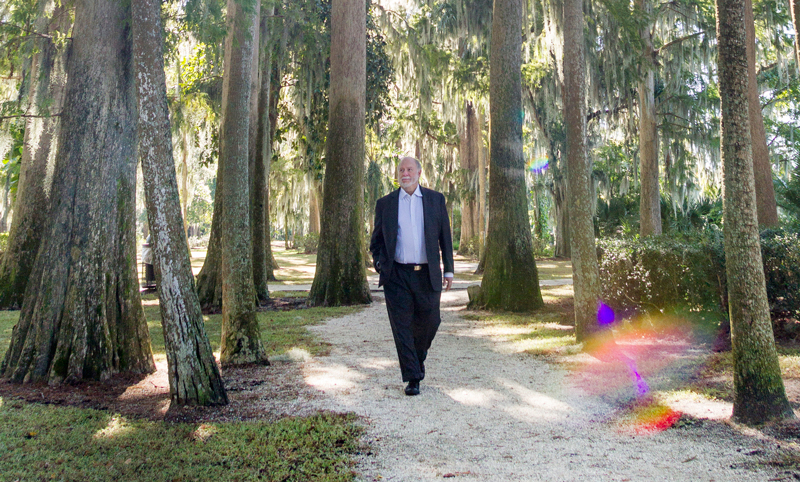 As a writer I'm usually the one asking the questions, which is my excuse for being so flat-footed when local philanthropist Steve Goldman flipped the tables last time I saw him, wondering: "If you wanted to have a picnic in Winter Park, where would you go?"
My half-hearted answer — "Maybe find a spot at Rollins College?" — only served to make his point: Winter Park, aside from Mead Garden, doesn't have enough natural places for a picnic basket, a couple of folding chairs, and a measure of peace and quiet for thee and me.
It's a vacuum Goldman means to address. I'll be surprised if he isn't successful.
I've written so many stories about Goldman's philanthropic efforts on behalf of arts, science and education that we've become friends. An inventor at heart, he made his fortune designing technology that accelerates disc drives. In 2000 he sold his company and began devoting his time to addressing worthy causes.
The annual National Young Composers Challenge he created brings teenaged prodigies from all over the country to Orlando to glean feedback about their creative efforts and hear their compositions played by a professional orchestra.
The more than 100 free "Why U" animated on-line tutorials he scripted help students around the world develop a deeper understanding of math and science.
Now he's turning his attention to wide-open spaces — or, rather, their dearth.
Goldman has spent the past two years recruiting a board — to which I belong — of teachers, writers, civic leaders and environmentalists to form the Winter Park Land Trust, a nonprofit organization dedicated to "Keeping the 'Park' in Winter Park."
A kickoff party for both members and anyone who's interested in the effort will be held at the Winter Park Farmers' Market on February 28 from 6 to 8:30 p.m.
Public land trusts help to identify, acquire and preserve land for the common good. The notion of forming one in Winter Park has been germinating in Goldman's mind for quite some time now.
Blame San Francisco.
Goldman lived there for years and developed a love affair with the city's sprawling Golden Gate Park — which, at roughly three miles long and a half-mile wide, is even bigger than New York City's Central Park. The peace and quiet the park offered — the enrichment of the area's quality of life — made an indelible impression on him.
I need to recalibrate my own mental disc drive pretty much every time I have a conversation with Goldman, as I did when this land trust idea first started coming up and he was suddenly talking about how great it would be if Orlando Executive Airport could be turned into a park.
I'm thinking like that will ever happen while he's calmly explaining that as the city continues to grow there may well be a time when three miles east of downtown Orlando is no longer an optimum location for an airport. Combined with other city-owned properties in the area it could give way to a 1,200-acre park — larger than either Golden Gate or Central Park.
Imagine it.
"That's one of the reasons you need a land trust," says Goldman. "It's to get people thinking long-term. If you have a long enough horizon, you can accomplish a lot."
He continues: "There aren't a lot of land trusts in Florida. There are a lot of conservation efforts in the state based on scientific arguments about protecting the environment. You can make those arguments pretty easily. But no one ever seems to focus on quality of life. That's something you can't put a number on."
It is, however, something you can start talking about. And there's some land in Winter Park that Goldman would like to bring into the conversation right away.
It's a rambling swath surrounding Howell Creek just north of Howell Branch Road, where the city is in the process of buying sections of wetlands, clearing debris and rehabilitating the ecosystem. Goldman sees potential for linking adjacent stretches to expand 10.4-acre Howell Branch Preserve.
Apart from providing a forum to discuss possibilities such as that, he says a land trust can provide peace of mind to private citizens who would like to bequeath property for park space to the community:
"Sometimes people are hesitant to leave their property to the city because priorities can change. That's where a land trust comes in. That's what that word means — trust.''
Something else you can't put a number on.
Plan to come to the kickoff event and check out winterparklandtrust.org for more information.
---
Michael McLeod is a contributing writer for Winter Park Magazine and an adjunct instructor in the English department at Rollins College.