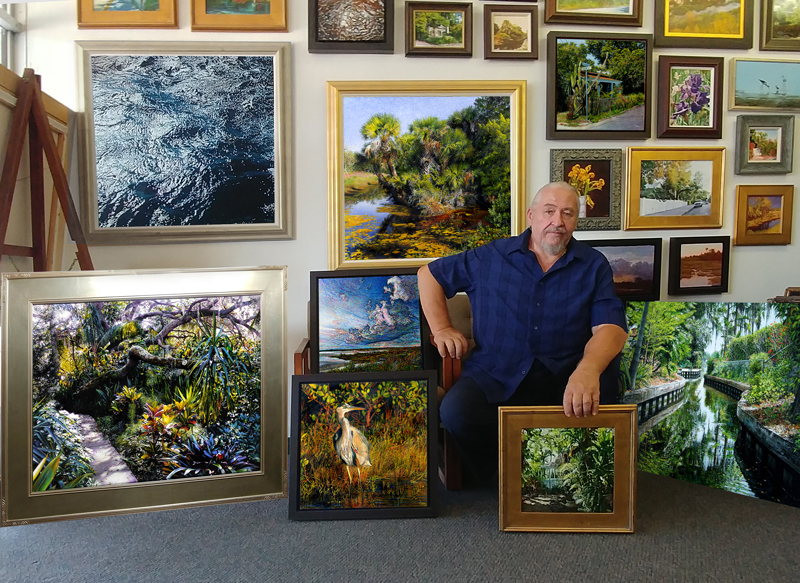 Henry Peter, a native of Burglengenfeld, Germany and a resident of Brevard County, is primarily a self-taught artist. Which is remarkable considering the photographic quality of his paintings, such as the image of the iconic exedra in Kraft Azalea Garden on this issue's cover. 
As a 12-year-old in Engelwood, New Jersey, Peter recalls receiving a few lessons on color and theory from painter Margaret Stucki, a vehement realist who, ironically, moved to Brevard County in 1973 and taught art for Rollins College when it offered evening programs at Patrick Air Force Base.
"When I moved down here, I tried to get in touch with her but didn't hear back," says Henry of Stucki, who wrote a book denouncing contemporary art as "crud." She died in 2017 — but would likely be pleased that her former pupil has garnered a large following with his meticulous (and vivid) depictions of outdoor scenes.
The first work by Henry to appear on the cover of Winter Park Magazine was a 2015 image of the Venetian Canal and the Palmer Avenue Bridge. Several dozen readers emailed to ask who had taken the beautiful photograph — which was, in fact, an oil painting.
Henry earned a degree in philosophy from Franciscan University in Steubenville, Ohio, and after graduation apprenticed in a machine shop. But by the late 1980s, his paintings had begun winning regional and national awards. 
In 1993, Henry made his first trip to Florida, where he displayed his work at the Old Island Days Festival. He moved to Key West a decade later, then relocated to Titusville in 2008.
Henry's paintings have been selected for the Top 100 in the prestigious Arts for the Parks competition, a program created by the National Park Academy of the Arts to benefit the National Park Conservation Alliance.
He was a mainstay at Key West's Gingerbread Square Gallery for almost two decades and has been represented by the Fredlund Gallery in Winter Park. His paintings have found collectors on four continents.
Henry describes his work as "simple and direct; free of artifice and superficial mannerisms." He enjoys being artistically unpredictable and applies his keen eye and steady hand to a broad range of subjects — not just landscapes.
Kraft Azalea Garden, a 5.2-acre enclave that hugs the shore of Lake Maitland along Alabama Drive, is open daily from 8 a.m. until dusk. The exedra — a word derived from the Greek "ex" (out) and "hedra" (seat) — is one of Winter Park's most cherished symbols. 
The project was funded in 1969 by siblings Kenneth H. Kraft and Elizabeth Kraft Schweizer to honor George and Maud Kraft, their parents for whom the park is named. Its inscription reads: "Pause friend. Let beauty refresh the spirit."
You can find Henry's paintings on display at the Cocco & Salem Gallery in Key West, Palm Avenue Fine Arts of Sarasota and the Village Gallery in Orlando.