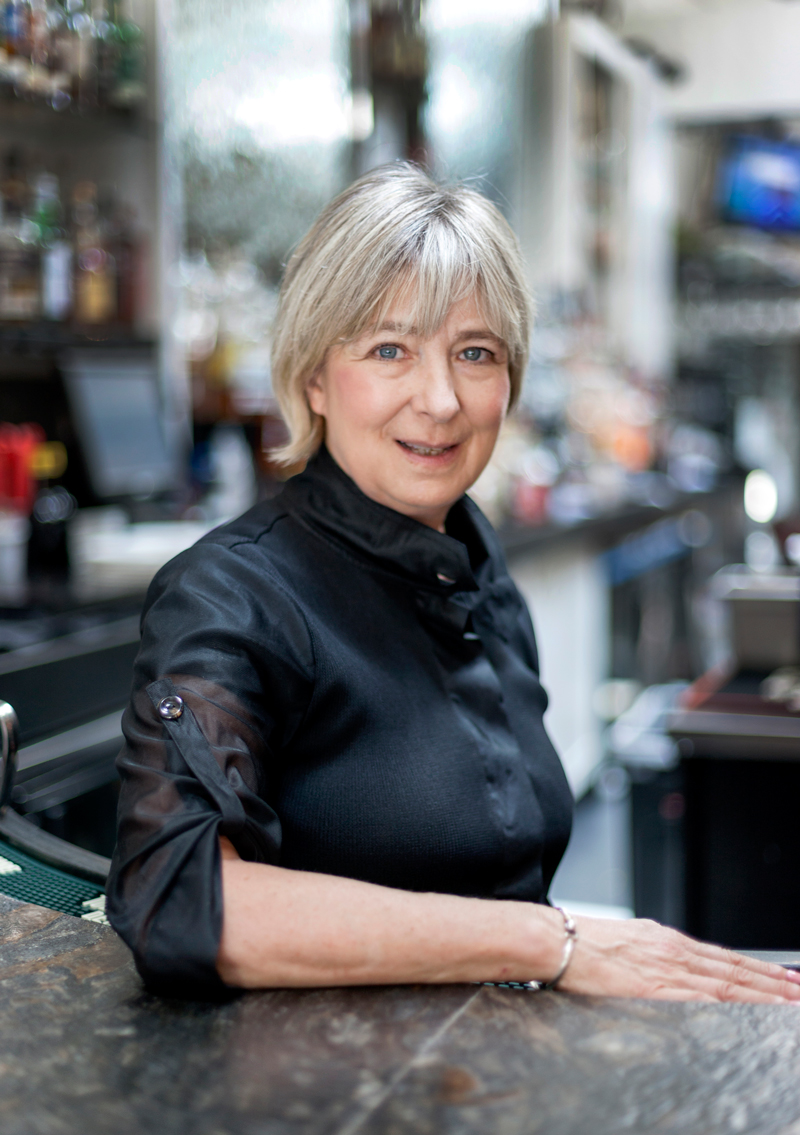 It's kind of all about lobster at Blu on the Avenue. The clawed crustaceans are flown in daily from Maine — where else? — and the swordfish, like the menu's other finny features, are just as fresh.
Yet, while Blu's dining room has a certain panache, the space isn't so formal that you'd feel uneasy settling around a table for dinner with your whiny toddler or bickering teens. 
"It's not a special-occasion, white-tablecloth establishment," explains JoAnne McMahon, the multi-restaurant entrepreneur behind this five-year-old eatery. "It's a little bit more upscale than the 310 concept. It's hipper, I guess." 
The 310 to which McMahon refers is neighboring 310 Park South, her first table-service restaurant, which now has clones in downtown Orlando and Lake Nona. Even more so than Blu, 310 was designed to be the opposite of stuffy. 
"Back in 1999, when I opened 310, Park Avenue had very few restaurants, and the restaurants it had were very high end," she recalls. "They didn't welcome children. None of them even had highchairs."
McMahon, who also owns the Partridge Tree gift shop on Park Avenue, recalls that her retail customers often asked her where to take their children for lunch. "There wasn't much to recommend," she says.
Over the subsequent two decades, 310 has become an Avenue stalwart, offering family friendly fare from burgers to steaks. Jeans and T-shirts are entirely appropriate attire.
McMahon kept approachability in mind as she developed Blu. It, too, offers highchairs, although the ambiance is more urbane than that of its laid-back sibling. A swervy ceiling feature above the bar adds a sliver of sleek, as do dual waterfalls behind the bar. Subtle theming, such as pictures of sand and shells, carry forth the nautical vibe.
The seafood selections are fresh. The kitchen makes its own sauces and dressings from scratch, while most of the produce is raised locally. Still, the presentation at Blu is noticeably un-fancy.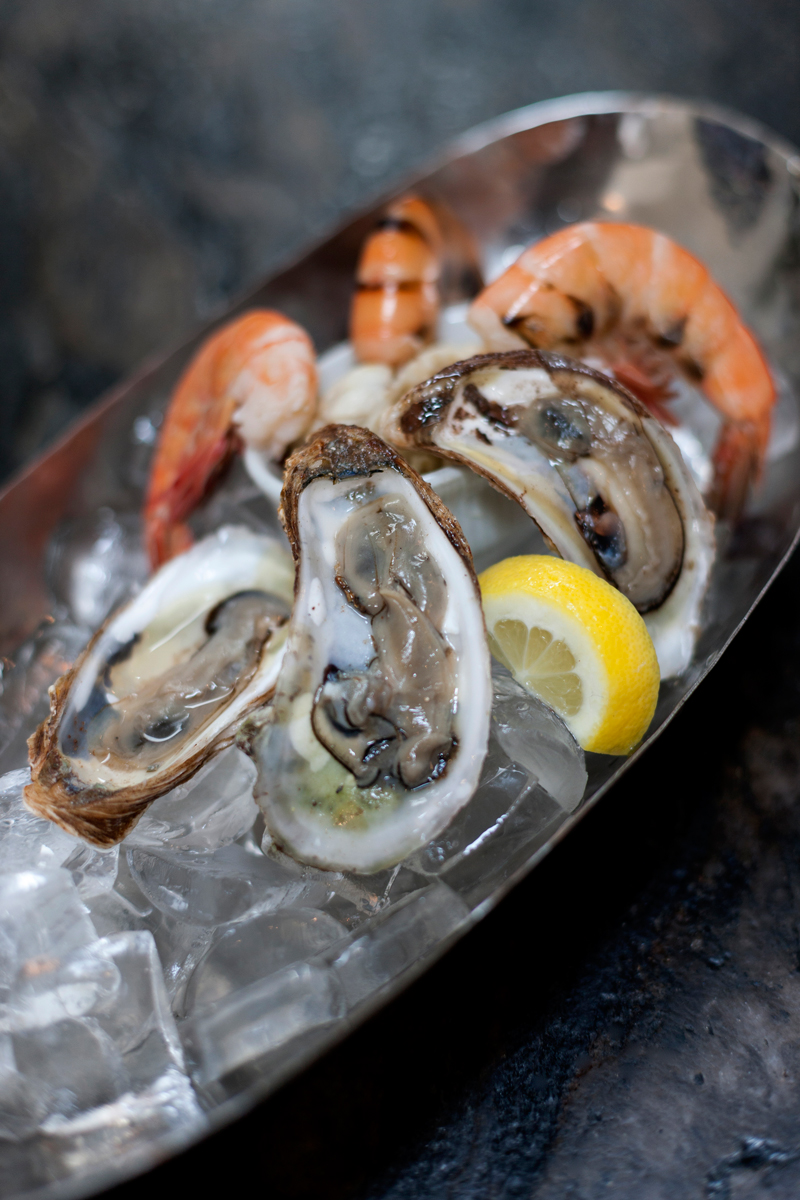 While the restaurant offers upmarket dishes such as sea scallop risotto and filet Oscar, the menu lists far more sandwich and salad selections than fine-dining entrées. Similarly, the food is presented in an unpretentious way. 
The seafood platter, for example, has a highbrow name: plateau de fruits de mer. Its oysters, shrimp and jumbo lump crabmeat are welcomingly fresh. But they're served on a metal compartmentalized plate with a trio of dips in the middle and plastic-wrapped saltine-style crackers. 
My dining companion and I concluded that the light brown dip, a mignonette, must have been for the crab, since the cocktail sauce obviously went with the shrimp. And the horseradish — well, that could have gone with the shrimp, too. 
Our server confirmed that the mignonette is, indeed, for the crab, so that's how we ate it. An internet search later revealed that mignonette dip is designed specifically to pair with raw oysters. I would have welcomed that information as the platter was served. 
Our "Super Shrimp" sushi roll was presented with more dramatic flair. It sits atop a long deep-green leaf placed on a stylishly curved oblong plate and embellished with a zigzag of eel sauce. The base is tempura shrimp, and the flavors work well.
As for entrées, our server told us that "anything with lobster" was the house specialty. That gave us three tempting options: lobster carbonara, a lobster roll and a lobster cobb salad. 
We went with the carbonara, and it was a sound choice. Sublimely sweet Maine lobster chunks are tossed with prosciutto, scallions and Grana Padano cheese along with delightfully thick bucatini pasta.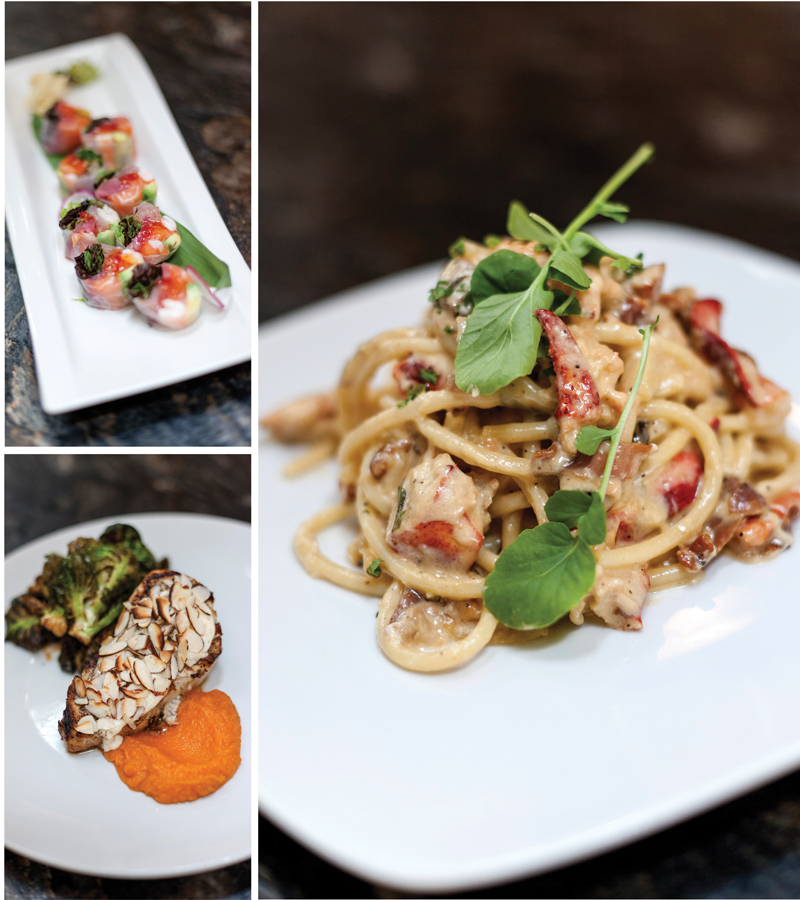 We also ordered the swordfish, which is coated in a layer of thin almond slices, then grilled. Add brown butter, a sweet potato purée and a load of way-too-tasty fried brussels sprouts and you've got a satisfying meal.
I usually skip dessert, but when the server explained that McMahon personally prepares the sweet indulgences — including the peanut butter pie — I couldn't say no. The pie is a moussey, nutty confection on a crust made of chocolate wafer crumbs. We were full, but scooped up every bite.
McMahon has certainly succeeded in creating a seafood restaurant that's far more high-end than a fried shrimp joint, yet quite a bit humbler than a fine-dining restaurant. That's a nice, comfortable niche to occupy.
At press time, McMahon was preparing to open a new steakhouse, called Bovine, located across Park Avenue in the space occupied for decades by Park Plaza Gardens. There'll be some upscale touches, she says, such as Caesar salads prepared tableside.
Still, since Bovine is part of the 310/Blu family, you know the ambiance won't be stuffy. Notes McMahon: "It'll be affordable, even as we bring back traditional steakhouse service."
I'll bet Bovine's will even have highchairs. 
Blu on the Avenue
326 South Park Avenue
407-960-3778
bluontheavenue.com