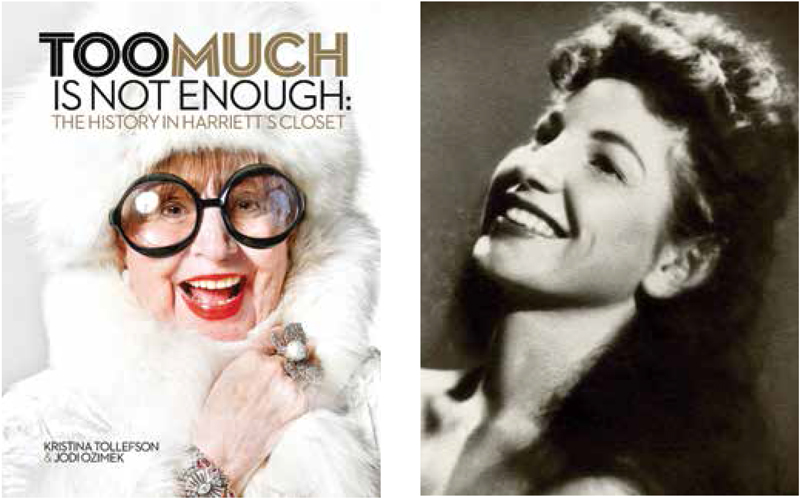 Eleven years ago, Kristina Tollefson set out to investigate an urban legend. Nothing like, say, a Yeti being sighted in Mead Botanical Garden. Tollefson's specialty is costuming, not creepiness, and she was intrigued by stories she'd heard of a wealthy fashionista in her 80s who had hoarded every article of clothing she'd ever owned — all of it stashed away in a fabled, oversized closet in her Longwood mansion.  
Tollefson is an associate professor and resident costume and makeup designer at the University of Central Florida's School of Performing Arts. The fashionista was Harriett Lake, a flamboyant matriarch beloved for her brassy, larger-than life personality, renowned for her generosity to charities, and envied for both her gaudy, extensive wardrobe and her oversized closet — make that "closets" — including one so jampacked that it was equipped with a dry-cleaner conveyor-belt system.
What Tollefson had in mind was the chance to meet Lake and study her collection for costuming ideas. What happened instead was that she became a regular visitor to the fabled closets — and a friend, biographer and ad hoc wardrobe assistant to their proprietor. 
"I'd get voicemails from her — I actually have a couple of them saved — that said, 'Call Harriett! I need your help!' When I called her back, she'd say, 'Oh, thank God! Do you know where that black satin skirt with the wide waistband and the crinoline underneath is?' Or, 'I can't find that black fabric flower. That one I usually wear with the Ferragamo cape.' Or, 'You know that blouse and skirt I wear under the peach Adrienne Landau? I can't find them anywhere!'" 
And so it went until June, when Lake died at the age of 96, just a few weeks before the Florida Historical Society published Too Much Is Not Enough: The History in Harriett's Closet. 
It's a lavishly illustrated, 550-page tribute by Tollefson and co-author Jodi Ozimek that encompasses both the evolution of Lake's sense of style and the roots of her passion for humanitarian causes, which she shared with her husband, Orlando developer and entrepreneur Hymen Lake, who died in 2010. 
Sections of the book, which carries a cover price of $95, are devoted to full-page photos of signature designer ensembles from the '60s through the '90s, mined from the closets, styled under their owner's watchful eye and accompanied by a typically laconic Lake quote. (One tart example, printed alongside a photo of a delicately ruffled white satin dress: "Harriett's Fashion Week in Winter Park. How did that start? They needed money. Isn't that how everything starts?")
But the best part of the book is the biography. Tollefson had indeed stumbled onto a legend — and found herself caught up in the enterprise of separating myth from reality, fiction from fact. A few examples:
No, Lake did not hoard every stitch of clothing she ever owned. She did, however, have more than 5,000 hanging items, 1,600 hats and 450 pairs of shoes — nearly all of which she donated to be sold off for charities before she died.
No, although he did wear an inexpensive Kmart-purchased watch instead of a bejeweled Rolex, as his wife would have preferred, Hymen Lake wasn't a cheapskate, as many had whispered. When it came to social causes, his spirit of generosity paralleled hers.  
He had grown up in poverty. Many of his neighbors in the Chicago tenement where his family lived were black. After building the residential development in south Orlando that would make him a fortune in the '60s, he became one of the first to sell a home to an African-American family at a time when few of his cohorts had the moral courage to risk "white flight" from their subdivisions.
No, Harriett wasn't just a showoff. Quite the contrary, she was afraid of attracting too much attention. That's why so many things she funded — playgrounds, boutiques for woman recovering from breast surgery, the new home for the Orlando Ballet, the lavish ladies' bathroom at the Dr. Phillips Center for the Performing Arts  — are simply known by her first name, at her request. 
No, she did not track down Coco Chanel and cut backroom deals for first dibs on prime ensembles (I'd heard that rumor myself).  She did, however, once approach a total stranger who was carrying an Anne-Marie Champagne Bucket handbag and offer to buy it from her on the spot. Its owner declined — at first. 
"I'll give you a thousand dollars for it," said Lake.
Replied the woman: "Let's find a shopping bag I can dump all my stuff into."
---
Michael McLeod is a contributing writer for Winter Park Magazine and an adjunct instructor in the English department at Rollins College.