Photography by Rafael Tongol
When Winter Park Magazine ran its first "Most Influential People" feature in 2015, we thought it would be a one-off. Now, in 2018, we're on the fourth installment — with no end in sight.
We didn't anticipate how positive the response would be to the concept of saluting people who — sometimes quietly — make a difference through their professions, their volunteerism, their philanthropy, their talents or their community engagement.
Plus, we didn't anticipate the depth of the nominee pool. So, shame on us for that one. This magazine's purpose is to celebrate Winter Park's culture, heritage and people. We ought to have known that it would take many, many issues to salute everyone who was deserving.
That fact became apparent after the second-year call for nominations. There were more than 200 names on that list — and we couldn't think of a good reason not to feature them all. 
But the price of newsprint being what it is, we figured we needed to spread it out.
Plus, new names crop up regularly. This year, there were about a dozen first-time nominees. Some were people about whom we had been somewhat familiar. Others were local legends who had long been on our radar.
Speaking of which, one of 2017's Influentials, Herb Holm, passed away in May. Holm, a financial mastermind whose savvy bolstered foundations bearing the names of Edyth Bush, Charles Hosmer Morse and Elizabeth Morse Genius, wasn't a household name in Winter Park — but his impact will endure for generations.
Just another reminder that bestowing kudos isn't something that can necessarily wait until next year.
As usual, this year's Influentials are eclectic. Some of the selectees are well known, while others operate under the radar. What they have in common, however, is a love for Winter Park — and a desire to make it an even more special place in which to live, work and play.
Past Influentials include (in alphabetical order): Jim Barnes, Dan Bellows, Rita Bornstein, Jill Hamilton Buss, Jeffrey Blydenburgh, Daniel Butts, Grant and Peg Cornwell, Linda Costa, Julian Chambliss, Patrick Chapin, Carolyn Cooper, Mary Daniels, Betsy Gardner Eckbert, Jeff Eisenbarth, Andrea Massey-Farrell, Sue Foreman, Scot French and Christine Madrid French, Shawn Garvey, Hal George, John Gill, Steve Goldman, Sarah Grafton, Jane Hames, Ena Heller, Debra Hendrickson, Catherine Hinman, the late Herb Holm, Jon and Betsy Hughes, Phil Kean, Allan Keen, Linda Keen and Randy Knight.
Also: Debbie Komanski, Linda Kulmann, Cindy Bowman LaFronz, Steve Leary, Lambrine Macejewski, Brandon McGlammery, Micki Meyer, Johnny Miller, Anne Mooney, Ronnie Moore, Patty Maddox, David Odahowski, Betsy Rogers Owens, Jana Ricci, John Rife, Randall B. Robertson, Peter Schreyer, Polly Seymour, Thaddeus Seymour, Shawn Shaffer, Sarah Sprinkel, Susan Skolfield, Sam Stark, Chuck Steinmetz and Margery Pabst Steinmetz, Dori Stone, John and Gail Sinclair, Fr. Richard Walsh, Jennifer Wandersleben, Harold Ward, Bill Weir, Chip Weston, Pete Weldon and Becky Wilson.
On behalf of the past Influentials — and the staff of Winter Park Magazine — congratulations and welcome to the Class of 2018. Let's meet them on the following pages.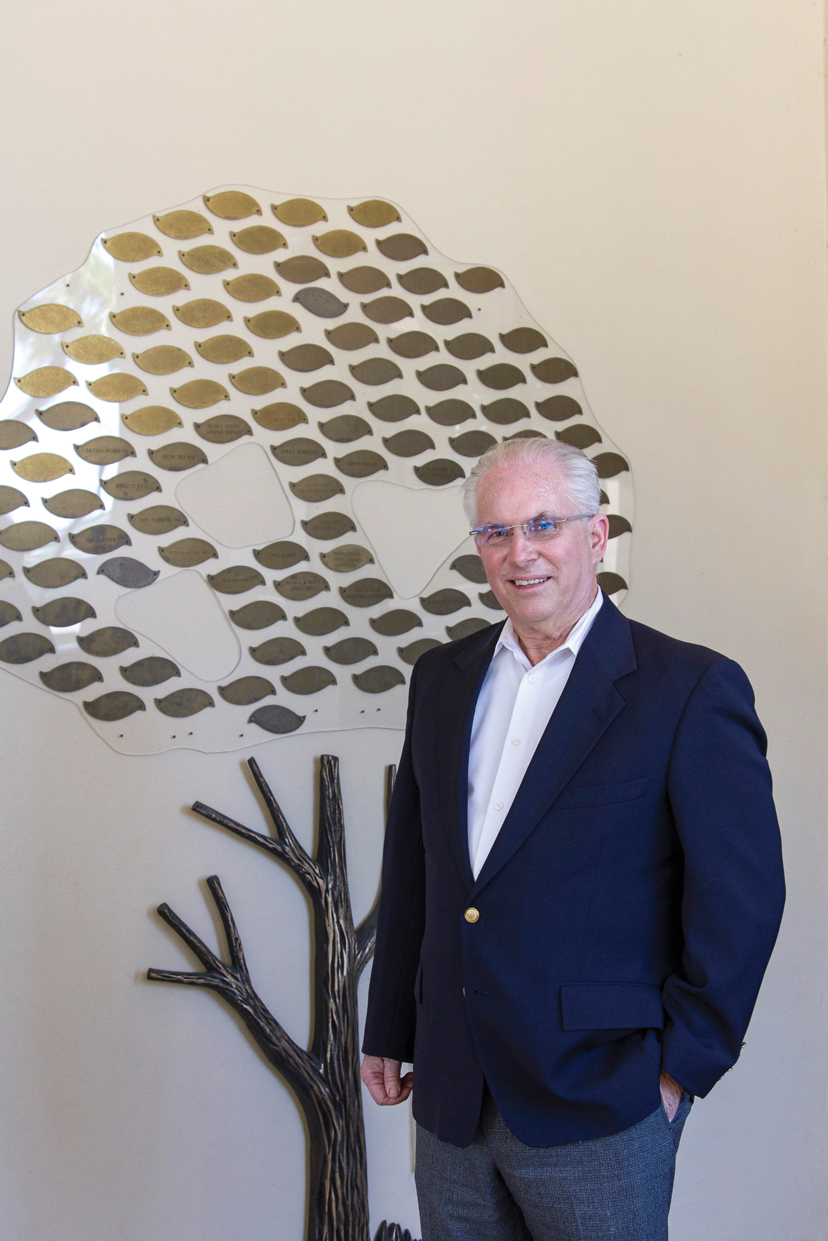 Richard O. "Rick" Baldwin
THE GRACIOUS GIVER
CEO, Baldwin Brothers Cremation
The funeral business has been dubbed  "the dismal trade." But nobody who knows Richard O. "Rick" Baldwin would describe him as dismal. To the contrary, Baldwin has for decades been one of Winter Park's most respected businesspeople, in part because of his personal warmth and in part because he has done so much to improve the lives of people who haven't yet needed his professional services — particularly children and senior citizens. Baldwin, 72, was raised in Winter Park, which he recalls as being "very Mayberryish." (Longtime locals will remember Baldwin Hardware Store on Park Avenue, which was operated by his paternal grandparents from 1926 until 1970.) He earned a degree in mortuary science from Miami-Dade Community College and a degree in accountancy from UCF. Then, at age 27, he founded what later became Baldwin-Fairchild Cemeteries and Funeral Homes, which he sold in 1973 to New Orleans-based Stewart Enterprises, the second-largest provider of funeral and cemetery services in the U.S. In 2012, after 29 years as a funeral industry executive and entrepreneur, he became CEO of Baldwin Brothers Cremations, with 14 offices in Central and Southwest Florida. All the while, he has been a high-profile presence on civic boards: past president of the Winter Park Fellowship of Churches and Synagogues; past president of the Christian Service Center of Orange County; past president of Hospice of Central Florida; past trustee of Winter Park Memorial Hospital; past trustee of the Mayflower Retirement Center; and past board member of both the Hamilton Holt School and Cornell Fine Arts Museum at Rollins College. Lately, he has turned his attention to two cherished Winter Park institutions, serving as president of both The Gardens at DePugh Skilled Nursing Center, founded in 1956, and the Welbourne Avenue Nursery and Kindergarten, founded in 1927. The two nonprofits — both of which are historically important — were started by community members who launched grass-roots campaigns to fill social-service voids. Baldwin is also a member of the dean's advisory council at UCF's College of Business and a member of the UCF Business Hall of Fame. 
What they say:
Rick is one of the most decent people in this town … I'll match his community service with anybody's … a brilliant business mind and a kind and compassionate person in general.
What he says:
It has been said that 'to whom much is given, much is required.' I've been given much — and feel thankful to have the opportunity to serve in this beautiful city where I've spent my life.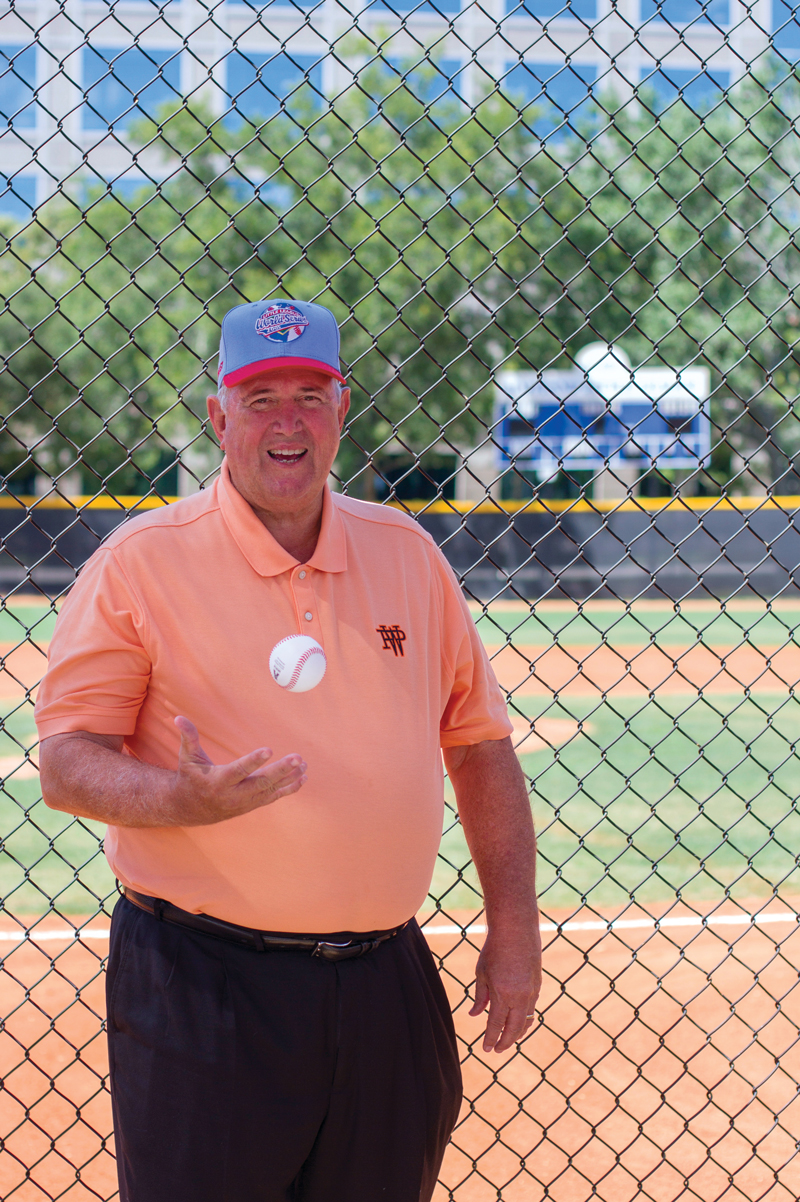 Sid Cash
THE BIG-LEAGUER
Senior Vice President, Winter Park National Bank 
Ask Sid Cash what makes him influential and he responds with a motto that has served him well as not only a Little League coach but also as a community banker. "Kids will forget what you said, kids will forget what you did, but kids will never forget how you made them feel," Cash says in a Georgia twang that persists despite his living in Center Florida for 63 of his 68 years. As a coach for 32 years, Cash saw his influence on players in the Maitland Little League translate into off-field business with their parents. "Certainly if [parents] trust you with their kids, they're going trust you with their money," he says. It didn't hurt to be a banker named Cash, either. Over his professional career, Cash helped open five local banks, including Winter Park National Bank in 2017. His day job is senior vice president, and his chummy demeanor makes him a good fit for a financial institution located in a city that's a small town at heart. Cash's coaching achievements include taking a Maitland team to the 2005 Little League World Series in Williamsport, Pennsylvania, and finishing second in the nation. But he says winning has never defined success for him. Success as a coach of 10-, 11- and 12-year-olds is measured by improvement, he says. The kid who drops fly balls in practice, then goes into a game and makes a clutch catch — that's the stuff that still gives Cash goosebumps. Taking stock of his imprint on the community, Cash is proud of his banking career, his Little League leadership and, since 2010, his involvement with Winter Park Pop Warner football — the last six years as president. But he's proudest of launching Winter Park Pride, a community group whose 2016 "Restore the Roar" campaign raised $250,000 toward renovation of city-owned Showalter Field, home of the Winter Park High School Wildcats. (Cash, a 1967 WPHS graduate, played baseball and football at the school.) He embarked on the fundraising effort, he says, for the kids who will play on the field for years to come — and will never forget how playing there made them feel.
What they say:
Sid's a local legend in banking and Little League … he connects with kids like nobody else … he's just as genuine as he seems … highly respected because he has given back to the community for decades.
What he says:
I'm just so blessed that my dad moved the family to Winter Park … I'm all about relationships … my dad taught me that you have to build relationships and give back to the community.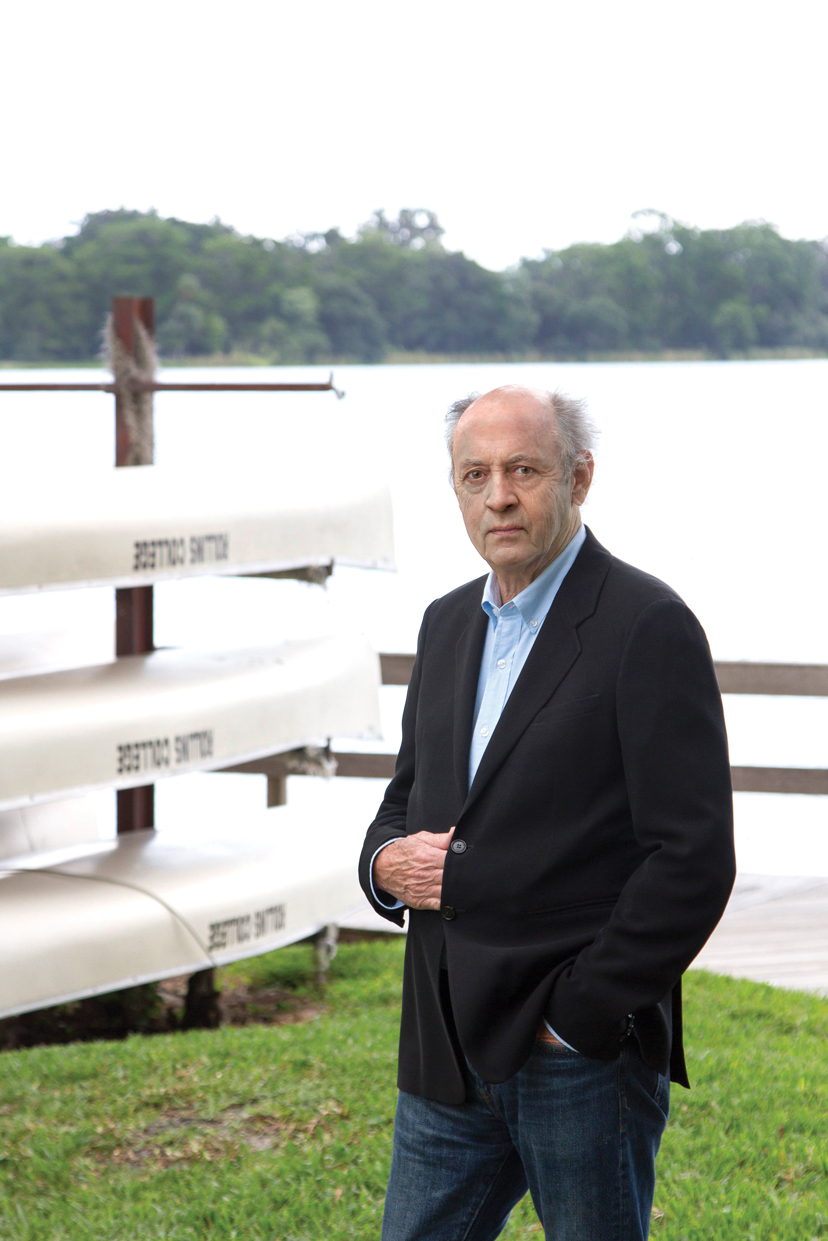 Billy Collins
THE LITERARY LION
Author, Senior Distinguished Fellow, Winter Park Institute at Rollins College
Billy Collins is A poet, and you likely already know it. OK, so we tried to be clever and lead with a rhyming sentence — despite the fact that Collins' poetry doesn't rhyme. It's just as well. His biggest fans aren't poetry snobs — they're everyday people who are enchanted by the humor and poignance in his comfortably hospitable verses. Collins is a rare poet whose collections scale the New York Times bestseller list, and whose readings attract packed houses. A two-term U.S. poet laureate (2001-03), Collins moved to Winter Park in 2008 when he accepted the post of senior distinguished fellow at the Winter Park Institute at Rollins College. He is, without question, the most important writer of any genre ever to have a 32789 zip code. The genial Manhattan native, a youthful 77, has thus far published 13 volumes of poetry. He has appeared regularly on A Prairie Home Companion — the first time in 1998 — and on other NPR programs, including Fresh Air with Terry Gross. On the first anniversary of the 9/11 terrorist attacks, he was asked to write a poem commemorating the victims and to read it before a joint session of Congress held in New York City. "The Names," which alphabetically incorporated the surnames of those who had been killed, struck precisely the right tone with its quiet humanity. Still, Collins is more comfortable writing about everyday life — albeit with quirky twists and turns. For example, a TED Talk in which he recites two poems about the inner thoughts of dogs has garnered more than 1.6 million views. Accolades include the Mark Twain Prize for Humor in Poetry as well as fellowships from the New York Foundation for the Arts, the Guggenheim Foundation and the National Endowment for the Arts. In 1992, he was chosen by the New York Public Library as a Literary Lion. Last year, Collins was inducted into the American Academy of Arts and Letters, an honor society of the country's 250 leading architects, artists, composers and writers. His proudest achievements: The Poetry 180 program for high schools, in which he chose and published one poem for each day of the school year, and making a birdie on the 12th hole at Augusta National.
What they say:
Billy is a national treasure … so down-to-earth and funny … don't bet with him if you're playing golf.
What he says:
My Winter Park wish is to continue enjoying this oasis of leafy beauty, where the streets are paved with brick, and to work to hinder developers who threaten to spoil the charm and character of this unique city.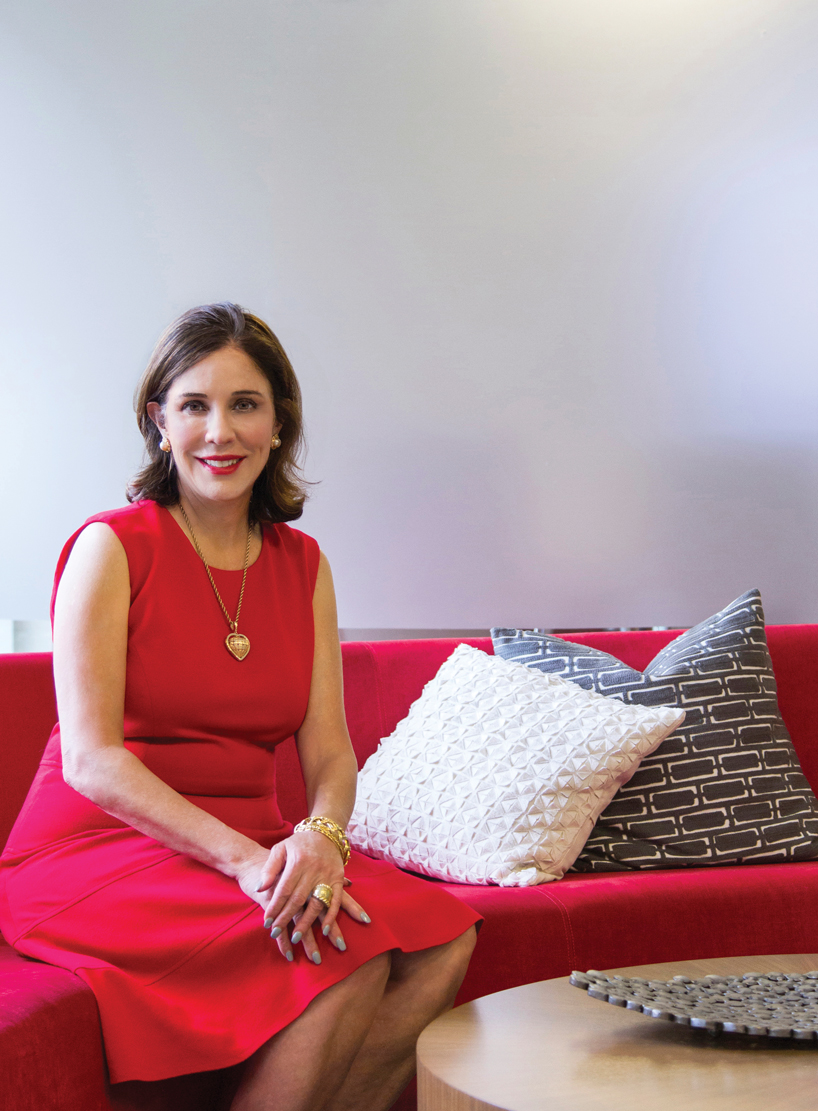 Mary Demetree
THE EMPIRE BUILDER
Chairwoman, Demetree Global 
Mary Demetree had dreams of becoming an actress. But her hard-charging father, the late William C. Demetree Jr. — who famously sold Walt Disney the 12,500-acre hunting camp where the Magic Kingdom would be built — insisted that she join the family business instead. After graduating from the University of Alabama, the dutiful daughter did just that, learning the operation literally from the ground up. When you were the boss's kid, you had to work that much harder to prove yourself. But Demetree, now 58, would go on to establish her own reputation as a major force in the male-dominated world of real estate development and property management. Today, Demetree Global holds an interest in nearly 500,000 square feet of space in Winter Park, including primo locations at the corners of U.S. Highway 17-92 and Orange Avenue. There, around the old Lombardi's Seafood site, Demetree envisions someday developing a bustling mixed-use gateway for Winter Park — a project that would encompass residential, retail and dining components as well as a SunRail station. In addition, Demetree has been a venture-capital partner in an array of cellular networks as well as WonderWorks, a science-themed attraction on International Drive, and Handex Consulting & Remediation, a full-service environmental services firm. For 18 years, she was a partner in Park Plaza Gardens, one of Park Avenue's most iconic restaurants. (The partners closed the restaurant in 2016 during a dispute with the building's owners.) When she's not dreaming up new business ventures, Demetree gives back through personal philanthropy or the William C. Demetree Jr. Foundation, which supports projects that benefit the emotionally, physically or mentally disadvantaged. She's a large-gift donor to Orlando Health and the Florida Hospital Foundation, and was a capital donor for the UCF Health Sciences Campus at Lake Nona. Reflecting her interest in helping children, Demetree recently started an office fundraising campaign to support an initiative that would feed 425 low-income students at Orange County's Mollie Ray Elementary. Demetree, who serves on numerous business and civic boards, was named Small Business Owner of the Year in 2012 by the Orlando Business Journal.
What they say:
Mary has made her own mark … she's definitely her father's daughter, from her business savvy to her willingness to give … she could potentially create something spectacular on the Fairbanks property.
What she says:
I invest in people, not in projects. My dad would always say, 'Bet on the jockey and not the horse.'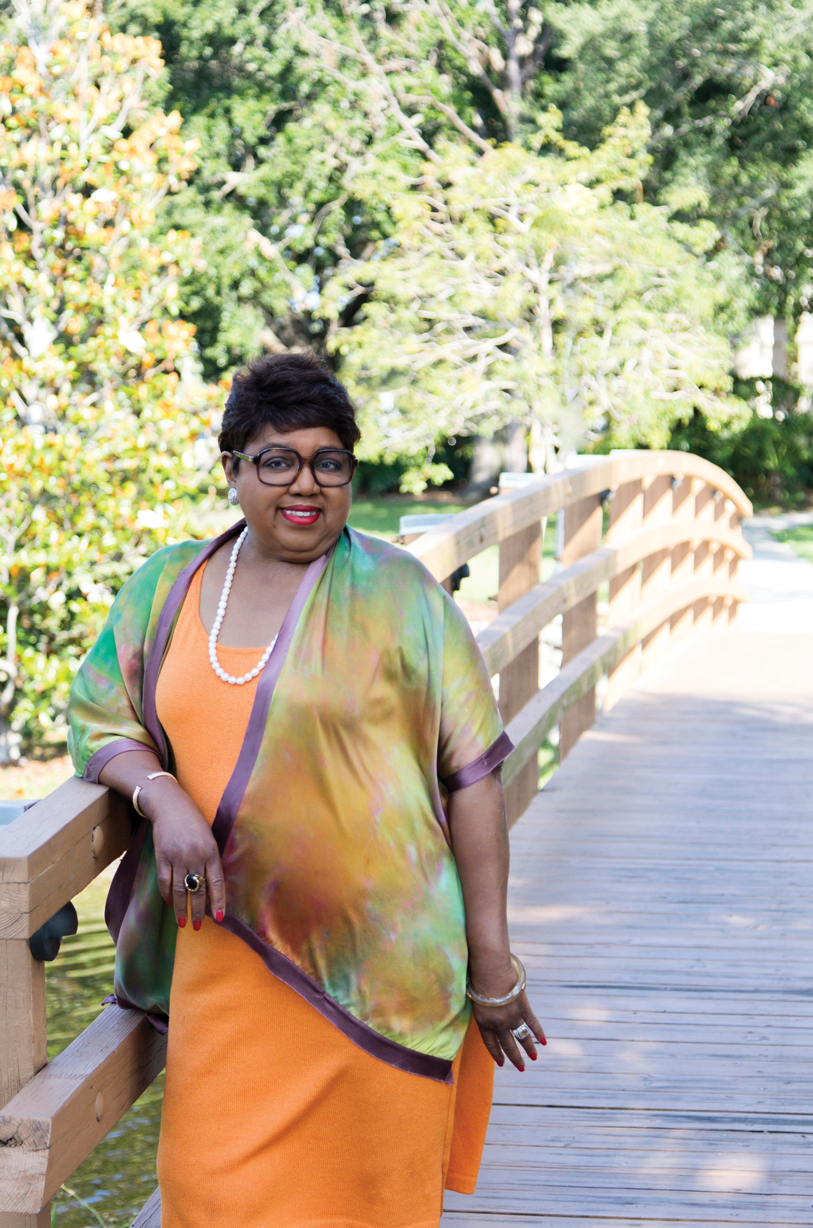 Carolyn Fennell
THE JET-SETTER
Senior Director of Public Affairs and Community Relations,
Greater Orlando Aviation Authority
With more than 44 million passengers annually, Orlando International Airport (OIA) is the second-busiest in the state and the 11th-busiest in the U.S. It's also efficient and beautiful, boasting leading-edge architecture and an expansive art collection that immediately signals to visitors that they've arrived someplace special. OIA now has more than 21,000 employees and pumps at least $31 billion annually into the region's economy. For 38 years, it has been Carolyn Fennell's job to connect the community and the ever-expanding facility, which began in 1962 as the Orlando Jetport at McCoy — a partnership between the City of Orlando and McCoy Air Force Base. The Greater Orlando Aviation Authority (GOAA), which operates OIA and Orlando Executive Airport, was formed after the base closed in 1975. Fennell, a Tallahassee native who earned a journalism degree from Florida A&M University, joined GOAA in 1980 following a two-year stint as a publicist at Walt Disney World. Before that, she'd been a production assistant at ABC News in London. As GOAA's senior director of public affairs and community relations, Fennell has come to be the friendly face and sonorous voice of the airport. Her community activities include service on the boards of the Orlando Museum of Art, the Valencia College Foundation and the Orlando Philharmonic Orchestra. She's also on the boards of the Central Florida Hotel & Lodging Association and SKAL International — an association of travel industry executives. She was Orlando Business Journal's Businesswoman of the Year in 2010, and was on the board of the Federal Reserve Bank of Atlanta Jacksonville Branch from 2010 to 2016 — serving as chair twice. She was presented the Ted Bushelman Legacy Award for Creativity and Excellence by the Airports Council International in 2015, and the Dorian Boyland Community Service Award by the Central Florida Urban League in 2017. Also that year, Fennell was recognized as a Community Advocate by the Black Business Investment Fund during the organization's "Salute to Local Leadership: Black Women Visionaries." Other honors include induction into the Florida A&M University School of Journalism Hall of Fame and the Central Florida Hospitality Hall of Fame at UCF's Rosen College of Hospitality Management. 
What they say:
Carolyn and the airport have become synonymous over the years … she's such a trailblazer and a role model … a leader in the local arts and cultural communities. 
What she says:
I have a passion for being a participant and not merely an observer in my professional and community involvement.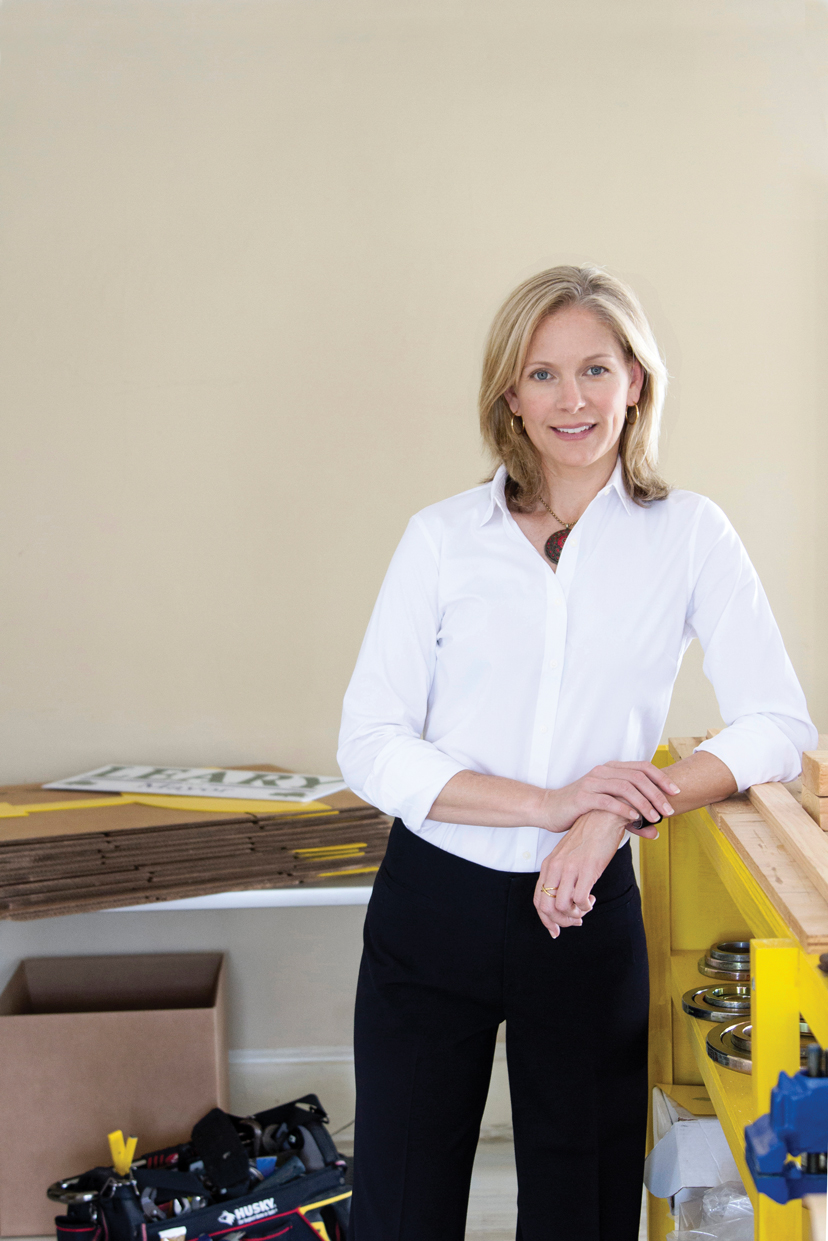 Meg Fitzgerald
THE LONG HITTER
Property Manager and Community Relations Director, The Leary Group
For such a sophisticated town, Winter Park politics can get surprisingly nasty. "I didn't realize how passionate people in Winter Park were about their views," says Meg Fitzgerald, who found out quickly enough when she managed a winning city commission campaign for her boss, Steve Leary, in 2011. Leary beat attorney Scott Callahan 63 percent to 37 percent, then was unopposed for re-election two years later. Fitzgerald subsequently managed two winning mayoral campaigns for Leary, who in 2015 edged former Circuit Judge Cynthia Mackinnon 52 percent to 48 percent in a hotly contested race that laid bare the city's ideological fissures over such issues as redevelopment and historic preservation. In 2017, Leary rolled over a low-key re-election challenge from retiree Jim Fitch, heightening talk of a future run by Leary for state Legislature or some other higher office. Still, her foray into local electioneering was an education for Fitzgerald, whose actual job is property manager and community relations director for The Leary Group, which offers full-service commercial property management and specializes in locations within historic districts and near the attractions. She's also general manager of a Leary Group ancillary company, Flange Skillets, which designs and manufactures gasket installation tools — not cooking utensils — for the oil pipeline industry. Now she has emerged as a behind-the-scenes political force, serving as Leary's aide de camp and offering advice and guidance to would-be candidates. "That's happening more now," Fitzgerald, 42, says. "After the first time, we got the formula and the messaging down." A standout athlete in college, Fitzgerald likes the competitive aspect of politics. She was a volleyball player at the University of Florida, and as an outside hitter helped the Gators to four SEC titles and made the all-SEC team twice. She coached at Rollins College for a year before revitalizing the UCF women's volleyball program, taking the team to the second round of the NCAA Tournament in 2002 before quitting to spend more time with her triplets — now 13 years old — to whom she is a single mom. She coaches boys' and girls' Winter Park Volleyball Club teams and is a mentor in the Save Our Scholars (SOS) program, which helps underprivileged young women with academic potential succeed in college.
What they say:
Meg isn't an elected official, but she's a major force in local politics … she's a great coach to kids in both volleyball and life … she doesn't like some aspects of politics, like character attacks, but she knows how to win.
What she says:
My personal goals are to continue raising amazing, well-rounded children and continue developing our youth through the sport of volleyball. I think of myself as passionate, approachable and dedicated.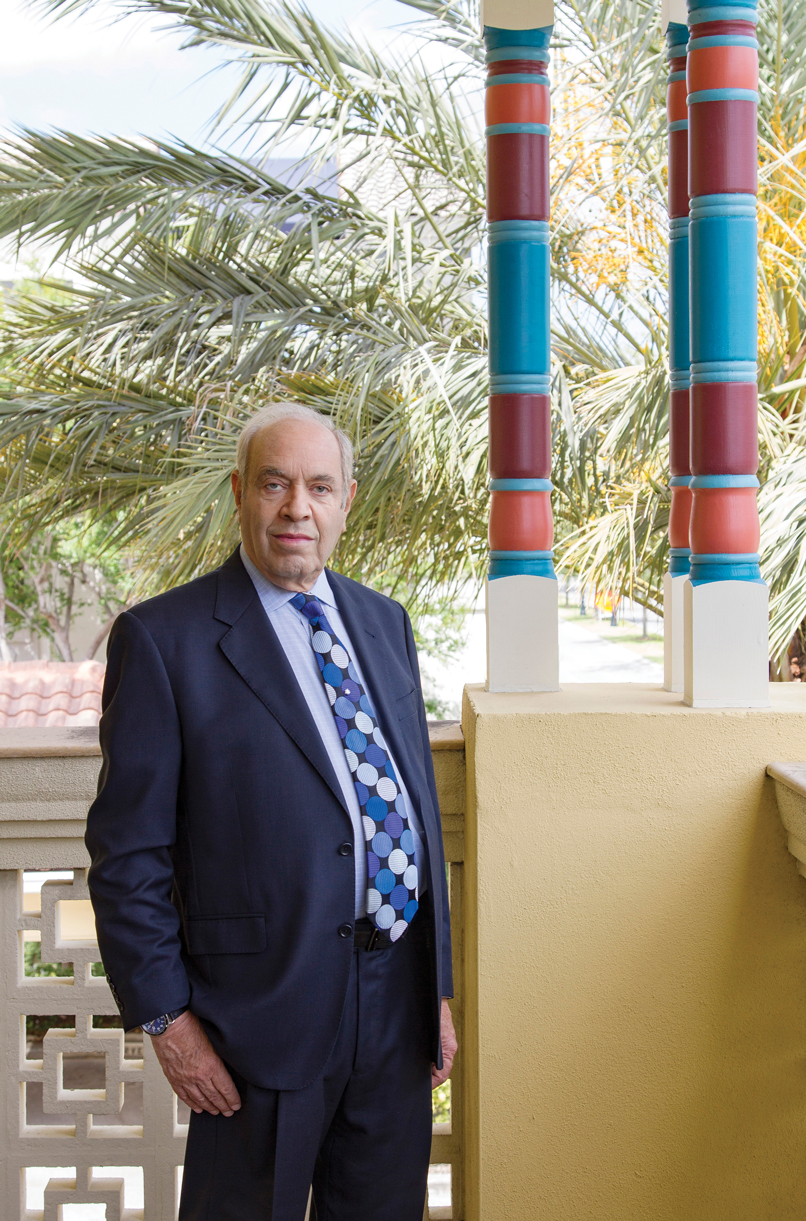 Alan Ginsburg
THE STAND-UP PHILANTHROPIST
CEO, AHG Group
Alan Ginsburg is among the region's most respected and generous philanthropists. But if he hadn't been a successful investor and developer, he might have enjoyed a lucrative career as a stand-up comedian. "I'm a ham at heart," admits Ginsburg, 79. "When I open the refrigerator and the light comes on, I'm good for two or three minutes." Many charity auction attendees have seen Ginsburg's Vegas-ready schtick — roaming from table to table, microphone in hand, cracking jokes and cajoling attendees to pony up for good causes. Few, though, have ponied up as much as the Alan Ginsburg Family Foundation. In 2007, for example, Florida Hospital got $20 million — its largest-ever donation — to help build the 15-story, 440-bed Ginsburg Tower. Other beneficiaries have included the Hamilton Holt School at Rollins College ($5 million), the UCF College of Medicine ($4.5 million), Central Florida Hillel at UCF ($3 million), Nemours Children's Hospital ($1 million) and the Dr. Phillips Center for the Performing Arts ($1 million). Particularly important to Ginsburg is the Holt School, an evening program that serves nontraditional students for whom a Rollins education might be otherwise out of reach. "I never miss a commencement," says Ginsburg, a Rollins trustee and a Holt board member. "I get teary-eyed at the stories these students tell." Ginsburg, who maintains business interests in such far-flung locales as Israel and Mongolia, is CEO of AHG Group, a holding company based in Winter Park. CED Construction, which Ginsburg founded in 1987, built more than 40,000 rental units for low-income families under a federal tax credit program. Almost 15,000 of those units — representing an investment of more than $1 billion — are in Central Florida. Ginsburg is a trustee for United Arts and a board member for the Orlando Museum of Art. He has also been active in the Greater Orlando Jewish Welfare Federation and the Orlando Chapter of the National Council for Community and Justice. The Michigan native, a Winter Parker since 1981, now spends about half his time on philanthropy. "I think giving away money is as hard as making it in the first place," he says.
What they say:
The definition of a selfless philanthropist … a bighearted man who has touched countless lives … I can only say, 'Thanks, Mr. Ginsburg, for everything.'
What he says:
Winter Park is a very special place. I've lived in four different houses here, all within three or four blocks of each another. It's a small town with a big-time feel.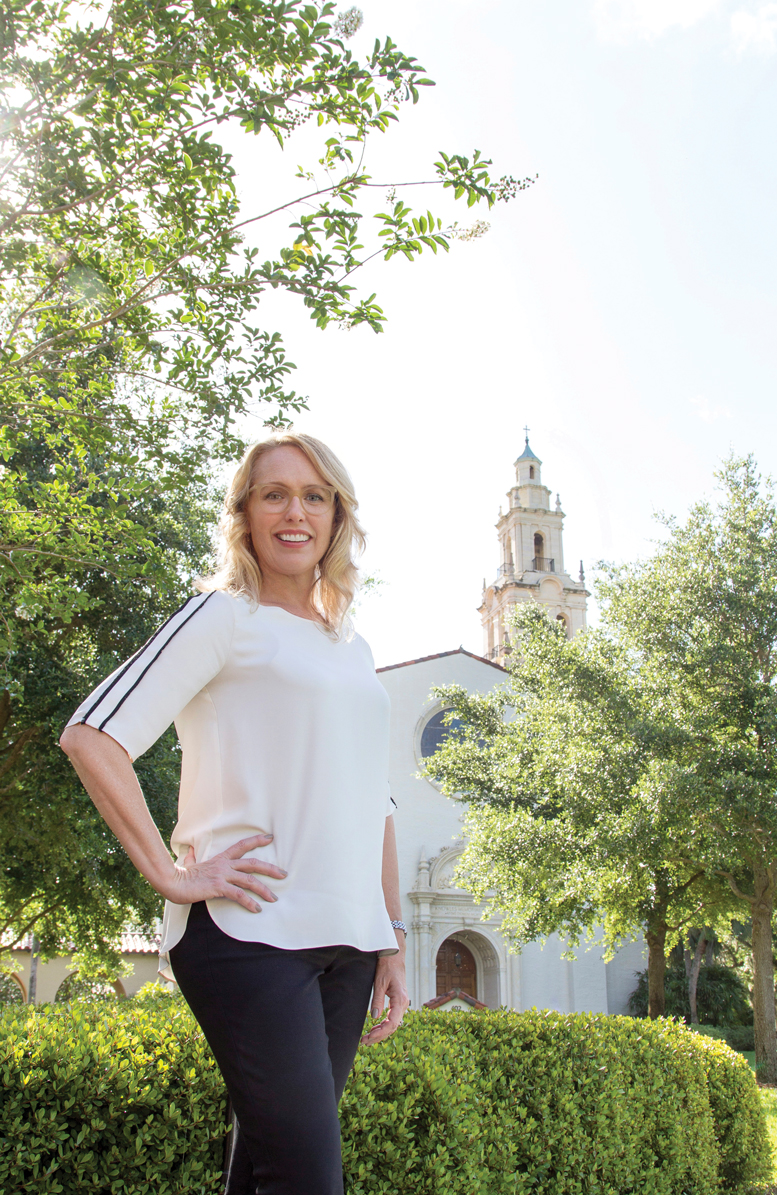 Elizabeth "Betsy" Gwinn
THE BACH BOSS
Executive Director, Bach Festival Society of Winter Park
Musical Director John Sinclair is the public face of the Bach Festival Society of Winter Park. He and his multitude of vocalists and players bask in the applause following performances. But the high-profile maestro would be the first to tell you that Elizabeth "Betsy" Gwinn makes it possible for him to concentrate on giving ticket-buyers a year's worth of musical magic. Gwinn, 51, is executive director of the second-oldest continuously performing Bach Festival in the world. Most importantly, she makes certain that the society — arguably the region's most significant cultural organization — is well funded through a complex web of public, quasi-public and philanthropic sources. She also seeks collaborations and partnerships that further the society's mandate "to inspire the human spirit through great classical music." In short, Gwinn and her full-time staff of five handle behind-the-scenes responsibilities that don't earn standing ovations, but do keep the organization humming — or singing — year after year. Gwinn, who was planning administrator at the Orlando Museum of Art prior to joining the society in 2006, says her work is rewarding because the arts "reveal to us what it means to be human, and the importance of creativity in our lives." The California native, who has a B.A. in fine art from UCF, says her goal is for Winter Park to fully reach its potential as a cultural destination. "Other cities have spent millions trying to create what Winter Park has in its DNA," she says. "This can't be taken for granted, but needs to be carefully nurtured." Gwinn is a familiar figure on the boards of arts advocacy organizations — including the city's fledgling Arts and Culture Subcommittee — and, like many Influentials, is a graduate of Leadership Winter Park. She and her husband, Michael Galletta, have two teenaged sons. Gwinn says she's inspired by expressions of appreciation from volunteers, patrons, partners and donors. "They push me to make the society the best it can be," she says. But the accomplishment that makes her most proud she says, is balancing work and family. Adds Gwinn: "My time with my children is fleeting, and I know it."
What they say:
Betsy is delightful, upbeat, helpful and a great representative for the organization … she's obviously effective and respected … the Bach Festival Society is our most cherished organization; I'm glad it's being well run.   
What he says:
I enjoy meeting people, learning about them, and understanding what they want for our shared community …  I also believe my respect for the history of Winter Park and long tenure working in the community has been very helpful.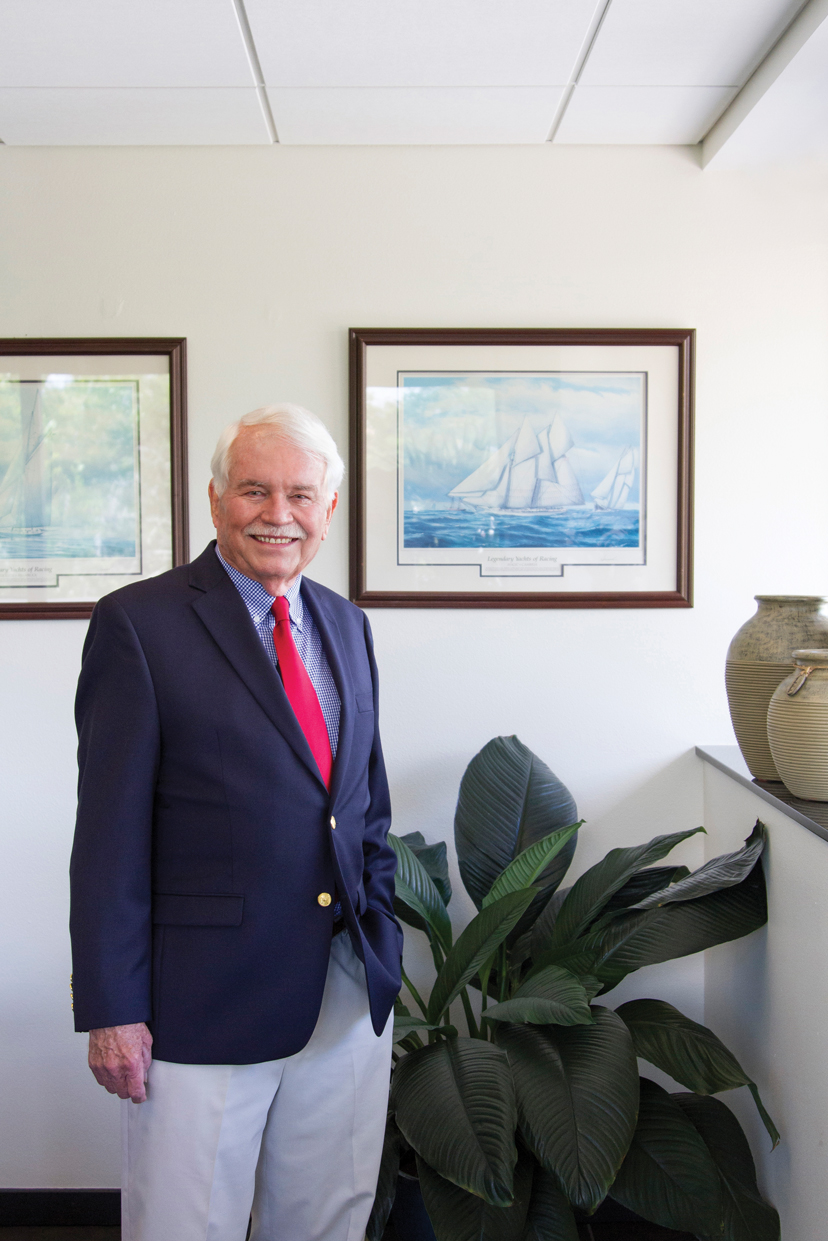 Ralph V. "Terry" Hadley III
THE COURTLY ADVOCATE
Shareholder, Swann Hadley Stump Dietrich & Spears
Terry Hadley, who combines a keen legal mind with a folksy demeanor, has been a highly successful attorney whose firm, Swann Hadley Stump Dietrich & Spears, traces its roots to 1924 and handles everything from real estate and corporate transactions to timeshare and condominium law. Hadley, 75, still practices but stepped aside last year as managing partner after 22 years. Instead of his lengthy career, he prefers to discuss his favorite cause: the Florida School for the Deaf & the Blind in St. Augustine. Hadley is a trustee and endowment chairman for the state-funded facility, which was founded in 1885 and has about 600 students in preschool through 12th grade. FSDB makes a profound difference in the lives of children from across the state, Hadley notes. Making a difference for children has been Hadley's motivation for decades. His commitment to guardian ad litem work earned him the Judge J.C. "Jake" Stone Distinguished Service Award in 1989 and the President's Pro Bono Service Award from the Florida Bar Association in 1992. He become the legal community's go-to specialist on Munchausen syndrome by proxy, a rare mental disorder in which a caretaker — most often a mother — harms her child in an effort to mimic legitimate illness. Hadley was raised in Winter Park and graduated from the University of Florida College of Law before a stint in the U.S. Navy JAG Corps from 1969 to 1972, during which he achieved the rank of lieutenant commander and served a tour of duty in Vietnam. A Democrat, Hadley ran for the State Legislature from District 40 in 1978, losing by less than a percentage point to future Orange County Mayor Rich Crotty. But he remained active in civic affairs, and in 1976 became founding director of Spouse Abuse (later Harbor House of Central Florida). He was a founding member — and currently secretary/treasurer — of the Seminole County Sheriff Foundation, which assists families of law-enforcement officers injured or killed in the line of duty. He's also a past member of the Winter Park Chamber of Commerce and a current member of the University of Florida President's Council. He and his wife, Carol, own a 72-acre blueberry farm near Cross Creek in Northeast Florida, where they have a second home.
What they say:
Terry really believes in paying civic dues … a Southern gentleman who genuinely cares about people … Terry is like Matlock — a down-home guy that
you don't dare underestimate.
What he says:
It's my experience that the best way to have an impact on the community is to be involved in its civic activities — just give of yourself on a regular basis.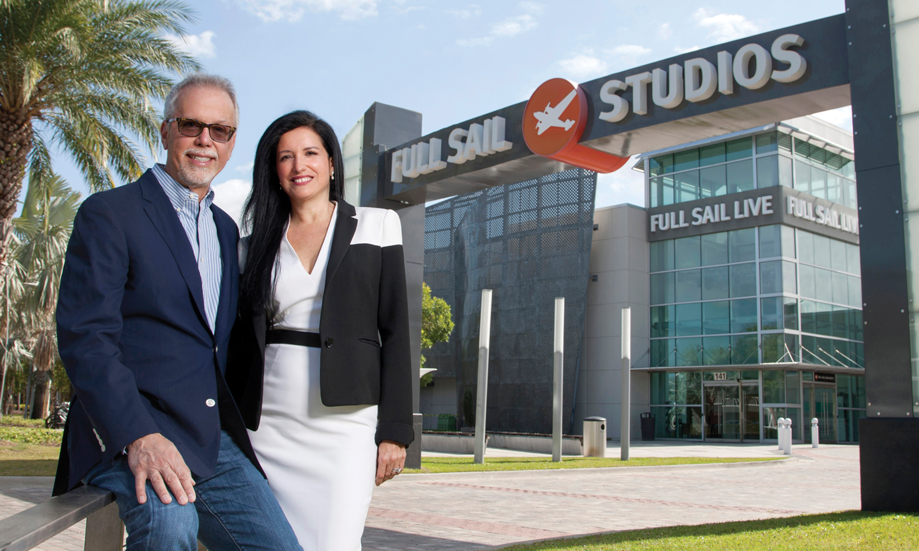 Garry I. Jones
Isis Jones
THE FULL SAILERS
President, Full Sail University
Chief Information Officer, Director of Education, Full Sail University
When you think of Winter Park as being a college town, you're likely thinking of Rollins College and its historic ties to the city. But Full Sail University — a private institution that offers 39 undergraduate degrees and 13 graduate degrees related to entertainment, technology, media and the arts — also boasts a Winter Park address, with a 210-acre campus on University Drive that encompasses 880,000 square feet of classrooms, recording and production studios, a Hollywood-style back lot and a state-of-the-art entertainment venue dubbed Full Sail Live. Its 5,500-plus on-campus students (with 10,000 more taking online courses) get real-world training that will, for many, result in rewarding careers — and, for the best of the best, perhaps even glossy entertainment industry accolades.  In 2018 alone, 50 Full Sail graduates were credited on 55 Grammy-nominated recordings (17 ended up working on Grammy winners). Full Sailers have also won multiple Emmys and Game Awards, while 1993 graduate Gary A. Rizzo has been nominated for five Oscars, winning two — including a 2018 nod for Best Achievement in Sound Mixing for Dunkirk. Overseeing this teeming talent factory — named one of the Best Music Programs in the U.S. by Rolling Stone and one of the Top Graduate and Undergraduate Schools for Game Design by The Princeton Review — is President Garry I. Jones, 64, a native Virginian who in the 1970s was a record producer and a touring musician. Jones, who earned a degree in psychology from Virginia Tech, joined Full Sail in 1980 and has led it through multiple expansions. In addition to the school and its students, his primary passions are nature and the protection of animal life. He's chair-elect for the Florida Chapter of the Nature Conservancy. And, partnering with the organization, he created The Monarch Initiative, a program to educate the public about the importance of pollinators such as the monarch butterfly. Isis Jones, 55, is Full Sail's chief information officer and executive director of education. The pair met in 1984 while Isis, a native of Havana, Cuba, was a mainframe systems programmer with book publisher Harcourt Brace & Jovanovich. She joined Full Sail in 1988, a year following her marriage to Garry, and by the mid-1990s had developed one of the first digital-media degree programs in the U.S. Today, she's responsible for curriculum design and the development of proprietary educational software. Isis has earned numerous professional recognitions, and shares her husband's commitment to the Florida Chapter of the Nature Conservancy. In addition, she supports such organizations as the ASPCA, Pet Rescue by Judy, the Foundation for Foster Children. 
What they say:
Garry and Isis are community treasures … they're partners in business and life … enormously likeable and genuine people.
What he says:
My best friend, Isis, and I often say to one another on the way out the door each morning, 'let's do some good out there,' no matter how great or small, for our community and the world at large.
What she says:
I feel that there's nothing that can't be accomplished if you go at it with the right spirit and respect others.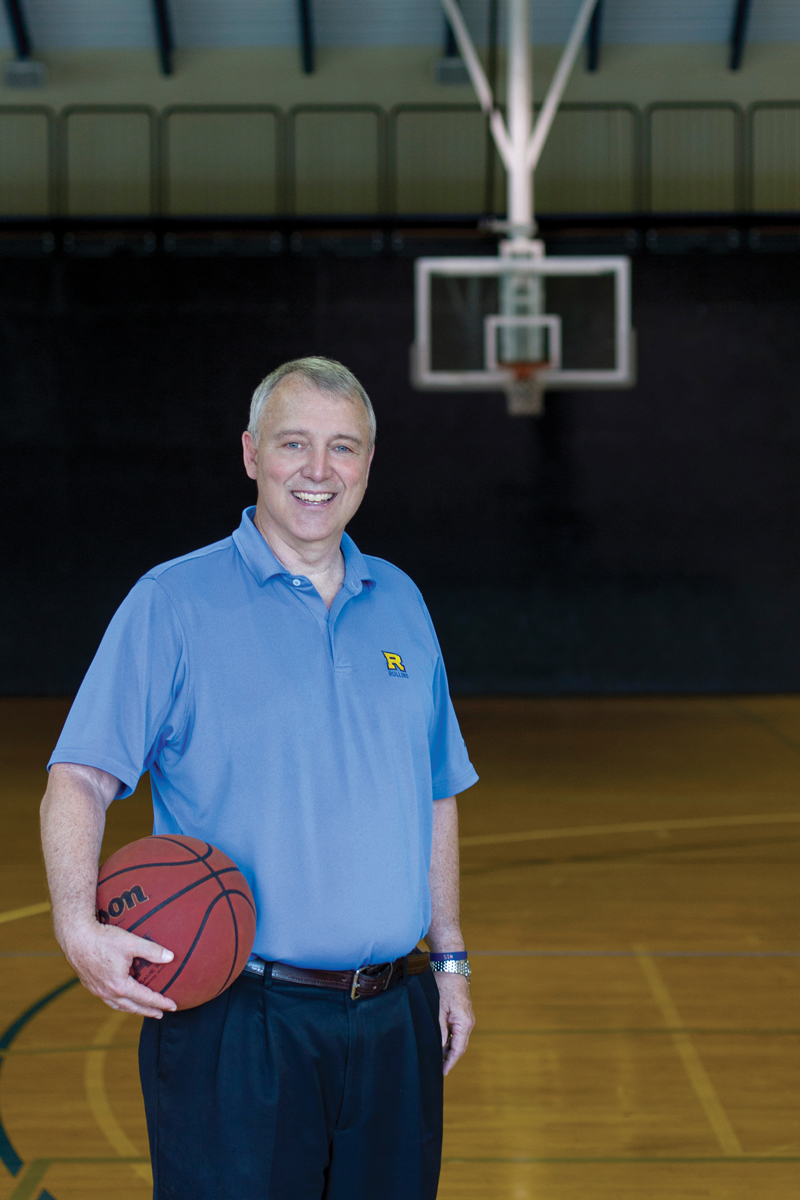 Tom Klusman
THE LUCKY ONE
Head Basketball Coach, Rollins College 
When Tom Klusman, 63, talks about his basketball coaching career at Rollins College, he never mentions the seven Sunshine State Conference championships he has snared, and only divulges his overall won-loss record when asked. (It's 693-407 in case you're interested, highlighted by two NCAA Division II Elite Eight appearances, in 2004 and 2017.) Having coached more than 1,000 games over 38 years at the same small college, Klusman lets the record book — he's the 10th winningest coach in NCAA Division II history — and his longevity speak for themselves. What he prefers to talk about — and with the fervor of a coach giving a locker room pep talk — is his relationship with players past and present. He sees himself as not just a teacher of setting picks and managing the shot clock but also as an influencer of young men with careers and families ahead of them. "Everyone thinks win, win, win. Well, that's not how life is," says the Cincinnati native, who played point guard for the Tars from 1972-76, scoring more than 1,006 points and dishing out 352 assists. "I'm not afraid to lose to teach the kids what I think is important." What's important to Klusman is that his players experience Rollins as students first and athletes second — and he views his time with them as vital to their growth as adults. "Before practice every day I go to every kid and shake their hand and make small talk: How did they do on their tests? How are their parents, their girlfriends? I try to let them know that I care about them. I tell them I love them all the time." Klusman, who has a daughter and twin sons with his wife, Jennifer, knows his approach made an impact when former players drop by to see him or call out of the blue. Recalls Klusman, who was tapped as head coach at age 26: "One of my former players called me the other night, and he was showing his son a tape of when he played. He tells me, 'The things I'm telling my son are the things Coach taught me at Rollins.' That's the reason you do this."
What they say:
Tom had opportunities at larger schools, but stayed at Rollins … his record is more impressive when you consider the academic standards at Rollins versus other schools in their conference … a class act and a great representative for the school … an under-the-radar sports legend.
What he says:
A lot of my kids thank me, but I thank them for letting me be part of their lives. I'm the lucky one.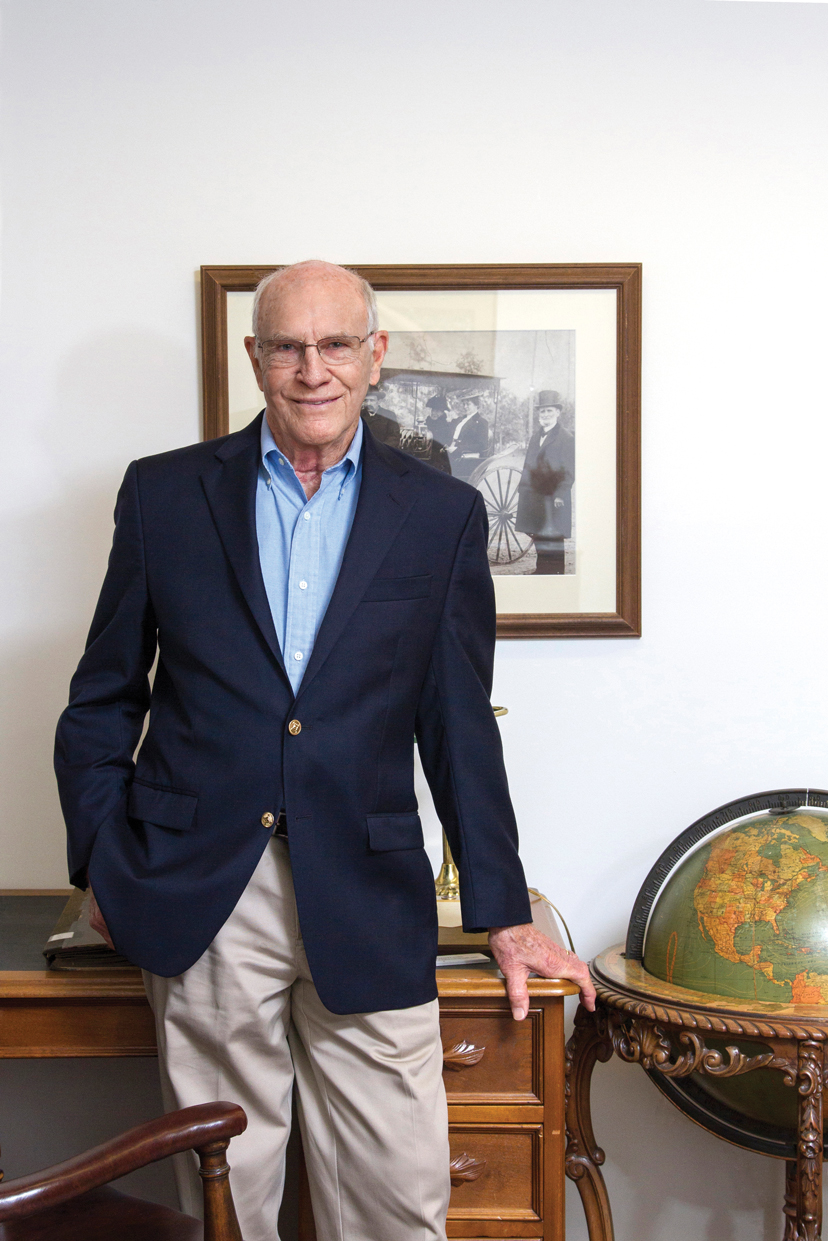 Jack Lane
THE CURIOUS CHRONICLER
Professor of American History Emeritus, Rollins College
If not for Jack Lane, the history of Rollins College — and, by extension, a considerable swath of Winter Park history — would today be obscure or unknown. Lane, now Wendell Professor of American History Emeritus and College Historian, taught generations of students from 1963 through 1999. Upon his retirement, Lane was presented the William F. Blackman Medal for distinguished service — an honor named, appropriately, for his favorite past president, a hardworking scholar who kept the college afloat from 1902-15. In 2006, Lane was awarded an honorary degree of Doctor of Humane Letters from the institution whose tribulations and triumphs he had chronicled. A native Texan, Lane, 76, was for a time a vibraphone player in a successful jazz quartet before earning a Ph.D. from the University of Georgia and beginning a storied career as a professor and a historian. Later in his career, he turned his scholarly attention to Florida. In 1991, Pineapple Press published The Florida Reader: Visions of Paradise from the Spanish to the Present, which he co-edited with Maurice "Socky" O'Sullivan, a Rollins English professor. It won that year's Tebeau Award from the Florida Historical Society as the best book on Florida. He has continued to speak to community groups, serve as a guest lecturer at the college and sit on the boards of the Casa Feliz Historic Home Museum and the Winter Park Institute at Rollins College. In 2017, a lively manuscript that Lane wrote more than 30 years ago, Rollins College Centennial History: A Story of Perseverance, 1885-1985, was finally published, becoming the first comprehensive account of Rollins' first 100 years. The book — combining a storyteller's flair with a researcher's rigor — is jampacked with eccentric characters, near-disasters, daring innovations and heady achievements. Lane lives with his wife, Janne, in a home that's on the Winter Park Register of Historic Places. He says it's important that the city understand its past to better prepare for its future. "As a student and professor of history, I know change is inevitable," he says. "I've observed that a successful town is one that has intentionally managed change without losing its character and identity. My hope is that Winter Park citizens will comprehend the depth of meaning in this historical reality." 
What they say:
It's a priceless gift to Winter Park to have people like Jack, who have the skill and the interest to keep our city's history alive … he's probably the most knowledgeable person around about Rollins and Winter Park … his new book is a must-read. 
What he says:
I have tried to live my life with integrity and a commitment to service. I leave it to others to judge whether I succeeded.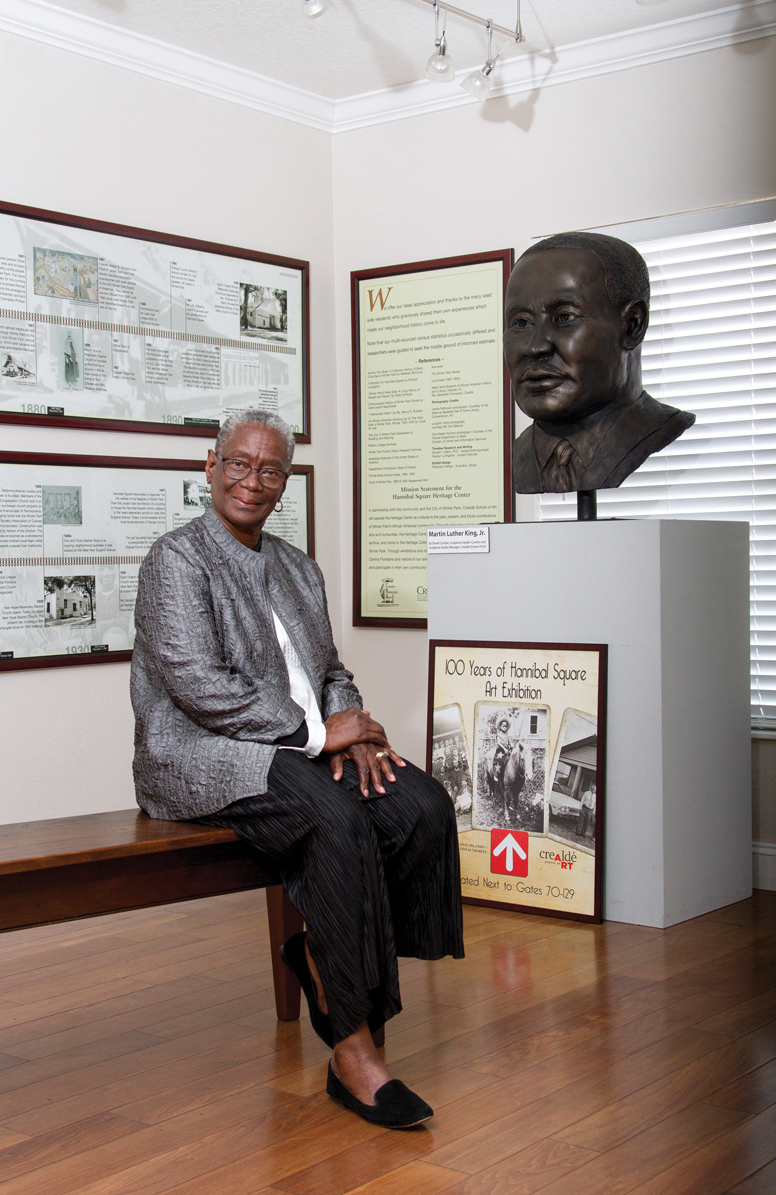 Fairolyn Livingston
THE COMMUNITY CURATOR
Chief Historian, Hannibal Square Heritage Center
Fairolyn Livingston is the institutional memory of Winter Park's west side. She has been associated with the Hannibal Square Heritage Center since it was opened by the Crealdé School of Art in 2007, becoming its chief historian in 2014. Livingston, 62, says that growing up on the west side proved the adage that "it takes a village" to rear children. "In the summer, there were no camps for us," she recalls. "The women would each take a week off from work — local employers supported this — and take turns conducting Bible-study classes. That way, the whole community pitched in to help raise us kids." But Livingston, who leads walking tours of Hannibal Square, worries that most locals are unaware of the west side's history — and have never heard of the pioneering trio of African-American activists who rallied support for incorporation of the city in 1887. One, Gus Henderson, was editor of the Winter Park Advocate, one of the first black-owned newspapers in Florida. Two others, Walter B. Simpson and Frank R. Israel, were elected aldermen, becoming the first — and, so far, the only — African-Americans to hold local political office. In 1997, Livingston received a Rhea Marsh and Dorothy Lockhart Smith Research Grant, awarded annually by the Rollins College Olin Library and the Winter Park Public Library to support research related to local history. Livingston wrote A Window on Hannibal Square, which included biographies of Simpson and Israel. "The grant was a catalyst for change — not just for me, but for others who value history, truth and reconciliation," says Livingston, who attended all-black Hampton Junior College in Ocala before earning a liberal arts degree from Rollins. Interest in Henderson, Simpson and Israel has been rekindled recently through the HIS (Henderson, Israel and Simpson) Project, a display on the center's second floor. The center's permanent exhibition, The Heritage Collection: Photographs and Oral Histories of West Winter Park, features photography by Crealdé Executive Director Peter Schreyer and oral histories recorded by Livingston, who interviewed 20 of the west side's oldest residents — most of whom have since passed away.
What they say:
Fairolyn is a walking encyclopedia for the west side … she's not like most people, who take on a research project and then they're done … Fairolyn carries the history with her. 
What he says:
My goal is for everyone in Winter Park to know about the African-American men who were early leaders in our community, and the role they played in the 1880s in getting the town incorporated.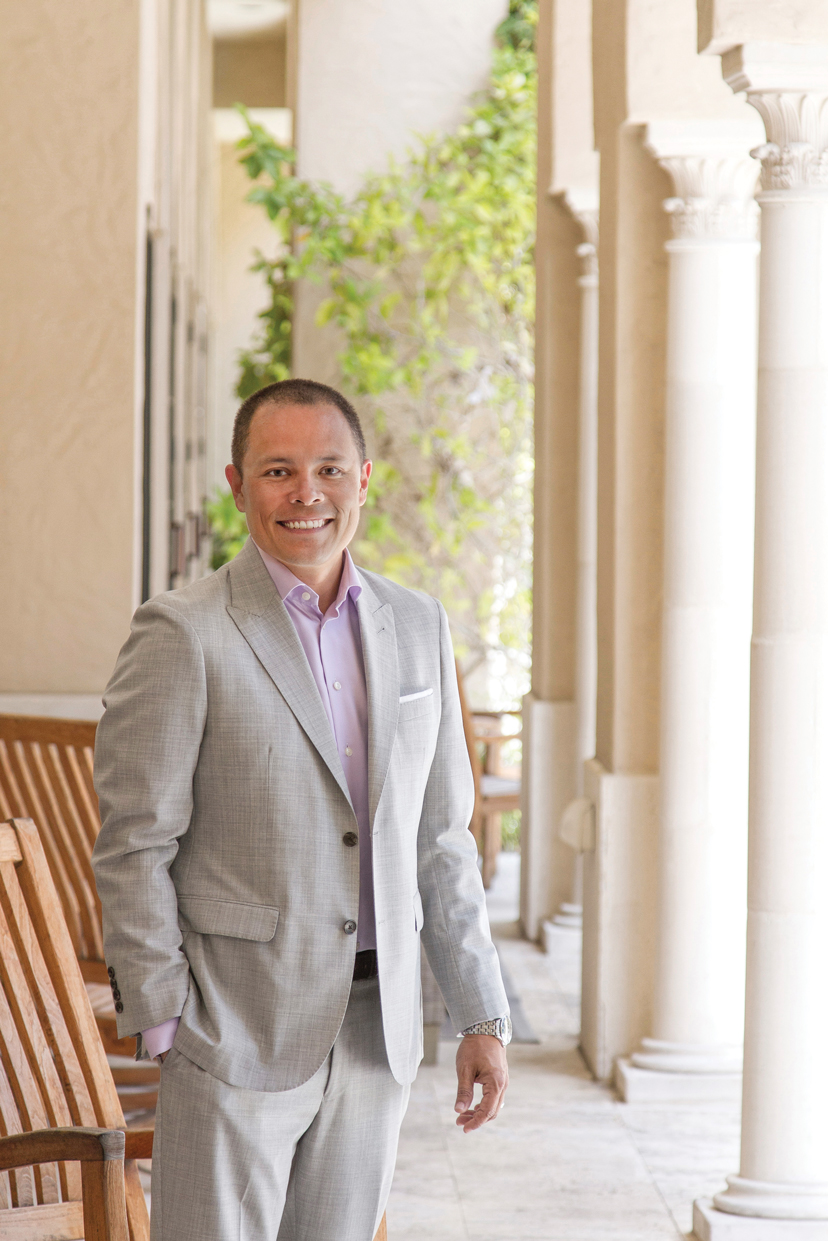 Lawrence Lyman
THE UP-AND-COMER
Managing Partner and Vice President, Tactical Electronics Company
There's buzz that Lawrence Lyman might run for the Winter Park City Commission soon. After all, the city holds municipal elections every year — so it's not as though he'd have to wait long to throw his hat into the ring. "I've heard that, and, sure, I think about it," says Lyman, 39, managing partner and vice president for business development and government relations at Melbourne-based Tactical Electronics Corporation. "But here, you don't have to be an elected official to make an impact." That's certainly been true for Lyman. He and his family — including wife, Kacy, and two young children — arrived here in 2011. Since then, the Montreal native has been active in an array of local organizations. But he's especially keen on the Winter Park Chamber of Commerce, serving on its board and as alumni council president of its Leadership Winter Park program. In fact, Lyman is a walking advertisement for the chamber, which earlier this year presented him the Debra Hendrickson Volunteer of the Year Award. "The chamber is a great on-ramp to the community," he says. "It helps you get involved quickly." Lyman, who has always been drawn to politics and leadership, was president of his fraternity at the University of Florida — where he earned a degree in family, youth and community services — and became a congressional aide to U.S. Rep. John Mica (R-Winter Park) upon graduation. "Congressman Mica had a huge influence on me," says Lyman. "I looked on him as a civic role model." In addition to his chamber activities, Lyman serves on the board of the Albin Polasek Museum & Sculpture Gardens, and is development chair of the board of trustees of the Winter Park Public Library. That's going to be a monumental job in the coming year, as the new library and events center complex gets underway in Martin Luther King Jr. Park. He's also on the board of Leadership Florida, founded by the Florida Chamber of Commerce and based in Tallahassee. "I'm a believer in getting a bunch of smart and passionate people together to focus on an issue," Lyman says. "I like to identify goals and objectives, then go out and crush them together as a group."
What they say:
Winter Park needs Lawrence's energy and passion … his future here is whatever he wants it to be … a young leader on the way up.
What he says:
My goal is for our city to keep its charm and grow the right way. I want us to continue to emphasize the importance of the arts. People want to come to Winter Park. I want to make sure that we continue to be the best place to live in Florida.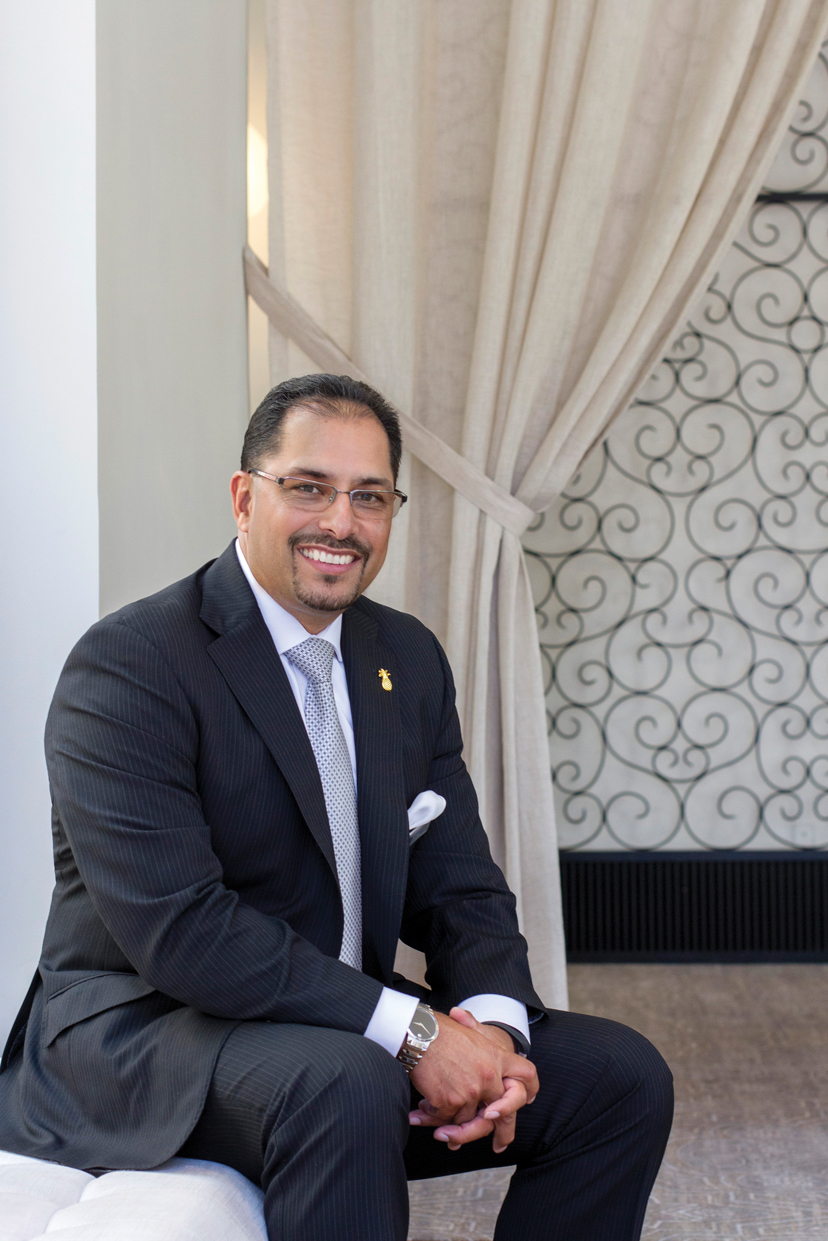 Jesse Martinez
THE GRACIOUS HOST
General Manager, the Alfond Inn
The Alfond Inn has been open for only five years, but it's hard to imagine ever having lived without it. Before the Alfond, where did we hold large functions or marry off our youngsters? Where did we stash out-of-town guests or business associates whom we wished to impress? Clearly, Winter Park needed a luxury hotel — but we didn't get just any luxury hotel. We got a AAA Four Diamond award-winner that's ranked among the best in the world. Nothing less would do for Winter Park — and the person responsible for upholding those lofty standards is General Manager Jesse Martinez, 49, a veteran of the hospitality industry and the U.S. Air Force, where he was a law-enforcement specialist. His command now includes the hotel, its award-winning Hamilton's Kitchen restaurant and its 10,000 square feet of post meeting and event space. The hotel was built by Rollins College, which uses net operating income to fund scholarships through the Harold Alfond Foundation. It also doubles as a museum, displaying works from the Alfond Collection of Contemporary Art — donated to the college by Ted and Barbara Lawrence Alfond (Class of 1968) — and extending the footprint of the college's Cornell Fine Art Museum. The super-efficient Martinez, who has two daughters with his wife, Kim, sees his job as making the hotel successful and enhancing the community by making a good — even spectacular — first impression on visitors. He's on the executive committee of the Winter Park Chamber of Commerce and the executive board of the Central Florida Hotel & Lodging Association. He's also a board member of the Orange County Tourist Development Council and the Central Florida Sports Commission. "I see my role as one that can help bridge the visitor experience with the community," says Martinez, who joined the hotel in 2014. "Both have to be positive and exceptional." Martinez has built relationships throughout the community — and has earned kudos not only for his management savvy but also for his accessibility and "pay it forward" personal philosophy. "A culture built on relationships and transparency is positive," he says. "Simply put, I treat people the way I want to be treated."
What they say:
Jesse's commitment to perfection is obvious from the minute you step into the Alfond's lobby … a kind man who really gets what Winter Park is all about.
What he says:
My proudest accomplishments are quieter moments, behind the scenes, when I've mentored someone and can see their growth as they become successful in their own professional and personal life. That's when you know it's all worth it.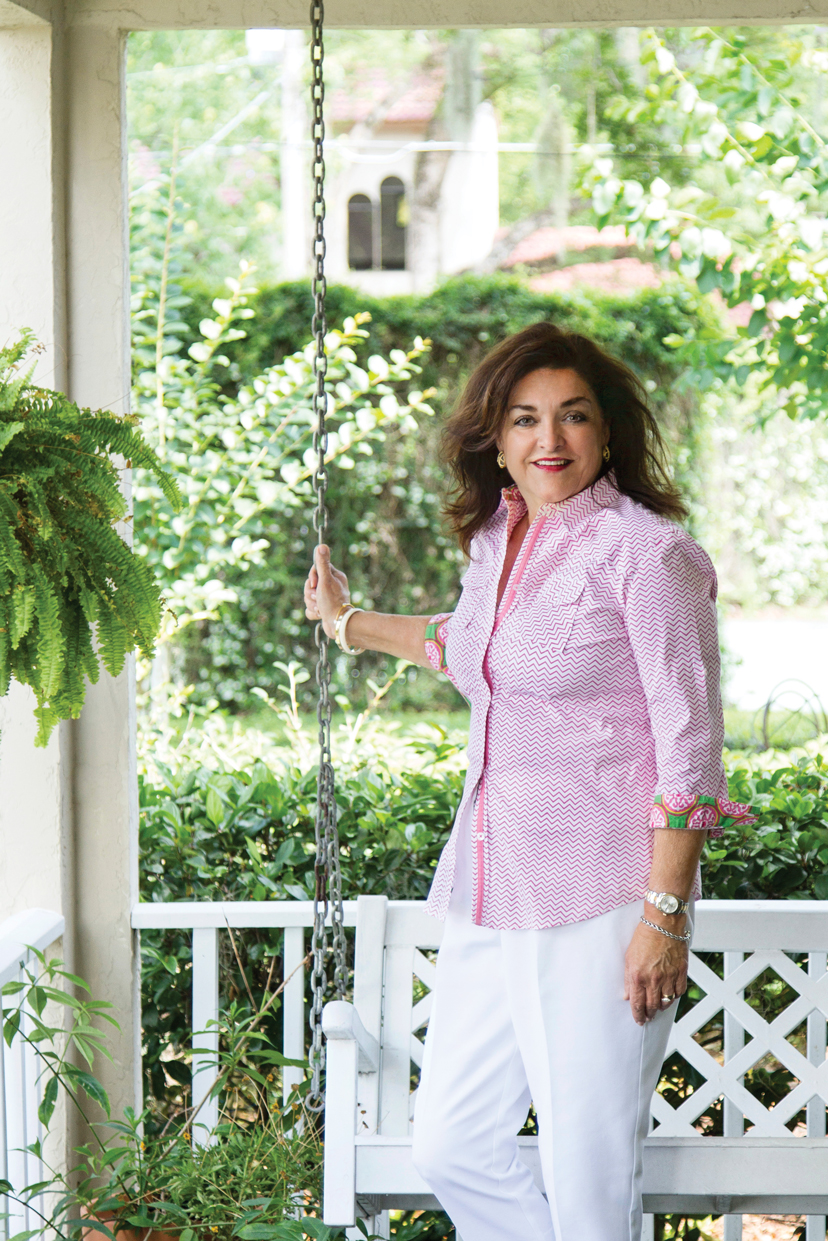 Genean Hawkins McKinnon
THE EFFECTIVE INSIDER
President, McKinnon Associates
Genean Hawkins McKinnon knows plenty about influential women. Her mother was Paula Hawkins, the so-called "Maitland housewife" who in 1972 snared a seat on the Public Service Commission, becoming the first woman to hold statewide elective office in Florida. In 1980, voters sent the conservative Republican to the U.S. Senate, where she served only one term but paved the way for a new generation of politically active women. McKinnon, 69, prefers to wield power behind the scenes through McKinnon Associates, a consulting firm that represents clients whose businesses require interaction with local, state and federal governments. "I'm under the radar," she says. "I don't even have a website." But clients manage to find McKinnon, including Chicago's Pritzker family, owners of Hyatt Hotels Corporation, who in 2001 engaged her to help shepherd redevelopment of the 1,100-acre Orlando Naval Training Center into Baldwin Park. Even closer to home, McKinnon was a leader in the 2005 campaign that resulted in Winter Park dumping Florida Power — now Duke Energy Florida — and forming its own municipal utilities department. More recently, she has consulted with Winter Park Memorial Hospital as it secures approvals for its massive expansion program. McKinnon has also served on Winter Park's Historic Preservation Board, where she opposed the easing of requirements to form historic districts, but advocated recognition of residential and commercial restoration projects through annual Awards for Excellence. (McKinnon and her husband, Joel, live in a 138-year-old home on Villa Bella called "Weatogue," a Seminole Indian word meaning "place of hospitality.") McKinnon, a Utah native who earned a degree in humanities from Brigham Young University, is on the boards of Mead Garden, the Hamilton Holt School at Rollins College, the Mennello Museum of American Art, Winter Park Memorial Hospital and the Florida Commission on the Status of Women. An active fund-raiser for Republican candidates, she gets downright sentimental when she recalls attending Park Avenue Elementary, eating ice cream at the Yum Yum Shop, taking ballet lessons at the Royal School of Dance and enjoying Sunday afternoon family excursions along Genius Drive to watch the preening peacocks. 
What they say:
Extremely well-connected and savvy … passionate about Winter Park … a good person to have on your team if you want to get something done.
What he says:
I am so grateful to call Winter Park home. Each year I ask, is it even possible for the city to get better? And the answer is — yes!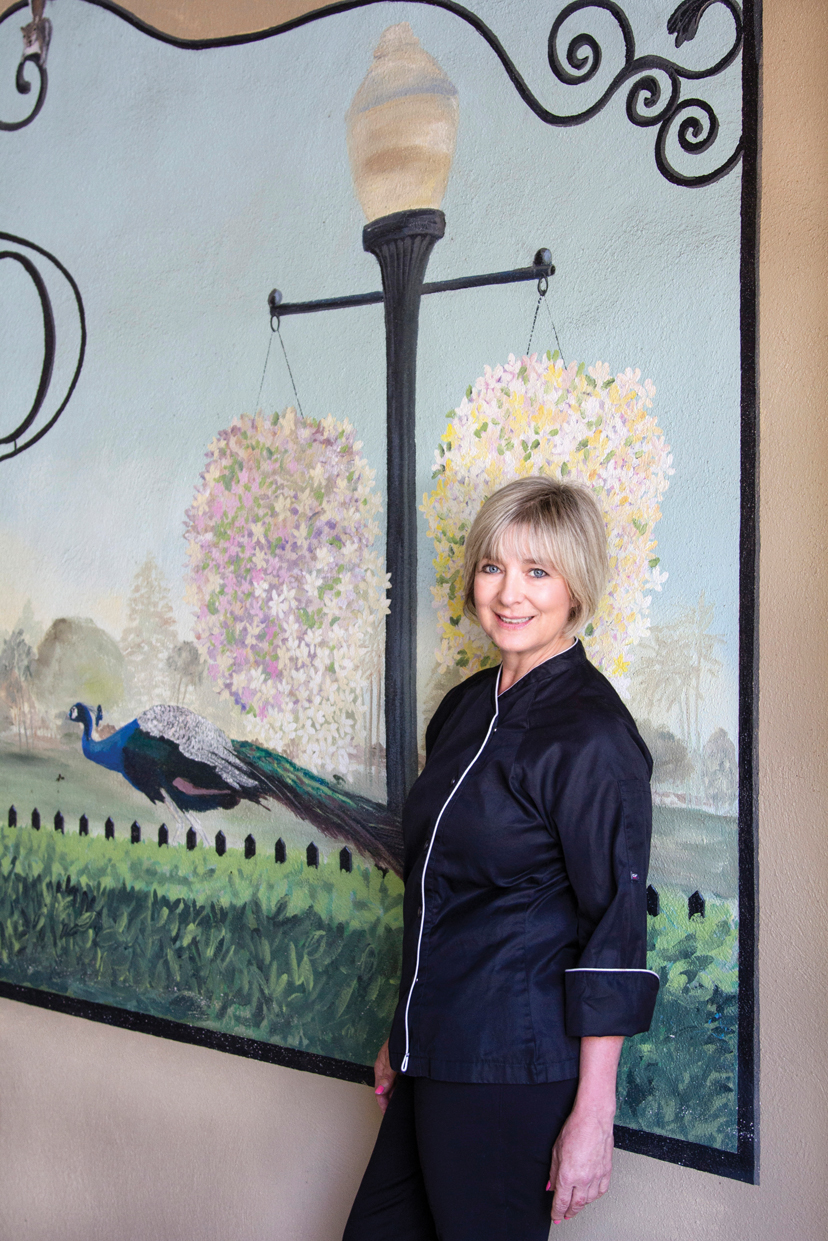 Joanne McMahon
THE UNSTOPPABLE ENTREPRENEUR
Owner, Operator and CEO, 310 Restaurants, blue on the avenue, the Partridge Tree Gift Shop
An energetic out-of-towner visits Winter Park and falls in love with the place. She decides to make it her home, and launches an assortment of vibrant small businesses — each of which provides jobs, boosts the economy and enhances the already-eclectic collection of family-friendly shopping and dining options. Every city dreams of attracting such terrific transplants — but Winter Park often succeeds in doing so. A case in point is Joanne McMahon, owner, operator and CEO of 310 Restaurants, blue on the avenue (the lower-case letters are intentional), the Partridge Tree Gift Shop and a soon-to-be-opened — and yet-to-be-named — steakhouse at an iconic Park Avenue location. McMahon, a native of Buffalo, New York, was a sales rep for Revlon before relocating and opening the charming Partridge Tree Gift Shop in 1986. "But I thought for a while that Park Avenue really needed a kid-friendly place for lunch," recalls McMahon, 64. So, ever the entrepreneur, she opened 310 Park South in 1999, quickly gaining a following with the lively eatery's friendly service and New American Cuisine (there are now 310 outposts in downtown Orlando and Lake Nona). In 2013, McMahon opened blu on the avenue, which offers fresh seafood, prime steaks and classic cocktails, right next door. And sometime in the fall, she'll debut a traditional steakhouse — the working title is Bovines — in the space vacated by Park Plaza Gardens. "You've got to have a passion for what you do," says McMahon, who makes the desserts for all her restaurants and is a hands-on boss in all her ventures, which cumulatively employ about 300 people. "There's a lot of competition, especially in restaurants, so you can't slack off." McMahon — who earned a degree in business and psychology from the University of Buffalo — doesn't slack off. In addition to running her businesses, she's on the board of the Winter Park Chamber of Commerce and president of the Park Avenue Merchant's Association.
What they say:
Joanne is one of the smartest and hardest-working businesspeople in Winter Park … she's the epitome of the entrepreneurial spirit and becoming successful by finding niches, taking calculated risks and providing quality.
What he says:
I'm very thankful for the people around me. I love to help my employees in achieving their goals, making them better people and watching them grow.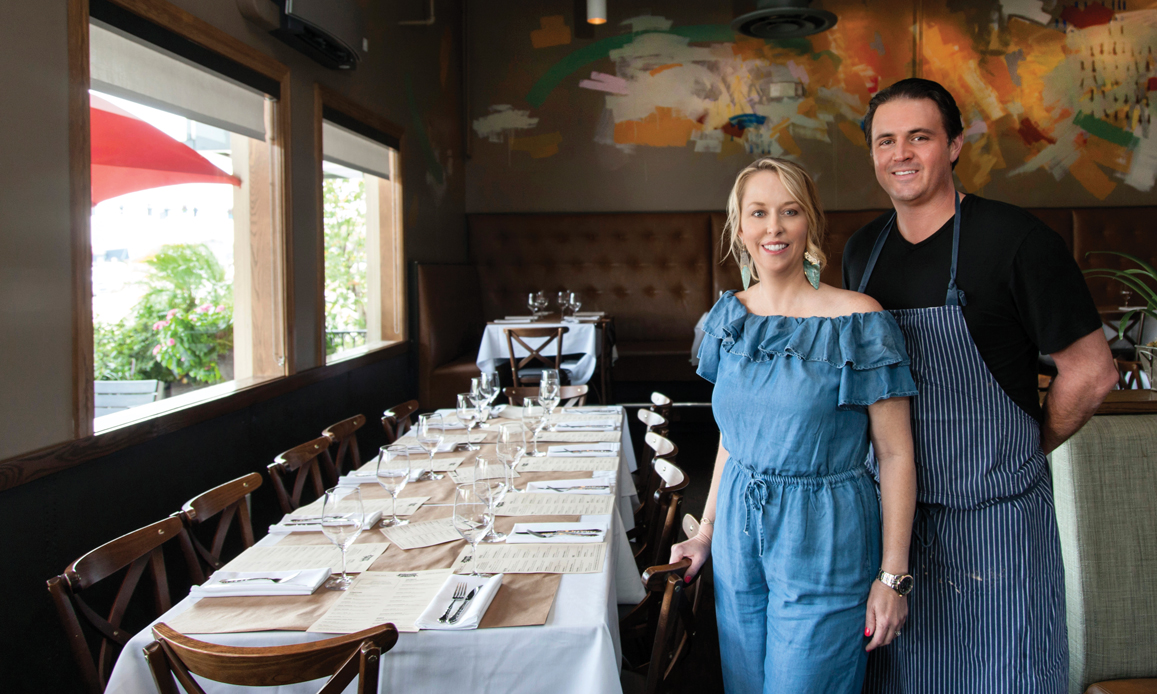 James Petrakis
Julie Petrakis
THE CULINARY CREATORS
Chef-Owners, JP Restaurants
Really, we could have opened the door and had nobody show up," Julie Petrakis says of The Ravenous Pig, arguably the restaurant that defines Winter Park's dining scene. "We literally had no idea what we were doing." Since Julie and her husband, James, are the unofficial Queen and King of Winter Park's trend-forward restaurant movement, it's hard to think of them as tenuous twentysomethings opening what is generally considered to be the region's first honest-to-goodness gastropub. The pair met as students at the Culinary Institute of America in Hyde Park, New York, and married in 2005. Two years later, they took a gamble and opened The Ravenous Pig on Orange Avenue (it's now on Fairbanks Avenue). Despite significant obstacles, including an ill-timed national economic crash, the Petrakises and a loyal band of passionate foodies continued to expand. In addition to The Ravenous Pig, they opened Cask & Larder just blocks away. In 2016, they relocated Cask & Larder to Orlando International Airport, where it has wowed visitors with its Southern "farm to terminal" cuisine. (The Ravenous Pig, along with the Cask & Larder Brewery, subsequently moved into the vacated Fairbanks Avenue space.) The Petrakis empire includes Swine & Sons, a gourmet take-out operation in Winter Park, and The Polite Pig, a down-home barbeque restaurant at Disney Springs. The two have been semifinalists six times for regional James Beard Foundation Awards, and their ventures have been featured in Saveur, Food & Wine, The New York Times and many other national publications. Winter Park is home base, so the Petrakises direct most of their philanthropy to local causes that help children. Their sons attend preschool at First Congregational Church of Winter Park, so they helped fund an interactive white board, a new playground and security upgrades for the facility. Along with other local chefs, they participate in the annual "Appetite for the Arches" event, which benefits Ronald McDonald House. (James' father, John Petrakis, is a McDonald's franchisee and a board member of the charity's Central Florida chapter.) For five years, the Petrakises have sponsored a section of the PurpleStride walk for pancreatic cancer. Three years ago, the couple bought the property around The Ravenous Pig with plans to "rescale the corner and make it a cool spot." Oh, and that loyal band of passionate foodies who were there at the beginning? They're all still on board in one capacity or another. No wonder even the non-kin are referred to as family.
What they say:
The Ravenous Pig pioneered a restaurant genre in Winter Park … Jim and Julie are always ready to give back to the community … there's more competition now, but the Petrakises know how to keep their restaurants leading-edge while remaining true to their roots.
What he and she says:
We believe the restaurant scene in Orlando and Winter Park deserve to be on a par with Atlanta, and we try to give that to people.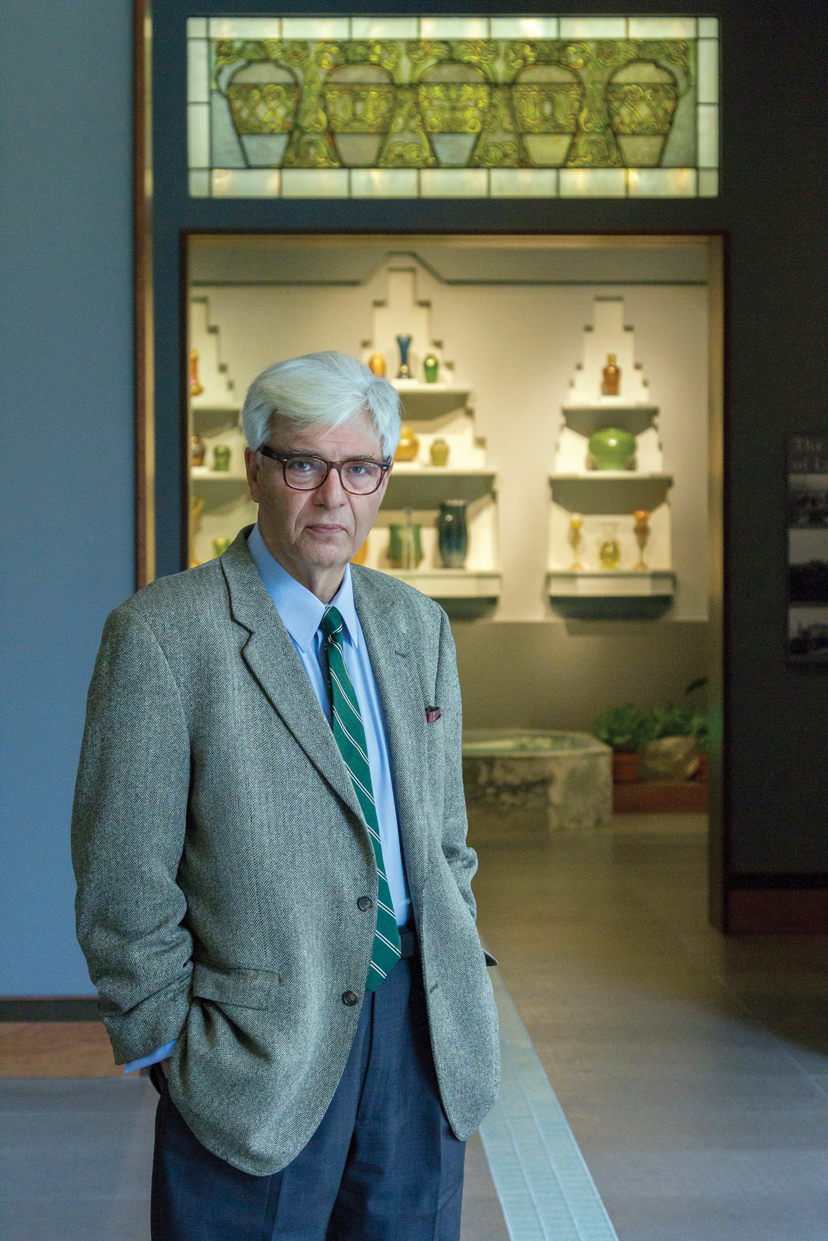 Laurence J. "Larry" Ruggiero
THE LEGACY KEEPER
Director,Charles Hosmer Morse Museum of American Art
Winter Park icons Hugh and Jeannette McKean wanted their priceless collection of Louis Comfort Tiffany creations — as well as their eclectic assortment of paintings, prints and art objects — to be displayed in a way that was accessible and welcoming to everyone. Jeannette died in 1989, and by 1992 Hugh surely realized that he was unlikely to be on hand when the magnificent Charles Hosmer Museum of American Art — named for Jeannette's grandfather — opened its new facility on North Park Avenue. To Hugh's credit — and Winter Park's good fortune — the erstwhile artist and former president of Rollins College selected Laurence J. "Larry" Ruggiero, previously director of the John and Mable Ringling Museum of Art in Sarasota, as his heir apparent. Ruggiero, who holds a Ph.D. in art history from the University of Pennsylvania, admittedly knew little about Tiffany, whose elaborate decorative creations — mostly in stained glass — weren't regarded seriously by most academic art historians. McKean, however, saw in Ruggiero a quirky kindred spirit who possessed the sensibility and the acumen to implement — and later to build upon — his expansive vision. As director, Ruggiero shepherded the museum's 1995 move to its current location — completed just months following McKean's death — and oversaw the 1999 addition of the Tiffany Chapel and the 2011 completion of a new wing re-creating portions of Tiffany's fabled Long Island mansion, Laurelton Hall. Today, the museum is Winter Park's best-known, most-visited cultural attraction. Ruggiero — a Patterson, New Jersey, native married for 48 years to the former Virginia Fornaci — remains humbled that McKean entrusted him to care for a collection that held such profound personal significance: "Jeannette and Hugh wanted to create a museum that would work unceasingly to make art an important and cherished part of the life of every member of their community — just as it was in theirs."
What they say:
Larry is low key and quick to give credit to others, but the Morse would not be what it is today without him … what a huge responsibility to be entrusted with the McKean legacy … he's the perfect combination of an academic and an everyman, which is probably what Hugh realized and appreciated.
What he says:
My personal style is to keep my head down. My proudest accomplishment? When asked a similar question, the famous Russian author and a man whose ideas I've always admired, Anton Chekov, responded to the effect that one had to be a God to distinguish one's successes from one's failures.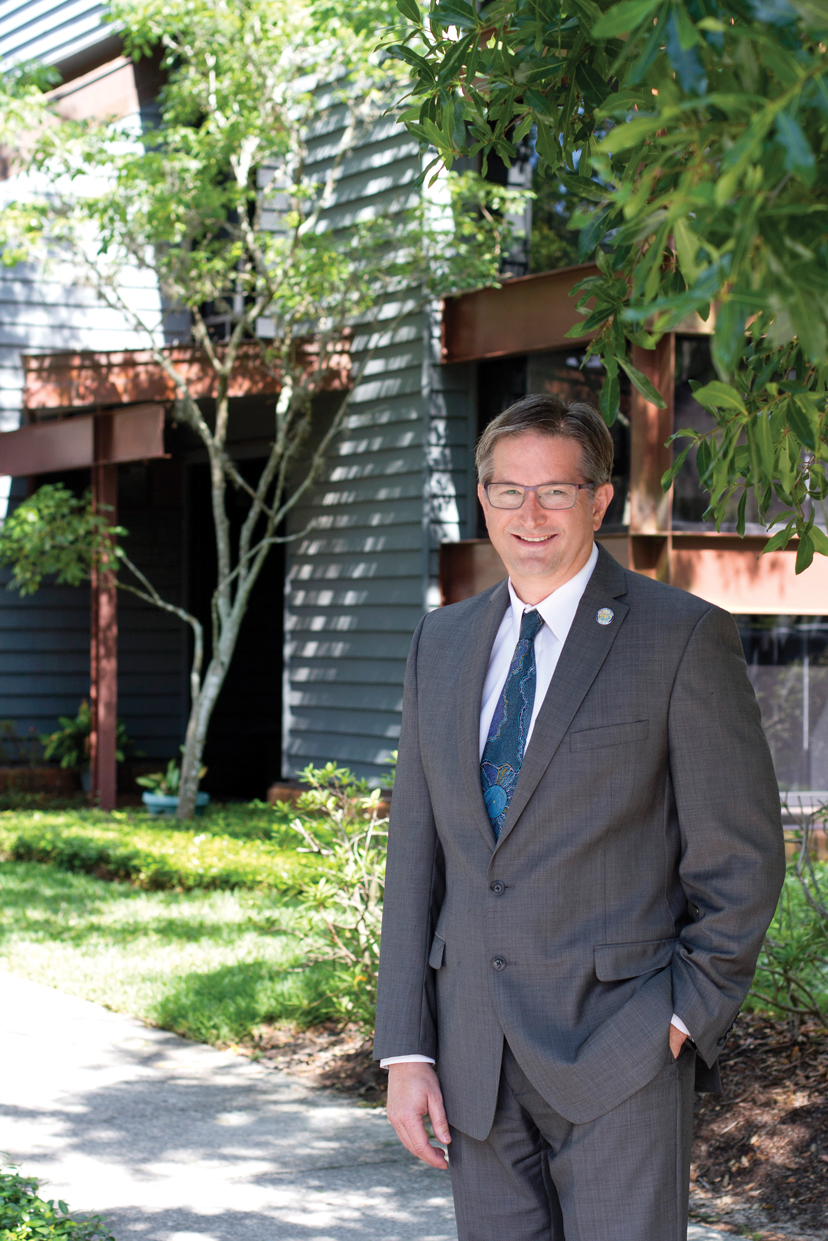 Greg Seidel
THE NEEDED NERD
Vice President and Chief Engineer, The Balmoral Group
Winter Park City Commissioner, Seat 1
Civil engineer Greg Seidel, 53, was first elected to the Winter Park City Commission in 2015 — when then-commissioner Steve Leary resigned his seat to run for mayor — and was handily re-elected in 2017 after running a self-deprecating campaign as "the nerd Winter Park needs." Seidel is vice president and chief engineer at The Balmoral Group, which is co-owned by his wife, Val, who's president of the company. He believes that Winter Park's infamous "factions" can, for the most part, agree that he's an independent thinker who encourages respectful discourse and takes an analytical approach to decision making. He spent six years on the city's Utilities Advisory Board, and advocates acceleration of undergrounding the city's power lines and installation of "smart signaling" to mitigate worsening traffic problems. "I think everybody matters, and I want to hear everybody out," he says. "I always ask what's the right thing to do. I don't hide behind the rules." For example, in 2016 he joined commissioners Sarah Sprinkel and Carolyn Cooper in a 3-2 vote approving a request from longtime resident Martha Bryant Hall to have her home, which she shared with her husband, the late Rev. Jerry Hall, placed on the Winter Park Register of Historic Places. The city's staff and its Historic Preservation Board had recommended against approving the request, saying that the circa-1950s home failed to meet criteria for inclusion. "It wasn't so much about the historic value of the home itself," says Seidel, who spoke with uncharacteristic emotion at the commission meeting during which the vote was taken. "It was about Reverend Hall and the way he conducted himself during the Civil Rights era. We needed to honor that." Seidel also serves on advisory committees for Glenridge Middle School and Winter Park High School — he has daughters in the 9th and 11th grades — and has co-chaired the Tyler Rush Memorial Fund, which is the beneficiary of Winter Park High School's annual "Night on Broadway" extravaganza. The Lehigh University graduate supports the Children's Home Society and Panua Partners In Hope, which provides food, housing, education and vocational training for orphans in Kenya.
What they say:
Agree or disagree with him, you know Greg makes informed decisions … a really warm and funny man in addition to being brilliant … he's a citizen first and a politician second. Actually, he's not a politician at all, which is good.
What he says:
I have in-depth knowledge of infrastructure and development. That, combined with my requirement for fairness, allows me to understand both pro and con arguments. My proudest accomplishment is setting a good example for others to follow by following the golden rule.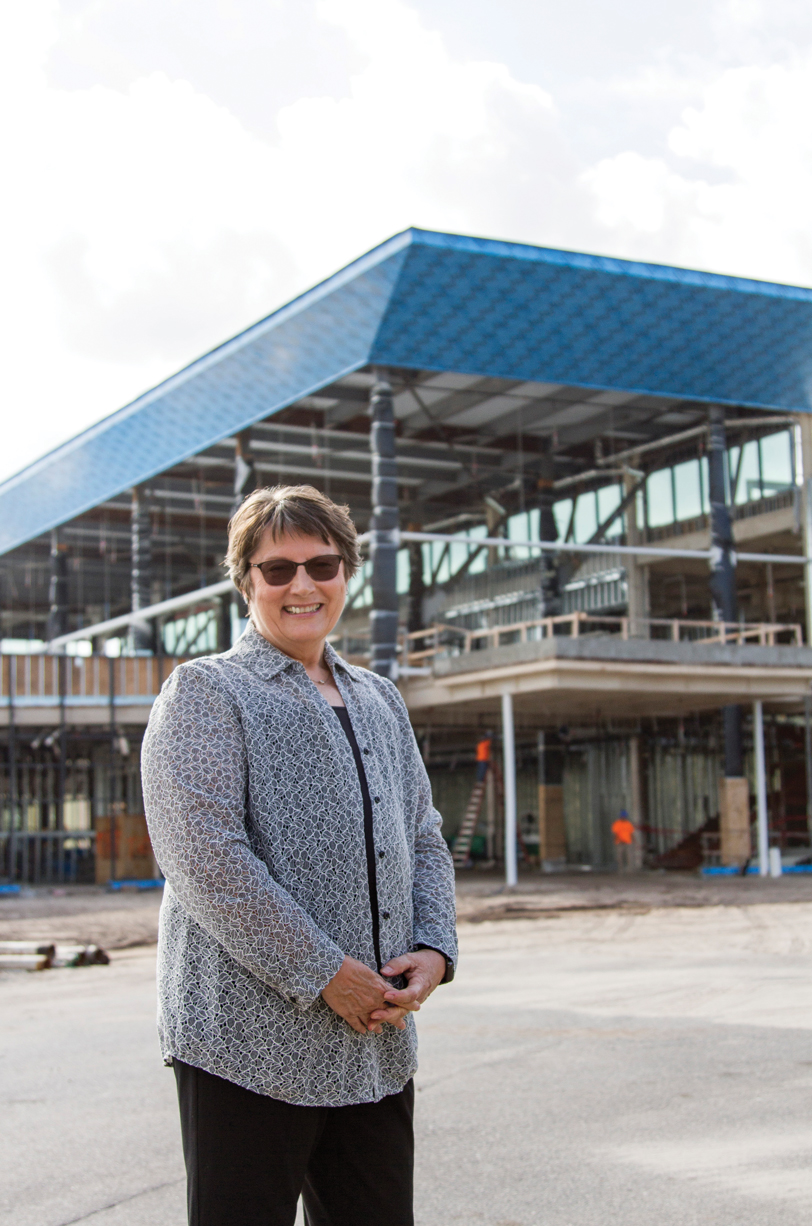 Debbie Watson
THE WELLBEING WARRIOR
Executive Vice President, Winter Park Health Foundation
When Debbie Watson talks about the importance of health and wellbeing, they aren't hypothetical concepts. Watson, executive vice president of the Winter Park Health Foundation, was diagnosed with breast cancer in late 2014, and thyroid cancer in early 2015. She has withstood five surgeries, multiple infections, and months of chemotherapy and radiation. "Now," she says, "thanks to my faith and the love and support I received from my family, friends, coworkers and community, I'm stronger than ever." Watson's personal health crisis has deepened her connection — and her commitment — to the soon-to-open Center for Health & Wellbeing, an 80,000-square-foot, state-of-the-art facility developed by the nonprofit foundation in partnership with Winter Park Memorial Hospital. The center — the most comprehensive of its kind in the region — will bring wellness, fitness and medicine together in one multimodal location. Watson, a Massachusetts native who double-majored in psychology and mass communications at Florida State University, joined the foundation in 1994. She has been active on numerous boards and committees related to health and wellness — particularly those focused on children. "I've always believed healthy kids make better students, and better students make healthier communities," she says. Motivated by that belief, she has served on the executive committee of Florida Action for Healthy Kids, the state affiliate of a national organization that works to improve wellness programs in schools, and chaired the Orange County Public Schools Health and Wellness Advisory Committee. In 2014, she was named inaugural president of Living Healthy in Florida, a statewide initiative that operates under the auspices of the Florida Department of Agriculture & Consumer Services. Watson and her husband, Lee, have been married for 35 years and ran their own public relations company in the 1980s. In addition to their own two children, the couple raised a young man with whom Lee was paired through Big Brothers Big Sisters of Central Florida.
What they say:
Debbie is an integral part of a wellness revolution in Winter Park … she's effective because she really believes in what she's doing … a great builder of partnerships because she's as genuine as she is smart … a strong advocate for kids' health.
What she says:
I've always strived to be a calm and assertive leader. I'm passionate and determined, but also believe it's important to have fun while working hard. I believe in success through collaboration.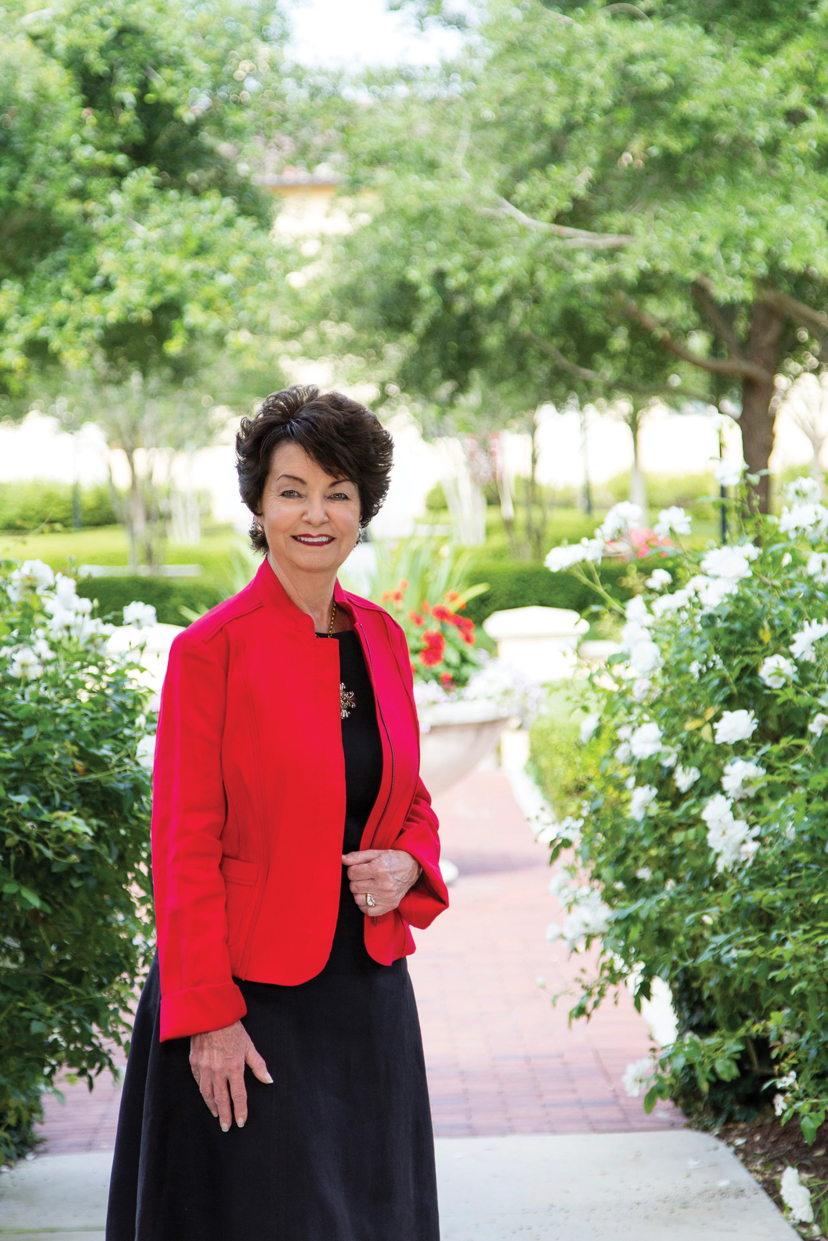 Cynthia Wood
THE PRICELESS PARTNER
President/Owner, Cynthia Wood Philanthropy Partner
It's a persistent myth that women don't give large donations to good causes, or that they must ask men — presumably their husbands —before they're allowed to write checks for charities. "Women control 51 percent of the wealth in this country," says Cynthia Wood, president and owner of Cynthia Wood Philanthropy Partner, founded in 2009. "They generally outlive their husbands, and more are now single, either by choice or circumstance. And even when husbands are involved, wives are the primary influencers on philanthropic decisions." Wood — who consults with individuals, families and organizations regarding their philanthropic strategies — has particular expertise in teaching nonprofits how to engage the inherent generosity of female donors. The Tuscaloosa, Alabama, native — who spent 19 years at Rollins College, the
last five as vice president for institutional advancement — knows that women are less interested in hoopla and more interested in seeing the ways in which their philanthropy will help individual beneficiaries. "Also, women are more collaborative in decision making," adds Wood, who holds a bachelor's degree and a master's degree in speech audiology from Auburn University. "And they're concerned with making social change." Wood's local clients have included Mead Botanical Garden, Winter Park Memorial Hospital, the Bach Festival Society of Winter Park and the Art & History Museums – Maitland. Wood is, herself, a giver: she chairs the Center for Women's Philanthropy, an initiative of the Community Foundation of Central Florida, and is a board member and development chair for Grace Medical Home, a faith-based facility serving the low-income working uninsured. She also chairs the Jeremiah Project Committee, which oversees an outreach program of the First Congregational Church of Winter Park that provides arts programming for at-risk middle school students. Her husband of 34 years, Phil, serves on the Winter Park Historic Preservation Board.
What they say:
Cynthia is as savvy as they come regarding the successful operation of nonprofits … the most important arts, cultural and social service organizations in the region seek her advice … love that Alabama accent.
What she says:
I'd like for Winter Park to continue to be recognized for its cultural and educational treasures, to preserve its beauty and to be a community that values civility and respect.  I'm proud of the growth and success of staff, clients and individuals I've led, mentored and coached. I'm also pleased to have helped raise awareness of the important role women play in philanthropy.