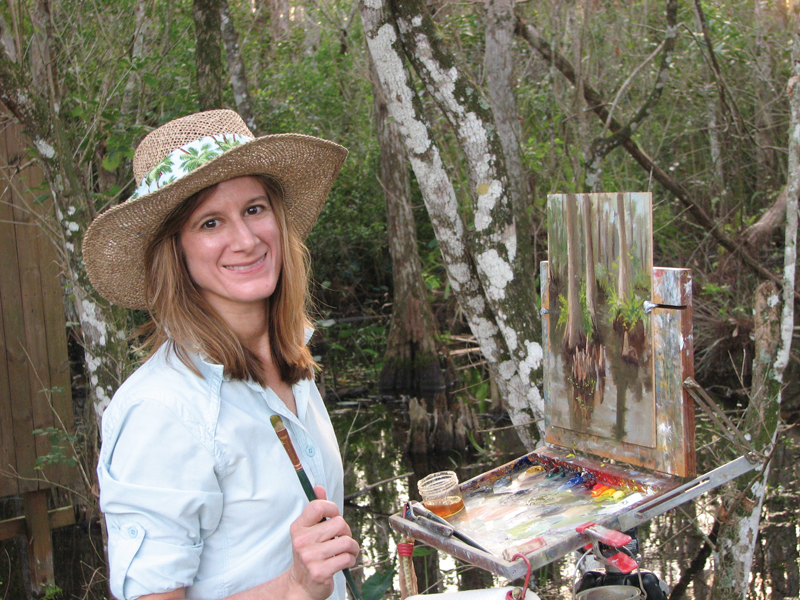 Plein air artist Linda Apriletti's primary goal through her work "is to communicate the uncommon beauty found in nature." The Miami Springs-based artist prefers Florida settings, and says she enjoys hearing that her images evoke a sense of peace.
Apriletti was recently in Central Florida for the 2018 Winter Park Paint Out, held by the Albin Polasek Museum & Sculpture Gardens. "April Showers," the painting that adorns the cover of Winter Park Magazine, is a scene from the museum's grounds, which overlook Lake Osceola. 
"I was scheduled to paint on the Polasek grounds that Monday morning," she says. "It was a very overcast day, with threatening gray clouds and a 90 percent chance of rain."
Apriletti figured she had a few hours of dry weather before things turned nasty. "I decided to go for it, and painted this cypress tree and the flower garden by the lake," she adds. "The bright yellow of the flowers was a great complement to the gray sky that day."
Although her college degrees are in accounting and taxation, Apriletti pursued her lifelong love of painting while employed as an accountant. She also honed her skills — first in pastels and later in oils — by attending workshops during her vacations. 
It was at a workshop in Rocky Mountain National Park that she discovered her passion for plein air painting. She launched a full-time career as an artist in 2011 — and never looked back.
"Painting outside is critical to helping me observe and understand patterns in nature," she says. 
Much of Apriletti's work focuses on Everglades National Park and Big Cypress Nature Preserve, where she has staged solo exhibitions. She was artist in residence at Big Cypress Nature Preserve in 2012. But she also paints in Maine and on Martha's Vineyard.
Apriletti particularly likes palm trees as subjects. Luckily for her, inspiration is always close at hand — she has more than 25 species growing in her yard. 
Visit lindaapriletti.com to see more of her paintings.