Photography by Rafael Tongol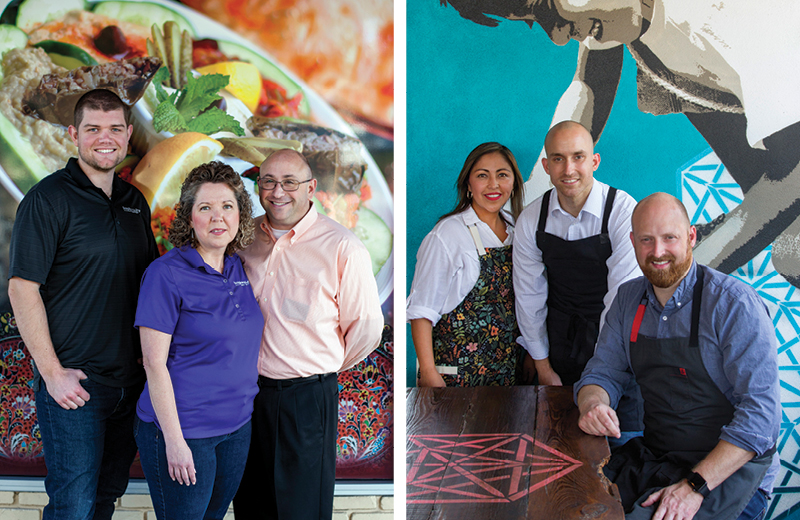 Hoşgeldiniz! That's "welcome," for our readers whose Turkish is a bit rusty. You'll hear the word (pronounced hozh-gel-din-iz, with a hard "g") when you walk into Bosphorous, the popular Turkish eatery on Park Avenue.
The owners are American. But they've steeped themselves in the vibrant culture of Turkey — and their passion for the country shows in the restaurant's fresh, authentic and delicious fare.
Bosphorous — which now has additional locations in Lake Nona and Dr. Phillips, with a soon-to-debut outpost in the Hamlin community near Winter Garden — opened right after the 2004 hurricanes under the ownership of a New York couple who offered a menu of authentic dishes from their native Turkey. 
In 2009, the restaurant was bought by Tammy and Doved Sexter, both veterans of Darden. So they knew plenty about the operational side of the restaurant business. However, they knew very little about Turkey. 
Then they traveled to the country — and fell in love with it. "Everywhere we went, people greeted us with 'hoşgeldiniz,'" says Tammy. "And the food was so wonderful."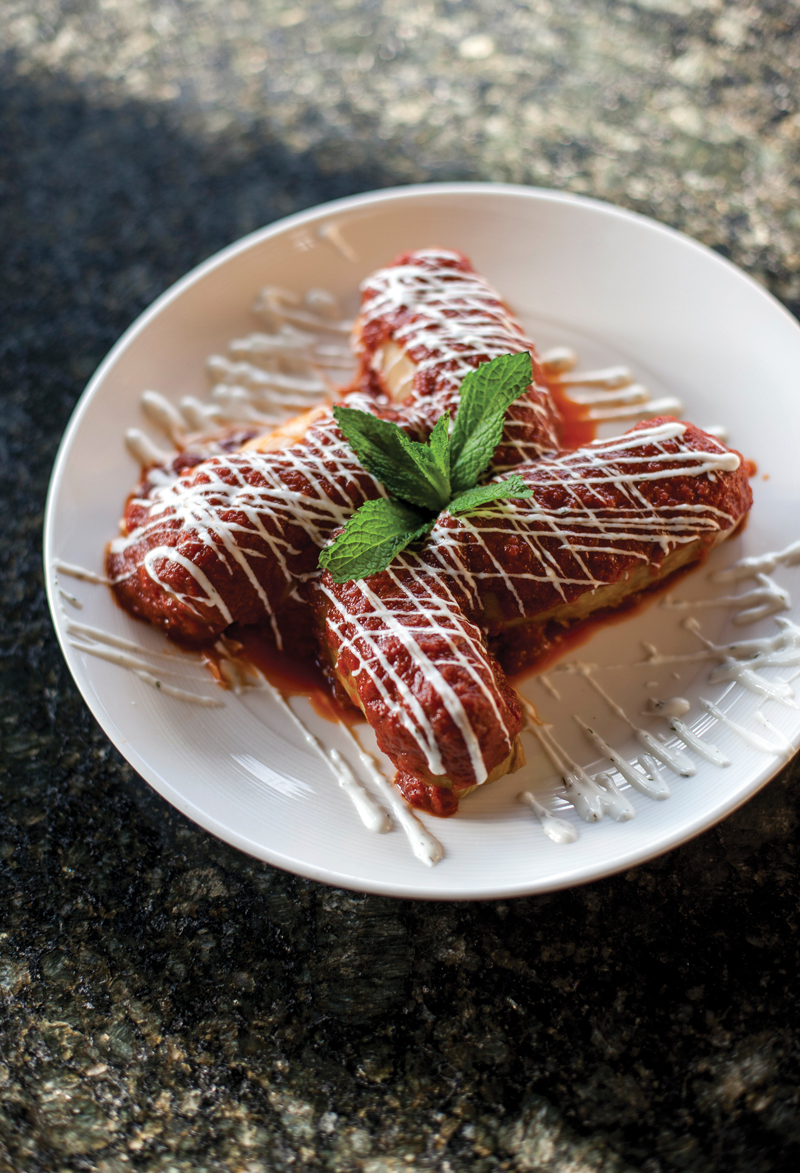 The Sexters recall that locals were initially skeptical about trying Turkish cuisine. Tammy was still teaching, so Doved (pronounced Do-veed), worked the restaurant, standing on the sidewalk with a plate of chicken Adana, handing out samples and talking up the unfamiliar dish to passersby. 
It worked, and it continues to work. That's why you can still find Doved standing outside the restaurant, plate in hand. Only these days, his sales job isn't quite as difficult.
The Sexters — along with their partner Chris Southern — haven't tinkered much with the menu, adding just a few dishes here and refining a few others there. "At its heart," says Doved "it's basically a kebab house — and we're happy to keep it that way." (Kebab is spelled in the more authentically Turkish way, "kebap," on the menu.)
Turks have one of the healthiest diets in the world. Along the coastline, the fare is heavily dependent upon olive oil and fresh fish. Further inland, in Central and Eastern Anatolia, lamb and beef replace fish as staple proteins. Chicken also appears on Turkish tables, but never pork. 
If you visit Turkey, the abundance of fresh fruits and vegetables make it appear as though you've stumbled upon the Garden of Eden — the headwaters of the Tigris and Euphrates are, after all, in Turkey — and the Turks do things with yogurt that turn even the pickiest eater into a glutton. 
Cacik (pronounced juh-jik) is a savory concoction of yogurt, garlic, chopped cucumber and mint served with lamb, beef and chicken. Haydari is a thick creamy yogurt with walnuts, dill and mint. Both are available on the Bosphorous menu and are as good as any you'll find this side of Istanbul.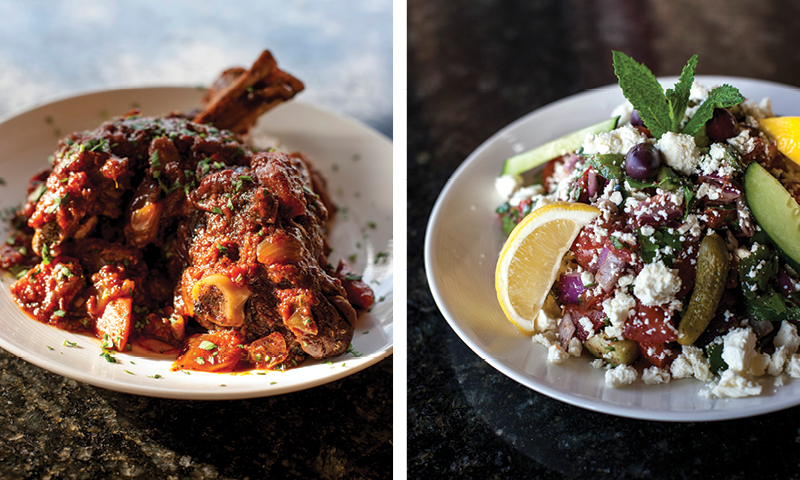 Turkish food culture is ancient. The term Turkiye (land of the Turks or Turkmen) has only been in use since the 11th century, and the Turkish Republic did not come into being until 1923. Today's Turks refer to the land east of the Bosphorous — a narrow strait separating European and Asian Turkey and joining the Black Sea with the Sea of Marmara — as Anatolia. The name dates at least as far back as the cuneiform tablets written by the Hittites more than 4,000 years ago. 
And what were those Hittites writing about? Among other things, food. 
The Hittites are believed to have been the first to cultivate almonds, olives and apricots. They also may have been the first wine makers — although humans have found ways to become inebriated since they began walking upright, so who knows? 
Almonds and pistachios, both of which figure prominently in Turkish cuisine, are the only two tree nuts to be mentioned in the ancient religious texts accepted by Islam, Judaism and Christianity as, respectively, the Tevrat, the Torah and the Old Testament.
The Sexters love the antiquity, the flavors, the scents and the colors that embrace any visitor to Turkey — and they've brought back as much as they could. As they continue to travel, the Turkish character of the Bosphorous restaurants deepens.
Doved notes that the first commercial copper mine was in central Anatolia, and that copper is frequently used in the manufacture of Turkish tableware. Consequently, the Sexters installed copper-covered tabletops at Bosphorous. Like stainless steel, copper is naturally antimicrobial. 
"The health inspectors like it," says Tammy. "It's beautiful. It's different — something you don't see everywhere."
That's just one example of the ways in which, counterintuitively, the American owners have made Bosphorous even more Turkish than its prior Turkish owners had. So is the lavish hospitality, which starts with a hearty "hoşgeldiniz" and continues throughout your visit.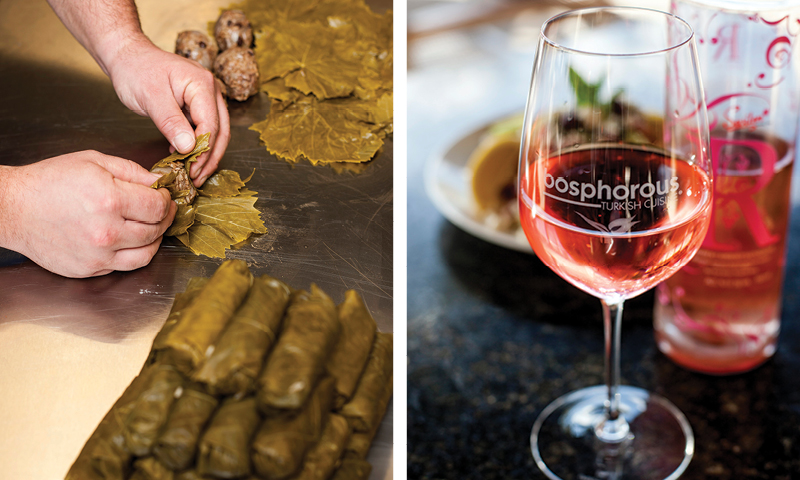 Says Doved: "Ironically, the Turkish couple who opened the restaurant had the concept and the menu, but they wanted to be more American-style restaurant owners." 
Tammy has designed an elaborate training and evaluation system, with attention to detail that would put even the most obsessive among us to shame. While procedures are precisely designed and strictly observed, the hosts and servers are empowered to do what's necessary to make a customer's Bosphorous dining experience a memorable one.
Food production is centralized in a Winter Park commissary. Fresh-cut vegetables and salads are produced in the restaurants, but the breads, desserts and most of the entrees are produced in the commissary and distributed daily to the restaurants. 
"We make everything fresh," says Doved. "We don't freeze anything. We want the food to be of consistent quality. Having a central kitchen also enables us to circumvent a type of behavior among chefs who, when sharing a recipe, might omit an ingredient or alter a technique to ensure that no one else can make the dish as well as they do."
The meat at Bosphorous is Halal certified, and lamb is purchased through a Costco wholesale distribution center. Costco, as the largest purchaser of lamb in the world, can provide Halal-certified meat on a consistent basis.
Lamb is, of course, the main source of animal protein in the Turkish diet. Lamb is cubed for shish kabob, minced for skewered lamb Adana and meatball-like köfte, and roasted for the döner kebob that cooks on a rotating vertical skewer. (The word "döner," translated literally, means "to turn.") 
There are several steps in the Halal-certification process. The animals must be grass-fed, antibiotic-free and killed humanely by someone certified to do it. A religious ceremony is performed and the carcass is thoroughly cleaned. 
Tammy notes that animals under stress release cortisone, which can make the meat tough. If the animal is calm, no cortisone is released into the animal's muscle tissue and, therefore, none is ingested by the person who consumes it. 
Each week, Bosphorous butchers go through at least 1,500 pounds of lamb and 1,400 pounds of chicken, which is also Halal certified. During the winter holiday season and the Spring and Fall sidewalk art festivals, consumption is likely to double.
Doved says that even though the Dr. Phillips and Lake Nona restaurants are newer and larger, the Winter Park location will always be their flagship. 
"If you have to own a restaurant, in my opinion, this is the best kind to own," says Tammy. "The thing I never get tired of hearing is how the locals love to bring their out-of-town guests."
— Anne Mooney
Bosphorous, Winter Park
108 South Park Avenue
407-644-8609
Bosphorous, Lake Nona
6900 Tavistock Lakes Boulevard, Orlando
407-313-2506
Bosphorous, Dr. Phillips
7600 Dr. Phillips Boulevard, Orlando
407-352-6766
bosphorousrestaurant.com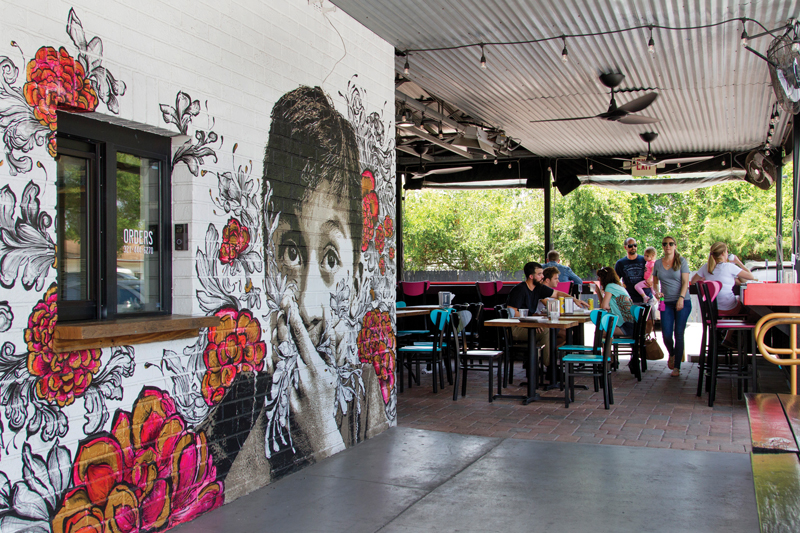 Establishing Street Cred
Talk about a wing and a prayer. When the Creech family's dream restaurant location suddenly became available, they had to either take a pass or take the space before they were ready. At the time, all they had was an idea, three recipes and a catering tent.
The Creeches — after plenty of praying — decided to open Hunger Street Tacos on the sassy corner lot they coveted at Fairbanks and Formosa avenues. The building is familiar for its blissfully bold visibility and infuriatingly lousy parking. You'll remember it as home of the original 4 Rivers Smokehouse, then the now-defunct B&B Junction.
Now, a year and a half after its debut, the restaurant is thriving, with a menu offering a gourmet spin on the kind of south-of-the-border street fare you'd find in Mexico City, says Joseph Creech, who owns the eatery with his wife, Seydi, and his younger brother, David. 
Street food, by definition, can be picked up and eaten sans utensils. So Hunger Street's offerings include, of course, tacos, as well as quesadillas, huaraches, tlayudas, tlacoyos, tamales and tostadas. Burritos, adds Creech, are Tex-Mex and therefore verboten.
The attention-getting name was inspired by Avenida Toluca, a Mexico City neighborhood nicknamed La Calle del Hambre ("The Street of Hunger"). It's teeming with taquerias — taco stands — on every block. 
"When Seydi was a young woman, she and her friends would go out dancing, then say, 'Let's go to Hunger Street' to have a late-night snack," Creech says. "The name just made sense."
Seeking to visually distinguish their restaurant, the Creeches commissioned bold — and meaningful — murals for the building's exterior. The image facing the street, for example, is of Bety Cariño, an advocate for the rights of indigenous populations in Mexico who was shot and killed in a 2010 paramilitary attack.
The family's social consciousness comes naturally. Joseph Creech was born in Guadalajara to Presbyterian missionaries, but spent much of his childhood in Acapulco. David was born in the U.S., but also lived in Acapulco and Oaxaca before the family settled in Central Florida.
Still, as young men the brothers returned to Mexico as often as possible, absorbing the culture and savoring the cuisine — especially the kind of scratch-made street fare sold by marketplace hawkers. 
They later lived and worked for a time in Mexico City, where Joseph met Seydi, an environmental attorney. After his return to the U.S., the couple maintained a long-distance relationship for several years before tying the proverbial knot in 2005.
By 2013, all three were living in Lake Mary, going about their workaday lives. Seydi, feeling nostalgic, asked Joseph, the family cook, to prepare tacos de suadero — said to be the only type of taco that originated in Mexico City. He watched YouTube videos to learn the basics, then started experimenting. 
"Literally on the second batch we were like, 'Wow, this is really good,'" Creech recalls. Enthused, they invited about 20 guests over to share another batch of the savory, pressure-cooked brisket, which was stuffed into corn tortillas with traditional toppings of cilantro, onion, salsa and lime.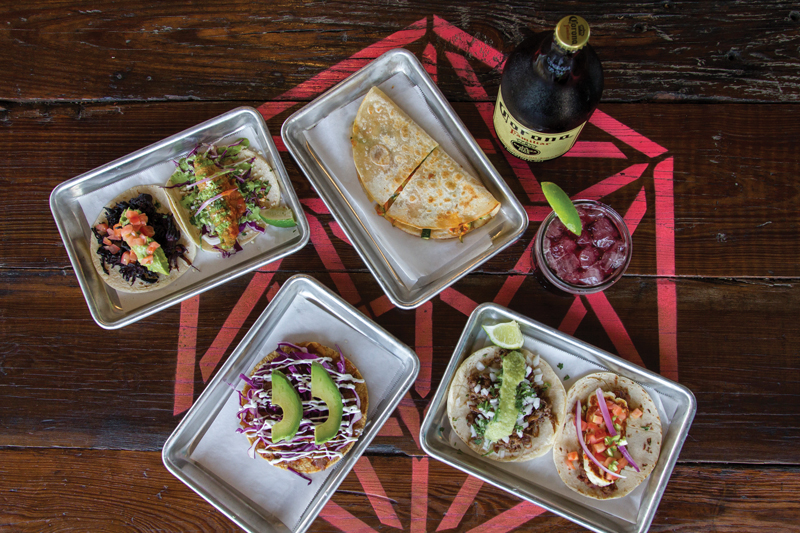 Friends encouraged the Creeches to make cooking their profession — and they were sorely tempted to do so, despite already having good jobs. Joseph worked in finance, David was a trainer for Chick-Fil-A and Seydi worked for a nonprofit organization translating Christian curriculum videos into Spanish.
Ultimately, they bought a $100 Gander Mountain tent and two cast-iron camping grills that heated to 800 degrees, then started a catering company. Among their first gigs was running the concession operation for the Maitland Little League. 
Along the way, they perfected that fateful brisket taco and added a brisket quesadilla and a mushroom quesadilla to their repertoire. To prepare for private parties, they rented time slots in the commissary kitchen at Orlando's East End Market. 
"East End's kitchen is a huge incubator for a lot of people, and we owe the people we met there for their ideas and feedback," Creech says. The trio also pitched their tent at the Audubon Park Community Market every other Monday evening.
"We weren't worrying about making a profit at that time," says Creech. "All we cared about was brand recognition — about building a fan base that would finance our first operation."
Their goal: to open a brick-and-mortar restaurant five years after opening the catering business. Inside of two years, however, 4 Rivers Smokehouse founder John Rivers, who had mentored the Creeches, told them that the location at which he had started his first restaurant, at Fairbanks and Formosa, had become available.
Uh-oh. Acting quickly, the Creeches presented their business plan to about 30 potential investors with the goal of raising $275,000. They didn't reach the magic number right away, but were heartened enough by the response that they took a leap of faith and signed a six-year lease. The rest is history — albeit fairly recent history.
Today, the brisket taco for which Seydi had yearned is the No. 1 seller at Hunger Street. The less-authentic breaded and flash-fried avocado taco is popular, too, among both carnivores and vegans.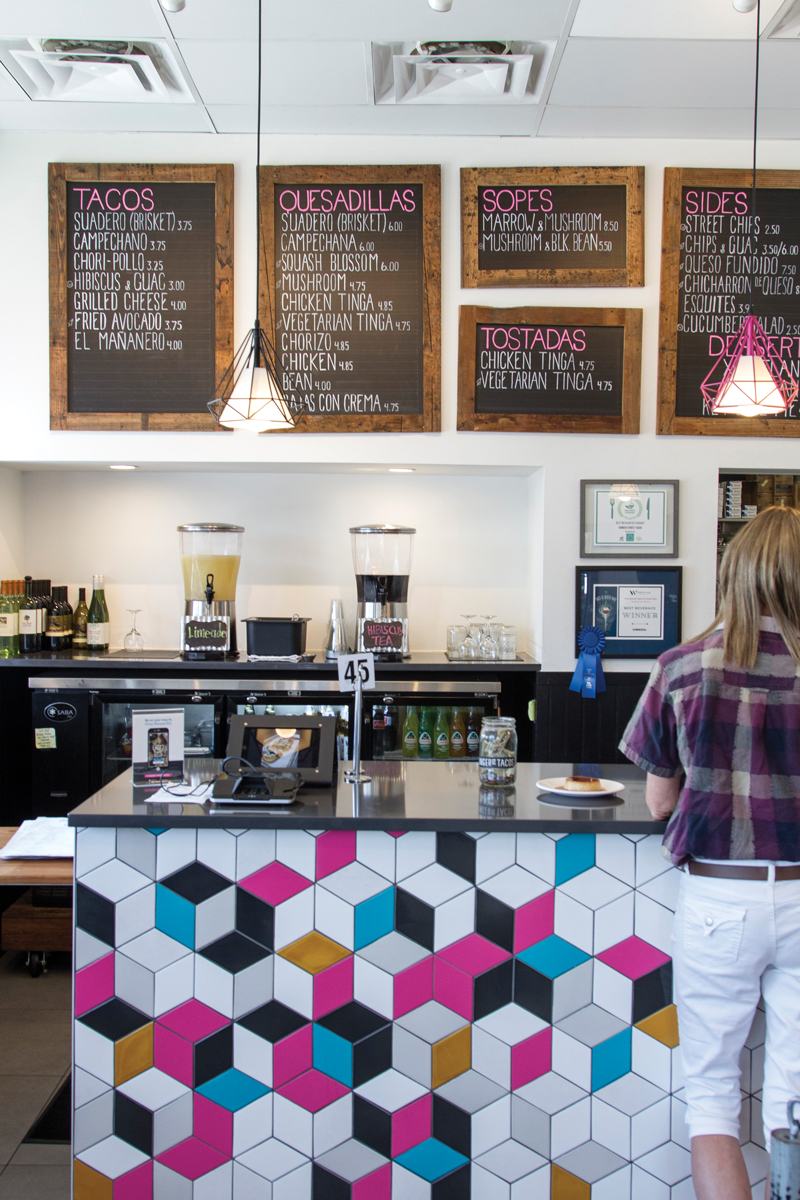 Another frequently ordered dish is more exotic: a bone marrow and mushroom sope — basically a cornmeal cake spread with cooked bone marrow then topped with beans and veggies. 
Chicharrón de queso, ubiquitous in Mexico City, draws raves for its appearance and its flavor. It's an oversized roll of crispy gouda cheese that's melted on a flattop grill. The cheese hardens when removed from the heat.
Hibiscus tacos — yes, they're made with dried hibiscus flowers — are trendy in Mexico City these days, so they've been added to the menu as well. Says Creech: "This dish isn't for everybody, but a lot of our customers really, really love it." 
Although the restaurant is busier by the day, Hunger Street Tacos continues to offer catering services. The Creeches and their employees will happily tote that original catering tent to private homes and prepare brisket tacos, or perhaps wood-fired whole snapper like Creech grew up eating at the Acapulco beach. 
"We cook to order and provide food stations as requested," Creech says. "We create menus that people will talk about for years after the party."
The Creeches are also beginning to eye expansion opportunities — perhaps opening another restaurant that specializes in a different kind of Mexican cuisine.
For now, though, they're living like the entrepreneurial restaurateurs they dreamed of becoming. One minute, they're battling with a trash company that missed a dumpster pickup after a busy Cinco de Mayo weekend celebration. The next, they're brainstorming ideas for new recipes and new ventures. 
It's all done on a wing, a prayer and a passion. You can taste it. 
— Rona Gindin
Hunger street tacos
2103 West Fairbanks Avenue, Winter Park
321-444-6270
hungerstreettacos.com