Photographs by Rafael Tongol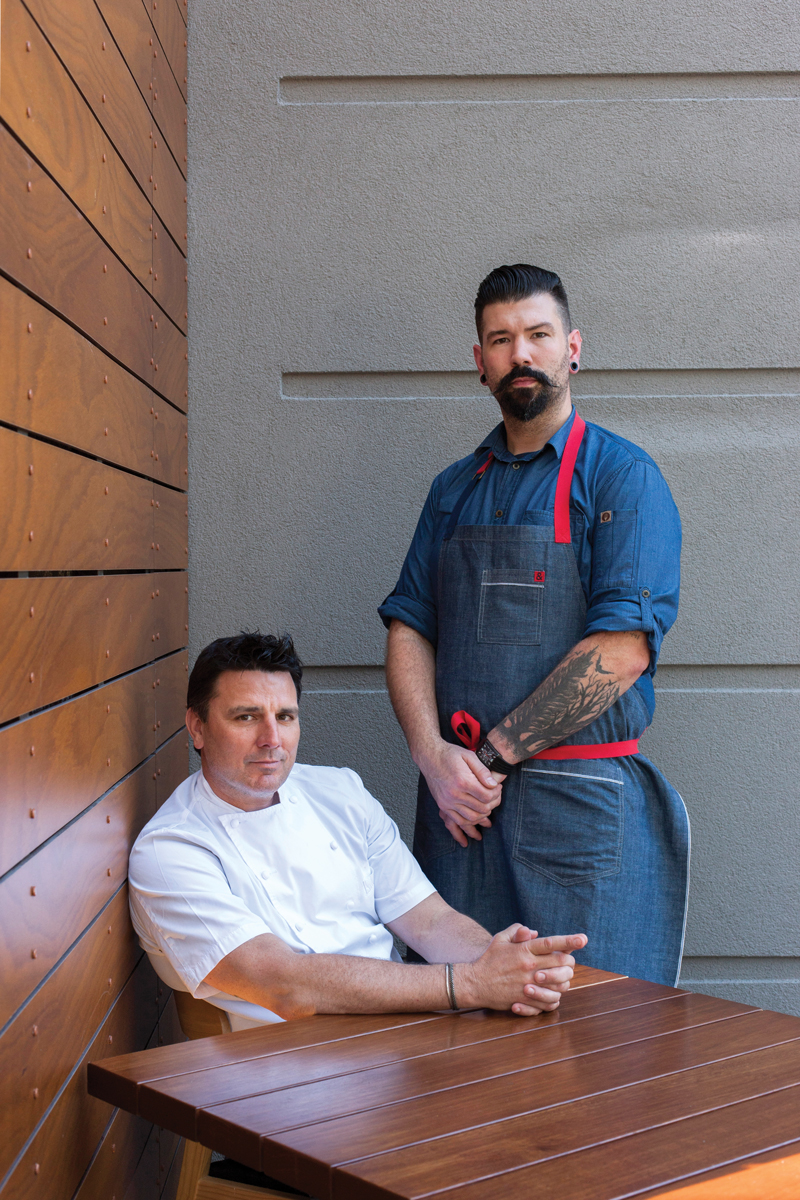 "I'm not a glamour job kind of guy," says Derek Perez. "I like to make honest food that's not cheffed up."
Say what? For a full decade, this 6-foot-5 hipster — with gouged earlobes and a sculpted beard — has been transforming luxury foods into works of culinary art at Luma on Park, the Avenue's foodiest dining room.
From Luma's exhibition kitchen, Perez pampered Winter Parkers with fanciful, inventive fare of the sort that defines "cheffed up."
Today, without a whiff of irony, Perez waxes poetic about the hamburgers at Luke's Kitchen + Bar in Maitland — you can just call it "Luke's" — where he's now executive chef. "It has no foams or gasses that cover it up," he boasts. "It's an honest, delicious burger."
That burger — which is indeed honest and delicious — is a menu staple at Luke's, which describes itself as "classic American." There, Perez applies the advanced culinary skills he mastered at Luma to somewhat less lofty old-school fare.
That means guests of a certain age will get the chance to revisit with favorites from past decades: crab cakes and French dip sandwiches, prime rib dinners and — this is more exciting than it sounds — potato chips with onion dip.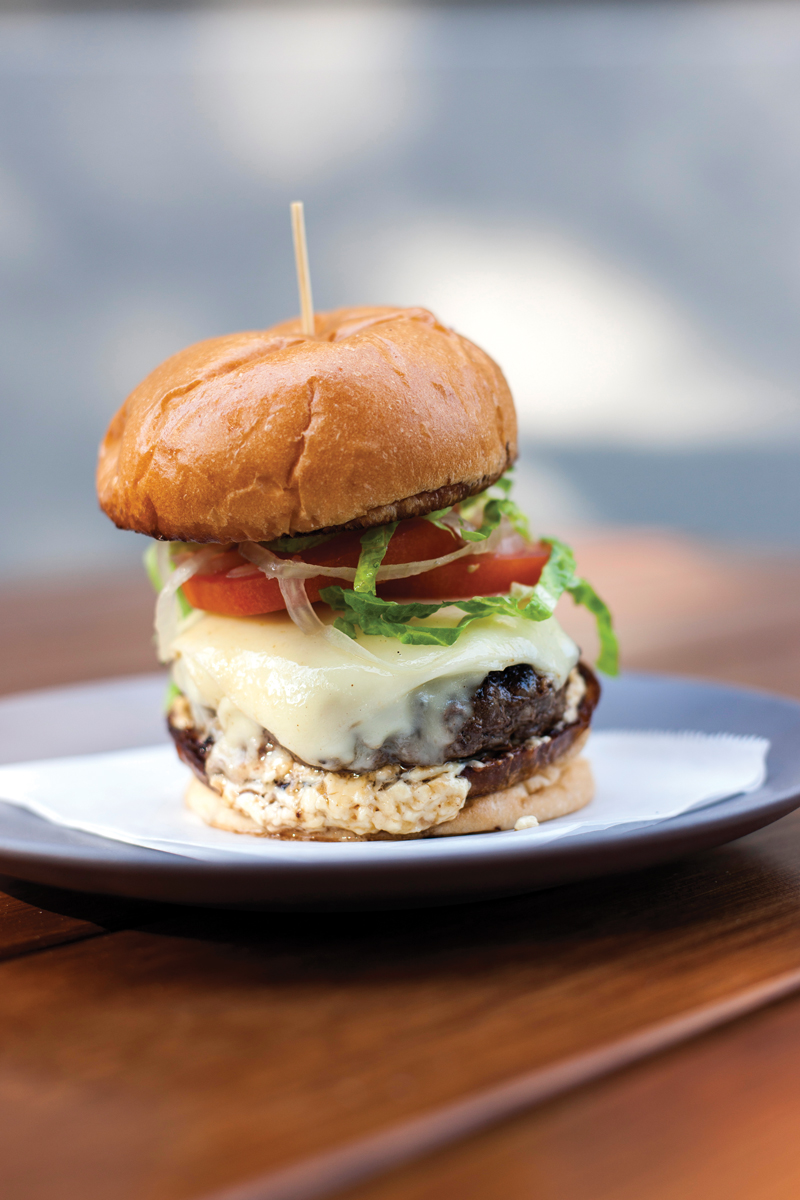 The menu is, in fact, chef driven if not cheffed up, considering Perez's almost religious devotion to quality. And, meals are served in a fittingly sturdy building that locals remember as having been a Steak & Ale location for decades.
But this is no Steak & Ale. Guests are seated in gray-brown banquettes, while glass lampshades line the inviting bar. Together with a raw metal chandelier and a bit of swanky mid-century modern seating here and there, the interior is unpretentious but welcoming. A spacious patio invites alfresco dining.
Perez has taken a new direction in terms of cuisine, yet his employers remain the same. Luke's is the third restaurant owned by Park Lights Hospitality Group, which brought Luma to the area in 2005 and the modern-Italian Prato seven years later.
James Beard regional semifinalist Brandon McGlamery is chef/partner, with responsibility for all three eateries, while Tim Noelke manages the managers. Brandon and Tim can be seen in all three restaurants regularly. Derek is always at Luke's.
At Luke's, what constitutes classic American cuisine is flexible — and we say that with unabashed glee. The chips-and-dip appetizer, for example, shame the '60s version we're accustomed to. In our home, Ruffles and a bowl of sour cream blended with dry Lipton onion soup mix were laid out whenever company arrived.
At Luke's, however, the spuds are thinly sliced Idaho potatoes fried in-house and seasoned with truffle salt and essence. For the dip, crème fraiche — a frothy, tangy, sour cream-like wonder — is blended with chives, onion and garlic powders, "and a lot of love," Perez says.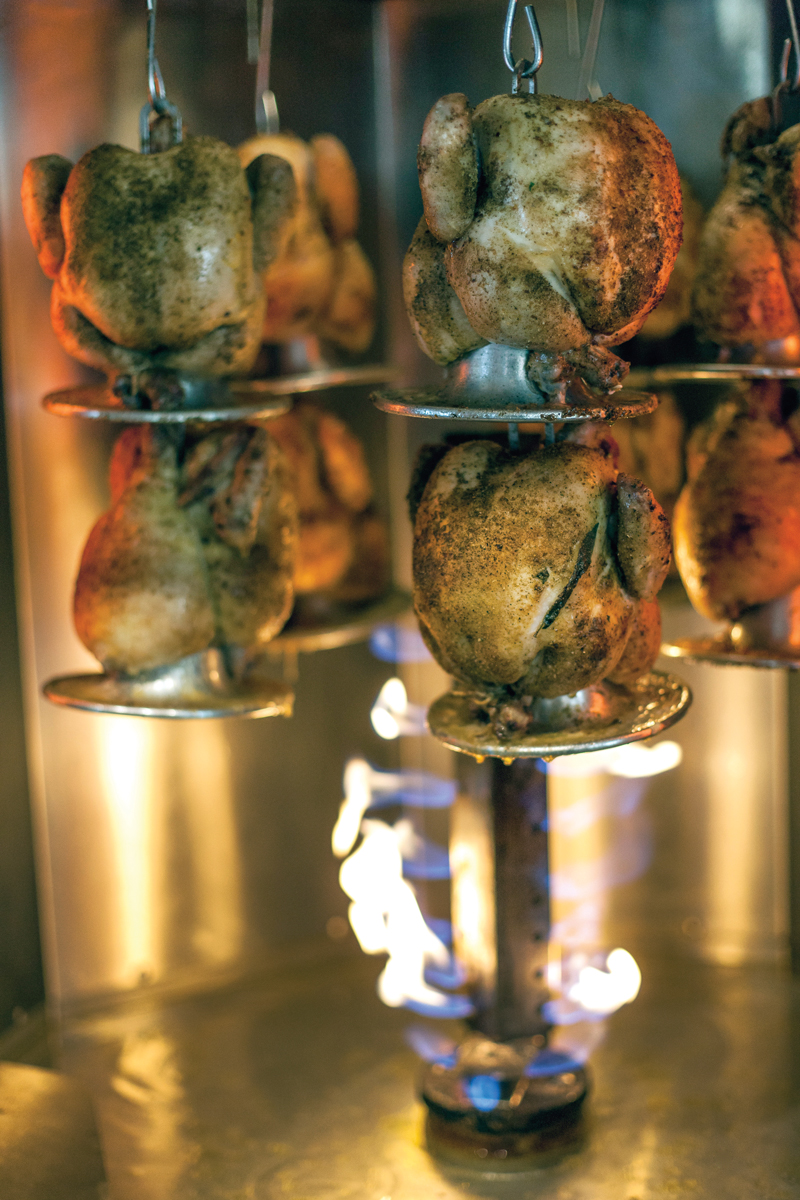 The crab cakes are straightforward. "It's simply made with the very best crab you can possibly find," he says. "There's not a lot of filler." The seared golden disks aren't cheap, but you get what you pay for.
Luke's rotisserie chicken is a splurge compared to what you'd grab at the grocery store. Here, the chefs make a brine of peppercorns and mint, then let the raw poultry sit in what is essentially a mild mint tea for 24 hours. That way, the subtle flavor seeps all the way through the flesh.
Before cooking, the chicken is air-dried for at least half a day so the skin will be crispy. Only then are the birds positioned on the bell-like holders of a $30,000 vertical rotisserie cooker, where the dripping fat from one glazes another until each clucker is moist and ready for slicing and plating.
This gizmo is so advanced that McGlamery likens it to a Tesla.
But let's get back to that burger. Perez and McGlamery are so keen on its perfection that they finish each other's sentences while talking about its creation. Then again, they often finish one another's sentences. That's what happens when you've worked side-by-side with someone for 11 years.
The how-it's-made conversation begins with Perez saying that "there are no magic tricks." Then you hear about how the chefs tested 25 different meat blends before whittling it down to eight, then one. "Different muscles and textures work together for the best flavor," McGlamery adds.
The winning combo involves a short rib — a special ribeye that's trimmed between the bones when it's frenched, says Perez, so it has high fat content — and a stew meat blend.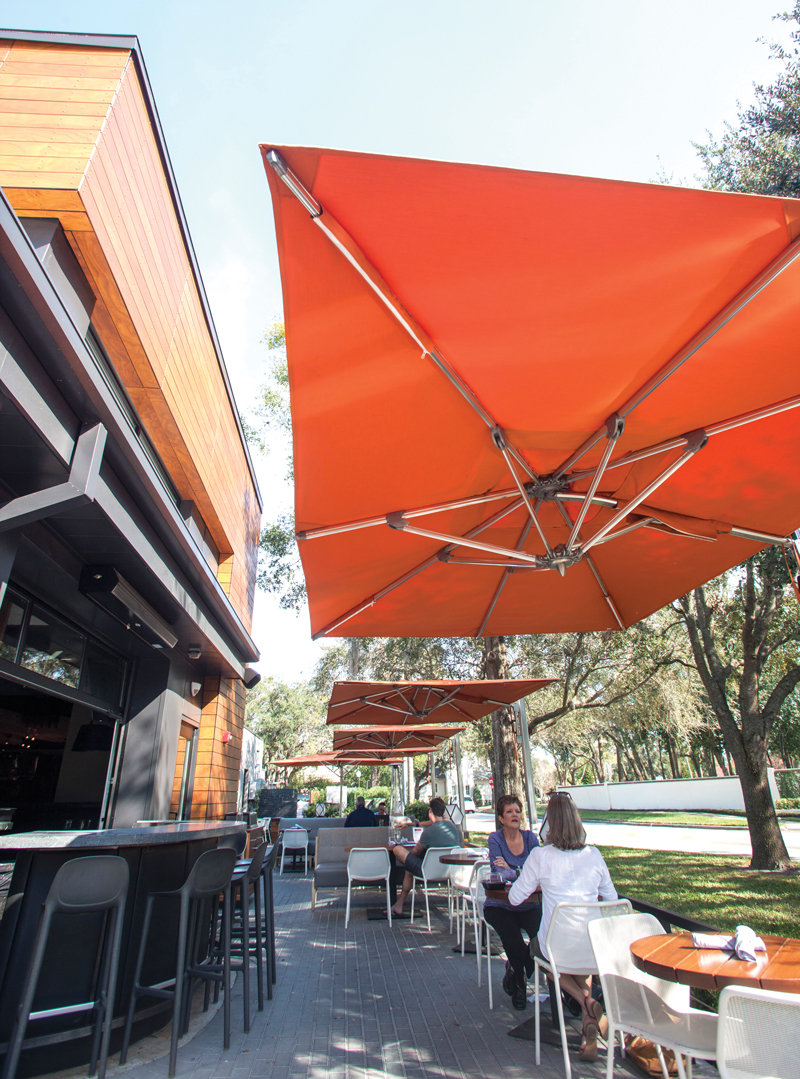 That's not all. "The dense muscle holds it all together, and we grind butter into it — unsalted — that gives it the sear that locks in the flavor, and makes it a moister, richer burger."
I don't remember if that last quote came from Perez or McGlamery. All I heard was a shared passion for burgers.
Luke's has a wood-fired grill, and above that is a smokebox through which fish, shellfish and vegetables rotate. If the okra with sea salt, olive oil and lemon juice is on the menu, order it even if you dislike okra. It's that tender and flavorful. Oysters, shishito peppers, chicken wings — you can't go wrong.
For a lighter bite, check out the raw bar. In addition to oysters on the half shell, options might include shrimp cocktail, or yellowfin tuna on avocado toast with artichoke relish. All are the extreme level of fresh that you'd expect from this team.
Desserts are created by Brian Cernell, the pastry guru who wowed guests for years at Luma and Prato and now Luke's as well. The hearty ice creams are especially satisfying. Key lime tart, banana pecan cake and other reinvented sweets rotate through the menu.
Like every new restaurant, Luke's has had its misses. The twice-baked potato came and went unloved by the masses, sadly for those of us who hadn't yet tried it. And the raw bar was far less popular than the chefs had hoped — so they've trimmed the offerings.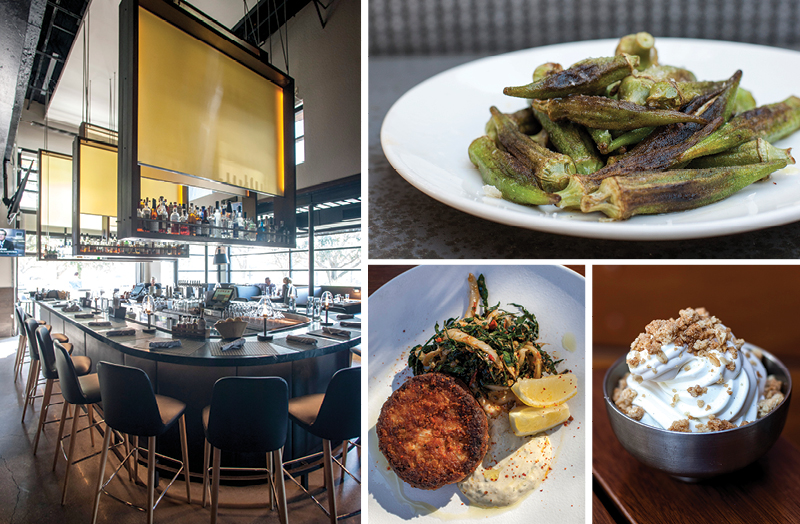 But now that the restaurant is a year old, the team knows what guests like. They learn it daily, in fact. Every morning, they each receive a spreadsheet detailing every item that was sent back to the kitchen and comped the day before, along with an explanation.
"Everything is under a microscope," Perez says, before McGlamery pipes in, "We listen to all the complaints, and we take it in."
Often, customer feedback results in major changes. Guests requested brunch and a happy hour. Now, Luke's has a large food and beverage happy hour menu seven days a week, from 3 p.m. to 6 p.m., and brunch from 11 a.m. to 3 p.m. on Saturdays and Sundays.
There was also feedback that prices were too high. The chefs trimmed the numbers "without ever sacrificing quality," McGlamery says.
Some aspects of Luke's never change, though. "The sunsets are awesome," Perez says, sitting on the 50-seat patio that faces Lake Lily across U.S. 17-92. He's right about that.
Luke's was a change for the Park Lights Hospitality folks, who wanted to open a third restaurant different enough that it wouldn't impact business at Luma and Prato.
"We had the operations, the systems and the teamwork," McGlamery notes. "This time, we went for food that is a lot more approachable. It's good honest food."
Honestly.
---
Luke's Kitchen + Bar
640 S. Orlando Avenue, Maitland, 32751
(407) 674-2400
eatatlukes.com