Photographs By Rafael Tongol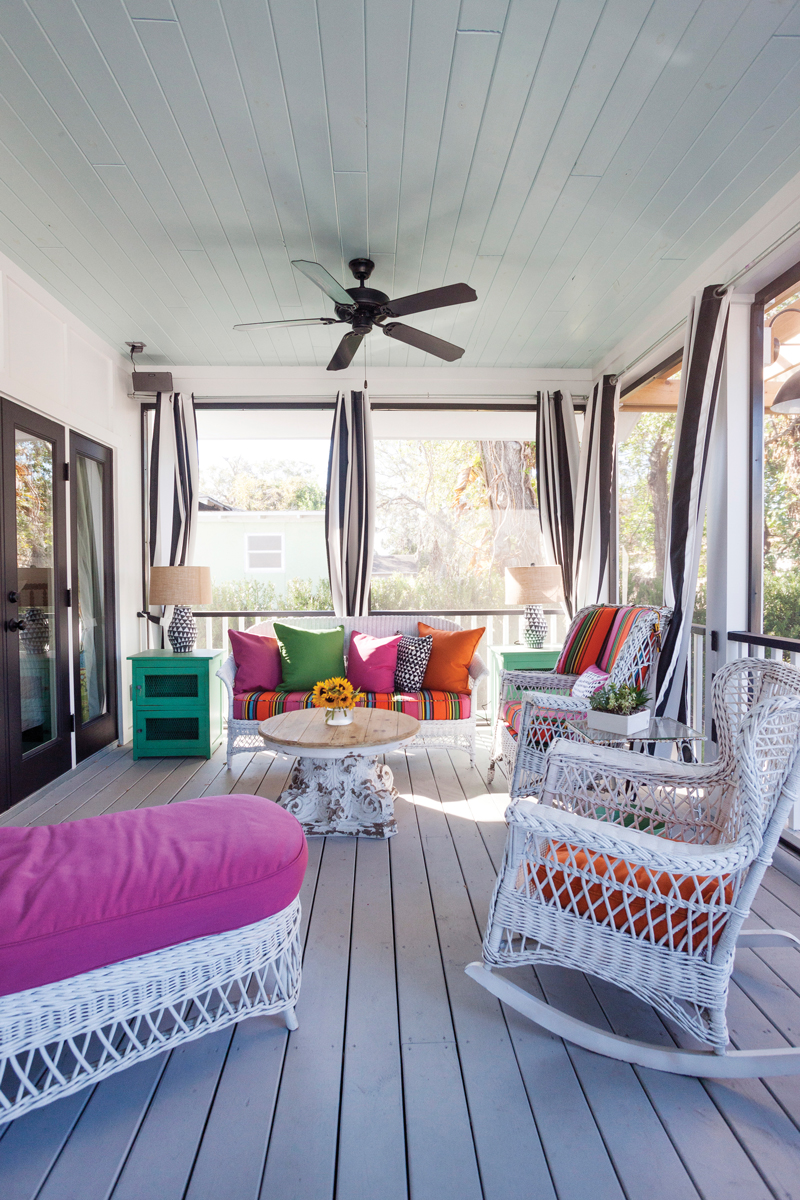 When Susan Skolfield noted that the ramshackle bungalow across the street from her tidy home on Garfield Avenue had been sold, she assumed that the new owner would tear it down and build something new.
A lifelong Winter Parker who serves as executive director of the Winter Park History Museum, Skolfield is all about preservation. But she had little expectation that 411 Garfield, which was built around 1925 and sits at the corner of Garfield and Virginia Drive, could be salvaged.
After all, that's how it usually goes on the west side.
The traditionally African-American neighborhood was designated by the city's founders in the 1880s as a place where "Negro families of good character" could own property near where they worked, which was often for affluent residents on the opposite side of the railroad tracks.
The area — which includes the redeveloped Hannibal Square business district and some pricey infill residential projects — has been gentrifying in recent decades.
The stark racial divide is, of course, no longer codified. Although African-Americans still comprise the majority of west side residents, diversity is increasing as buyers descend upon the last bastion of affordable housing in Winter Park's red-hot urban core.
"The location is amazing — just two blocks from Park Avenue — and the neighborhood is truly multiethnic," says Skolfield, who moved to the west side in 2014. "When I found my place, I thought, 'This is it.'"
Skolfield's home was built in 1996. Despite the west side's proud heritage, it encompasses relatively few homes that date from the 1920s. Most were built in the 1950s and 1960s.
That's why forlorn 411 Garfield was such a diamond in the rough. Make that very rough.
Evelyn Kelly, a Californian who buys and renovates homes for use as vacation rentals, knew as soon as she saw it that 411 Garfield — which was in disrepair and had been victimized by decades of patchwork repairs — could be salvaged.
Kelly, who retired in 2014, had spent 18 years with Associates Purchasing, a Los Angeles-based Knoll furniture dealership that offered interior design services to major commercial clients.
All the while, however, she had been buying and restoring intriguing older homes across the U.S., and marketing them as vacation rentals. Her first such project was in Santa Monica, where she rehabilitated a cluster of five circa 1920s bungalows.
Buying 411 Garfield was, in part, a business decision. It would enhance Kelly's portfolio by adding a location squarely within the tourism capital of the world, yet seemingly far removed from the crowded tackiness that such a designation denotes.
It was also a personal decision. The home would give Kelly a warm-weather address in a city that she found enchanting. "I had fallen in love with Winter Park," she says.
What's more, it was love at first sight.
Kelly's daughter and grandchildren had visited Central Florida many times to enjoy the tourist attractions, particularly Disney World. They had discovered the low-key City of Culture and Heritage while on vacation.
In 2016, Kelly joined them for a trip.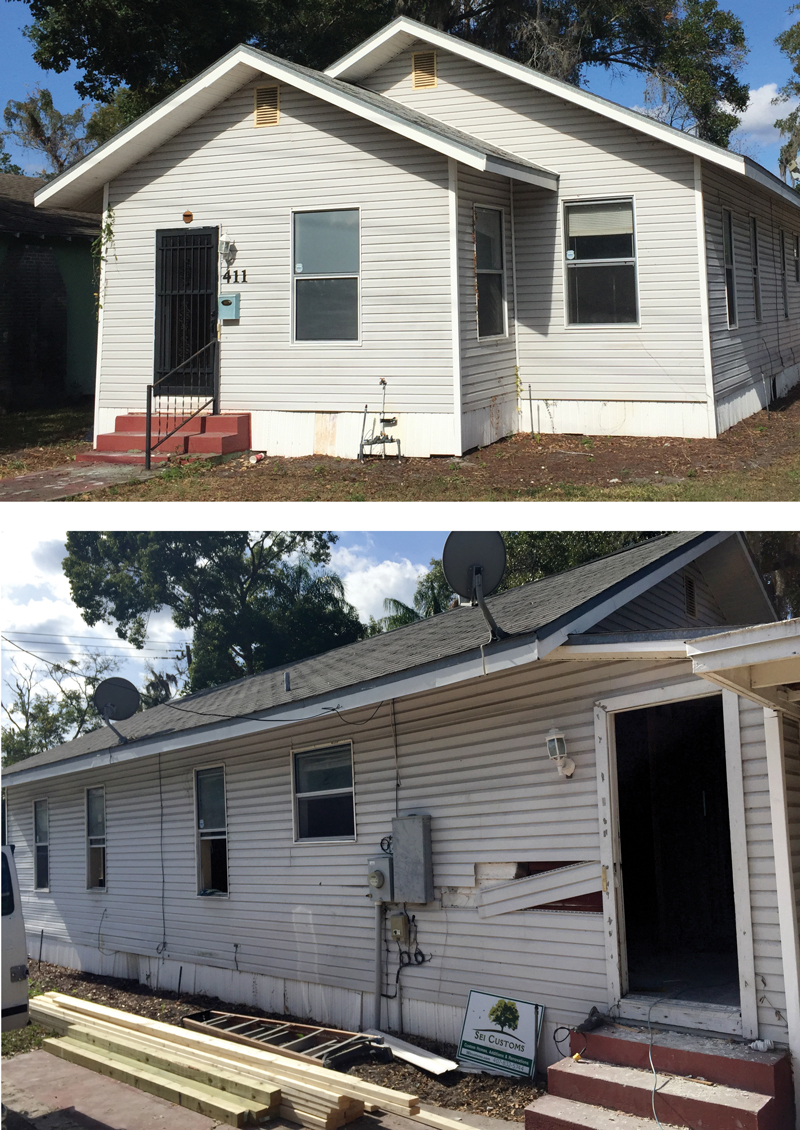 "My daughter kept saying, 'While we're here, you've just got to see Winter Park,'" she recalls. "'You've got to see downtown, you've got to see Rollins College, and you've got to stay at the Alfond Inn.'"
Who wouldn't be dazzled after seeing all that?
So, Kelly — who was dividing her time between vacation homes in California, Georgia and Mexico — contacted Christy Knox and Liz Jones, then affiliated with Kelly Price & Company in Winter Park and now with Mainframe Real Estate in Orlando.
She wanted a home in the heart of the city, and within walking distance of its shopping, dining and cultural amenities. And she didn't want to spend seven figures.
"We showed Evelyn 411 Garfield, and she loved it from the minute she saw it," says Knox. "The place was a disaster. But she recognized that it was in an up-and-coming area. She had the vision for what it could be."
Disaster might be putting it mildly.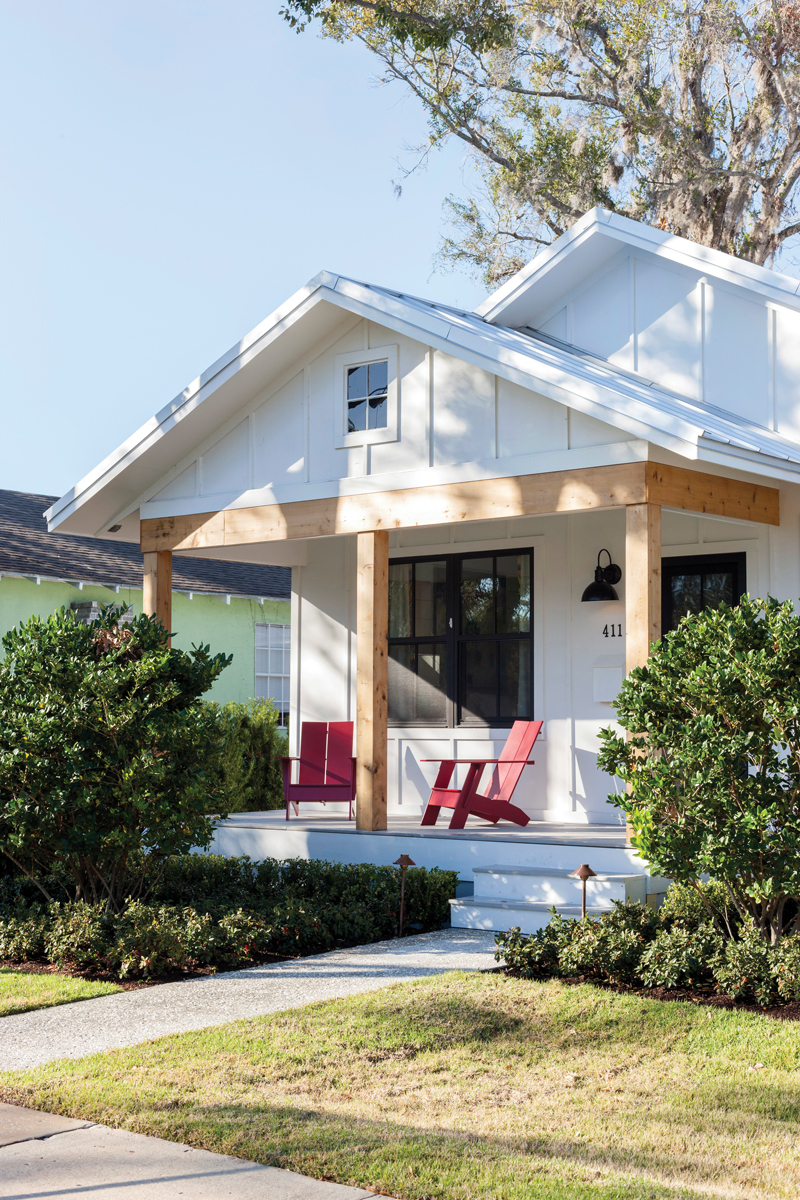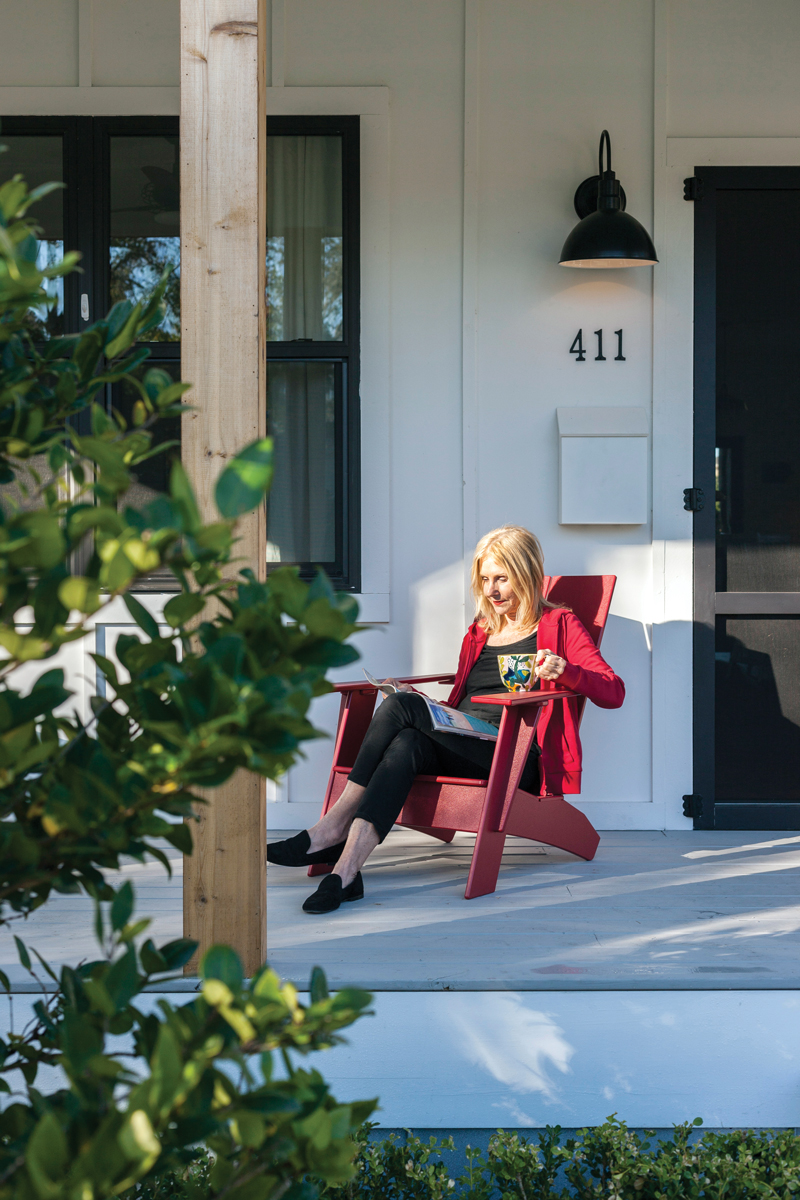 The home was water damaged, termite-ridden and structurally shaky. Interior rooms had been chopped up to accommodate two tenants, and the most recent occupants had kept numerous dogs inside, with predictable consequences. The front porch had been enclosed by perhaps the world's most incompetent handyman, and there was no central air conditioning.
Nonetheless, Kelly bought the property last year for $259,000.
"My first reaction was, 'We should probably just tear this down,'" recalls Jason Sellers, owner of SEI Custom, the builder whom Knox and Jones recommended to Kelly. "But we say, 'Whatever you can dream up, we can build.'"
Skolfield, who was amazed when no bulldozers showed up, says she would sometimes walk across the street and peer into windows to check progress. Eventually, she met Kelly — and found a kindred spirit.
"She was so gracious," says Skolfield of Kelly. "When I learned that she was really restoring the home, I was so excited. It takes a special kind of person to do something like this. You need passion and vision, and Evelyn has both."
Given her profession, Skolfield was also interested in the history of the home. Much to her surprise, she discovered that her friend Ruthenia Beacham Moses had lived there as a young woman.
In fact, Moses told Skolfield, the home had been moved to the west side in late 1959 or early 1960  — something Kelly hadn't even known.
"I'm not sure where the place came from," Moses says. "My grandfather bought a grove where the house is now. He told my mother, 'You're a good daughter, so I'm going to clear part of the grove and put a house there for you.'"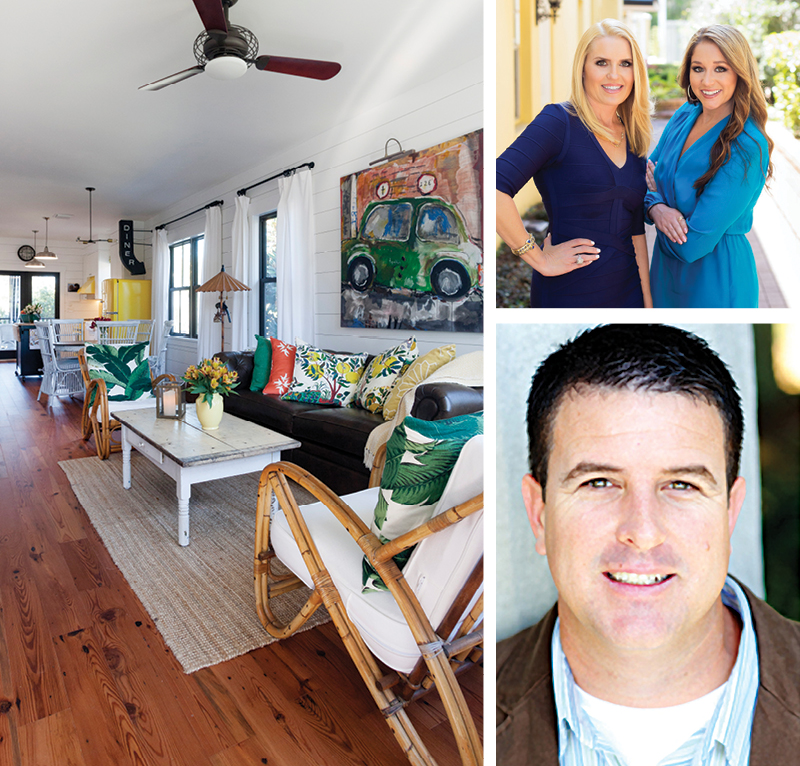 Moses' grandfather was Willy W. Wallace, who owned a concrete company in Orlando. Her mother, Olivia Wallace Beacham, is still living and celebrates her 100th birthday this year. Her father, Rev. David S. Beacham, was a traveling Church of God in Christ minister and west side community leader who died in 1999.
Moses left 411 Garfield to attend Bethune Cookman College (now Bethune Cookman University) in Daytona Beach. After graduation, she returned and lived there again from 1968 to 1970. The Beacham family owned the home until 2002, when they sold it for $250,000.
"We had the prettiest yard on the street," recalls Moses. "They divided it into apartments. It was looking bad. I remember driving by and thinking, 'This isn't Mom's house.' I'm so glad to see what's happened with it now."
In fact, because of the size of the lot — just 40 feet by 100 feet — a McMansion at 411 Garfield was never in the offing. But Kelly could certainly have opted to raze the 1,200-square-foot home and build a new one.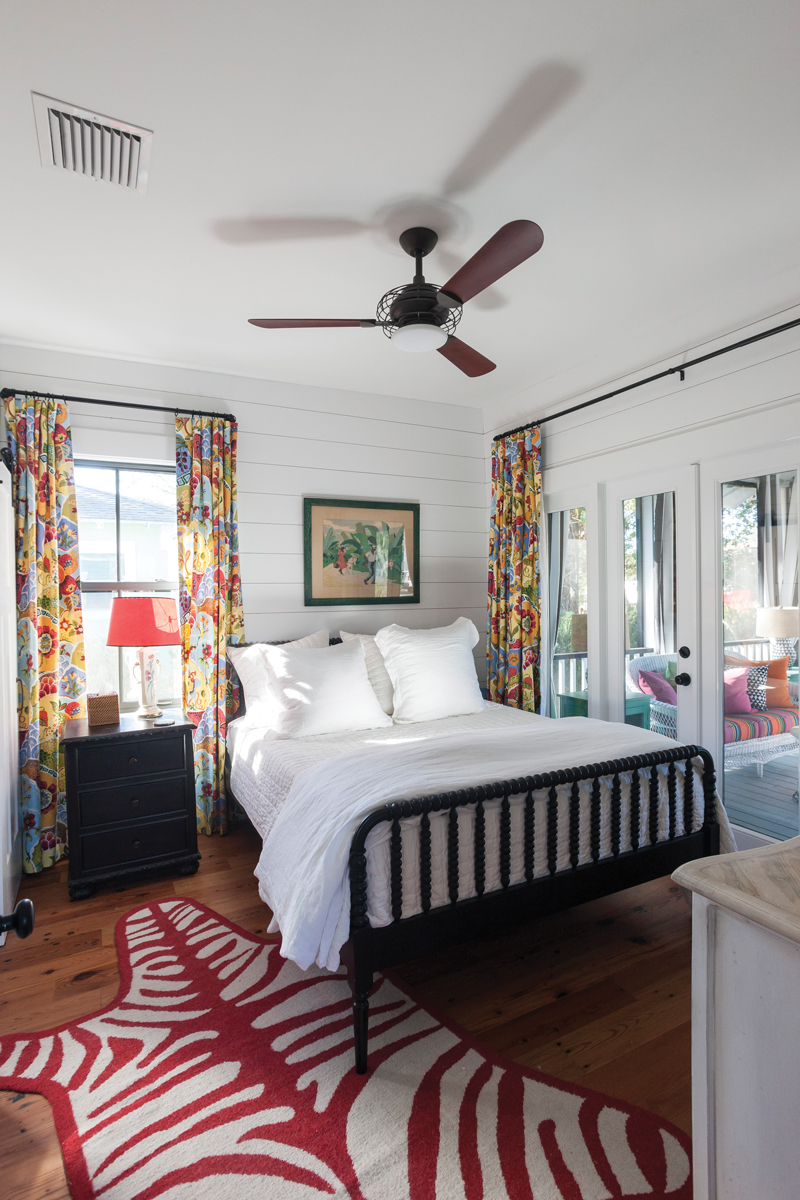 Indeed, she probably could have done exactly that for less money. But the fact that she chose to renovate helps the neighborhood maintain its unpretentious ambiance — and preserves a vestige of the west side's past.
"Oh, there may have been times that I thought I had made a mistake," shrugs Kelly, who declines to say what the project cost in total. "But the places I'd done in Santa Monica were even worse. And I couldn't be more happy with how it all turned out."
Kelly credits the unflappable Sellers and her friend, Savannah-based interior designer Jane Coslick, for transforming the decrepit eyesore into a cozy and quirky cottage that, unlike some newer west side homes, reflects the character of the neighborhood.
Outside is lushly landscaped, allowing 411 Garfield to reclaim the mantle of "prettiest yard on the street." Inside is highlighted by a long, combined living room and kitchen.
The living room has an electric fireplace, while the kitchen is outfitted with bright retro-style Big Chill appliances guaranteed to make a visitor smile. The décor combines vintage and modern elements, with plenty of bright colors.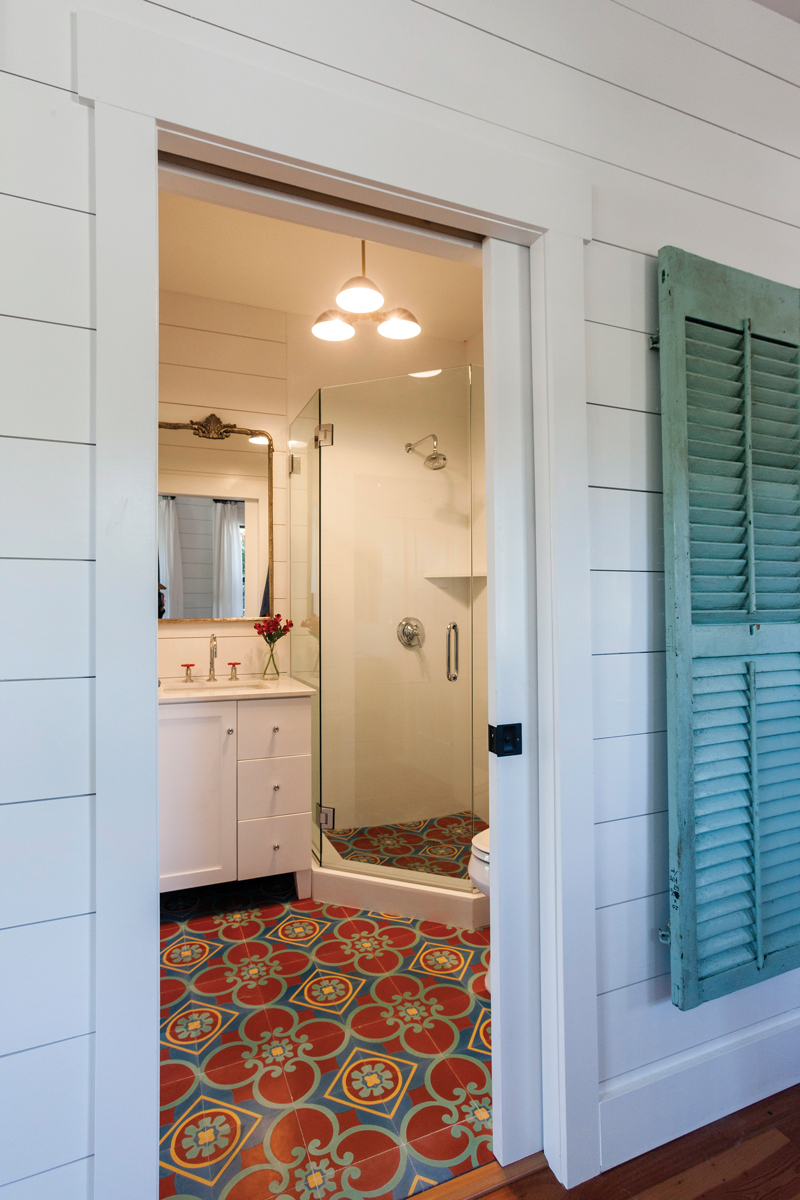 The floors throughout are heart pine, and there are two bedrooms and two bathrooms. Every square inch is thoughtfully and efficiently used, so closet space is substantial for a home so small. A 300-square-foot screened back porch and a carport pergola have been added.
Kelly and Coslick had collaborated before, on a funky Tybee Island, Georgia, cottage that was featured in a 2014 issue of Coastal Living magazine. Today, the Tybee Island home — located a block from the beach — is part of Kelly's vacation-home rental inventory.
And so is 411 Garfield. Although Kelly has embedded herself in Winter Park — she attends First United Methodist Church and has joined the Winter Park Women's Club — the property is posted on her website, frontporchvacationrentals.com. It's priced at $175 per night, with a five-night minimum and no parties or events allowed.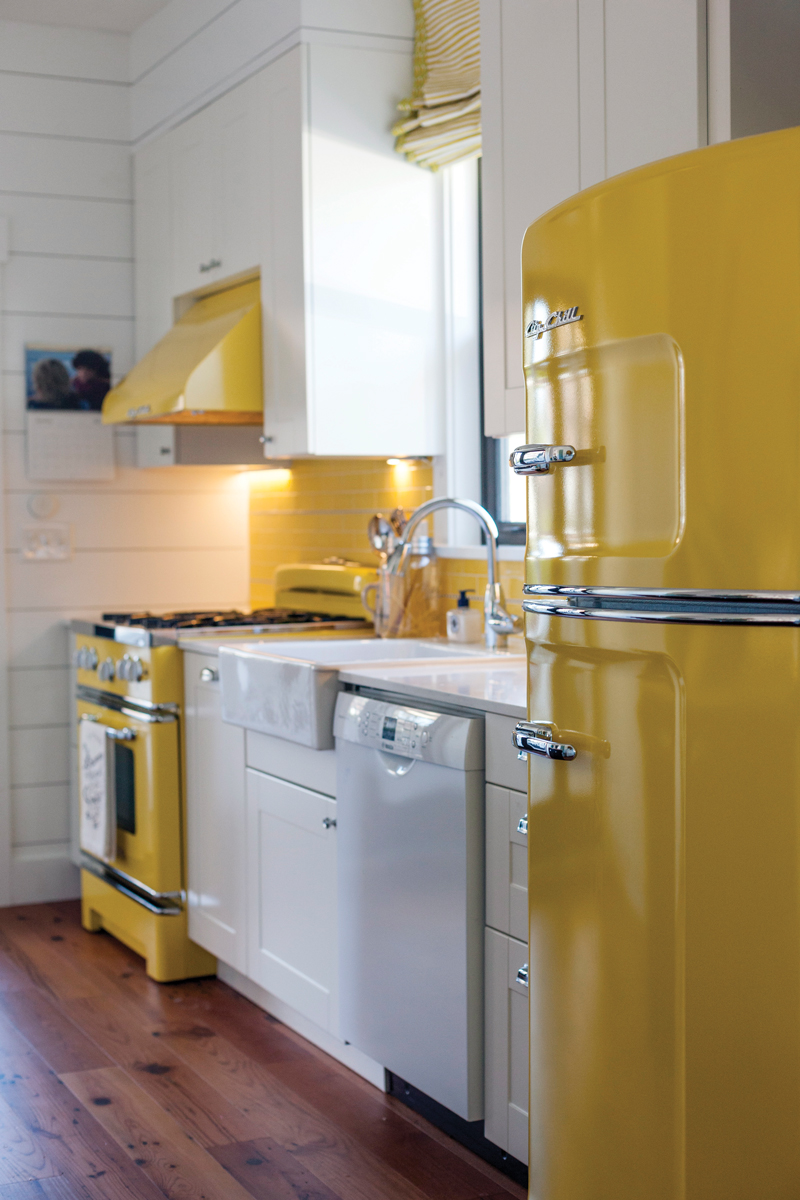 But don't expect it to be available often, since Kelly — who could live anywhere she pleases — plans to be in residence most of the time.
When she's in town, you can probably find her relaxing on the back porch. She even likes the fact that the railroad tracks are only a block away.
Notes Kelly: "I'm from the country. I lived in California, but I was born in Texas and raised near the railroads. I love to hear the trains go by."