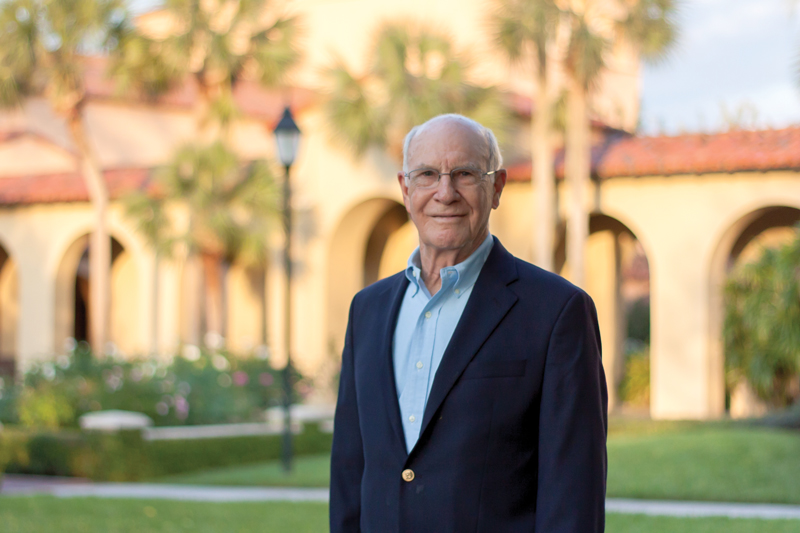 Few cities and colleges have origins as intertwined as those of Winter Park and Rollins College. But, until now, there had been no comprehensive history of the state's oldest institution of higher learning. At least, not one in print.
The Rollins centennial celebration in 1985 seemed an ideal opportunity to tell the college's entire story, from its founding by enterprising town boosters in 1885 through its emergence as one of the most respected small liberal arts colleges in the U.S.
Enter Jack C. Lane, then a professor of history and now a professor emeritus and college historian, who was asked by then-President Thaddeus Seymour to write a book marking the anniversary.
Lane was at first reluctant, fearing that an institutional history would invariably be a dry tome that would generate little interest beyond administrators and a handful of alumni.
But he quickly realized that the story of Rollins was jam-packed with eccentric characters, near-disasters, daring innovations and heady achievements. He quickly embraced the project, combining a storyteller's zeal and a historian's rigor.
Yet the completed manuscript — fascinating and revealing as it was — gathered dust for more than three decades.
Lane posted it online, and in recent years some of the more colorful chapters were expanded and excerpted in Winter Park Magazine. Those excerpts always generated significant reader interest — and prompted questions about when the book would become available.
Finally, though, it's been published. Rollins College Centennial History: A Story of Perseverance, 1885-1985 (Story Farm Inc.) is a handsome hardback available for $21.95 from the usual online booksellers and at the Rollins College Bookstore.
But don't expect a typical self-congratulatory coffee-table book filled with pretty pictures and effusive promotional copy. Lane's work is, instead, a meticulously researched, warts-and-all look at the college's ups and downs through a century of tumult and triumph.
The chapter headers offer confirmation that Lane was granted carte blanche to tell it like it really was: "The Struggle for Survival," "The Search for Stability" and "The College in Crisis," to name just a few. Often, money — or lack thereof — was the problem. Other times, imperious administrators and peculiar professors wreaked havoc. (See the chapters on President Paul Wagner and Professor John Rice.)
But by 1985, when Lane completed his manuscript, the charismatic Seymour had righted the ship. Today, Rollins enjoys lofty national academic rankings and is bolstered by a healthy endowment of more than $370 million.
No one was better suited to write this roller-coaster of a history than Lane, who had at the time taught at the college for more than 20 years, serving on an array of committees and logging a stint as chairman of the history department in the 1970s.
When he retired in 1999, Lane received the William Freemont Blackman Medal — named, appropriately, in honor of his favorite past Rollins president — for distinguished service. Six years later, at the 2006 commencement exercises, Rollins awarded him an honorary Doctor of Humane Letters degree.
In addition to Rollins College Centennial History, Lane has published three books and numerous articles on American military history, foreign relations and the history of education. In recent years, however, he turned his scholarly attention to the history of Florida.
In 1991, he and another Rollins history professor, Maurice "Socky" O'Sullivan, compiled a collection of Florida writing ranging from folk tales and Spanish myths to Florida-related work by writers such as Ralph Waldo Emerson, John James Audubon, Zora Neale Hurston, Zane Grey, Wallace Stevens, Marjorie Kinnan Rawlings, Jose Yglesias, and Harry Crews.
Visions of Paradise: From 1530 to the Present (Pineapple Press) won the Florida Historical Society's Tebeau Award as the year's best book on Florida history.
In addition to writing, during his retirement Lane has conducted historical tours of the campus, assisted as guest lecturer in several classes and served on the boards of Casa Feliz and the Winter Park Institute.
Winter Park Magazine sat down with Lane to discuss his lively new book.
---
Q: Your book is subtitled Centennial History, so obviously it was written to be published in 1985. What was the origin of the book, and why was it not published at the time?
A: Good question, and one that many others, I imagine, have been asking. Well, the road to publication was a bit circuitous. In 1984, President Thaddeus Seymour, with the college's 100th anniversary imminent, called to ask if I would be interested in writing Rollins' centennial history.
I was a little hesitant about accepting, because I was involved in writing another book that would have to be postponed. But later I thought: I've been at the college for more than 20 years, and I know almost nothing about its history.
It dawned on me that the college community was in danger of losing its institutional memory — and I felt a strong obligation to make sure that didn't happen. That sense of responsibility overrode any other considerations.
Besides, the president offered to appoint me college historian, and allow me a year off from teaching to complete the project. So, I said yes.
I completed a first draft at the end of the year, after which I returned to full-time teaching, leaving me little time to revise and rewrite. Plus, the administration had published a pictorial history that I had put together during my research. It was difficult, I was told, to find funding to publish the historical narrative.
So, I put the manuscript aside. I turned to other scholarly endeavors, and the whole project sort of went dormant.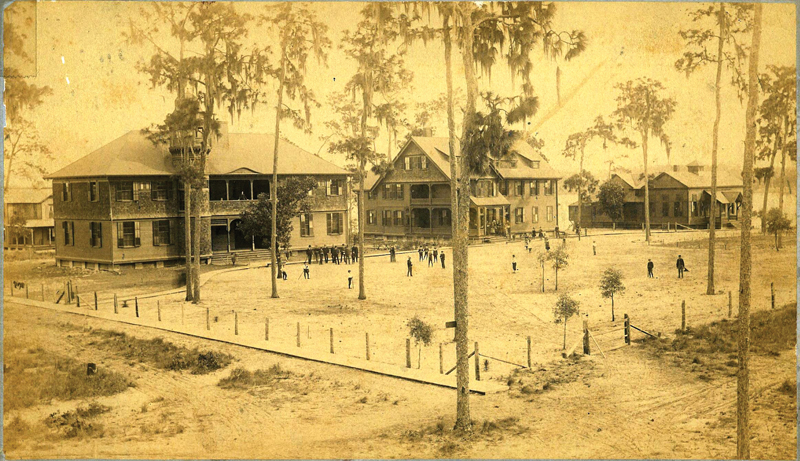 Q: So, what was the impetus to publish it now, more than 30 years later?
A: The impetus came from the college's new president, Grant Cornwell. Shortly after he arrived, I approached him at a social gathering to ask him about his recent trip to India.
"Funny you should ask," he said. "On the plane on the way home, I read your centennial history manuscript, and I think we should publish it, if you're willing to work on it some more."
He couldn't have surprised me more. It had been more than 30 years since I'd even looked at the manuscript. To tell you the truth, I could remember little of what I'd written, or what the quality of my research and writing had been.
But the president caught me at a moment in my retirement when I had little in the way of scholarly activity going on. I said yes, but added that it would have to remain a centennial history. Frankly, I just didn't have the energy to conduct the research required to write about the years since 1985. He agreed.
If I might add something here — for several reasons, the gap between writing, rewriting and publication proved to be fortuitous. That 30 years gave me the perspective to make revisions and additions that, I think, greatly improved the original manuscript.
And my writing style, I hope, had much improved. I spent a year rewriting virtually the entire book.
Finally, given the transformations taking place today in higher education — and particularly in liberal education — it seemed to be a propitious time to make public the richness and significance of the Rollins story.
And more importantly, it seemed to be an equally propitious time to remind the present campus community of the significance of institutional memory.
---
Q: What facet of the college's history surprised you the most?
A: Well, as I mentioned before, there was very little that I did know of Rollins' past, so I had many surprises. Part of my reluctance at first to undertake this project was the idea of doing an institutional history — that it would be dull.
But was I wrong. Not only was it not dull, but as I began to dig into the material in the archives, I quickly found the story fascinating. What human drama here!
A group of intrepid Congregationalists (Rollins was founded by the Florida Congregational Association and members of the First Congregational Church of Winter Park) had either the audacity or the foolhardiness to start a college in the Florida wilderness, in a village that had only about 150 souls.
What's more, they installed a course of study that required extensive preparation in classical languages and literature. For heaven's sake, there weren't even any secondary schools in Florida at that time.
How the college survived — through depleted finances, epidemics, freezes, internal conflicts and the effort of heroic individuals — was a story that captivated my interest from the very beginning.
And then I found that the college's history was populated by engaging and brilliant personalities — some of whom did the college no favors, and others of whom were instrumental in pulling the institution through its adversities.
---
Q: Who would you rank as the top five most important figures in Rollins' history, and briefly why?
A: Well, at the top of the list would be the obvious one, Hamilton Holt (president from 1925 to 1945). Holt is such an iconic figure — not only at Rollins but in the larger community — that it's difficult to come up with new accolades to express his impact on the college.
Under Holt's leadership, Rollins was transformed both educationally and physically. He established its identity as a proponent of innovative, experimental teaching and learning. His leadership made it a nationally recognized institution of higher education.
Moreover, he transformed the campus with more than 30 buildings constructed in the Mediterranean Revival architectural style. That's one reason that Rollins is routinely recognized as having the nation's most beautiful campus.
What other figures? Well, two at the turn of the century: the almost-regal George Morgan Ward (president from 1896 to 1902, and acting president on two subsequent occasions), who gave the college stability and daringly abandoned the classical curriculum.
Then there was William Freemont Blackman (president from 1903 to 1915), who brought the college back to its liberal education roots when it was tending to drift toward vocational or professional education. By the way, seven decades later, President Seymour did the same thing.
Also, I'd include the Blackman family, including President Blackman's wife, Lucy, and their three children. They were by far away the most delightful and entertaining presidential family. The chapter on Blackman was fun to write. Prophetically, I was presented the Blackman Medal at my retirement.
Still, I think the unsung heroes have been the generations of trustees, faculty and students — particularly those who stuck with the college in times of serious adversity. They never lost the faith when many wanted to throw in the towel. I spend some time revealing their tireless efforts.
---
Q: What was the most difficult period for the college? Did it ever seem as though it might not survive?
A: I've chosen the theme of "perseverance" because there were so many periods when it seemed the college wouldn't survive. But rather than damaging the college, the struggle gave it strength to weather storms of adversity at times when countless other colleges facing similar problems went under.
But to answer your question about a specific period: I would say the immediate years after World War I. The conflict had almost denuded the college of its male students, and depleted its finances. It emerged from the war deeply in debt.
Many wanted to give up the struggle as a lost cause. That's when Hamilton Holt came to the rescue — the college's knight in shining armor, if you will.
---
Q: Did writing the book give you a greater appreciation for Rollins? In what way?
A: Oh my, yes. For so many reasons. Because I knew so little of the college's past, I had countless "ah ha" moments during my research. I realized that many of the things we were doing academically had been passed down to us from previous generations of leaders.
For example, from my earliest days at Rollins, I sensed that I was expected to be innovative in my teaching, to experiment with new ideas and to create innovative educational programs. These were time-honored Rollins traditions — but I didn't know that at the time.
Also, I was surprised to learn how long Rollins had been so renowned. It had, all along, attracted brilliant professors and highly regarded figures.
I made two major discoveries in this realm. First, I learned that Zora Neale Hurston was deeply connected to the college, and that two Rollins professors had jump-started her fabulous career.
Second, I learned that Rollins was the seedbed for the founding of Black Mountain College, probably the nation's most celebrated experimental institution. Former Rollins professors started the school in North Carolina.
Let me just add here what I see as an important insight that came to me as I researched the college's past. As I mentioned earlier, the college community was in danger of losing its institutional memory. I had that fact reinforced to me time and time again.
As I had been reminding my history students, ignorance of our past can be seriously damaging. For a college, that can mean dangerously wandering into ways that seriously impair its historic mission.
Forgive me if I include a quote from President Cornwall's forward to the book: "In this time of rapidly shifting changes, one that requires (re)envisioning the role of liberal education in a global context, it is critical that present and future Rollins generations embrace the distinctive character that previous generations strove to build."
My hope is the Rollins College Centennial History provides assurance that we will never forget this college's past — and particularly how previous generations doggedly kept alive the commitment of liberal education. That's one of the meanings of the motto, "Fiat Lux."