Photos by Rafael Tongol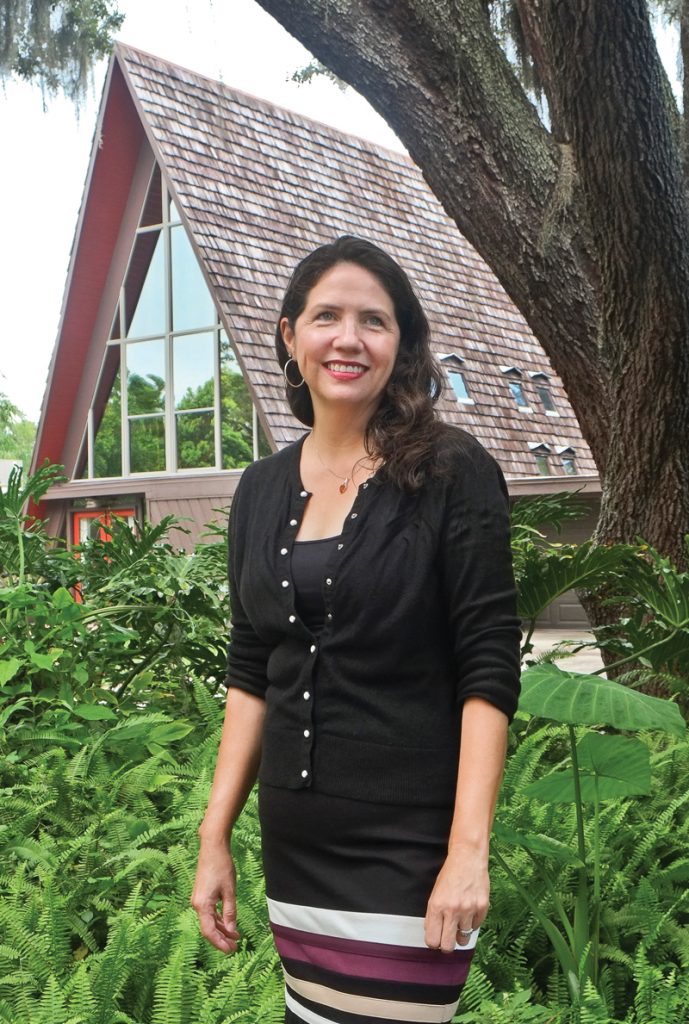 Most of us think we know a historic structure when we see one. But Christine Madrid French — Chris to her friends — encourages us to think again. That tacky Eisenhower-era strip mall, that generic Kennedy-era suburban ranch house or that foreboding Reagan-era office complex might be significant as well.
After all, French says, newer buildings can be just as evocative of an era — and just as worthy of love from architectural historians — as some of the gingerbread-laden, century-old showplaces that we now fight tooth and nail to preserve.
"We have a moving window of 50 years," says French, an über-credentialed expert in mid-century architecture who was born in Los Angeles and moved to Maitland with her family in 2011. "Someday, stuff built in the '90s will be historic. I'm not sure why that fact isn't readily apparent to everyone."
Such a stance remains a hard sell to some, who draw an analogy between buildings from the '50s, '60s and '70s and clothing from the same period. Polyester leisure suits, for example, are now thought to be an abomination resulting from an explicable but widespread lapse in sartorial judgment. Good riddance to them, right?
French, who's 50 but seems at least a decade younger, doesn't defend leisure suits. But she does have a track record of defending buildings that others — even some preservationists — consider expendable. There are several reasons why French's rather expansive view about the value of architecture from every era should be of interest to Winter Parkers.
First, she has emerged as a leader in the local historic-preservation movement, which has generally focused on protecting structures built well before World War II. Second, she is now executive director of the Casa Feliz Historic Home Museum, designed as a private residence in 1932 by Gamble Rogers II, Winter Park's most iconic architect.
Betsy Owens, executive director since 2004 (and, serendipitously, Rogers' granddaughter), has taken a full-time position with the Boys & Girls Clubs of Central Florida. During her tenure at Casa Feliz, which is owned by the city and operated at no cost to taxpayers by the not-for-profit Friends of Casa Feliz, Owens became one of the city's most high-profile historic-preservation proponents.
French, she notes, brings impressive credentials to the table, along with a passion for the city's architectural heritage equal to her own. "I wanted Casa Feliz to be left in good hands," says Owens, who led the campaign to save her grandfather's Andalusian-style masterpiece from demolition and relocate it to city property. "Chris was the most ideal person I knew for this job. She really combines charisma and scholarship."
Indeed she does. French, who has a bachelor's degree in architectural studies from the University of Utah and a master's degree in architectural history from the University of Virginia, is an adjunct professor at the University of Florida's College of Design, Construction and Planning. She commutes to Gainesville one day a week to teach a course called "Preservation Technology: Conserving Modern Heritage."
She's also co-founder and former president of the Recent Past Preservation Network, a not-for-profit organization that focuses on the protection of buildings less than 50 years old. She has written and lectured extensively on historic preservation in general and the significance of modernism in particular.
Nonetheless, despite her particular interest in structures that may not be viewed as historic in the traditional sense, French was a highly effective advocate for rescuing and rehabilitating an endangered home that was ancient by development-happy Central Florida standards.
She was project coordinator for Preservation Capen, a consortium formed by Casa Feliz, the Winter Park History Museum and the Albin Polasek Museum & Sculpture Gardens to save the 1885 Capen-Showalter House from demolition. The house was famously floated across Lake Osceola via barge to the Polasek's grounds, where it was restored and is now open to the public.
"Chris is very bright and personable," says Debbie Komanski, executive director of the Polasek. "So she was a perfect diplomat for the project. Plus, she has a real talent for organization and communication. We're lucky to have someone like her involved in our community."
French has also been curator of history for the Art & History Museums – Maitland. She was instrumental in preparing the documentation that landed the Mayan-themed Maitland Art Center, built in 1937, on the highly exclusive list of National Historic Landmarks. Other structures on the roster include the Empire State Building, the Gateway Arch, the White House and Hoover Dam.
Perhaps best of all, she's a master at finding money to fund preservation projects. Since 2013, her efforts have garnered more than $1.6 million — $1.1 million was for the Capen-Showalter project — from state and local governments, foundations and private donors.
Yet, her most high-profile — and contentious  — preservation battle was ultimately unsuccessful. In 1998, while living in Virginia, she initiated a lawsuit against the U.S. Department of the Interior when it announced that it would raze the ill-maintained Cyclorama Building at Gettysburg National Military Park.
The building, opened in 1962 and designed by modernist architect Richard Neutra, displayed a panoramic "cyclorama" painting of the 1863 Battle of Gettysburg. The National Park Service and the Gettysburg Foundation had deemed the glass, steel and concrete structure — nicknamed "Starship Enterprise" — to be jarringly out of place on the grassy expanse where Pickett's Charge took place.
French and her newly formed Recent Past Preservation Network won an injunction in federal court delaying demolition. But, after a legal battle that lasted three times longer than the Civil War, the building was bulldozed in 2013.
"I was so naïve in the '90s," says French. "I thought I could just tell them why this was an important building, and they'd change their minds. For sure, that one still stings."
Six years ago, French's husband, Scot, who holds a Ph.D. in African-American studies, was offered a position at UCF as associate professor of digital and public history. The couple and their children, Levi and Gideon, then moved to Maitland, where they found an appropriately quirky A-frame home built in the late '50s. French quickly began to get involved with local cultural and historical organizations.
"Any place I am, I'm always researching and seeing what happened in the past," French says. An informal walking tour of Maitland with her is packed with intriguing factual information and fascinating tales of scandalous behavior by early settlers. She laughs easily and her enthusiasm for all things historic — and all things that will eventually be historic — is infectious.
Still, as the federal government will attest, French is a fighter. And even though her causes are sometimes controversial, she can often win allies through a combination of sheer doggedness and the force of her ebullient personality. "I describe myself as assertively friendly," she says.
At Casa Feliz, French hopes to build on Owens' work, and to make the home an epicenter for historic-preservation education and advocacy. And she'll continue Owens' push for strengthened historic-preservation policies in Winter Park — although she realizes that a voluntary approach seems more palatable to a large contingent of locals.
"If that's what we're going to do, then let's do it right," French says. "Let's make people want to list their properties [on the Winter Park Register of Historic Places] by offering meaningful incentives." Buildings on the local registry are more difficult to demolish and must be remodeled according to specific guidelines.
Can a less confrontational and more collaborative approach result — at long last — in some sort of consensus on this hot-button issue? French hopes so, but perhaps that's because some of her cyclorama naïveté is creeping back. More likely, though, she's become convinced that Winter Park's eclectic architecture is an asset that, unlike a '50s-era national-park visitor center, everyone can agree is worth saving.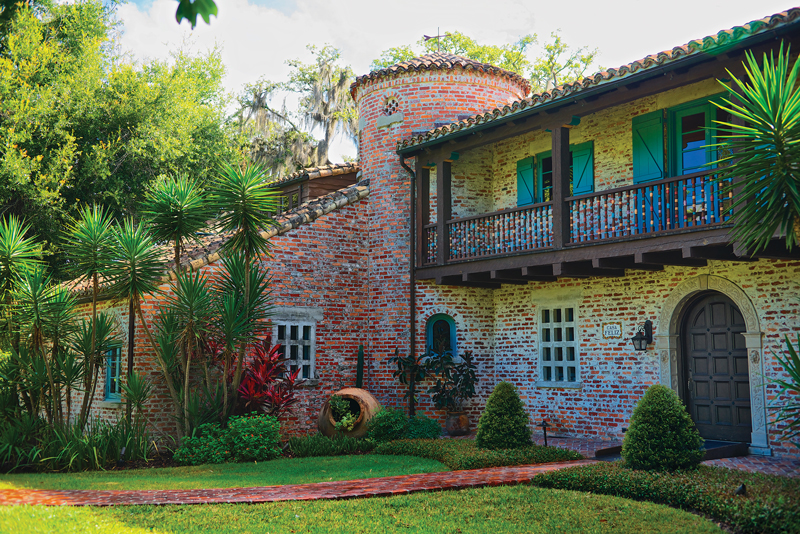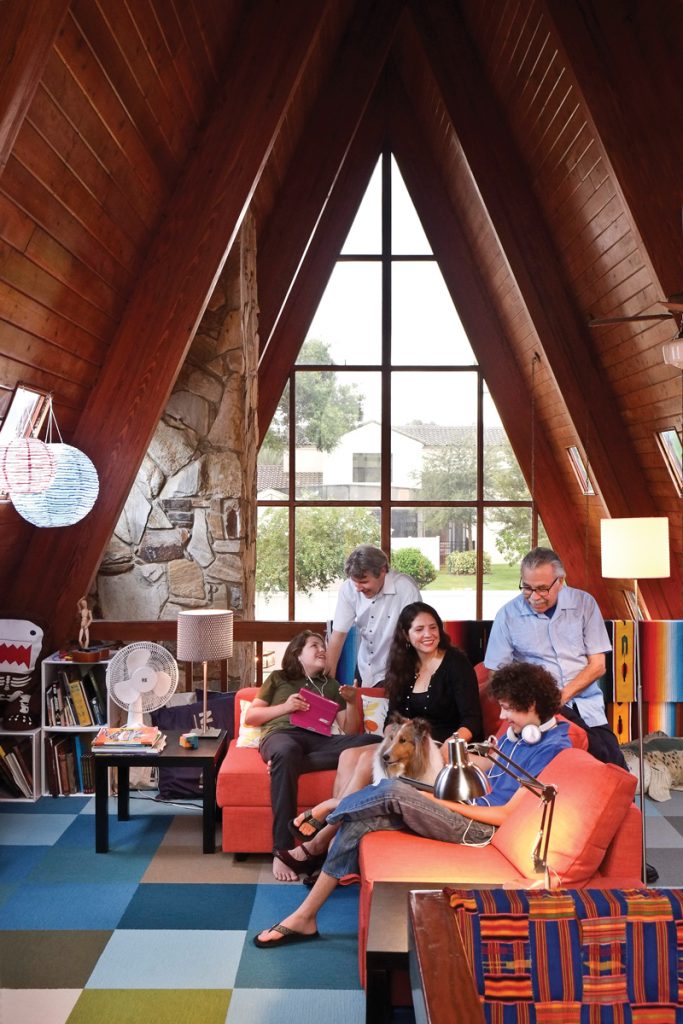 A Lost Cause: Cyclorama Drama, Then Demolition
Displays of so-called cyclorama paintings were the IMAX theaters of the 19th century. The sweeping, 360-degree images, which usually depicted battles and other historical events, placed viewers squarely in the middle of the action. Paul Philippoteaux's 1883 Battle of Gettysburg certainly accomplished just that. The painting was displayed in a farmhouse-turned-museum until 1962, when it was installed in a cylindrical concrete-and-glass structure in Gettysburg National Military Park. The building, designed by famed modernist architect Richard Neutra, was a product of the National Park Service's "Mission 66" program to modernize its visitor centers. Soon after its opening, the Cyclorama Center was described as "quietly monumental but entirely unsentimental" by the Washington Post. Over the years, it fell out of favor and into disrepair. Neutra's building, which Christine Madrid French sued the federal government to save, was demolished in 2013, becoming Gettysburg's final casualty. But Philippoteaux's painting is on display at a new museum and visitor center designed to look like — you guessed it — an old farmhouse.