Photographs by Rafael Tongol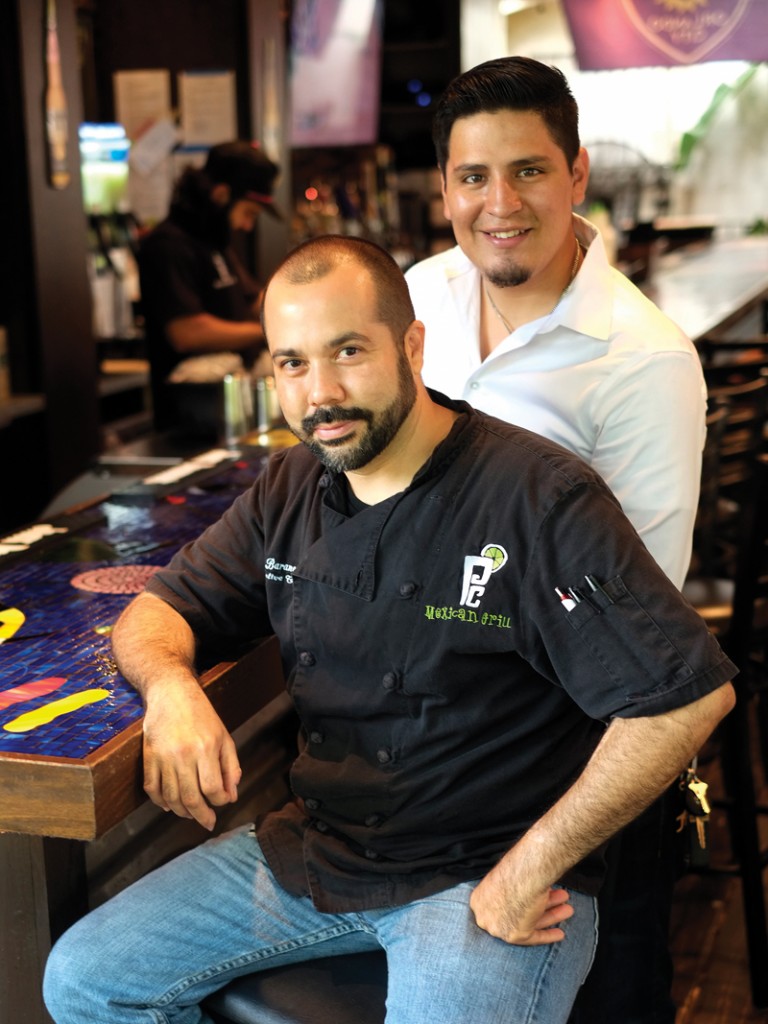 Expect to see Pepe's Cantina pop up on your Instagram feed. Whether you're chuckling at a photo of a monstrous two-liter margarita, or salivating at a video of guacamole being made tableside, you'll be getting a peek into Pepe's excesses through the eyes of your social-media-savvy friends.
That's by design. When three veterans of Mi Tomatina, which occupied the Pepe's space for five years, emerged last October with this fresh-Mex concept, they planned to rely heavily on social media to get the word out.
But while a strong digital presence might tempt you to visit out of curiosity, the Pepe's team knows that the food must be up to par if you're going to become a regular. After tasting its fresher-than-average Mexican fare, I expect that your first visit likely won't be your last.
"The market for Mexican restaurants is huge," says General Manager Frank Chavez, who owns and runs the restaurant with Executive Chef Jose Baranenko. (One of Mi Tomatina's former owners, Stuart Kirban, is a silent partner.)
Adds Chavez: "American people love them. Hispanic people love them. They love the casual atmosphere, the flavors, the margaritas and the tequilas."
Hey, what's not to love? The downside, if you're a restauranteur, is that there's a lot of competition in the Mexican category.
Undaunted, Chavez and Baranenko began planning their culinary venture, and they jumped on the Mi Tomatina site when they learned their employer was closing. While the former eatery specialized in the foods of Spain, the natives of Ecuador and Venezuela, respectively, decided on Mexican fare.
They spruced up Mi Tomatina's tiny dining room, front patio and backyard bar, where hightops stand at the side of the building, hidden from the street.
On the interior walls were hung photos from Xico, Mexico, and a painting by south-of-the-border artist Frida Kahlo. Chavez and Baranenko kept the colorful stained-glass mosaic tables, since the vivid hues complemented the upbeat concept they envisioned.
Chavez also carefully chose the musical backdrop. Soothing Colombian songs play early in the day, while in the afternoon more lively mariachi standards get the drinking crowd up and dancing. Then, at night, more sensual salsa and merengue tunes predominate.
In the kitchen, Baranenko chose to add some twists here and there. For example, the refried beans are laced with Mexican chorizo sausage. Most important, though, is the fact that he uses fresh ingredients consistently, beginning with housemade corn tortillas.
"The chefs made salsa from canned tomatoes in every Mexican restaurant I ever worked in," Chavez says. "All of them." At Pepe's, however, the culinary crew creates its signature dip twice a day with fresh tomatoes.
That way, the salsa is, as Chavez says, "super fresh." The chips served with them are deep-fried, hand-cut white corn tortillas — although of a commercial make.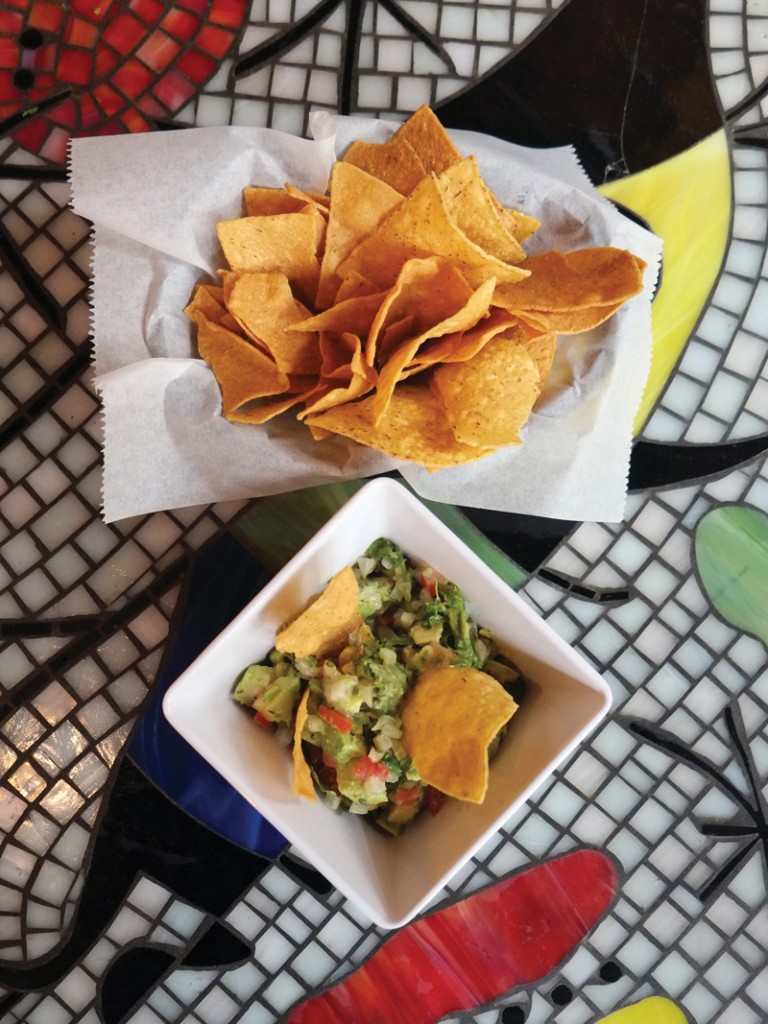 Word-of-mouth reviews have been mixed. In the months preceding our visit, some food-wise friends gushed that Pepe's has "the most amazing Mexican food I've ever had," while others shrugged and proclaimed it to be "a typical Mexican restaurant." The truth lies between the two extremes.
Under the category of exceptional, look no further than the guacamole. It's not unusual for the mashed avocado starter to be made tableside, which I've seen before — but not in Winter Park.
And at Pepe's, they do it right. During a recent visit, we watched a serious young man peel and cut two whole avocados in a wooden bowl, then mix them with onions, cilantro, lime juice, tomatoes and a jalapeño sauce. The result? The most delightfully flavored guacamole we've ever had. The chunks were too big, but the flavor made that fact forgivable.
The ceviche isn't nearly as exciting. It's fresh — lime juice-marinated tilapia with crisp vegetables — but it didn't have us dancing the jarabe.
Pepe's food menu is mostly familiar. You'll find tacos and fajitas, chimichangas and burritos, plus entrées like chicken mole and fish Veracruz.
The ingredients are consistently top-notch — we saw no gloppy canned cheese, for instance, as we do elsewhere in greater Orlando. And these entrées weren't preplated and popped in a microwave — a common practice elsewhere.
We went for the chiles rellenos — roasted, battered and fried poblano peppers filled with cheese and topped with red sauce — and the grilled shrimp and al pastor (marinated and roasted pork with pineapple) tacos. All were fine.
And then dessert came along. Like the guacamole, this was a game-changer. Flan is a custard dessert with an enticingly almost-burnt taste. Here, Baranenko made the classic Latino meal-ender richer by adding a generous amount of cream cheese.
"We think of our flan as being like cheesecake flan," he says. That's a good description; this was one memorable sweet. But, chef, that maraschino cherry needs to go. The dish doesn't need it.
Speaking of sweet, Pepe's is intense with its margaritas. A house version is available frozen, on the rocks, or in a two-liter version called the Don Pepe, which is topped with two mini bottles of Corona beer. Cranberry, spicy pineapple and peach margaritas are among the other options.
You might instead choose a fruity rum punch, which packs an olé punch with four types of rum plus grenadine and pineapple and orange juices. But, again with the maraschino cherry. Ay yi yi.
So, is there really a Pepe? Yes, in fact. "Pepe" is a common Mexican nickname for Jose, which is Baranenko's moniker. The owners liked the way Pepe's Cantina sounds and chose it. Then they started actually calling the chef Pepe instead of Jose. "He likes it," Chavez says.
So head on over to Hannibal Square, order a margarita or rum punch, and take in the sunshine over guacamole and flan. (Don't forget your camera in case you get the social media calling.) While you do, share a toast to Pepe-slash-Jose. ¡Salud!
Pepe's Cantina
433 W. New England Ave.
Winter Park, FL 32789
321-972-4881 • pepescantina.com