A BOOM, FOR ALL THE RIGHT REASONS
Nobody — not even a remodeler — is going to try and make the case that remodeling an old home is easier than buying a new one. Remodeling is a major hassle under the best of circumstances.
And it's easy to spend more than you intended, or more than you're likely to recoup, especially after only a short time.
Yet, the market for remodeling is stronger today than it was at the peak of the housing boom.
In February, Washington, D.C.-based Metrostudy released its 2015 Residential Remodeling Index (RRI), which quantified remodeling activity nationwide. The RRI notched a reading of 103.1 in the fourth quarter of last year, up 5.4 percent from a year earlier.
That makes 15 consecutive quarters of year-over-year gains since the industry bottomed out at the end of 2011.
What does all that mean? The RRI baseline is 100, which was the peak achieved during the fourth quarter of 2007, after which the Great Recession began to take hold.
So, a reading of 103.1 means the remodeling business today is even better than it was when we were all "irrationally exuberant." But it's different now. For many of us, the crash changed our priorities forever.
In 2007, investors were remodeling old homes purely for the purpose of flipping them in a few months and earning a big payoff. Today, families are remodeling old homes in which to live and raise their children for years to come.
While not dismissing the potential for financial return, they're more concerned with creating places that suit their aesthetics and their lifestyles, in neighborhoods that are mature, safe and close to everything.
In this special section of Winter Park Magazine, we spotlight some locals who have restored and renewed some of the city's delightful old homes. We also talk to the experts about remodeling in general, and how to go about it in an informed way.
Old homes aren't for everybody. But maybe an old home is right for you. Winter Park, in particular, is full of vintage structures that need only a little TLC to host a new generation of memory makers.
— Randy Noles
---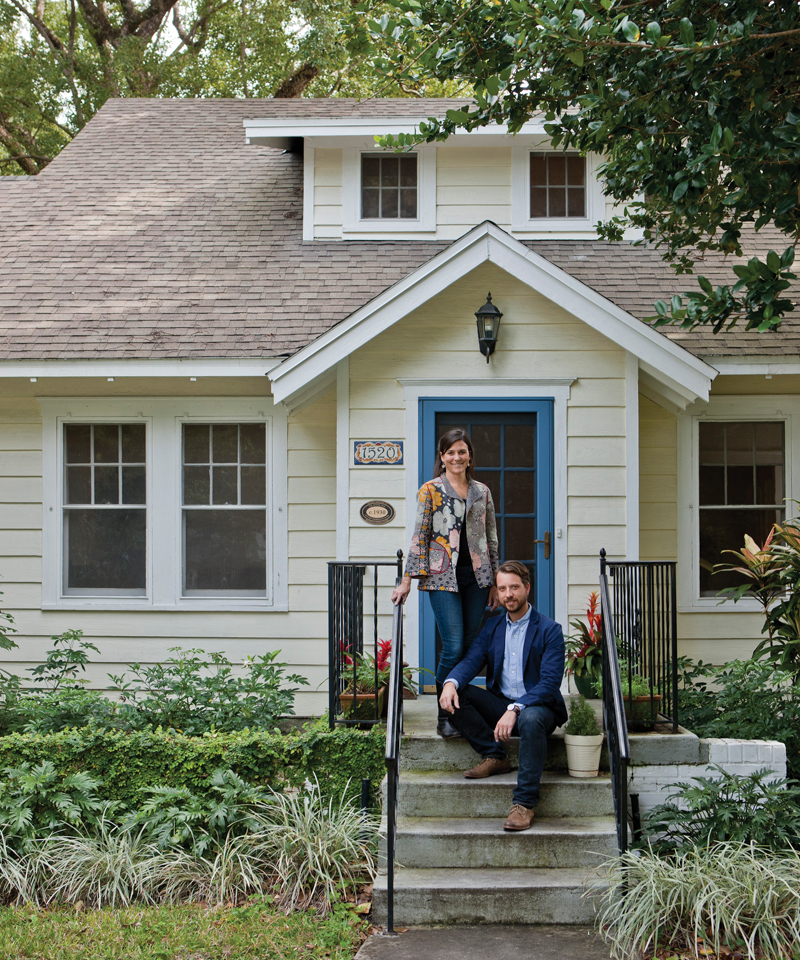 MEMORIES ARE MADE OF THIS
Old homes aren't for everyone. But these families have found a deep sense of satisfaction by settling in quirky historic charmers.
BY RANDY NOLES
PHOTOGRAPHS BY RAFAEL TONGOL
"It's all a conspiracy, I tell you! The minute you start, they put you on the all-American sucker list. You start out to build a home and wind up in the poorhouse. And if it can happen to me, what about the guys who aren't making $15,000 a year? The ones who want a home of their own. It's a conspiracy, I tell you — against every boy and girl who were ever in love!"
— Jim Blandings
Manhattan ad man Jim Blandings (Cary Grant) has had enough of city life. Instead of a crowded apartment, he envisions a spacious, single-family home in Connecticut where he and his wife, Muriel (Myrna Loy), can put down roots and raise their children in a stress-free setting.
The 1948 film, Mr. Blandings Builds His Dream House, follows the travails of the hapless Blandings clan as they buy a home intending to remodel it, but ultimately tear it down when they learn that it's on the verge of collapse.
They build anew with the help of a flinty assortment of tradespeople who explain that most aspects of the project are either impossible or twice as costly as anticipated.
It's a screwball comedy, but also a horror story. And some 65 years later, Mr. Blandings' experience remains a cautionary tale for those who wish to remodel an older home but begin the process uninformed and unprepared.
In Winter Park, where there are many old homes and two local historic districts, there are likely people for whom Mr. Blandings Builds His Dream House is a little too realistic to be funny.
Remodeling is stressful under the best of circumstances. But in the College Quarter and Virginia Heights East neighborhoods, homes deemed historically or architecturally significant undergo an extra level of scrutiny.
Winter Park's historic preservation ordinance seeks mainly to regulate major changes to the facades of older homes. Therefore, while anything goes on the inside, an appointed Historic Preservation Board must OK most exterior changes.
That's also true of homes outside the two districts that have been listed on the Winter Park Register of Historic Places. Registration of individual homes is voluntary, and initiated by the homeowner. There are about 80 such homes citywide.
Formation of a historic district is a complex process that ultimately requires a neighborhood vote, with the threshold for approval recently lowered from 67 percent to 50 percent plus one.
Regardless, those who choose to buy and renovate old homes — even those that are not listed on the local historic registry or in a local historic district — do so because they love the charm and character of old homes, quirks and all.
Some know exactly what they're getting into and take the inevitable obstacles and surprises in stride. Others — primarily those who haven't done their homework, so to speak — may find themselves as flustered and discouraged as Jim Blandings.
Any expert will tell you that it's all about the team you hire. Remodelers like Frank Roark, who specialize in old homes, rarely if ever encounter problems that can't be solved. Roark was raised in Maitland and moved into a vintage Victorian home on Packwood Avenue when he and his wife, Angela, were newlyweds.
"These homes are one-of-a-kind construction," Says Roark, who masterminded the world-famous move of Winter Park's Capen-Showalter House across Lake Osceola on a barge. "They're works of art."
Roark was the general contractor on two recent renovations in Virginia Heights East. His clients were a pair of young couples with kids — Wade and Hannah Miller, and Russ and Andi Prather — who were eager to put down roots in this venerable, tree-lined neighborhood, where the architecture is eclectic and many homes date from the 1920s or earlier.
"It's very encouraging to see young families gravitating toward older homes in historic districts," says Roark, who adds that Orwellian tales regarding bureaucratic intrusion are overblown. "People are often surprised at how much leeway they have."
That was the case with the Millers, who in 2014 bought their wood-frame bungalow on Glencoe Road for $560,000. Hannah, 36, an attorney, had her eye on the home for several years.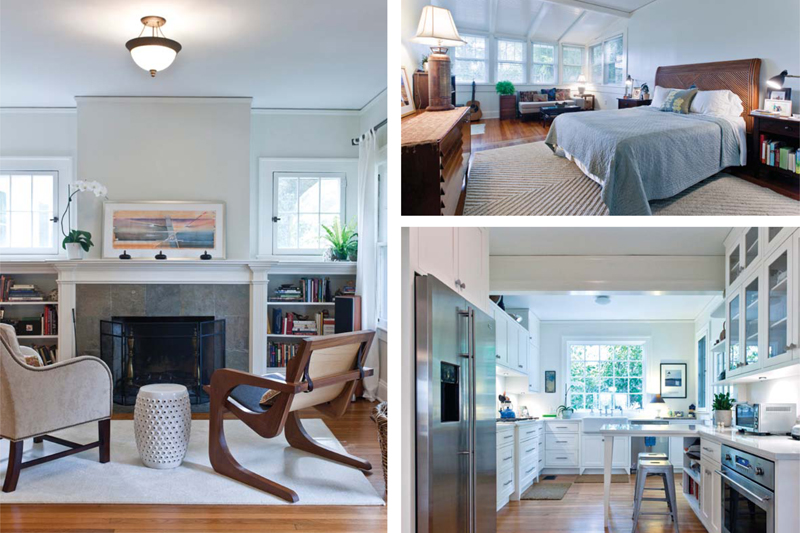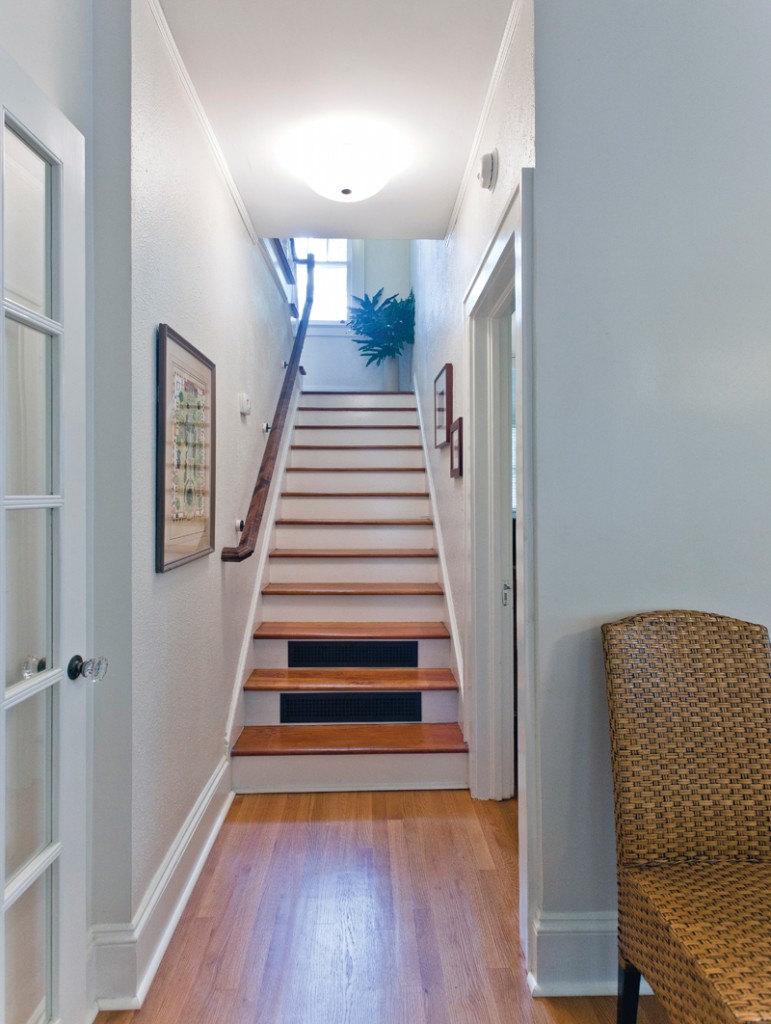 "I was in town several years ago visiting my parents, and drove by the house," recalls Hannah, who at the time lived in Austin with Wade. "I fell in love with it. It just felt like our house."
When the home was about to go on the market — Hannah says her mom tipped her off in advance — the Millers acted quickly. Then they relocated to Winter Park, where they plan to stay put and raise their children, now 5 and 18 months.
Hannah was surprised to find that the previous owners had planned to remodel, and been granted approval by the Historic Preservation Board to double the size of the home's footprint.
Wade, 37, an architect, says the project would have been overkill. "Some people feel you can't do anything [with a home in a historic district]," Wade says. "That's a fallacy. Obviously, you can do a lot."
The Millers, however, chose a more minimalist approach. From the outside, the home looks much like it did in 1930, when it was built. And the only additional square footage resulted from converting an unfinished portion of the attic into a reading nook for the children.
"It's just the right size for our family," says Hannah, who has a home office just off the living room.
Mainly, the couple made better use of the space that already existed. They gutted the kitchen and knocked down some walls, opening up what had been a narrow hallway at the foot of the stairs and creating extra space in what's now an L-shaped master bedroom.
They also added some closets, which are notoriously insufficient in old homes.
The result? It's hard to imagine a more welcoming, homey, family friendly place. Wade, a masterful woodworker, built some of the furniture and created a hidden fort for the kids deep in the lush backyard vegetation.
Sometimes, the Millers say, the rewards of living in a historic home are more emotional than financial.
"I had a glorious moment," recalls Wade. "An older gentleman walked by and said, 'My grandfather built this house, and I spent a lot of time here as a child.' I invited him inside and loved seeing the twinkle in his eye."
Just around the corner, on Stirling Avenue, Russ Prather, 44, and his wife, Andi, 35, are raising five children ranging in age from 3 to 10 in a Dutch Colonial revival-style home designed by George Edward Krug, who was among the first architects to practice in Central Florida.
The home, built in 1928 and bought by the Prathers in 2010 for $635,000, had 2,650 square feet of living area. But with plans for a large family, the couple knew they'd eventually need more room.
Now, after a carport was converted into a second sunroom and the back was extended for the kitchen and master bedroom, there's 3,700 square feet. The attic remains unfinished, but it's air conditioned and could someday be converted into a functional third floor.
Russ, a pediatrician, said he "loved old houses, but we just couldn't find one that hadn't already been renovated." The Stirling home, however, had stood for 80 years without substantial changes. There'd been only three previous owners.
"We loved the charm, the high ceilings and the natural light," Russ says. "And we were surprised at what excellent shape it was in. It had great bones. Everything we've done, we've tried to be faithful to the house."
That approach is apparent in the way the rear addition, from the exterior, appears to be part of the original structure. The plank siding, which is no longer manufactured, had to be custom milled to match and blend seamlessly.
The kitchen island was made from reclaimed heart pine flooring that had to be torn out during the expansion. And the windows were removed and refurbished, not replaced with new ones.
Surprisingly, the home has a full basement, a rarity in waterlogged Florida. But Krug built primarily in New York and New Jersey before moving to Orlando in 1919, and would have been accustomed to designing homes with basements. (Luckily, the half-acre corner lot is high and dry, so water intrusion hasn't been a problem.)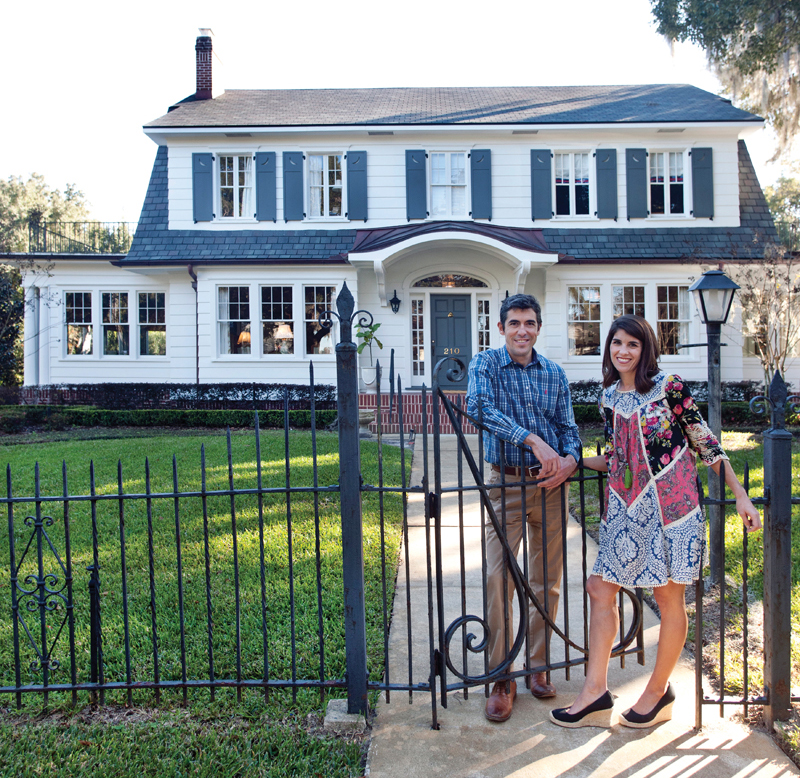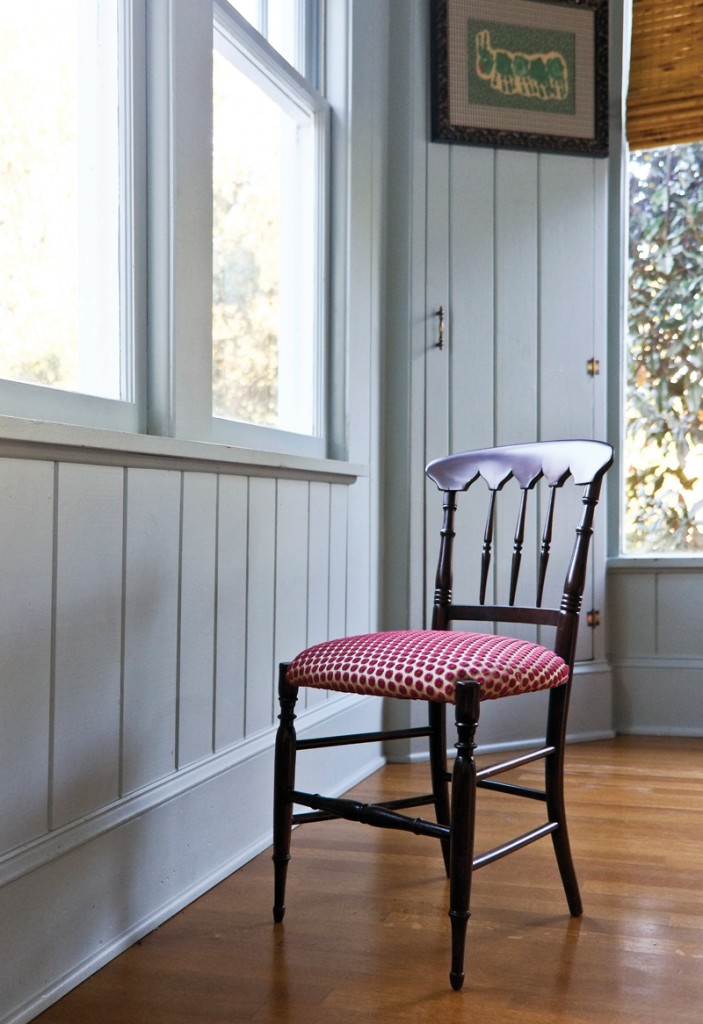 Krug, in fact, was one of a small group of architects selected to design homes in Livingston Manor, an early 20th-century subdivision in Highland Park, New Jersey. Today, the Livingston Manor Historic District is on the New Jersey Register of Historic Places and the National Register of Historic Places.
Andi says her connection to the house was deepened when she discovered Krug's original blueprints — a set is framed and hanging on a living room wall — as well as letters written by previous residents. For reasons that are unclear, a child's chair that had been used by all three previous owners remains in the home.
In a touch of small-town serendipity, one of those three owners was the Skolfield family, who lived there for more than 50 years. Susan Skolfield, now executive director of the Winter Park History Museum, was raised in the home and is a Prather family friend.
"There are so many memories in this place," says Andi. "And not just our own memories. You can feel it." Adds Russ: "It takes a certain kind of personality to appreciate an old house — you have to view its flaws as part of its character."
And look who else is living in an old home: Phil Kean and Brad Grosberg, principals in Winter Park-based Phil Kean Design Group.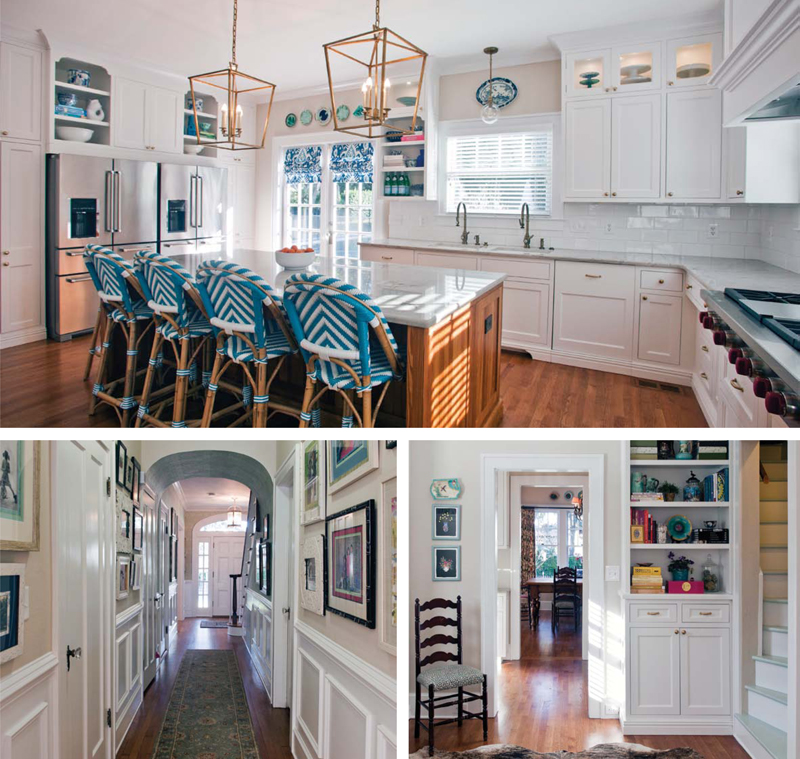 Kean, an architect known for his contemporary designs, and Grosberg, who runs the company's real-estate brokerage division, recently paid $1.5 million for a James Gamble Rogers II-designed home on Alabama Drive.
No, they don't plan to tear it down, although nothing would prevent them from doing so. The 3,809-square-foot home, which boasts frontage on Lake Maitland, is not in a historic district and is not listed on the local registry.
Instead, Kean and Grosberg plan only to raise some ceilings and make some cosmetic repairs on the Colonial revival-style charmer, which was built in 1941 and remodeled in 1999.
The couple sold their previous home on Alexander Place for $2.7 million, which is thought to be the highest price per square foot ever paid for a non-lakefront home in Winter Park. Designed by Kean, it was featured as the New American Home during the 2012 International Builders Show.
The solidly traditional Alabama Drive home couldn't be more different. Which is fine by Kean, who can't understand why so many people assume that a designer of new homes can't possibly appreciate the intrinsic value of old homes.
Kean, in fact, thinks of himself as an aficionado of fine architecture, regardless of the genre. And he has lived in old homes before, including one on Woodmere Drive that was attributed to Rogers.
"I think the appeal of an older home usually is the character and history," says Kean. "Others may feel a stewardship to care for and preserve a lovely old home. And some may be drawn to the details or scale that older homes often have."
Kean, an alternate member of the Winter Park Historic Preservation Board, says he and Grosberg loved living in the ultra-modern Alexander Place home. "We lived there for four years and didn't think we'd ever leave," he adds. "Selling it was kind of a fluke, really. But we saw this place and said, 'Wow! What a great house!'"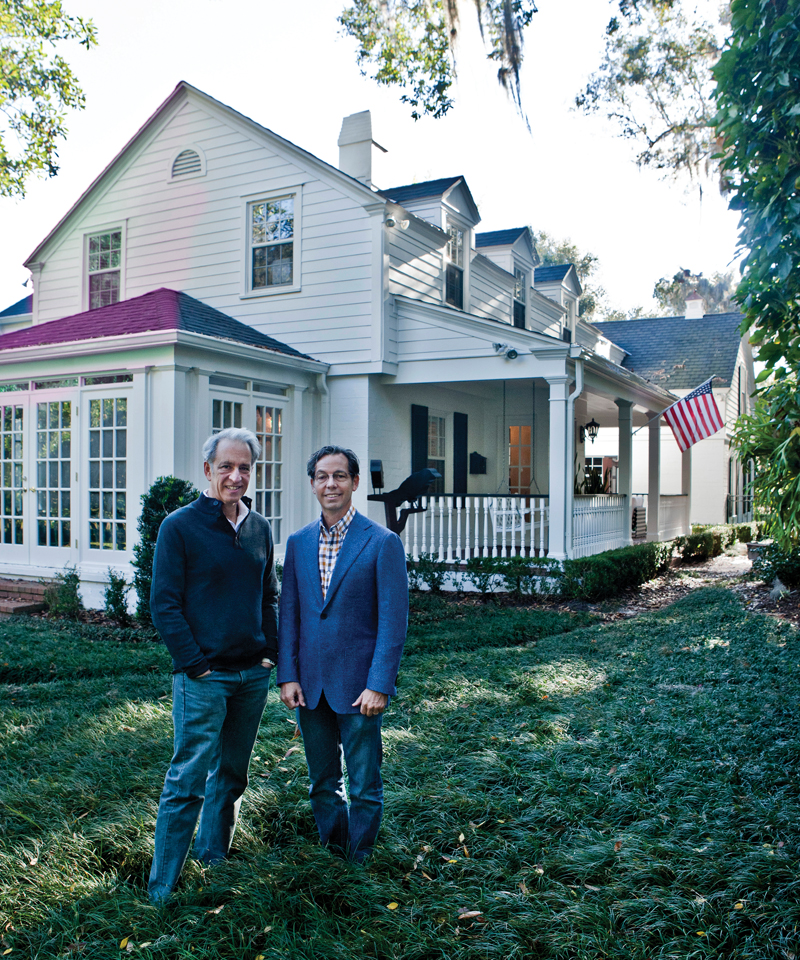 ---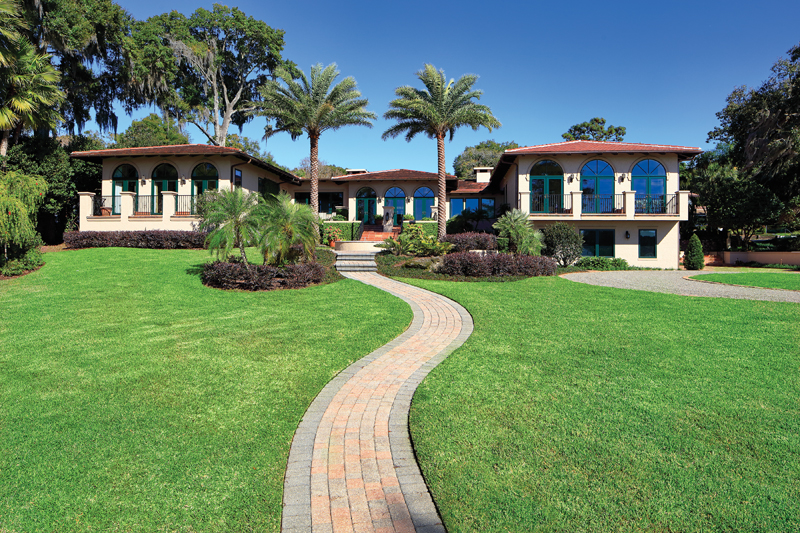 A SOLID FOUNDATION
If you're remodeling your home, it pays to know what you're getting into. Just ask Friedrich Nietzsche. 
Friedrich Nietzsche, the German philosopher, may have had a more difficult time understanding building than he did religion, morality, culture and science.
Nietzsche once said: "When one has finished building one's house, one suddenly realizes that, in the process, one has learned something that one really needed to know in the worst way — before one began."
So, if you find construction projects daunting, don't feel bad. One of the most brilliant people who ever lived apparently found out the hard way that he hadn't adequately prepared himself for the experience.
If you're thinking about remodeling your home, be smarter than Nietzsche about it. Do your homework. Run the numbers. And most important, hire a qualified contractor with a strong track record of customer satisfaction.
You'll be in good company, especially in Winter Park, where there are two historic districts and an abundance of old homes that can be made like new again for less than the cost of building new from scratch.
In fact, according to the latest leading indicator of home-remodeling activity at the Joint Center for Housing Studies at Harvard University, expenditures on remodeling are expected to increase by more than 10 percent this year versus last year.
"As owners gain more confidence in the housing market, they're likely to undertake home improvements that they've deferred," says Eric S. Belsky, managing director of the center.
Also, home-improvement projects are making more financial sense these days.
While most renovations don't pay off dollar-for-dollar when you sell your home, the average return in 2015 increased to 64.4 percent. That's up from 62 percent in 2014 and the largest increase since 2005, according to Remodeling Magazine.
So it's no surprise that a 2014 study by Houzz.com, a home-improvement website, found that homeowners would rather postpone vacations and avoid big-ticket purchases, such as vehicles, than delay or decrease their budgets for remodeling.
Still, it's easy for a homeowner with little experience in the remodeling realm to end up unhappy. Last year, the Better Business Bureau received nearly 8,500 complaints about remodelers nationwide.
So, Winter Park Magazine rounded up a cadre of excellent remodelers, all of whom are local industry leaders, and asked them the questions you'd want to ask if you were thinking about embarking on a remodeling project.
Here's what they had to say:
What kind of qualifications should a remodeler have? Do all those fancy-sounding certifications really mean anything?
Yes, they do, up to a certain point. In recent years, the remodeling industry has worked hard to differentiate professional, credentialed contractors from the ubiquitous "guys in trucks" that local TV stations so love to confront.
Both the National Association of Home Builders (NAHB) and the National Association of the Remodeling Industry (NARI) offer certification programs.
NAHB programs include Certified Graduate Remodeler (CGR), Certified Aging-in-Place Specialist (CAPS) and Certified Green Professional (CGP).
NARI programs include certification for five distinct groups of remodeling professionals. For example, a specialist in kitchen and bathroom rehabs may earn a Certified Kitchen and Bath Remodeler (CKBR) designation.
At the very least, a remodeler should be licensed by the state as a contractor. And membership in one or more trade associations is usually a good sign that the remodeler cares about professionalism and continuing education.
A remodeler who has taken the time to earn certifications is likely to be a reputable businessperson, says Jonathan McGrath, president of Jonathan McGrath Construction in Longwood.
"Keeping up with changes in the industry is an important indicator," notes McGrath, whose company was co-founded more than 30 years ago with his wife, Marion. "A remodeler who's acquired these certifications improves his or her business acumen, and runs a more professional operation. That can only help the client."
Although certifications may be a plus, they're still no guarantee of a good job, according to Victor Farina, president of Farina & Sons in College Park.
"It's far more important that your remodeler has longevity and extensive experience in the field," says Farina, whose company has been in business since 1950.
Everyone agrees that checking references, seeing completed work and feeling personally comfortable with a remodeler — after all, the two of you are going to be in close proximity for an extended period of time — are also essential to ensuring that you've made a good choice.
Sure, remodeling can be expensive. But so is buying a new home. How do I decide which is best for me?
"Location, location, location," says Tom Lamar, president of Lamar Design in Winter Park, repeating the old real-estate axiom. "That's the No. 1 reason to remodel. If you love your neighborhood but have outgrown your home, remodel."
Farina agrees that location is key. "Some folks find that their homes no longer meet their needs," he says. "But they don't want to tear down and move away. For them, remodeling may be the best solution."
But Farina tells potential clients not to remodel if they're planning to move in a couple of years. "It won't be worth the stress," he says.
Frank Roark, president of Frank Roark General Contractor in Winter Park, says he's rarely, if ever, encountered a case in which it was more expensive to remodel an old home than to build a comparable new home on the same site.
"In almost every case, tearing down doesn't make sense," Roark says. Of course, the key word in his answer is "comparable." He's not an advocate of building out-of-scale showplaces in unpretentious neighborhoods.
Rather than do that, Roark asks, why not buy in a neighborhood where larger homes already exist, or where they wouldn't appear out of place?
Obviously, that can be a tough sell in Winter Park, where property values are high and smaller homes are constantly being demolished to make way for McMansions. But we digress.
"Many existing homes have good bones and inherent character," agrees Farina. "By working with what's already there, the quality and the integrity of the home remains."
Even if a home is undergoing a renovation so major that its appearance will be entirely changed, Farina says he can often use the existing foundation, exterior walls and wood floors.
In any case, the bottom line is this: Invest in remodeling because you love your home and want to remain — not because you plan to flip it for a big profit. That attitude is so 2004.
Taxes are a consideration as well. If you add square footage, your remodeled home will be reappraised and your taxes increased proportionally — but not nearly to the same extent as building an entirely new home.
How much should I spend on remodeling my home? Will I ever recoup my investment when I sell?
"The answer is, 'it depends,'" says Charlie Clayton, president of Charles Clayton Construction in Winter Park. "Each home is unique. View your project as both creating a great place to live and creating a great investment."
Clayton, a second-generation builder, adds that some projects make more financial sense than others. "Remodel the right areas," he says. "Don't redo a living room and leave an outdated kitchen or bathroom."
Of course, when remodeling you shouldn't over-improve for the neighborhood you're in. A good remodeler or a knowledgeable real-estate agent can help you assess what's reasonable for where you live.
Still, if you're the sort who must quantify everything, Remodeling Magazine publishes a Cost vs. Value Report that estimates the cost of various improvements and the likely return at resale a year following completion.
In Central Florida, according to the report, a "minor" kitchen remodel (about $18,000) returns 122 percent. But a "major" kitchen remodel (about $56,000) returns just 73 percent.
A bathroom remodel (about $16,000) returns 75 percent. But a bathroom addition (about $38,000) returns just 58 percent. New roofing (about $19,000) returns 91 percent.
Less sexy — and less costly — improvements, such as attic insulation, power generators and window and door replacements, may return 90 percent or more. Relatively inexpensive enhancements to a home's exterior, such as adding a stone veneer, also offer high returns.
Mostly, though, it'll take a substantial amount of time to fully recoup your remodeling investment. That confirms the wisdom of doing so only if you plan to stay put for a while.
What are the most popular remodeling projects?
Not surprisingly, kitchens and bathrooms still top the list, mostly because those are the rooms in which out-of-date design and technology are the most glaringly apparent.
"Master bathroom renovations seem slightly more popular, with kitchens a close second," says McGrath. "Clients want the spa-like showers and, if space is tight, they want the tub removed."
In kitchens, McGrath says, under-counter LED lighting, taller cabinets and large single-level islands are on most wish lists. Farina says he's seeing an upswing in clients wanting to combine their kitchens and great rooms, eliminating formal dining rooms altogether.
Clayton notes that glass-tile or full-slab marble backsplashes are popular in his kitchen projects, along with stainless-steel appliances, glass cooktops and pizza ovens. Subway tile is a hot bathroom trend, he adds.
Lamar's clients like mixing materials — tile, wood, steel, granite — and using plenty of white with gray and black accents in their revamped kitchens. They're also interested in new countertop materials, such as tempered glass and nanotech matt, a material that actually "heals" when it's cut.
Lavish outdoor living areas are also popular, and empty nesters are converting unused bedrooms into exercise areas, home theaters and hobby rooms. And master bedrooms are becoming more lavish, with coffee bars, mini-fridges and lounging areas.
How about homes in historic districts, or homes that have a local historic district designation?
Many of the challenges encountered in remodeling a designated historic home are the same as those encountered in remodeling any old home. The most common issue vexing remodelers is undoing shoddy work by past remodelers or, more typically, by do-it-yourselfers.
Changes to the exteriors of historic homes must also be approved by the Winter Park Historic Preservation Board, which works from a lengthy list of requirements. Using original materials, when possible, is encouraged.
"Blending old with new finishes requires meticulous detail work and is labor-intensive, but it's an absolute must," says Farina. "You don't want to see where old and new meets."
Some materials are no longer manufactured, and must therefore be custom made. But Farina had a client in Winter Park for whom he was able to locate genuine old barrel tile to repair the roof. 
"It was expensive," he says. "But it wasn't as expensive as replacing the whole roof would have been."
No homeowners or remodelers interviewed by Winter Park Magazine said they'd ever encountered insurmountable difficulty dealing with the Historic Preservation Board on their remodeling projects.
"You can do additions and alterations," says Roark. "You're just expected to keep the appropriate scale and style. There are a lot of misconceptions out there about people telling you what color you paint your door."
In fact, Roark notes, homeowners in designated historic districts can get certain variances okayed by the board without going through the city's usual variance approval process. 
For example, he says, detached garages with apartments and separate electric meters, which are now considered nonconforming structures by the city's Land Development Code, may be built in historic districts because they're in keeping with the historic character of the neighborhood.
The contract with my remodeler is 25 pages long. I need a lawyer to review it. What really needs to be included?
A detailed contract is for everybody's protection. But you should be certain that you understand it and that it includes, among other things, these elements: A timetable, a price and payment schedule, detailed specifications, insurance documentation, permit information, procedures for handling change orders, provisions for conflict resolution and notice of your rights under the Fair Trade Commission's "Cooling Off Rule."
The rule spells out your right to cancel the contract within three days if it was signed someplace other than the remodeler's place of business.
Details on issues such as access to your home, care of the premises, phone and bathroom use, and cleanup and trash removal should also be dealt with.
"We like to educate our clients as much as possible before starting the renovation," says McGrath. "The biggest investment for most clients is their home, so having all the details spelled out is crucial."