Those who spent any time with Hugh F. McKean likely remember him as a dashingly patrician older man with a shock of wavy white hair, a twinkle in his eye and a square jaw indicative of the matinee-idol good looks that he enjoyed in his youth.
They recall his wry humor, his courtly manner and his cultural pursuits, usually those aimed at making art more accessible to people not generally inclined to visit museums.
Some were lucky enough to join McKean and his childhood friend John Tiedtke for one of the duo's legendary lunches. Tiedtke, a wealthy sugar cane grower, also headed the Bach Festival Society of Winter Park and was a past professor, dean, treasurer and vice president of Rollins College, which McKean led as president from 1951 to 1969.
The pair discussed every topic imaginable — guests were invariably awed by the breadth and depth of their knowledge — and often concluded their confabs by good-naturedly griping about the reluctance of one or the other to pick up the check.
McKean's endearing quirks are usually prominent in any conversation about him. Although he wasn't an eccentric — that descriptor generally denotes episodes of bizarre behavior — he was undeniably quirky, in a visionary sort of way.
In 1967, for example, he submitted to the Rollins board of trustees an annual report that was hand lettered and illustrated with whimsical cartoons. And in his post-presidential years, he began salvaging and restoring commercial signs — particularly garish neon ones — including two from notorious local strip clubs.
Others who didn't know McKean personally know of him through his vocations and avocations: educator, philosopher, philanthropist, college president, Tiffany preservationist and director of the Morse Museum of American Art, where the eclectic collection includes the world's most comprehensive assortment of works by Louis Comfort Tiffany.
McKean was also the man who, with his wife, Jeannette, brought the first peacocks to Winter Park and opened the grounds surrounding their sprawling estate, Wind Song, to let the public see the noisy peafowl strut and preen. Today, a peacock is emblazoned on the city's official logo.
Undoubtedly, McKean came to embody Winter Park in all its sophisticated yet egalitarian panache. But how many people remember Hugh McKean, artist?
Had he not become engulfed by the responsibilities of being Hugh McKean, he might have become as well known for his paintings as for his projects, the scope of which relegated his art to something considerably more than a hobby — but something considerably less than a profession.
Still, for as long as he lived — and despite constant demands for his time and attention — McKean continued to paint. Ensconced in an apartment above the Winter Park Land Co. overlooking Park Avenue, which he dubbed his "scriptorium," he surrounded himself with can-vases, brushes and tubes of oils.
He delighted in producing pictures that reflected his particular and sometimes puzzling vision of humanity in general, and Florida in particular.
Even the name he gave his sanctuary was vintage McKean. A scriptorium, literally "a place for writing," is commonly used to refer to rooms in medieval European monasteries devoted to the copying and illustrating of manuscripts by monastic scribes.
McKean was a high-profile public figure, not a sequestered monk. So perhaps the moniker was nothing more than a reflection of his sometimes ironic sense of humor. Or perhaps it was meant — in an unpretentious way, of course — to signal his belief that the work he produced while cloistered there had significance.
You can judge the work for yourself. Or perhaps you can't. Although McKean's art isn't hidden or lost, it's seldom displayed.
Some paintings are hung on walls in the Morse's administrative offices, while others are stored in its sprawling warehouse. The last large-scale public exhibition was in 1997— and that one happened only because the artist was no longer around to forbid it.
Clearly, though, McKean was no mere dabbler. Early on, he produced extremely literal portraits, often of family members or friends, using textbook Renaissance conventions. These formative works, if not particularly original, display substantial technical proficiency.
For a time, McKean's style was influenced by American realists such as Grant Wood, Thomas Hart Benton and Edward Hopper. Although his paintings in this genre are affecting, with their isolated figures and lonely landscapes, they might justifiably be viewed as highly evolved homages to familiar artistic icons.
Then, later in McKean's long life, something changed. He began turning out haunting, impressionistic images dominated by blues, greens and blacks — some containing the sort of supernatural elements, such as ghosts and angels, often found in folk art.
Because these pictures defy easy characterization or comparison, they probably best represent Mc-Kean as an artist fully realized.
But what do they mean? Because he rarely discussed his own work, we're left with only our visceral reactions to it — which McKean would be the first to insist can be neither right nor wrong.
"With Hugh's art, there was always that withholding of information," says Laurence J. Ruggiero, director of the Morse. "There's a story going on [in his paintings], but it's a mystery. For all he talked about beauty, some of these works suggest a more complicated vision."
HIS EARLY YEARS: TALENT AND TUMULT
Hugh Ferguson McKean was born in Beaver Falls, Pennsylvania, in 1908. His father, Arthur McKean, was an attorney who served for a brief time in the Pennsylvania legislature. His mother, Eleanor Ferguson, was a homemaker.
Not surprisingly, Arthur was a man of many interests. In addition to careers in politics and the law, he roamed the sidelines for five seasons as head football coach at his alma mater, Geneva College, which Eleanor had also attended.
McKean had three brothers: John (1907-1993), Keith (1915-2007) and Vance (born in 1917 and now living in a California retirement home). The McKeans weren't wealthy, but they were well-connected, socially prominent and solidly upper middle class.
In 1920, the family moved to Orlando, where they lived in an impressive home, since demolished, on Hillcrest Street near East Colonial Drive. According to U.S. Census records, the home was then valued at $40,000 — the equivalent of nearly $600,000 today.
Arthur practiced law and eventually became a municipal judge, running unsuccessfully for mayor, as a Democrat, in 1930.
McKean graduated from Orlando High School in 1926 before enrolling at Rollins, where he majored in English and creative writing. His father had insisted that he earn an undergraduate degree in a subject other than art.
That same year, McKean met a young woman who would become his lifelong creative and intellectual soulmate — 17-year-old Jeannette Morse Genius, a Chicago resident who had vacationed in Winter Park since childhood and was now taking summer classes at Rollins.
Jeannette's maternal grandfather was none other than Charles Hosmer Morse, the Windy City industrialist who shaped modern Winter Park and is remembered today as the city's most important benefactor.
A serious artist, Jeannette — who would become a Rollins trustee at age 27 — had attended exclusive private schools and, like her future husband, would later study in New York at the Grand Central School of Art and the Art Students League.
Not surprisingly, these two kindred spirits — who would individually and separately dedicate their talent and treasure to energizing Winter Park's cultural life — struck up a romance that blossomed like a Tiffany daffodil.
McKean, though he didn't major in art, spent the summer following his sophomore year in France, studying at L'École de Beaux-Arts in Fontainebleau. And while still a senior, he was named assistant instructor in landscape painting in the art department at Rollins.
He graduated in 1930, having followed his father's wishes — at least nominally — by earning an academic degree. Arthur, perhaps resigned to having an artist in the family, then submitted two of his son's paintings to the jury of the Tiffany Foundation.
One of those paintings, Ruins of Old Florida Mission, New Smyrna, earned McKean a Tiffany Fellowship, which allowed him to spend two heady months at Laurelton Hall, the legendary artist's Oyster Bay estate.
Tiffany, 82 and in failing health, had created a sort of surreal summer camp where aspiring artists could live and work in an unstructured but inspirational setting.
It was certainly inspirational to McKean, who later described the 84-room home and the 580 acres surrounding it as "a three-dimensional work of art, fabricated of marble, wood, plaster, winds, glass, copper, rains, light, sound, sunlight, flower gardens, running water, terraces, woods, hills."
McKean also recalled the magnetism of Tiffany himself, who began his career as a painter but whose name became synonymous with ornate mosaics and colorful stained-glass lamps and windows.
Frail but formidable, the artist spent evenings with his students, offering kindly critiques of their work and "talking about the importance of beauty … I thought he was wonderful," McKean later said of Tiffany, whose work even then was rapidly falling out of favor.
The star-struck novice would return more than 25 years later and rescue truckloads of Tiffany's creations — by then so maligned by the art world's cognoscenti that they were considered virtually worthless.
But in the meantime, McKean had a world of other artistic styles to explore — and sought to absorb all he could, as quickly as he could.
In the busy summer of 1930, he also studied at the Art Students League in New York, learning anatomy and figure drawing from George B. Bridgman, whose book Bridgman's Complete Guide to Drawing from Life remains a classic in art instruction.
While in Manhattan, McKean somehow found the time for additional courses at the Grand Central School of Art, run by the Painters and Sculptors Gallery Association, a collective formed by painters Edmund Greacen, Walter Leighton Clark and John Singer Sargent. Greacen, under whom McKean studied, was a notable impressionist.
The following summer, McKean won a Carnegie Foundation scholarship to attend a series of art-appreciation lectures at Harvard University's Fogg Museum. There he was exposed to the facility's vast collection of sculpture, photographs, prints, drawings and paintings.
Back at Rollins, McKean became a full-fledged art instructor. He returned to New York briefly in 1935 for a one-man show at Delphic Studios, a gallery established by a bohemian journalist, pacifist and patron of the arts named Alma Marie Sullivan Reed.
In 1937, McKean was named assistant to William H. Fox, chairman of the Rollins art department. Fox, previously director of the world-renowned Brooklyn Museum, undoubtedly shared a wealth of knowledge about collecting and exhibiting art.
Although McKean seemed to be leading a charmed life personally and professionally, his family was rocked by upheaval that the ensuing decades have shrouded in mystery and ambiguity.
According to the Orlando city directory, Arthur no longer lived with the family after 1933. Public records are scarce, but he had returned to Pennsylvania by 1940, when he was listed in the New Kensing-ton city directory as an attorney.
Whatever precipitated the marital split — some accounts of McKean's life indicate that Arthur lost substantial money on real estate investments during the Great Depression — his departure seems to have left Eleanor's circumstances considerably reduced.
In a turn of events no doubt facilitated by her son, 54-year-old Eleanor went to work at Rollins. She spent three years — 1935, 1936 and 1937 — as what was then known as a housemother. Kappa Kappa Gamma, the sorority that employed her, would have supplied a salary and an apartment.
By 1938, Eleanor was no longer a Rollins employee. She was living with her son at 18 N. Shine Ave. in a home valued at $7,500 — the equivalent of about $125,000 today. (The two-story charmer, located in the gentrified Lake Lawsona Historic District near Thornton Park, was on the market at press time for $400,000.)
In 1939, McKean enrolled in a one-year master's program at Williams College in Williamstown, Massachusetts, where he earned his graduate degree in art history. His thesis was entitled American Patterns of Thinking as Reflected in American Painting. Finally, he had a credential with "art" in the title.
McKean returned to Rollins, and shortly thereafter was elevated to art department chairman — a position he presumably would have happily occupied for the remainder of his career.
Although Arthur remained very much alive, Eleanor began referring to herself as a widow in 1945. No evidence can be found that the couple ever divorced. In fact, Arthur's 1957 death certificate lists Eleanor, who died two years later, as his spouse.
Members of McKean's extended family, who happened to be in Winter Park as this story was being written, sent word that they had nothing of substance to add regarding the relationship between Arthur and Eleanor.
Two of McKean's former colleagues — both of whom considered themselves to have been close to him — said they'd never heard him mention a contentious situation involving his parents, even decades after Arthur and Eleanor were dead and buried (he in Beaver Falls, she in Winter Park).
Were they surprised? Not really. McKean, they agreed, was a private man who would have found it unseemly — worse yet, impolite — to dredge up family matters and discuss them with others. Besides, he was far more interested in looking ahead than in ruminating about years gone by.
Perhaps, though, his parents' domestic travails — or, more specifically, his feelings about them — were reflected in his paintings, particularly those with a more somber and lonely tone.
HIS PROFESSION: VISION AND VINDICATION
Jeannette decided in the late 1930s to fund construction of a facility on the Rollins campus that she would call the Morse Gallery of Art. It would honor the man who, in 1904, had bought much of Winter Park when its major landholders defaulted on a note
But instead of maximizing the profit on his investment, Morse spent the rest of his life shaping what he considered to be an ideal small town — beautiful, well planned and brimming with cultural and recreational amenities.
Fortunately, Jeannette knew someone who would be perfect to run the gallery, which opened in 1942 on the site of the current Cornell Museum of Fine Art. McKean, who shared Jeannette's enthusiasm for collecting and sharing art with the community, got the director's job.
Jeannette's stature as both an artist and an heiress was undeniably a bonus for all involved. The gallery's holdings quickly grew to encompass an intriguing assortment of American and European fine art.
Surely by now the couple was engaged, implicitly if not formally. But marriage would have to wait. McKean, a lieutenant, junior grade, in the U.S. Navy Reserve, served three years in World War II, attaining the rank of lieutenant commander and spending at least a portion of his stint as an instructor at the Advanced Naval Intelligence School in New York.
The intelligence assignment was likely a result of his travel abroad; he and Tiedtke had traipsed across Europe together in 1936, ostensibly to tour the continent's great museums and concert halls. The navy's intelligence units were actively seeking Americans who had spent time overseas.
Then, when McKean returned to Winter Park in 1945, he and Jeannette were finally wed. He was 37, she was 36, and their courtship — if such a proasic descriptor is applicable — had spanned 18 years. The couple, who would have no children, lavished attention on their hometown instead.
"Jeannette brought this huge fortune to the marriage, and Hugh brought all this knowledge," recalled Keith McKean in a 1995 Orlando Sentinel obituary written about his brother. "So she learned more about art from him, and he and she together found ways to spend this fortune … They were wonderfully generous to the community."
In 1951, McKean unexpectedly became president of Rollins following the brief, tumultuous tenure of a 33-year-old wunderkind named Paul Wagner, who had roiled the campus with massive faculty reductions and an autocratic management style.
Announcement of Wagner's firing and Mc-Kean's appointment was greeted with jubilation. However, the beleaguered Wagner at first refused to vacate his office, forcing McKean to operate out of a makeshift headquarters at the gallery.
When Wagner was finally deposed — and escorted from campus surrounded by police officers — McKean was carried around campus on the shoulders of celebrating students, many of whom had threatened to transfer or had gone on strike demanding Wagner's ouster.
(During the uproar, Jeannette, in her role as a trustee, at first recused herself from voting on her husband's appointment. She relented only when other trustees convinced her that the vote should be unanimous.)
Although an art professor with limited administrative experience might have been an unconventional choice to run a college — particularly one so steeped in intrigue — McKean went on to enjoy a successful 18-year presidency, which was followed by a stint as chancellor and chairman of the board of trustees.
Writing in an unpublished 1985 manuscript, Rollins College: A Centennial History, Jack C. Lane, professor of history emeritus, noted that Mc-
Kean's unpretentious demeanor helped mitigate the turmoil of the previous spring and summer.
"A soft-spoken, artistic man with a penchant for philosophizing on any subject from the art of fishing to the meaning of art, McKean, with a gentle, unassuming manner, seemed an especially appropriate leader for the college in the post-Wagner years," Lane wrote.
"There was a certain romantic appeal to this picture of an uncomplicated man, happily teaching art and suddenly propelled into the presidency with an urgent mission to wrest his alma mater from the throes of deep crisis."
McKean's administration was not without controversy — he was never comfortable fundraising, for example, a chore he seemed to regard with particular distaste — but order was restored, budgets were balanced, courses of study were added and nine major buildings were constructed.
Enrollment soared (from 600 to 1,000) even as admission standards became more stringent. In addition, a business administration program that would become the Roy E. Crummer Graduate School of Business was launched.
Students, regardless of their majors, benefitted from McKean's passion for teaching, which led him to describe Rollins as "a community of learning rather than a seat of mass education."
His emphasis on instruction seemed to harken back to the days of President Hamilton Holt, who led the college to national prominence with his Conference Plan, which required extensive one-on-one interaction between students and faculty members.
As for the McKeans, they were leading an idyllic life. They had homes in New York, New Hampshire and California in addition to Wind Song, the Spanish revival villa built in 1936 on the shores of lakes Mizell, Barry and Virginia by Jeannette's father, Richard Genius. (Her mother, Elizabeth Morse Genius, had died in 1928.)
Hugh concentrated on the college, while Jeannette established herself as an interior designer and a businesswoman. (Her Center Street Gallery was a downtown fixture for nearly 40 years.) She also served as president of the Winter Park Land Co., founded by her grandfather, which still managed most of the family's local real estate.
Both McKeans continued to paint, albeit in different styles. (Some of Jeannette's works were abstract — a genre her husband never explored in his own art — while others depicted flowers and still-life arrangements.) They also involved themselves in countless civic activities, arguably becoming Winter Park's pre-eminent power couple.
Then, in Oyster Bay, the already-diminished legacy of Louis Comfort Tiffany suffered the ultimate indignity. Laurelton Hall, where many Tiffany treasures remained in storage, burned in 1957 — and almost no one cared.
The McKeans were among a handful of serious collectors who still revered Tiffany's work.In 1955, they had defied convention by staging a Tiffany exhibition comprised largely of pieces bought at bargain-basement prices from Manhattan antique shops.
Although the proprietors were surely pleased to find anyone willing to buy their dusty Art Nouveau junk, they must have privately questioned the judgment of the apparently clueless Floridians who so eagerly snapped it up. Tiffany? What could be more passé?
"Hugh once told me that if he just had some money, he could buy all this stuff Tiffany had done," Keith McKean later recalled. "He recognized its value immediately."
After the Laurelton Hall fire, the McKeans were asked by a Tiffany daughter to try and rescue what they believed to be important from the ruins. The couple hurried to Oyster Bay, where they were shocked and saddened at what they found.
"I shook something against a tree," McKean wrote in his book The Lost Treasures of Louis Comfort Tiffany (Doubleday, 1980). "It rattled. The head of the wrecking company waiting to clear the property was with us. I asked him what it was. 'That's one of the old man's windows,' he replied."
And not just any window. It was one of the Four Seasons windows, created in 1900 for the Exposition Universelle in Paris. Seeing this quartet of magnificent, fully restored panels today, it's almost beyond comprehension that they were once regarded as little more than trash.
The McKeans, using a small fleet of rented moving vans, salvaged hundreds of pieces that became the core of the Morse collection, which is today literally priceless.
"It's virtually impossible to put a value on the collection because so many pieces are one of a kind," says Harold Ward III, whose law firm, Winderweedle, Haines, Ward & Woodman, manages the Charles Hosmer Morse Foundation, which was set up by the McKeans in 1959 to fund the museum.
The McKeans didn't hoard their holdings, nor did they confine them to traditional museum settings. They launched "Christmas in the Park" in the 1970s, during which staffers set up huge Tiffany windows in Central Park and invited the community to come and have a look.
And in 1991, Hugh had a van converted into the Morse Mobile Museum, which still visits schools throughout Central Florida. Even in the final months of his life, he delighted in accompanying the van and talking to children about the treasures it contained.
In 1977, the Morse Gallery of Art was relocated to 151 E. Welbourne Ave. Its name was changed to the Charles Hosmer Morse Museum of American Art in 1985, and a greatly expanded facility debuted at 445 N. Park Ave. in 1995, just months before McKean's death. (Jeannette had died in 1989.)
Although McKean was suffering from cancer and didn't know if he'd live to see the new facility open, he remained intimately involved in every aspect of its design, sometimes sketching exterior treatments and gallery layouts.
"Thousands will get more of a charge out of life in general, and the world's beauty in particular, because of this little museum," McKean wrote Nancy Long, then the museum's public information director, shortly before his death.
In 1996, McKean was posthumously named Floridian of the Year by the Orlando Sentinel because "he believed passionately that art and culture should be part of everyone's everyday life — regardless of age. He felt that the soul and intellect would flourish when exposed to beauty and knowledge. To that, he devoted his life."
HIS ART: PERSONAL AND MYSTERIOUS
Chip Weston, who enrolled at Rollins in 1966, remembers McKean approaching him after a welcome ceremony and asking, "Why are you here?" Weston, whose diverse career has encompassed both technology and art, was at the time a physics major. But he told McKean that he enjoyed painting.
"So Hugh walked me over to the art department and said [to a professor], 'Here, keep him busy,'" recalls Weston. "He really shepherded my entire art career after that."
Decades later, Weston and McKean would consider themselves to be colleagues and friends. As a student, however, Weston worked briefly for his mentor at the Morse Gallery of Art.
"Hugh said he wanted me to work in the gallery, but there was one condition," Weston recalls. "He said I had to set up an easel in the picture window and paint every day, so people could watch."
Such a request was certainly in keeping with McKean's philosophy that art was for everyone to see and experience. But Weston noticed that McKean was reticent about putting his own work forward because "he didn't think he could trust people to tell him the truth about it."
When McKean did decide to display some of his paintings, they were unsigned — he rarely signed or dated his work — and there was no accompanying material identifying the artist or discussing the subject matter.
"Hugh told me just to listen to what people who came in said about [the paintings]," Weston says. "He said to take notes about what I heard."
Weston was entranced by McKean's paintings, which he describes as "having a loneliness to them." Because McKean shouldered so many high-profile responsibilities, he was able to express "a true sense of self" only through his art, Weston believes.
Human nature — especially its dark side — fascinated McKean, recalls Weston. He says that sometime in the mid-1960s, McKean surreptitiously attended a Ku Klux Klan meeting in Apopka to try and better understand how its adherents could develop such inexplicable hatred.
(That visit resulted in at least two Klan-themed paintings, one of which is reproduced for the first time on page 50. It can only be imagined how the Klansmen would have reacted had they discovered that a curious college president — one who found their views repugnant — was unobtrusively listening and observing.)
Ruggiero, who was hired as associate director of the Morse in 1992, took over as director upon McKean's death. He was instrumental in the museum's move as well as the addition of the Tiffany Chapel in 1999 and completion of a new wing re-creating portions of Laurelton Hall in 2011.
"Hugh and I would have these long lunches over at the Langford Hotel," Ruggiero recalls. They tended to dine outdoors, near the now-demolished hotel's pool, where McKean "could shout and I could shout, because he wasn't hearing too well."
McKean, Ruggiero says, "was a real artist; a serious artist who developed a sophisticated artistic vision." Painting became more personal to McKean, he says, when professional and civic obligations began consuming more of his energy.
Ruggiero, who in 1996 and 1997 oversaw separate exhibitions of paintings by Jeannette and Hugh, noted that his former boss's work evolved over time, from traditional portraiture to American regionalism to those hauntingly ethereal, enigmatic works that define his later years.
McKean was intrigued by man's place in the universe, Ruggiero says, noting that many of his paintings — especially the later ones — emphasize the smallness of humans trudging through vast open spaces. "I also think of him as a Florida artist," says Ruggiero, who points to Florida-based settings in some works.
Still, Ruggiero isn't certain that McKean's paintings reveal anything profound about the artist's psyche. After all, he says, the work of a writer or a craftsperson isn't necessarily presumed to provide a window into the creator's soul. Why should the work of a painter be viewed any differently?
"Hugh liked the act of painting; he liked moving the paint around the canvas," Ruggiero notes. "I don't know what the work says beyond the fact that he was a skilled painter."
Certainly, McKean's hesitation to offer rationales or analyses of his work can be frustrating to those trying to make sense of it all. But he did speak — and write — about art in general.
In the Department of Archives and Special Collections at the Olin Library, there are boxes of McKean ephemera, including everything from memos to articles to a polite but pointed admonition to a contractor whom he believed had been rude to his mother.
There are even dues statements for a square-dancing club and records of Winter Park's barometric pressure, which for a time he faithfully measured using a vintage device manufactured by his grandfather-in law's company.
In one folder, there's an untitled and undated essay, probably from the 1950s, in which he discusses his philosophy of art and what it means to the individuals who create it.
It appears that the "spirited gray fox of campus story and song" — that's the fanciful way McKean was described at the 1972 Rollins commencement ceremony where he was awarded an honorary doctor of fine arts degree — may have considered painting to be the most important thing he did. Or at least the most important thing he did for himself.
"Art is a record of the artist's discovery about life," he wrote. "It has a special quality arising from his own experiences; it is a record of growth in his mind, testimony that he has lived thoughtfully and creatively; evidence that he has fulfilled his destiny as a man."
Editor's Note: On the following pages is assembled a sampling of paintings in various styles by Hugh F. McKean. Most, unfortunately, are undated, but they are ordered roughly chronologically. Shown first are two traditional portraits, one of McKean's maternal grandfather, Hugh Ferguson, and the other of his then-future wife, Jeannette Morse Genius. Following the portraits are two scenes of lonely figures in stark settings that reflect McKean's appreciation of American realists such as Grant Wood and Edward Hopper. Finally, a series of later-career paintings reveal a more surreal aspect of McKean's imagination. The church may be the Church of the Good Shepherd, built in 1880 and still standing next to a more modern sanctuary at 331 Lake Ave. in Maitland. Perhaps most intriguing is a haunting image of a solitary Ku Klux Klan member in full regalia. The untitled painting, reproduced here for the first time, was apparently inspired by a surreptitious visit McKean is thought to have made to a KKK meeting or rally sometime in the 1960s. Does the work make a statement? It's impossible to know — McKean never said — but it's not a stretch to ascribe meaning to the angry red gash, which resembles a knife wound in flesh, carved across the night sky directly above the seemingly oblivious hooded subject. It also may be significant that Mc-Kean uncharacteristically signed this painting.
---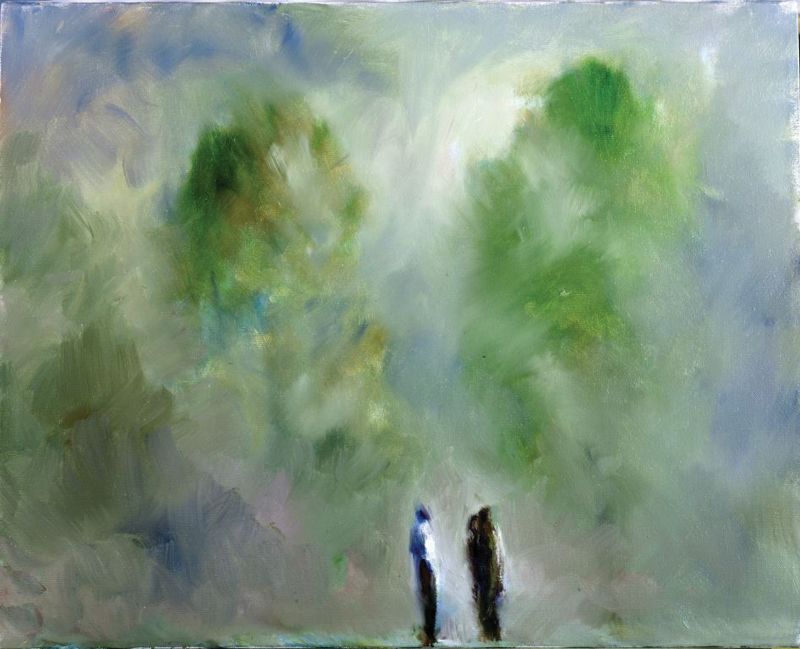 NOT LOST, JUST HARD TO FIND
Would you like to see paintings by Hugh or Jeannette McKean? In person? Two — and only two — original works are on display anywhere. They're at the Terrace Gallery at Orlando City Hall, 400 S. Or-ange Ave., Orlando, as part of the Art Legends of Orange County program.
The yearlong salute to the region's most important art figures, which was organized by a consortium of local museums and galleries, features more than a dozen exhibitions saluting artists and patrons of the arts who made their mark between 1932 and 1982.
Also, the gift shop at the Morse Museum of American Art, 445 N. Park Ave., features inexpensive paperback guidebooks that were published in conjunction with the museum's exhibition of works by Jeannette (1996) and Hugh (1997). At $2.50 each, they're a bargain.
The administrative offices at the Morse, where the public is generally not allowed, probably has the largest number of paintings by the McKeans actually hanging on the walls. Many others are stored in the Morse warehouse.
---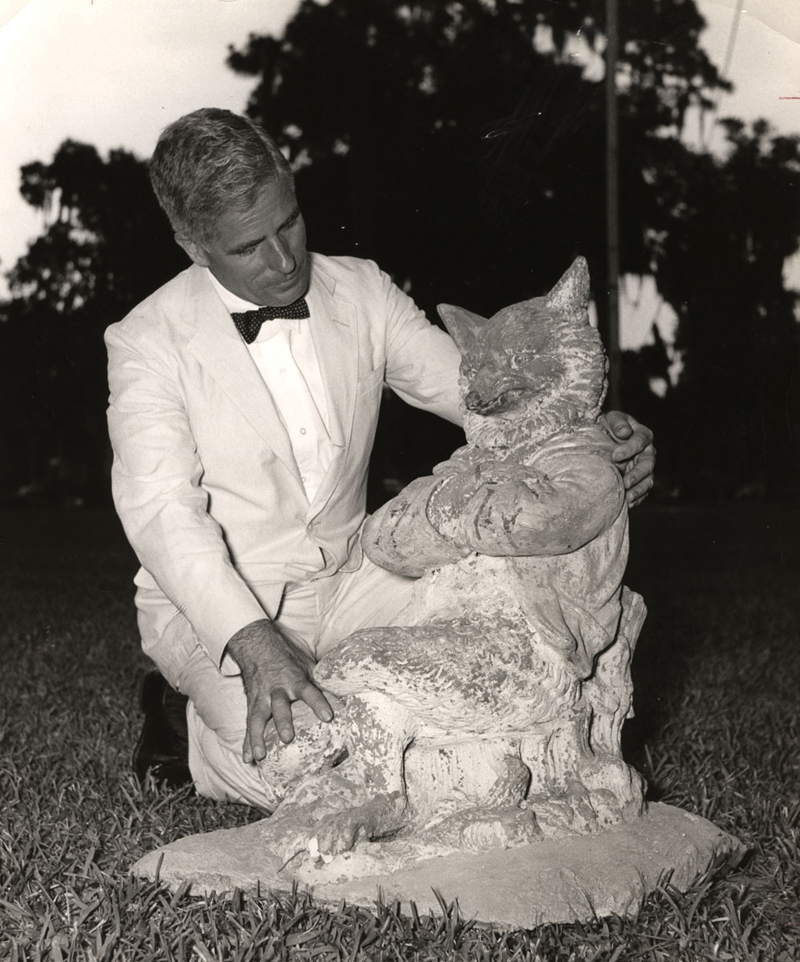 FOX DAY EXEMPLIFIED MCKEAN'S WHIMSICAL LEADERSHIP STYLE
In addition to achieving higher standards of quality as reflected in the classes of the late '60s, credit must be given to the informal, personal and sensitive style of Hugh McKean, who helped re-establish the sense of harmony and community that had been so much a part of the early Hamilton Holt years.
Fox Day typified, perhaps even symbolized, this aspect of McKean's presidency. In 1956, the president created a full-day celebration based upon a statue presented to the college in 1934 by DeLand lawyer Murray Sams.
Actually, Sams had donated two statues — a fox and a cat — for display on the campus. But when a student prank destroyed the cat, Holt stored the fox for safekeeping.
A year after assuming the presidency, McKean secretly brought the fox from hiding, placed it on the library lawn and announced that the fox had decided to return one day each spring to proclaim a celebration.
Upon his appearance, classes would be dismissed, and the Rollins family would "just take it easy," going to the beach or participating in organized activities. The day ended with an all-college picnic and a choral concert at Knowles Memorial Chapel.
McKean's Fox Day proclamations, poetically melding the college's natural beauty with the joy of learning, created nostalgic memories for students and invariably captured the essence of the day.
Fox Day was discontinued by McKean's successor, Jack Critchfield (1969-1978), but revived by Thaddeus Seymour (1978-1990). It remains a cherished Rollins tradition.
—Jack C. Lane
---