Winter Park is known for its beautiful, gracious homes. But what makes the city even more special is that its most significant residences aren't necessarily its most elaborate or expensive. Some were originally second homes built by wealthy snowbirds who already had a family estate in Boston, Chicago or New York. Consequently their Winter Park digs, while lovely and comfortable, were often relatively modest in scale. Mansions began appearing as this erstwhile seasonal resort began attracting more permanent residents. But with the mansions came a far greater number of solidly middle-class homes built for the professors, artists, merchants and others who helped Winter Park grow and thrive. So picking 10 particularly significant historic homes out of a pool of many hundreds wasn't an easy task. Nonetheless, we gave it a shot. Led by local historian Steve Rajtar, Winter Park Magazine selected these 10 homes as being unusually important for one or more reasons. Perhaps it was the architectural style, or even the architect. Perhaps it was the stature of the person who once lived there. Perhaps it was the unusual back story. Perhaps we simply liked it. In any case, here they are, along with some history and context. For more on Winter Park's historic homes, check out A Guide to Historic Winter Park, Florida, by Steve and Gayle Rajtar, published by The History Press.
---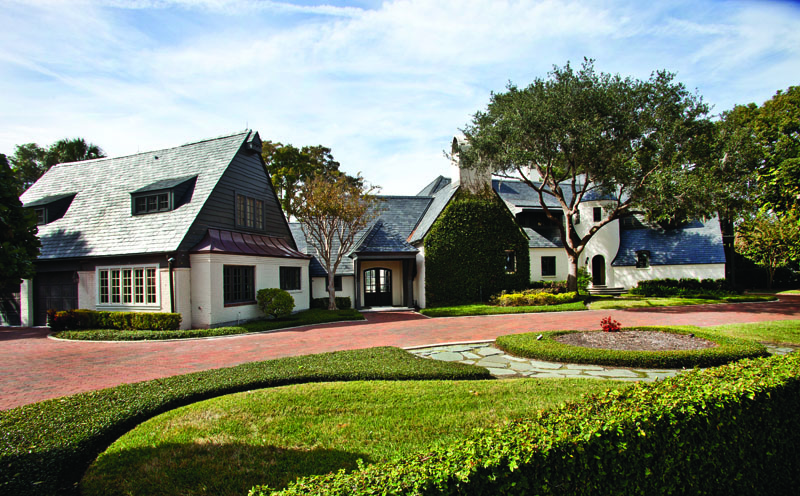 Four Winds • 3 Isle of Sicily
Isle of Sicily, a development of exclusive homes on a small peninsula that juts into Lake Maitland, is where James Gamble Rogers II first made his mark. He told developers that he would survey the marshy but beautiful tract, then known as Bear Island, and carve out 12 homesites in exchange for a one-acre parcel, on which he promised to build a house that would "stop traffic." That house was Four Winds, an 1,800-square-foot French provincial charmer in which he and his family lived until 1949. The house, which deteriorated significantly over the next several decades, was largely rebuilt in 1992, and now encompasses nearly 9,300 square feet. Is it still truly a James Gamble Rogers II house? That's debatable, although it retains the original architectural style and some salvaged elements, such as the roof slate and timbers.
---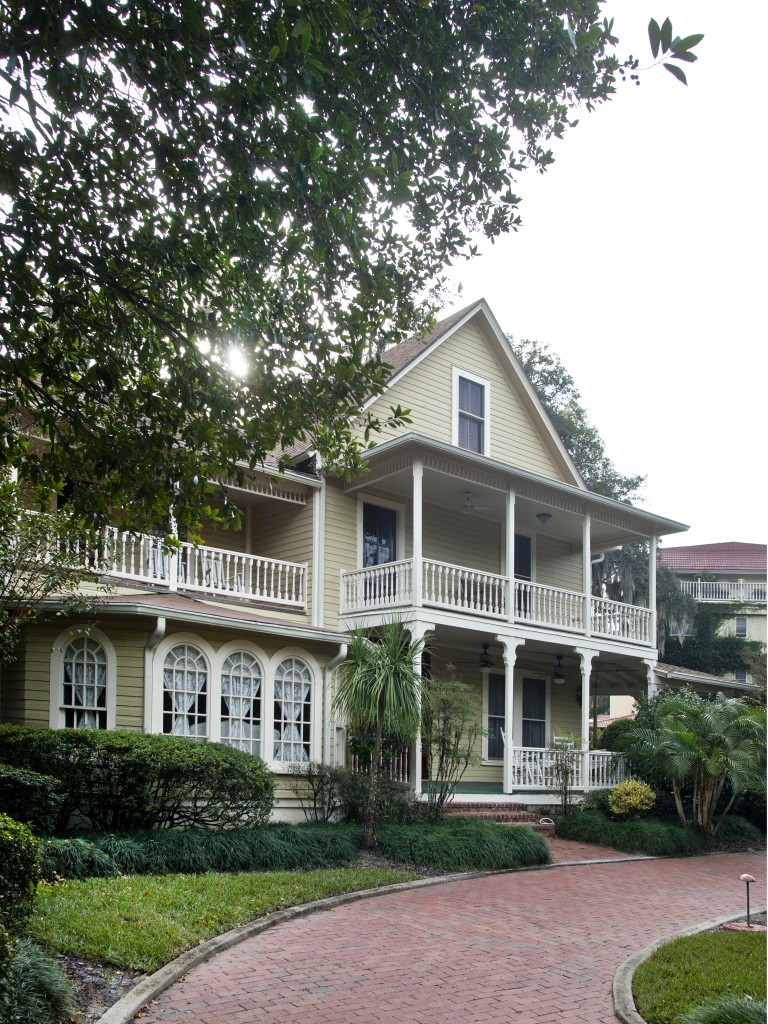 Temple House • 1700 Alabama Drive
This Victorian-style house, which boasts a view of Lake Maitland across from Kraft Azalea Gardens, was built in 1878 and is one of the oldest houses in Winter Park. Early owners included such familiar founding families as the Packwoods, the Palmers and, in 1904, the Temples. Industrialist William Chase Temple, for whom the Temple orange was named, was also founder of the Florida Citrus Exchange and owner of Major League Baseball's Pittsburgh Pirates. The Temples extensively remodeled the house, adding a private gas plant, a sewage system and, in 1912, a telephone. They sold the property, which they named Alabama Lodge, in 1915. By 1921 the house and the adjacent Temple Refractory, a detached summer kitchen and dining room, was being used by the staff of the Alabama Hotel, a luxury winter retreat built on the site. The Temple House has been a private residence since 1976.
---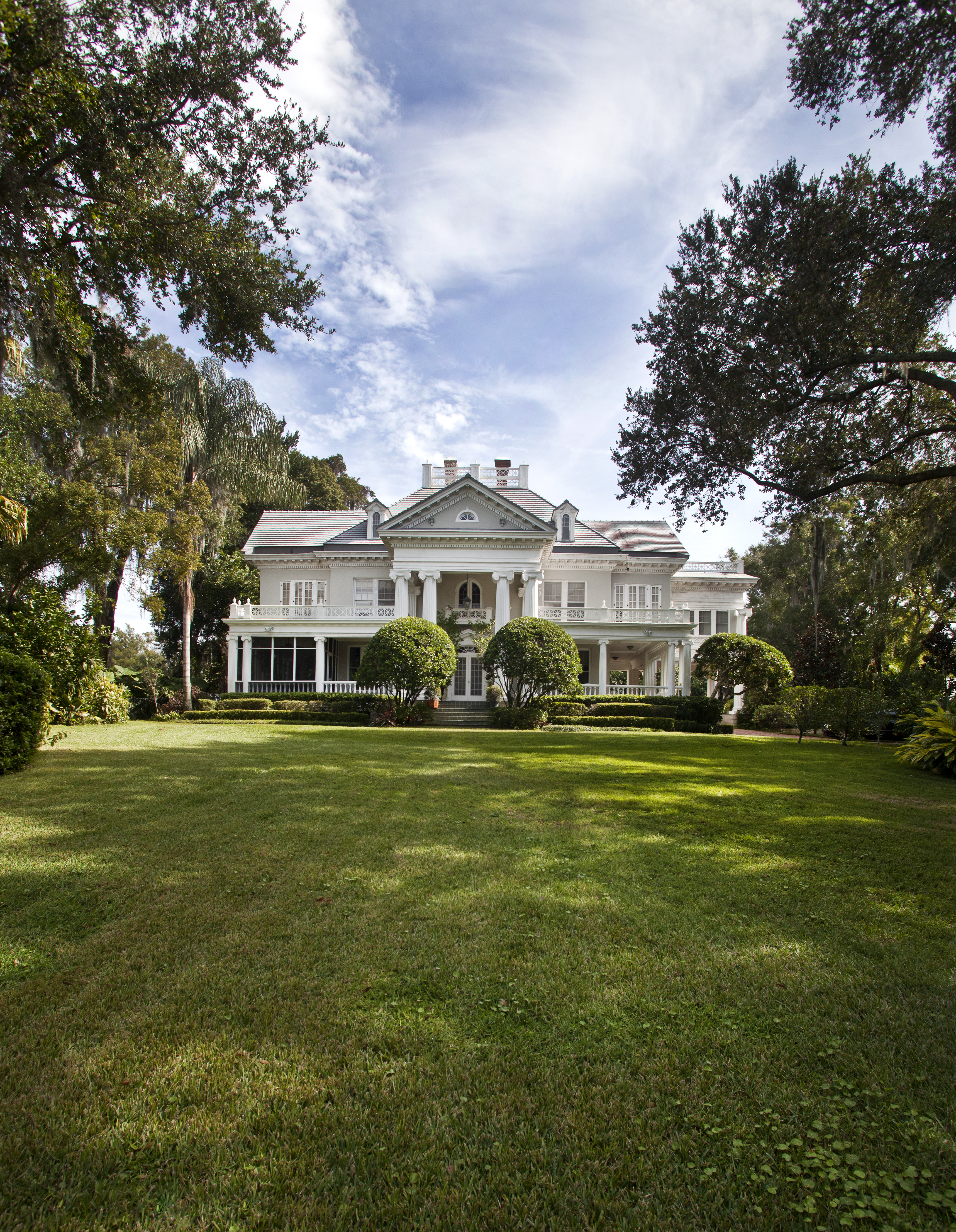 The Palms • 240 Trismen Terrace
When Edward H. Brewer bought this 40-acre tract from Rollins College in 1897, he built a large but simple clapboard-covered winter cottage. In 1924 the Brewers remodeled the house, which they named The Palms, to match their Georgian revival-style estate in Courtland, N.Y. The Palms was bought in 1937 by Fredrick Detmar Trisman, who sold 35 of the 40 acres and hired James Gamble Rogers II to redesign the interior. The house, regarded as one of the most beautiful in Winter Park, gained some notoriety in the early 1980s when it was seized by the federal government following owner Robert McGovern's conviction on drug trafficking. Because it faces Lake Osceola and not the street, this view of the grand facade, with its massive portico and paired columns, can only be seen from the water. The Palms is one of two houses in Winter Park listed on the National Register of Historic Places.
---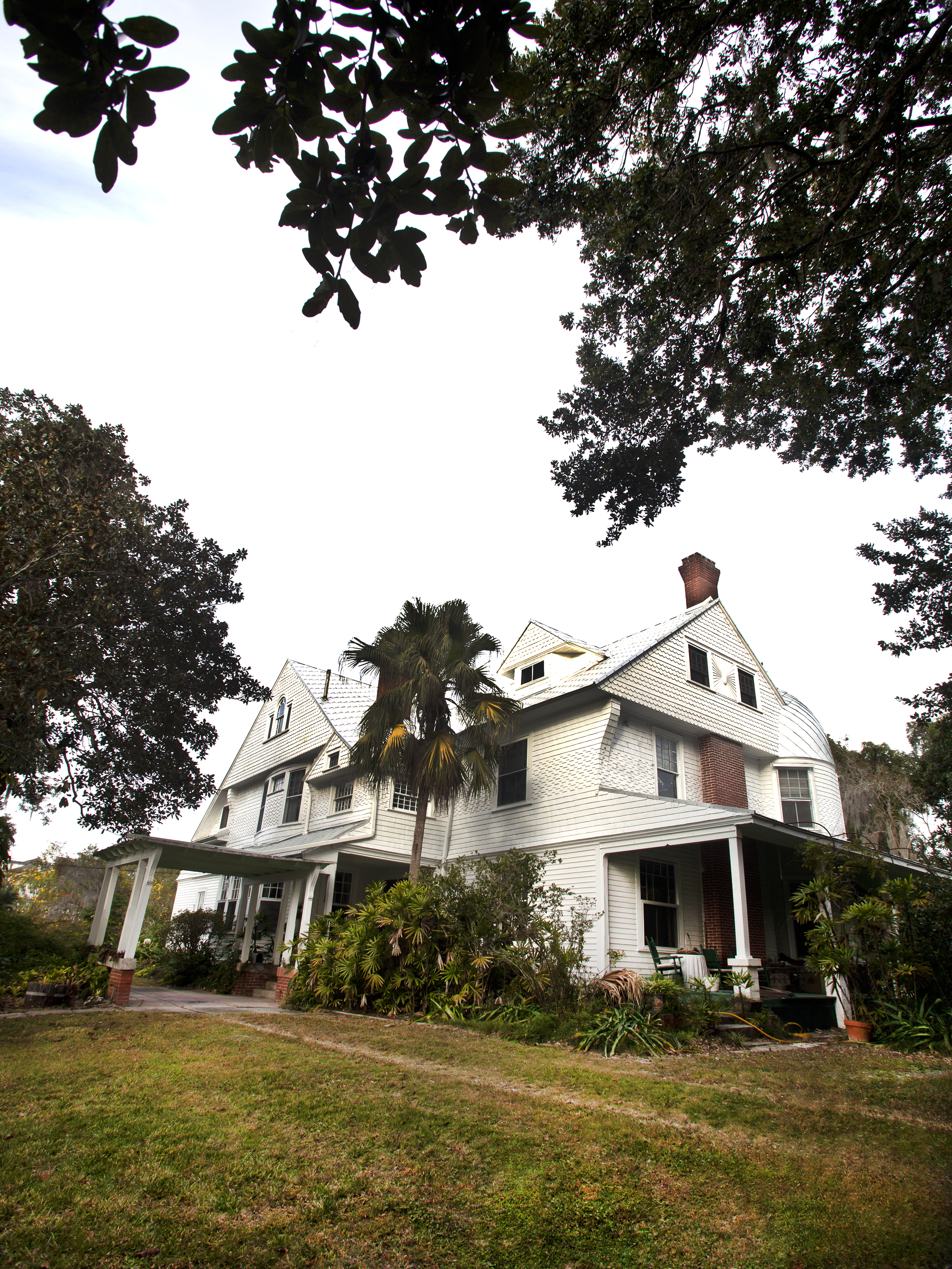 Eastbank • 724 Bonita Drive
The oldest surviving house in Winter Park, this Queen Anne-style structure was built in 1883 by William Comstock, president of the Chicago Board of Trade, who named it Eastbank because the 60-acre tract encompassed a large portion of Lake Osceola's eastern shore. What's now Bonita Drive was a camphor tree-lined alley leading to the three-story showplace, which was the site of numerous club meetings and social events. Eastbank has nine rooms, including five bedrooms, each with its own bathroom, while the entrance hall is highlighted by beautiful stained-glass windows. Inside are six fireplaces and a library boasting extensive built-in bookcases. Much of the exterior is still covered by the original decorative shingles. Interestingly, Eastbank incorporates portions of an even older house, built by Wilson Phelps, an early settler and community booster. Eastbank is one of two houses in Winter Park listed on the National Register of Historic Places.
---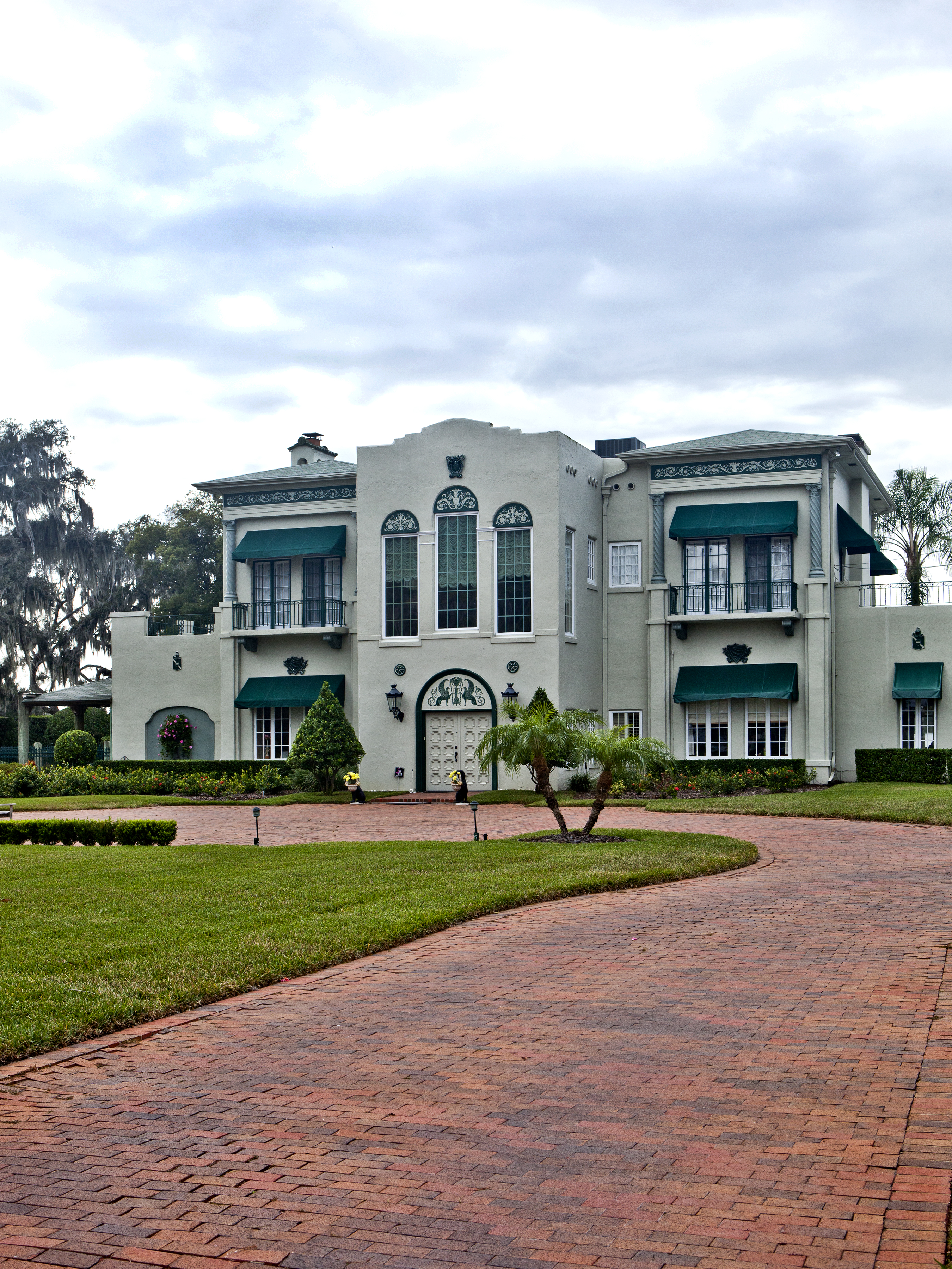 Martin Hall • 1000 Genius Drive
In the early 1920s members of the Winter Park Business Mens' Club had this Mediterranean-style waterfront showplace built to serve as its headquarters. It became a private residence in 1925 and in 1930 was bought by John Martin, an international-relations consultant and conference leader at Rollins College. Martin hired local artist, designer and builder Sam Stoltz to plan and implement a major remodeling project. Stoltz, who had no formal training as an architect, nonetheless built numerous houses in a distinctive style he dubbed "Florida Spanish," with textured stucco, coquina-like stone trim and rock fountains. Rollins bought the property after Martin's death in 1956, renaming it Martin Hall and adapting it for use as a Conservatory of Music. In 1976 Rollins sold the property, which offers exquisite views of Lakes Virginia and Mizell, and it once again became a private residence.
---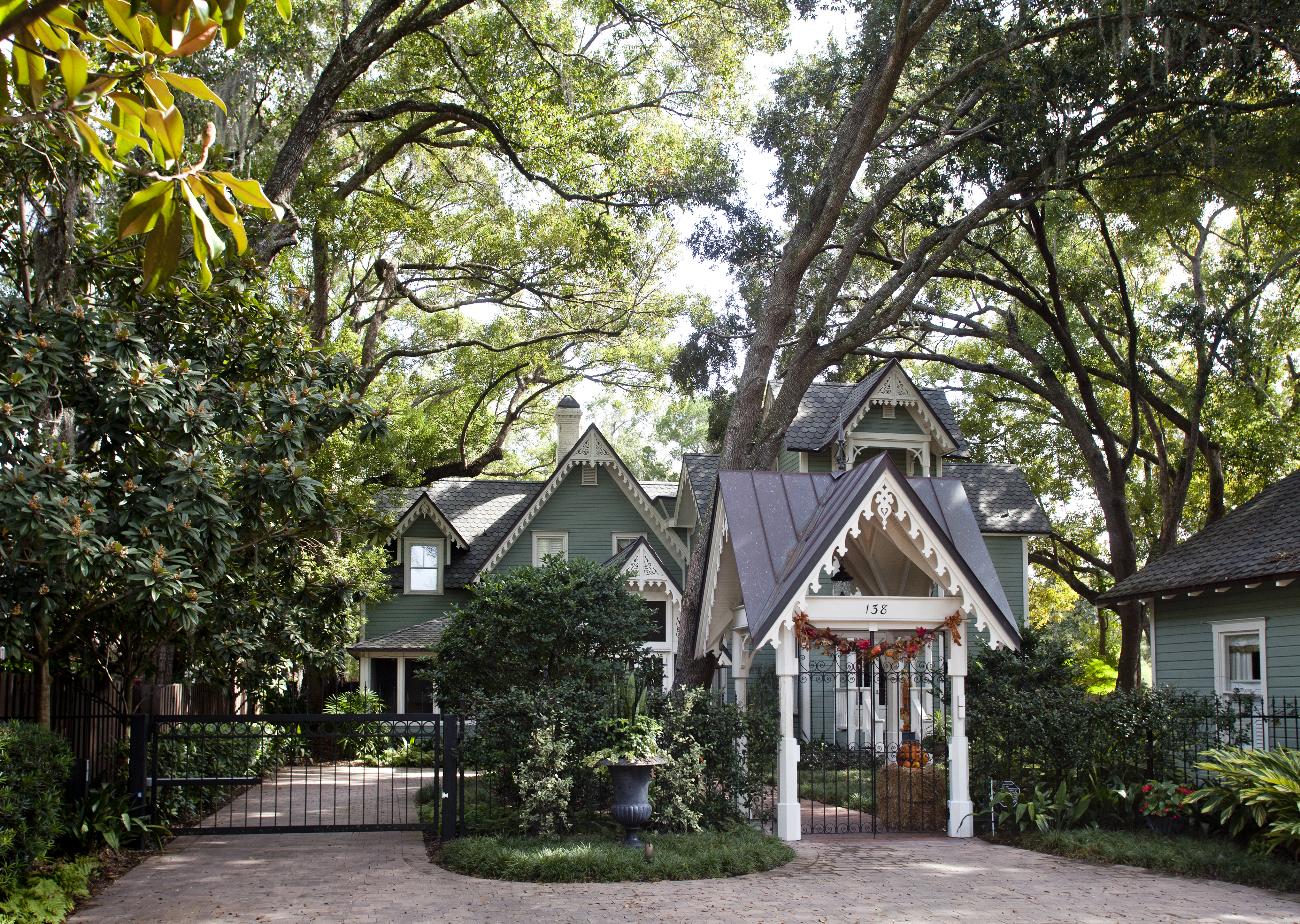 The Greer-Van den Berg House • 138 Detmar Avenue
Early Winter Park settler Wilson Phelps sold this lot between Lakes Osceola and Mizell to Ira B. Geer, one of the area's first physicians, in 1876. On it, Greer built this charming Victorian cottage, highlighted by remarkably steep rooflines and delicate ornamental trim. The house served as both his residence and his medical office. About three years later, Greer gave the house to Alice St. John, who had been the fiancée of his recently deceased son. It subsequently had several owners, including the Van den Bergs, who bought it in 1973 and carefully restored it. Although there have been additions and changes over the years, the house remains perhaps the finest example of Victorian architecture in the region.
---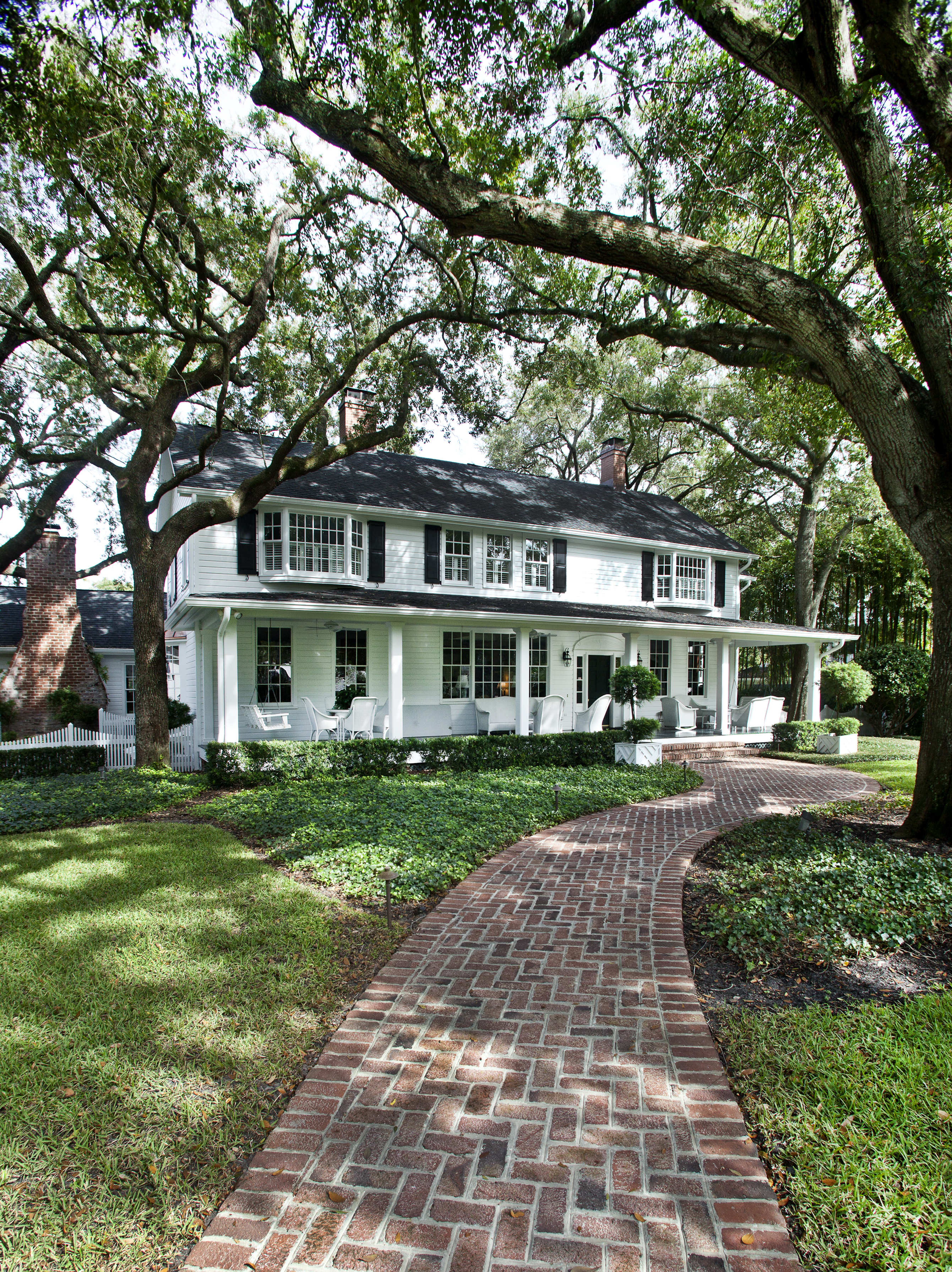 The Lawrence-Chubb Cottage • 1300 Summerland Avenue
In 1883 New York shoe manufacturer Judge Lewis H. Lawrence had this house built north of downtown Winter Park on the south shore of Lake Maitland. It's unusual because it has a simple, Federal-style facade, which was a popular look in other parts of the U.S. but rare in Florida, where Mediterranean influences predominated. President Chester A. Arthur, a friend of Lawrence's, visited the house shortly after it was completed. Most of the surrounding 10 acres were planted with citrus, but the crop was severely damaged by killer freezes in 1894 and 1885. The house was bought in 1899 by Henry S. Chubb, who had moved to Winter Park from Vermont and lived in a log cabin at the corner of Phelps and Aloma avenues while planting a citrus grove for Col. Franklin Fairbanks. Chubb was also the first general freight and passenger agent for the Winter Park-Orlando Railroad, otherwise known as the Dinky Line, and was elected Winter Park's second mayor in 1890.
---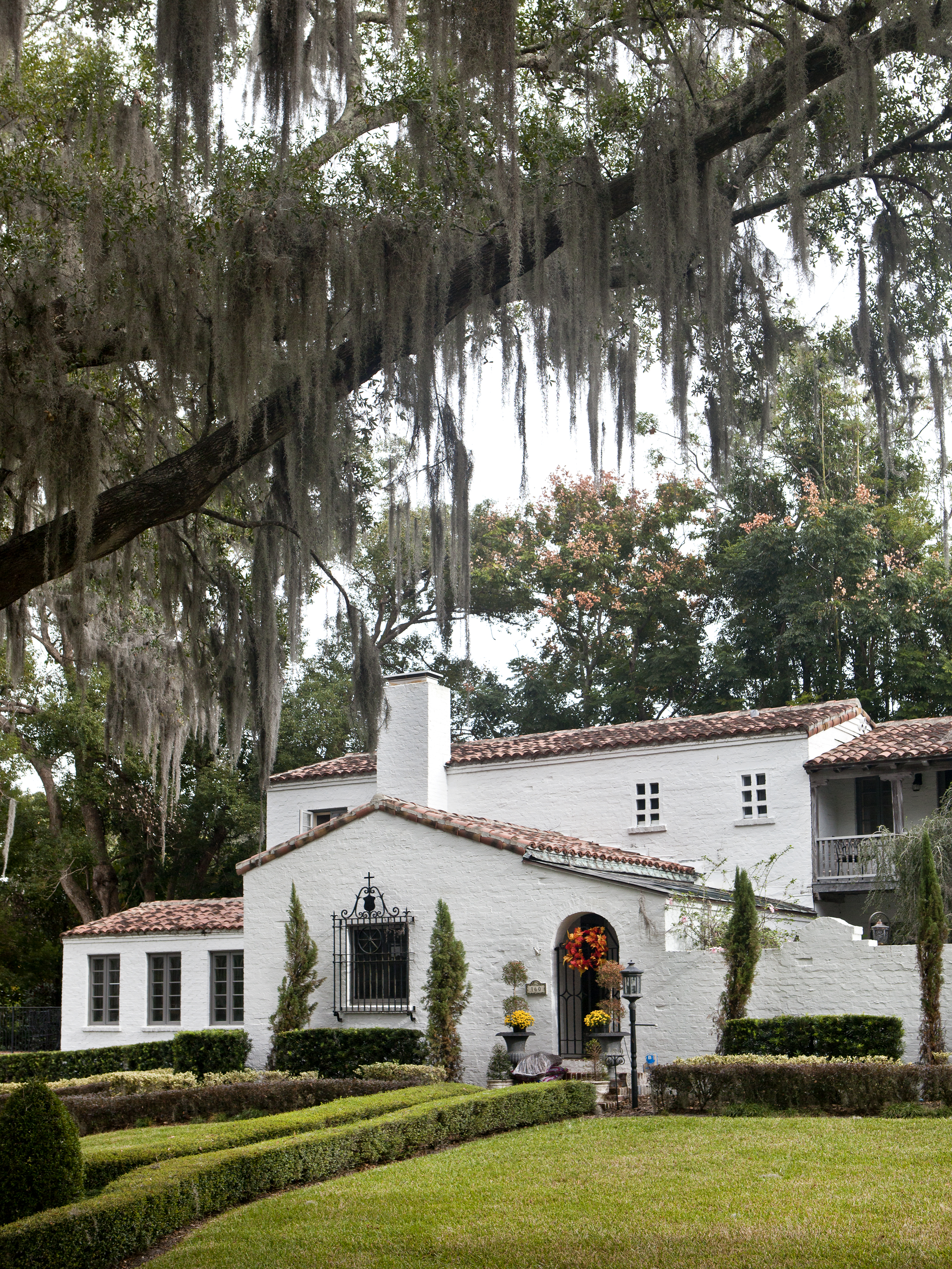 McAllaster House • 160 Alexander Place
This Spanish eclectic-style house, which abuts Lake Osceola, was designed by James Gamble Rogers II in 1934 for dry-goods tycoon Archibald F. McAllaster. Some of the building materials have a roundabout connection to department-store magnate J.C. Penney, who was developing an experimental farming community in Clay County. When the stock-market crash forced Penney to alter his plans, he sold truckloads of handcrafted roof tiles from Barcelona, many of which were used on the McAllaster House and another Rogers project, Casa Feliz. Dr. L.C. Ingram, who saw pictures of the McAllaster House in a magazine, asked Rogers to duplicate it. The architect agreed to use the same floorplan, but only if Ingram would allow him to wrap it in ''French Provincial clothing.'' The Ingram House, an Orlando architectural landmark, still stands at the corner of Marks Street and Laurel Avenue.
---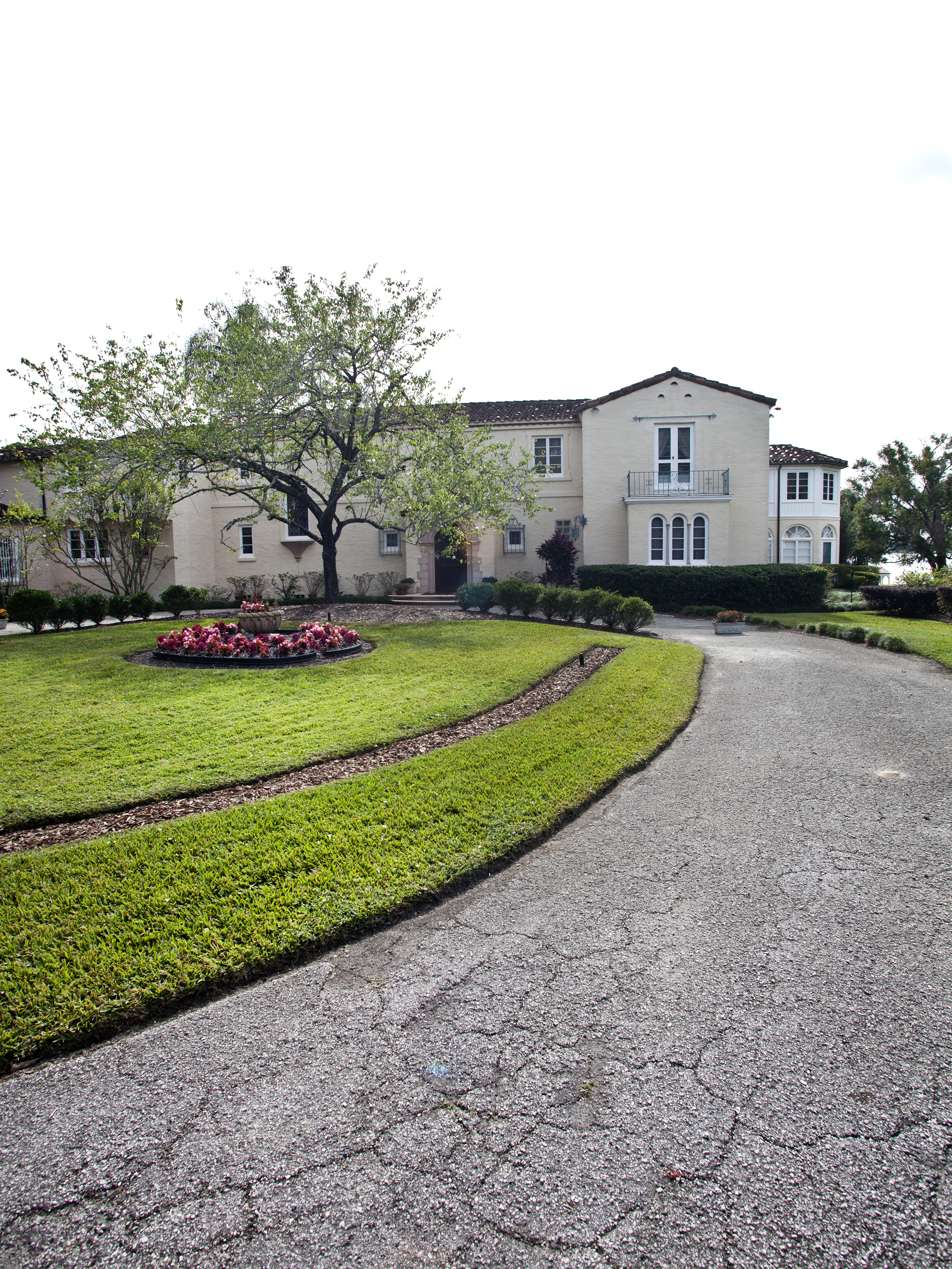 Merrywood • 1020 Palmer Avenue
James Gamble Rogers II designed this Spanish eclectic-style house, which was built in 1938 for New Englander Caroline Plant, who named it Merrywood. At nearly 7,000 square feet, it's the largest residence ever designed by Rogers. But, apart from its size, Merrywood is typical of the architect's work, with its buff-colored stucco exterior and red tile roof. When Plant died, the house was sold and her estate was distributed to Rollins College and other charitable organizations. Merrywood was later bought by George S. Marsh, who hired Rogers to design modifications and additions. However, the architect said in the 1980s that a two-story extension at the house's western end, which features round-headed windows on the first story, was not part of his plan.
---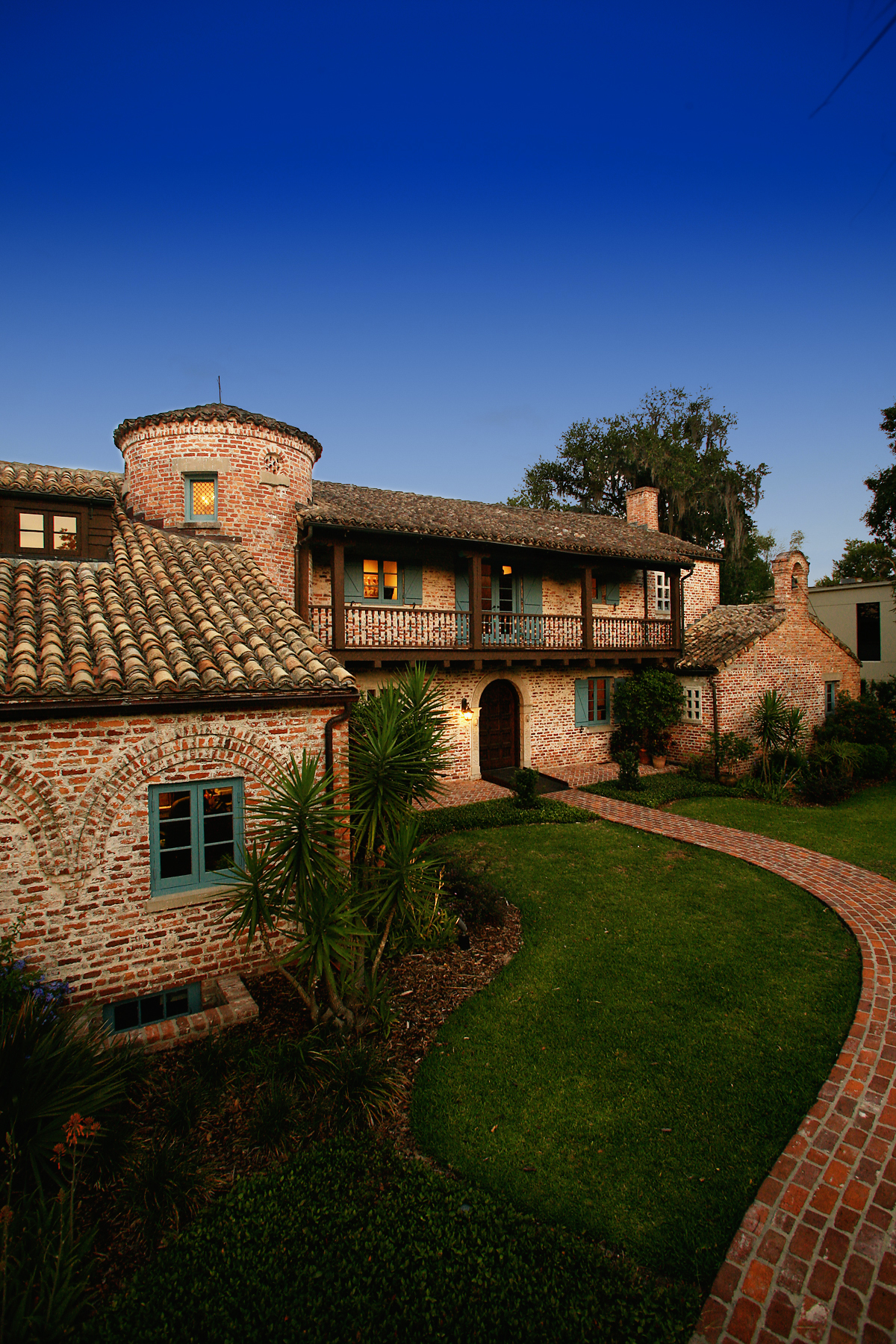 Casa Feliz • 656 North Park Avenue
James Gamble Rogers II designed this replica of an Andalusian cortijo, a farmhouse built around an enclosed courtyard, in 1932 for chemical manufacturer Robert B. Barbour. The structure, which Barbour named Casa Feliz ("Happy House"), was intended to look old; the roofline had an intentional six-inch sag, and the exterior was covered with bricks recycled from the circa 1880s Orlando Armory. In 2000 the owners of Casa Feliz, which was then located on Interlachen Avenue, announced that they were tearing it down, horrifying local history buffs and others who considered it to be a historically significant architectural treasure. A year later $1.2 million was raised to move the house to a site adjacent to the Winter Park Country Club's golf course. Today the Casa Feliz Historic Home Museum is a popular community center that hosts concerts, weddings and corporate events.