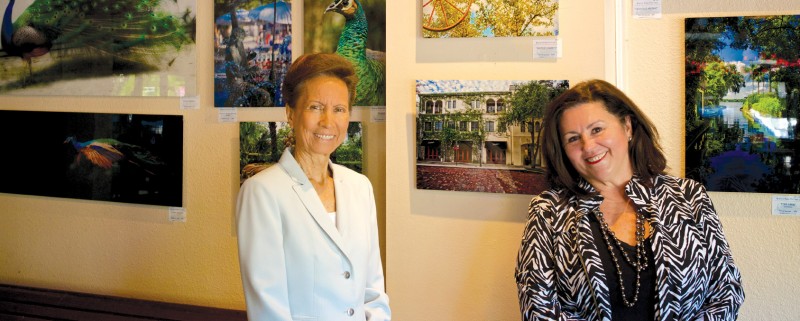 PHOTOGRAPHY TEAM DEDICATED TO DOCUMENTING WINTER PARK'S BEAUTY. 
There are few more picturesque places in Florida than Winter Park. Just drive around and have a look. Or, log onto winterparkpictures.com, a website of stunning images by photographers Nancy Vasquez and Jessica DeArcos, whose picture of the Casa Feliz Historic Home Museum appears on this month's cover.
The duo, who met while taking photography classes at Winter Park's Crealdé School of Art, began shooting together for class assignments. Later, they dedicated themselves exclusively to capturing Winter Park's unique beauty.
A lot of people began to notice. Their work can be found in such public places as Winter Park Memorial Hospital, which has 40 of their images gracing its walls.
At Dexter's in Winter Park, an exhibition of photos by Vasquez and DeArcos is set to run through April. In addition, small prints are available through an array of local businesses and museum gift shops.
Vasquez took up photography as a hobby after she moved from Maryland to Florida following her husband's death. "I've said that had I known how much there was to learn about photography, I might not have started this journey," she says. "But I'm glad I did. And there's still so much to learn."
DeArcos, an active Winter Parker originally from New Jersey, became interested in photography through her father, a collector of vintage cameras who took and developed his own photos.
A successful South Florida real estate agent, she commuted between Miami and Winter Park for several years before she and her husband retired here permanently in 2011. "Winter Park drew me in, and I walked away from Miami and have not looked back," she says.
She and Vasquez were "amazed that there was not a single source for beautiful, iconic images of Winter Park." So, for almost two years, the two would meet before sunrise and spend the day exploring the city's every nook and cranny, seeking to build the largest collection of Winter Park images available.
And they're still at it. The site is constantly changing as new photos are added. Check out the exhibition at Dexter's or visit winterparkpictures.com and chances are, even if you're a longtime resident, you'll start to see Winter Park in an entirely new way.